Canyoning near Lucca, Italy—Hanging from cliffs…Why not?
continued
from the cliff. I gripped the rope with one hand, let it slide through the other while descending downward toward the smallest pool of water I've ever seen. 

One meter from the surface I let go, plunged into the icy water, and sunk five feet deep into the blackness.
My body temperature dropped from a sweltering 90 degrees, into the icy cold water. It took my breath away! But the accomplishment was exhilarating.
This initial repel was followed by several water slides with plummets into pools of ice water, five additional repelling experiences, exhausting climbs over rocks of all sizes, swimming, and finally a jump from another precipice.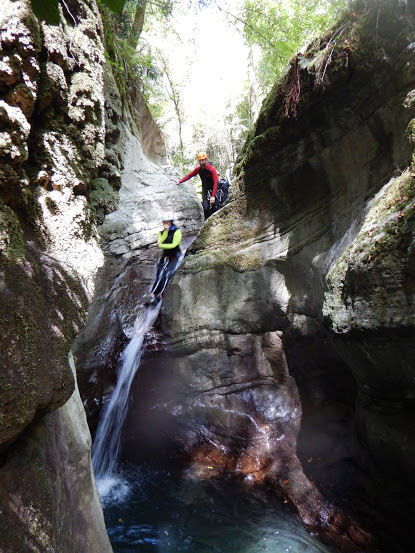 After two kilometers of Canyoning, my body was depleted of any remaining energy. Canyoning requires the use of every part of your body. You must use your mind to pay attention, your legs, arms, feet and hands to avoid slipping or falling, and your butt to slide. 
For two and a half hours our group worked its way down the canyon to the starting point. We peeled off our second skins, often with the assistance of someone else, and traveled to a local trattoria to share an authentic Italian lunch. 
Italians are known to prepare some great food. Antipasto is the first course of a traditional meal. The antipasto generally consists of small bite-sized snacks to be eaten at the beginning of the meal. 
This tiny trattoria delivered fifteen different types of antipasto on huge platters. Simone invited others to join us for a total of twenty-four Italians, and two Americans, Brittney and I. The trays were placed at varying sections of the table and they just kept coming. Arancini, rice balls stuffed with cheese, bruschetta, potato tarts, Italian meats and cheeses, stuffed zucchini blossoms and more.
After we had our fill, the pasta arrived! Fresh spaghetti cooked al dente, gently tossed with a light homemade tomato sauce and topped with Parmigiano Reggiano.  
Wine, beer, sodas and water were served. The lunch ended with espresso and the bill was 13 Euros each, which is the equivalent today of about $14.75 per person. 
I found the people and events of the day fascinating— an invigorating experience both as a challenge and as a cultural event.
When you want to challenge yourself, overcome your fears, and give your body a beating, I highly recommend joining Simone for a Canyoning trip in Tuscany. It's a rush!
--Story and photos by Tracy Beard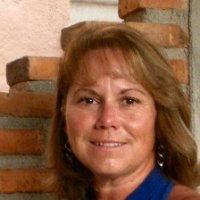 Tracy Beard is a freelance writer specializing in travel, non-profits, alternative medicine, and direct response copywriting. As the founder and past president of an international children's non-profit, Tracy traveled extensively, empathized with people in need, learned the importance of good health, and raised funds writing exceptional direct response copy. Her thirteen years of experience writing in various genres has added to her expertise. She is a member of AWAI (American Writers and Artists Inc.) and ITWPA (International Travel Writers and Photographers Alliance). 

Check out her website here: www.tracybeardwrites.com
---