A review of


EXPATS IN ECUADOR: 
Life in Cuenca
by Deke Castleman and David Morrill  
A UNESCO World Heritage Site, at 8,200 feet in the Andes mountains, has hit high on the world's radar as a world-class expat hot spot.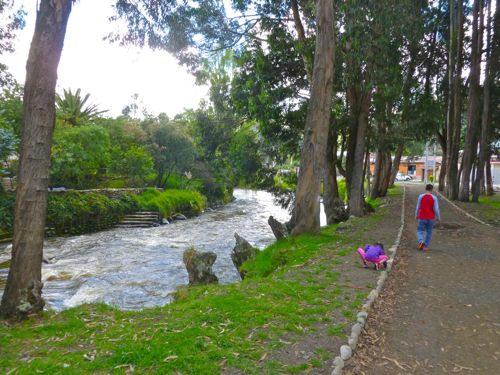 A leisurely walk along the Yanunquay, one of 4 rivers that traverse the city
The third largest city in the country, Cuenca has been touted since 2008 as "the best place to live in Latin America for foreigners" and "the world's number-one retirement destination" noted for "its charm and livability."
Authors Deke Castleman and David Morrill have collectively lived in this Andean city for more than 10 years, watching its expatriate community grow and develop into a permanent population today of about 2,300 residents.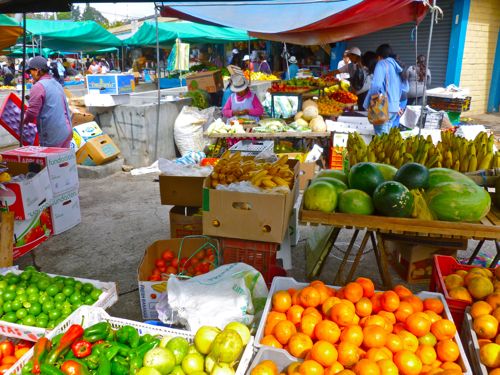 A neighborhood fruit and veggie market
Rather then elaborate with a lot of details like a how-to guidebook, their new e-book, Expats in Ecuador: Life in Cuenca, offers a big-picture perspective and overview of the experience of moving to and living in Cuenca today. 
The authors explore the Cuencano lifestyle with a practical outlook. They discuss what they consider to be attractions and explore cultural conundrums.
Readers will find a wide range of issues addressed, including: deciding to leave the U.S. and live abroad, the city's unpredictable daily climate, altitude and attitude adjustment, money issues (including tipping), utilities/internet/cable TV/phones, transportation, renting versus buying, health & medical care, visas & immigration, popular gringo haunts, and the effects on marriages of expatriating. 
There is an excellent chapter explaining Common Law (the U.S. system) versus Civil Law (the Ecuadorean system) for those of you who, like me, didn't get this in high school civics class. Readers will also find enlightening the authors' take on the future of the U.S. dollar in Ecuador.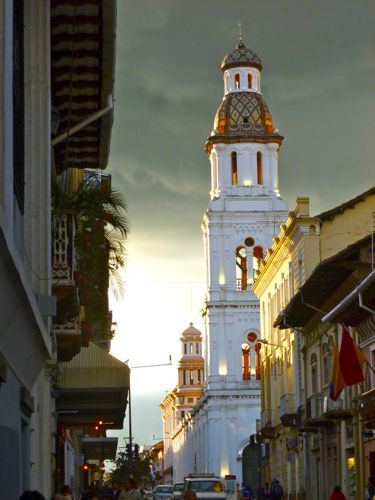 San Francisco is one of several churches in El Centro 
Included in the 158 pages of this e-book are references to other useful publications on expatriating to Ecuador plus blogs and forums maintained by current resident gringos. Expats in Ecuador: Life in Cuenca will interest anyone planning to visit, temporarily resettle in, or permanently relocate to this popular community.
It's true what authors Morrill and Castleman profess: "By the time you're finished reading this book, you'll have a much better idea if you want to catch the next flight ... or if expatriating to Ecuador just isn't for you."
Click here to read the magazine for expats, Cuenca High Life.
---
Return to Home Page