Pulled into the fado
  "Pulled into the fado" is a chapter excerpt from the travel memoir  First You Let It Go, by Shiana Seitz.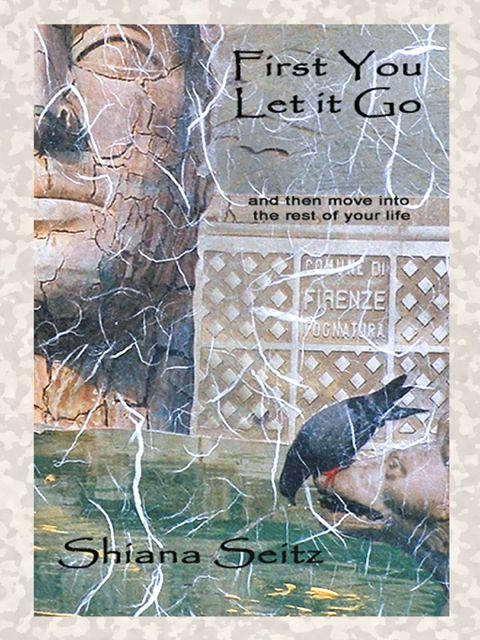 In the southeastern corner of Portugal, I walk with heavy bags on irregular, uneven, even jagged cobblestones from the train station to my hostal. The road to town stretches beside the River Gilão, where multi-colored reflections undulate in the stillness, and crosses a multi-arched Roman bridge that glows like moonstone in the afternoon sun.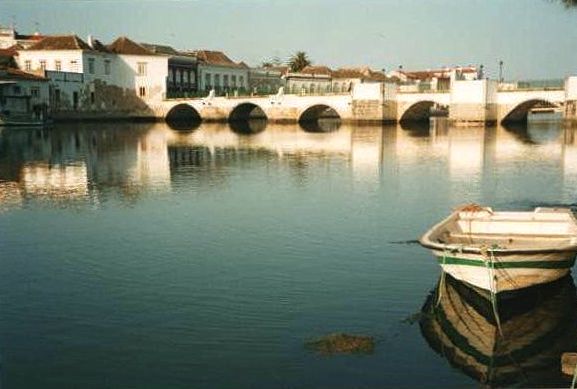 In southern Portugal, the waterfront of the ancient town of Tavira.
To save its cultural heritage, the sleepy village of Tavira has been rebuilding itself for centuries, since the time of the great earthquake in 1755. Every street shows signs of work in progress as people refurbish facades and doorways once built with ability, imagination and care.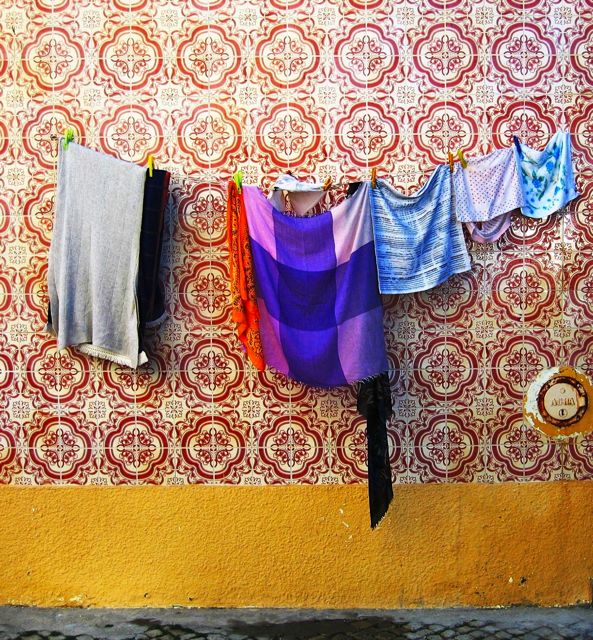 In present time the tiles are faded and chipped with colors and detail that hint of a more prosperous time, a time of wealth and trade before the tuna changed their patterns of migration.
My morning beverage becomes meia de leite, or coffee with milk, which I drink with a variety of breads, readily available everywhere. 
Following the cobbled corridors of medieval times, I walk past simple homes and whitewashed churches. Evening finds me at the river's edge, besides the trawlers that wait for some future high tide to take them out beyond the estuary for a day at sea.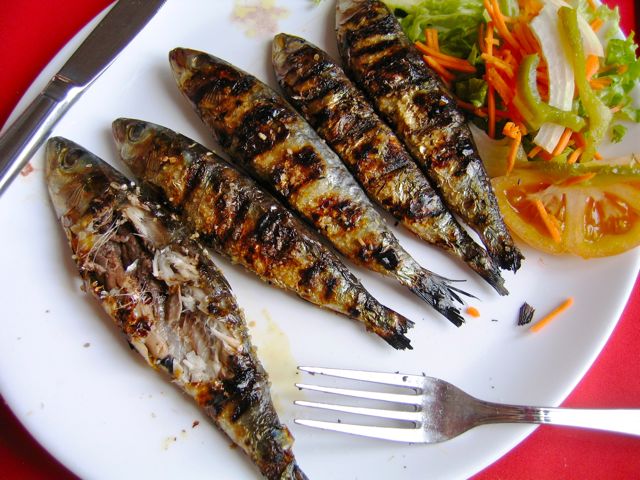 A tasty plate of Sardinhas Assadas
Grilled sardines are a specialty of the area, so I must try them for dinner with a well-chilled glass of vinho verde, a crisp, light wine. In my naiveté, the only sardines I knew before were tiny, skinned and boned, compressed into a can. 
These Sardinhas Assadas are five or six inches long, with charred skin, grilled with olive oil and coarse salt. Delicious!
I travel on and visit a few of the fishing villages along the southern coast of Portugal. Each shares an antiquated charm with buildings in need of repair. But instead of neglect, the mottled paint reveals a genteel blush of rosy hues and withered affluence; the encrusted and embellished iron imparts a weatherworn sheen. 
The charm that I see in this glorification of worn-down buildings is the untold history, the pride from long ago and the creativity of another era. For centuries, these buildings have stood as they are—not torn down, but accepted and used—and I recognize the value in that.