Pulled into the fado,

continued
Whether true or not, I cannot even imagine sailing away from a land such as this, in a time when people thought the world was flat. Though perhaps we all do things like that each time we expand our way of life in order to unearth a new experience.
     The church says the earth is flat,
     but I know that it is round,
     for I have seen the shadow on the moon, 
     and I have more faith in a shadow than the church.
—Ferdinand Magellen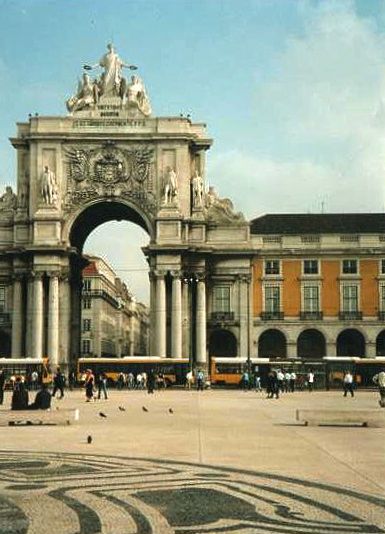 By the time I reach Lisbon I am ready to experience the metropolitan area that once was the center of the world's richest empire. 
Black and white ceramic tiles have paved the pedestrian walkways for centuries; plazas erupt with fountains and flapping pigeons; the buildings display picturesque azulejos, hand-painted tile mosaics. 
In this city where Portuguese descendants of Africa, Asia, and Europe coexist together I walk the myriad neighborhoods of the Baixa and the Bairro Alto. I ride the ornate century-old exterior elevator de Santa Justa, several floors above the city to get a birds-eye view. 
In the morning, I climb the narrow, twisting roads through the Alfama to the only section of the city that survived the great earthquake. This brown, geometric castle stands high upon the hill with a meandering wall, high walkways, boxed-off turrets, and curving arches that stand as the boundary walls between the grounds and the city below. 
Back in Lisbon, I sit on a bench on the promenade near my room and rest my weary feet. After while, a fellow traveler crosses my path with a certain look in her eyes. I recognize the sluggishness of her feet as she drags her bag intermittently across the tile walkway and the confusion on her face as she searches for street numbers not easily seen on the walls. I offer a smile of compassion and understanding, Soon we both discover we're American and become fast friends for the next few days. 
The next evening with reservations in hand we find the right bus to take us to a restaurant for a dinner show of fado music. They say it's an expression of the traditional folk music of Portugal. After dinner, the room darkens and the guitarist lures our attention to the stage. As I am with the melancholy of the blues, the twang of country, or the sultry yearnings of the flamenco, I am pulled into the fado with the soulful songs of lost love and broken hearts. 
The next day Danielle and I take a day trip to the village of Sintra—the fairy tale-style Moorish village of Portugal.