Pulled into the fado4, continued
After a short train ride, the day grows misty and gray. Castles, palaces and manor homes rise through the mists with a magical air.
Just before our exploration of the ancient Castelo dos Mouros we meet up with Nicola. Now we are three best friends and climb the steel-gray steps of the castle walls together. The deep steps climb higher and higher, in ways Danielle tells me, of the Great Wall of China, although a thousand years later.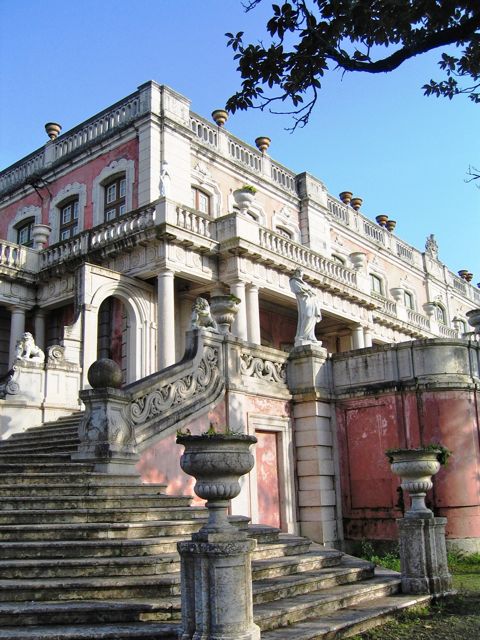 Sintra's famous Queluz Palace
It is strong and rigid and old, with grand views of the land and village below. We have a delightful day enjoying the sight s and end our adventure at an Italian restaurant with some of Portugal's excellent green wine. 
I feel full and blessed with the abundance of my experiences, but I have only begun to taste the flavors of Europe. Not knowing where to go next, I study my map and decide to return to Spain, as Madrid is a more viable point of departure for additional European travel.
When I learn the only train to Madrid leaves at 10 p.m., I return to my guidebook for an alternate route because it seems to me that if I traveled in a sleeper train I would miss seeing the countryside.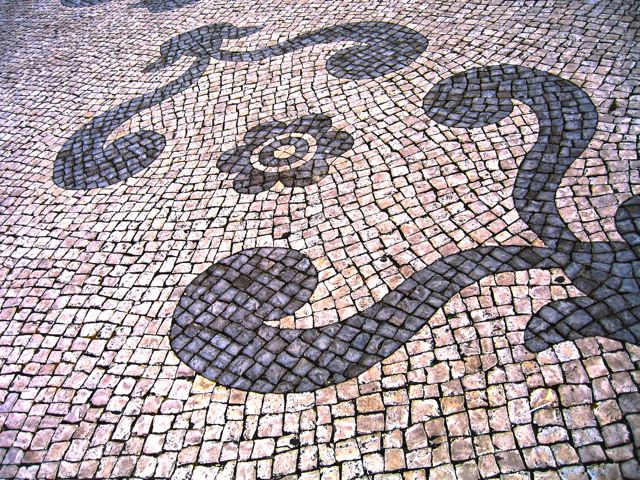 I chose to go to Aveiro because the guidebook described it as quiet, intriguing, and a popular stop for trains. It is indeed a wholesome little town, divided by canals filled with gondolas, churches, museums and lovely blue azulejos on the walls. The streets are laid with mosaic tiled in black and white. 
Azuelos is a form of Portuguese painted, tin-glazed, ceramic tilework. It has become a typical aspect of Portuguese culture, having been produced without interruption for five centuries. Many azulejos chronicle major historical and cultural aspects of Portuguese history.
My room is delightful, with high, recessed ceilings and bedside lamps. But the allure of a village criss-crossed with canals and extraordinary mosaic walkways is not enough to alleviate my transportation problems. 
I have witnessed the exhilaration of both Spain and Portugal when their teams won in futbol. Convertibles and open-windowed cars circle the streets and plazas with exuberant honking, cheering and bare-chested, muscular men waving shirts or flags.
But when it is time to book a ride to Madrid from Aviero, I feel as if i were a human futbol being thrown and kicked from team to team. 
At the train station my first request for a ticket to Madrid is unsuccessful. I go to another counter and am rejected as well. I wait to speak to someone who speaks English and I'm passed from person to person to person; each one makes it clear I cannot go to Madrid or any part of Spain from Aveiro. I am told it is impossible and yet no one suggests an alternative way. 
I walk back to the visitor's center to ask for help. I am told to try the bus station, which is in the other end of town. But the man at the bus station can't help me either. He gives me a number to call from the phone booth a few blocks away.