How to find yourself in Italy 2, continued
to explore northern Tuscany by taking day trips that were all within two hours of home.
A typical day
We have gotten it down to a science as we have done this more than once. Up by nine, morning cappuccino and croissants, a light-hearted discussion of what town to explore, who gets to drive as we both love driving in Italy—no really, we do—and then we are off.
Our first day will take us to explore our home base city, Montecatini Terme. Strolling the streets of the city feels like being on a most glamorous movie set.
Today, however, we want to visit the old city, Montecatini Alto. Alto is set high in the hills overlooking Montecatini Terme. It is reached by car, but we prefer the funicular that takes you up at a slow pace allowing you to take in all there is of the hillside. 
We visit the small shops where one can find the specialties of the area from lace to biscotti. Lunch is at an outdoor café in the main piazza, antipasto, pasta, cheese, bread and wine. Nothing better than this to end our excursion for our first day.
It is a ritual for us that after the main meal, we return home to lay by the pool, take a dip, take a nap and get ready for a late dinner.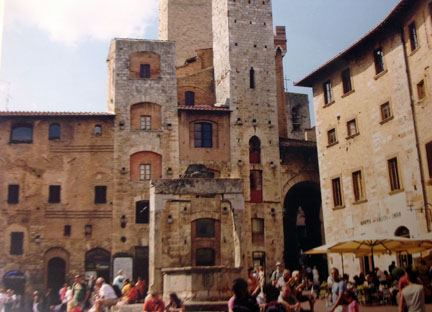 San Gimignano
Another of our favorite choices of hill towns to visit is San Gimignano. Entering the old city transports you to a time of simplicity. The town has a way of allowing you to exhale and then inhale the peace and calm of the cobblestone streets, the small shops that line either side inviting you in to wonder at the local goods sold proudly by the resident merchants.
Located approximately, an hour south of our home base, San Gimignano is one of my favorite destinations. It is completely contained within 13th century walls, has a grand archway as its entrance and is only traveled by foot. Cars are parked outside the old city.
It is said that the fourteen towers left within its walls were built by feuding families who would build a tower taller than their neighbor as a sign of power and stature. The visit would not be complete without climbing to the top of the tallest tower for a view that takes your breath away. A photo could not possibly capture the intensity of the beauty of the Tuscan valley.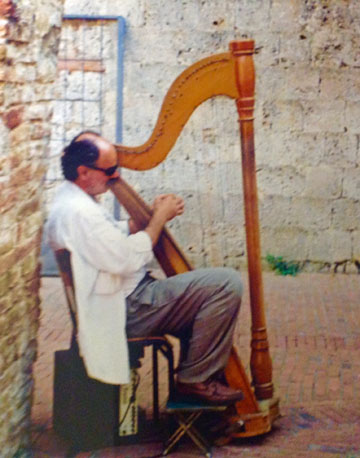 While strolling the streets of the old city, I hear a melody that resembles that of angels calling me to come closer. I find the musician who is sending the music with his harp and give my senses away to the magic of this town.
I am suddenly brought back to reality by my husband on my walkie-talkie calling me to come have ice cream in the main piazza.
Italy unfolds
Our days progress with visits to Cinque Terre, Montepulciano, Cortona and the Ferrari Factory in Maranello where my husband gets to drive a Ferrari and fulfill his dream.
Would you have had any of these wonderful experiences on a tour of Venice, Florence and Rome? Probably not.
Italy is a country to unfold slowly, with care and appreciation for every small detail. It takes time and getting lost to find yourself in Italy.
—Story & photos by Trisha Ballerini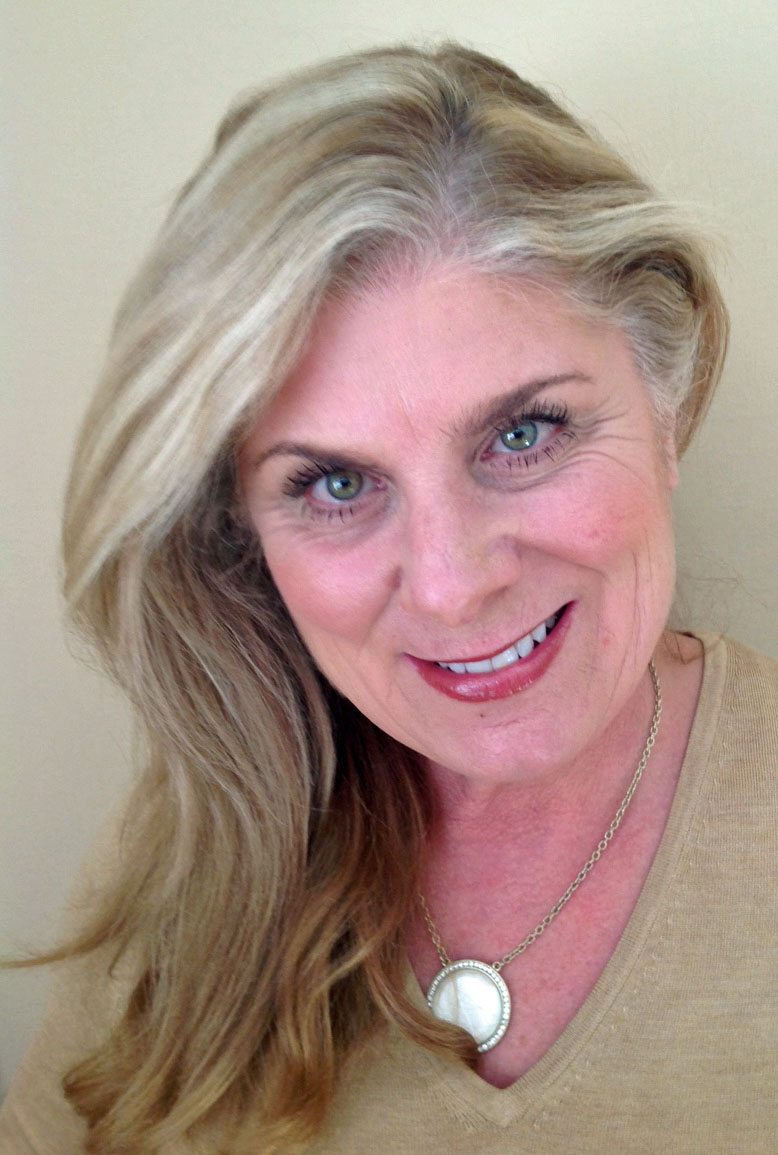 A native of Florence, Italy, Patrizia Ballerini-Trackman has spent most of her life traveling between Chicago and Florence. Food, travel and writing have always been a focus for her and her food blog, Storiesoflifeandfood.com, combine stories of growing up in two countries, family and the food that played a large part of her life.
---