K is for camping in Kakadu
Camping in Kakadu is more sophisticated than you might think. 
At the top end of the Northern Territory, Australia—200 kilometers east of Darwin—is Australia's largest National Park, Kakadu. More than one-third of Australia's bird species plus ferocious crocodiles, kangaroos, wallabies, fish and dangerous snakes live here.
This is another one of those places the then-husband saw on the National Geographic channel and decided we needed to see.
The real camping story
Luckily AAT King's Adventure Tours made camping out in Kakadu National Park a relatively comfortable experience.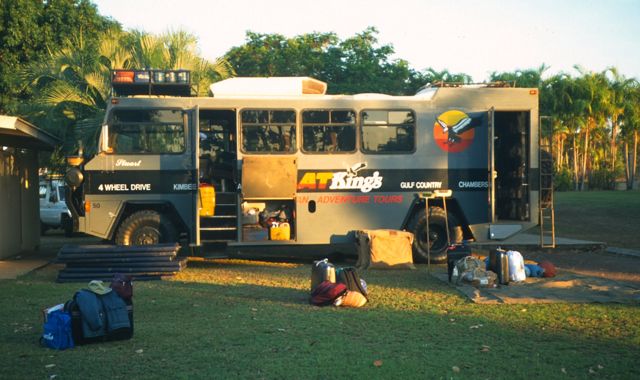 We traveled in a self-contained, Mercedes-Benz military-type RV, custom-designed for this kind of adventure. One third of the back end stored tents, tools, sleeping bags, sleeping mats, luggage, food and water.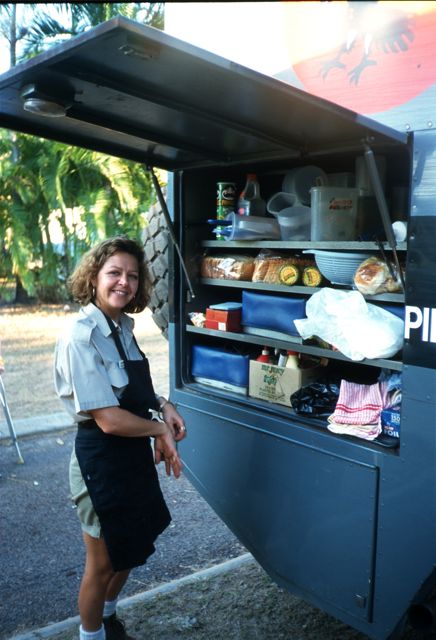 One side of the vehicle flipped down to become a cooking area for meal preparations.
Our guide, Steve, told us they'd named it, "Huey."
You could tell we were married because every evening we were the last to have our tent pitched, while we "discussed" which peg went where, which tool did what, and the proper way to erect the tent.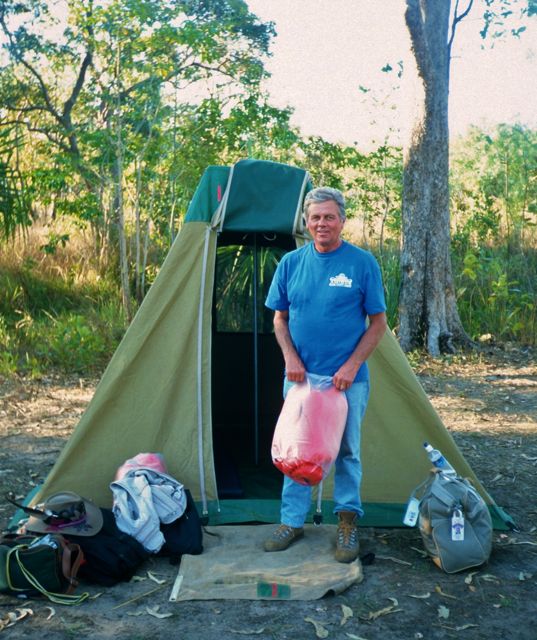 I was grateful that the tents had sealed floors, because Australia is known for having lots of deadly spiders and snakes.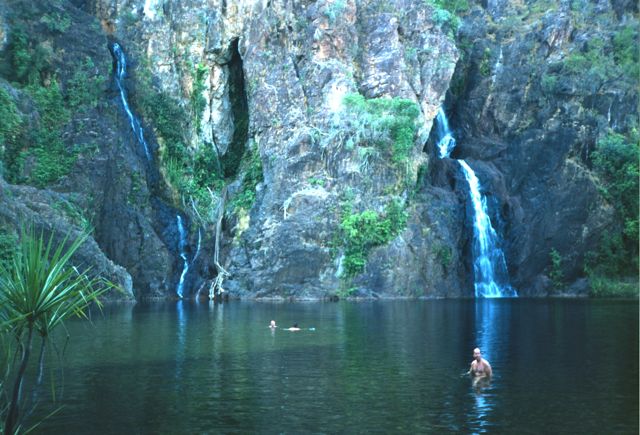 One of our first stops was to swim at Wangi Falls, where parts of the movie, "Crocodile Dundee" were filmed.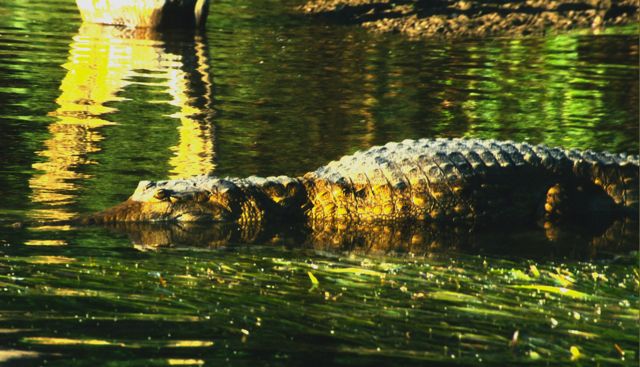 Everywhere there is water we see BIG crocodiles. Interestingly, one of the pontoon cruises we took was on a waterway called the East Alligator River.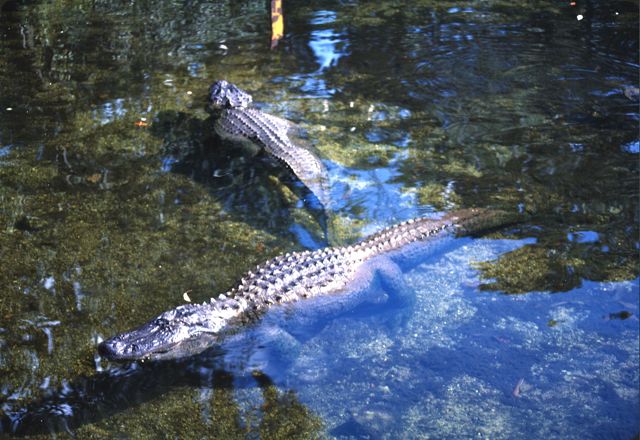 Every day was a new adventure in this vast (20,000 square kilometers) National Park—also called Arnem Land—full of rivers, plains, wetlands and escarpments abundant with wildlife.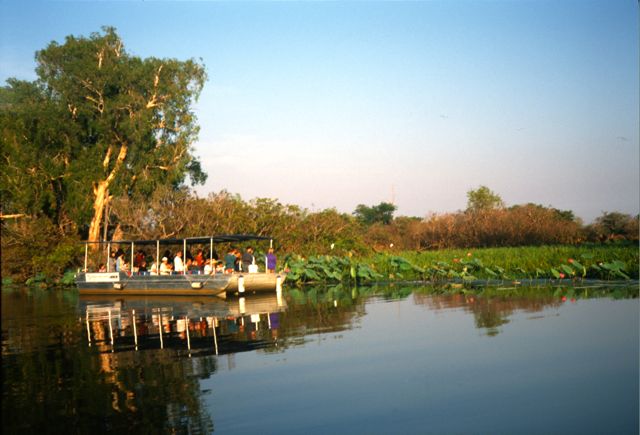 In a covered pontoon boat we explored the Yellow Water Billabong. A billabong is a body of water—not always small—that appears in a a creek bed or low area only during the rainy season; as floodwaters dry up seasonally so usually does a billabong. The word originated in a native Australian language from the words billa for river and bong for dead.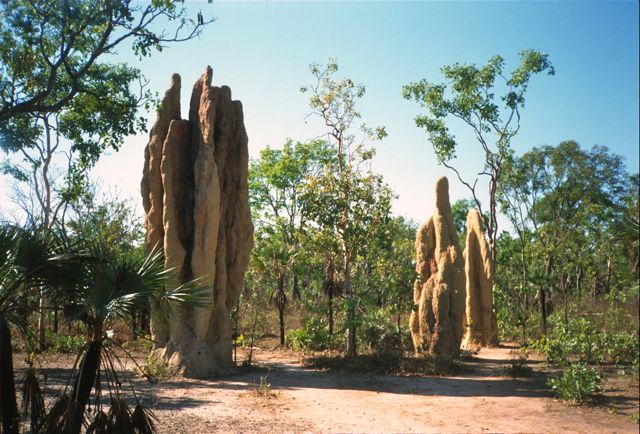 In open areas, termite nests grow to become huge, impressive towers.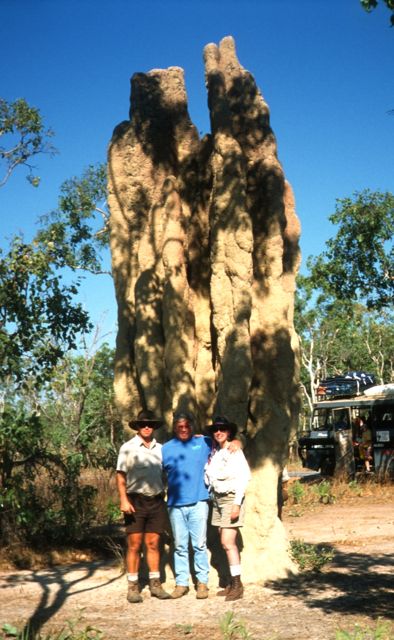 Our guide Steve, posed with us in front of a typical Australian termite nest in this area.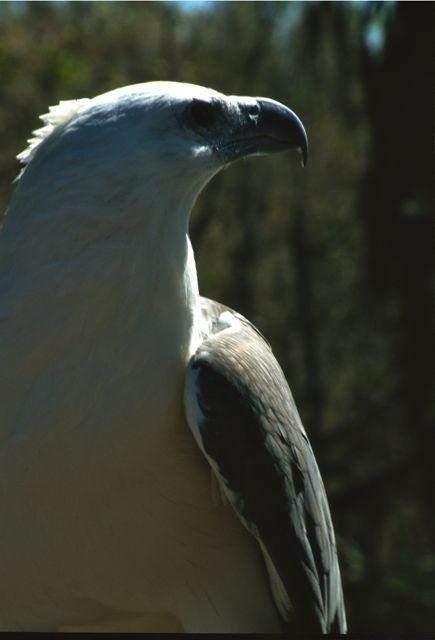 A highlight was a visit to a sanctuary for endangered White Sea Eagles.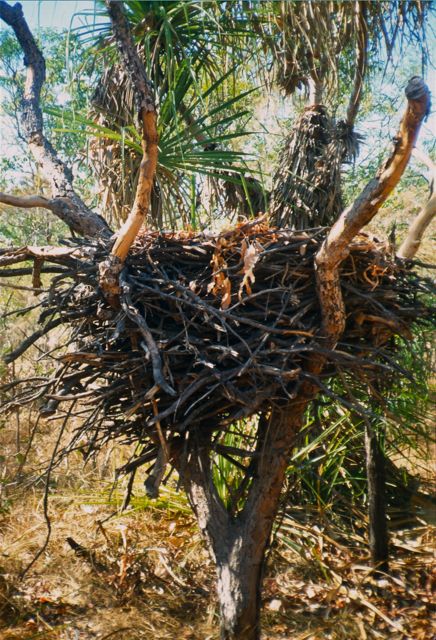 A White Sea Eagle nest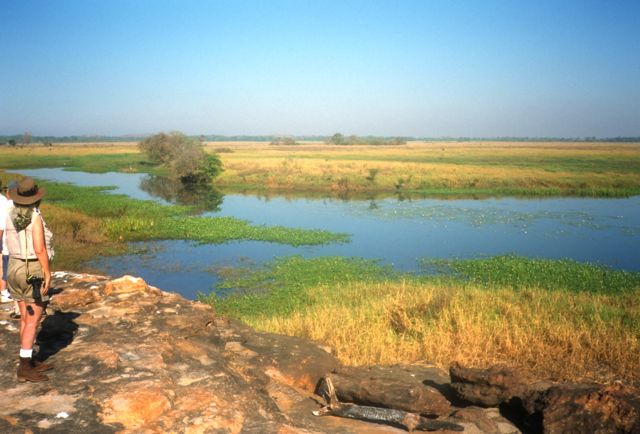 From the top of Ubirr is a stunning view of the wetlands and escarpment country below.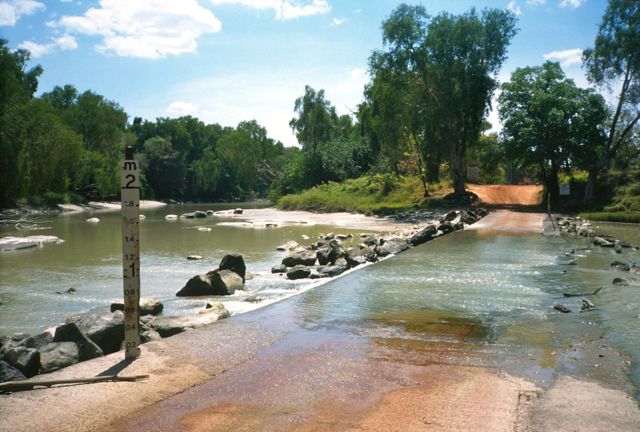 It's common to see roads like this flooded at certain times of the year.
This can be dangerous for Aboriginal residents as crocodiles may be in even the shallowest water.
Monsoon rains alternately flood the plains, turning them green after the sun that scorches it dry. This area is actually called The Monsoon Forest.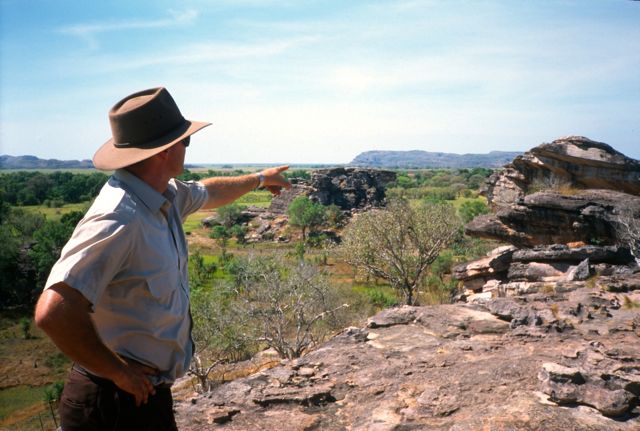 This part of Kakadu, called Arnhem Land, is entirely owned by Aboriginal people who maintain a strong indigenous culture here.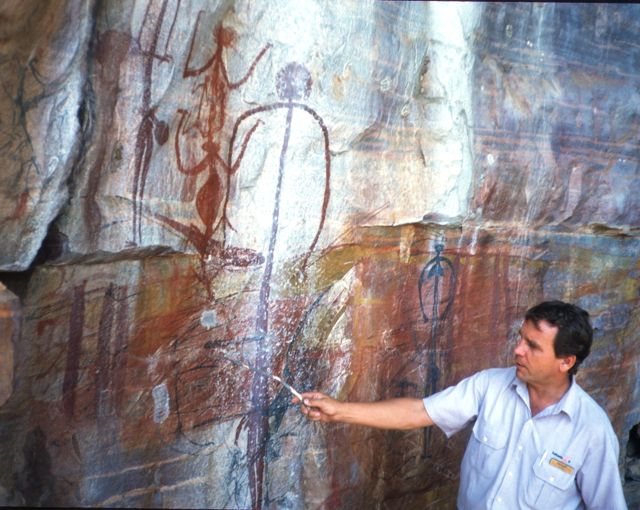 Steve points to rock art dating back 50,000 years. Kakadu has the highest concentration of Aboriginal rock art in Australia.
We hike around Ubirr to see these petroglyphs.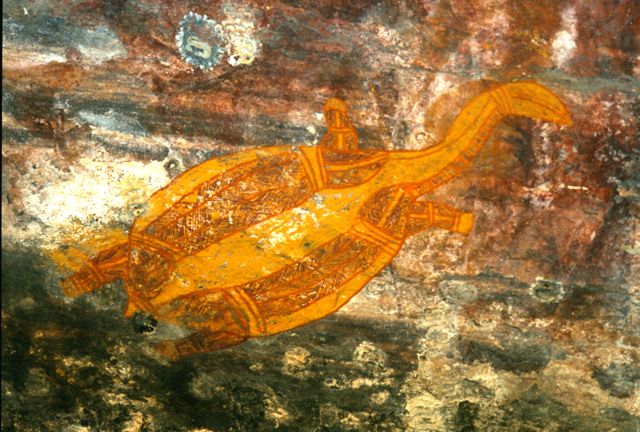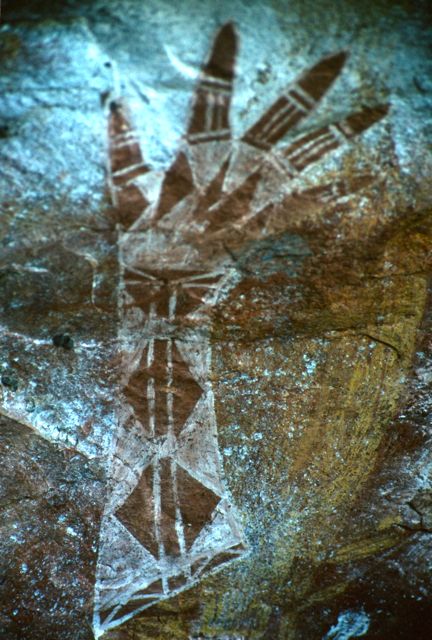 Lunch is served buffet-style from the side of "Huey" that serves as Robyn's kitchen.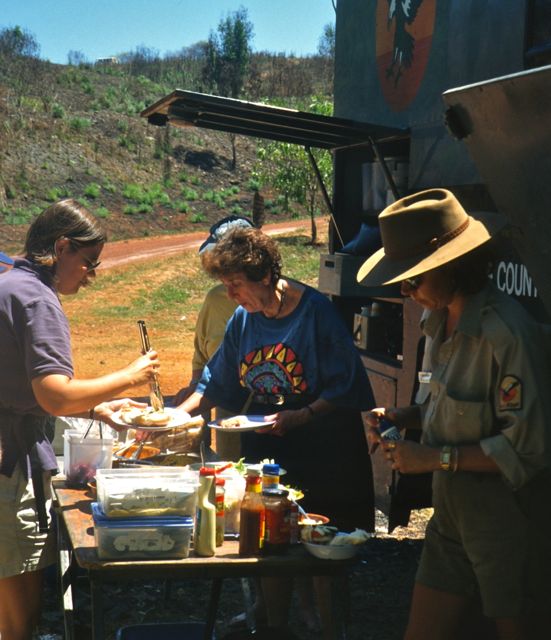 Steven and Robyn make tea the "aboriginal" way.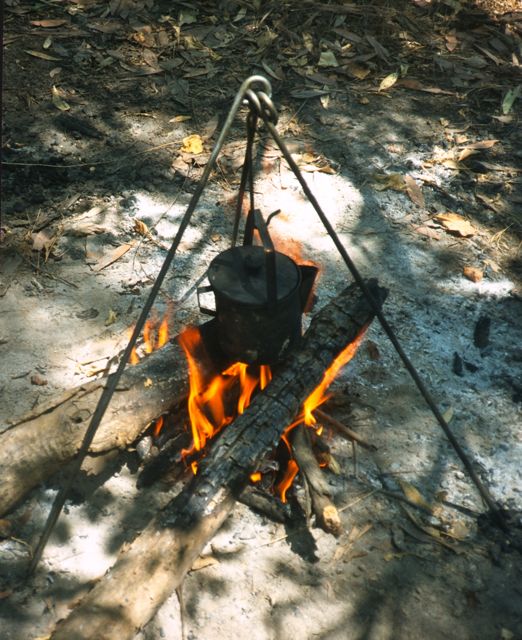 I couldn't resist photographing Steve's knees as he drove. :)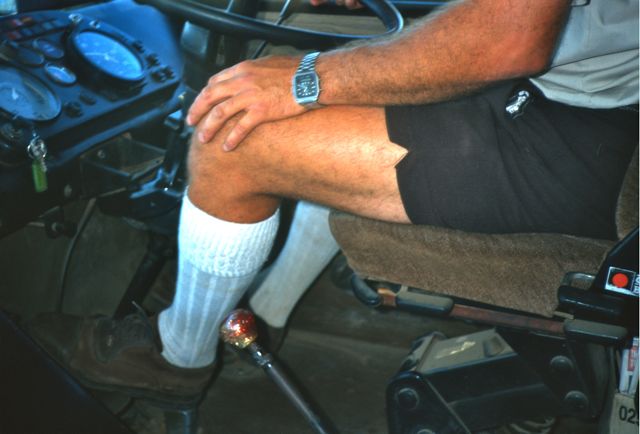 Australia's Kakadu National Forest is one of the world's largest great conservation reserves.
Tomorrow's AtoZ Challenge: For the letter L, I want to share with you some visuals of what Las Vegas was like when I arrived there in 1973.
—Carolyn V. Hamilton, Editor and Chief Adventuress
I welcome your feedback! Did you like today's e-essay? 

Please let me know at my personal e-mail: adventuresstravel@gmail.com

And, please feel free to forward this post to a friend!

To read more for adventuresses like you, CLICK HERE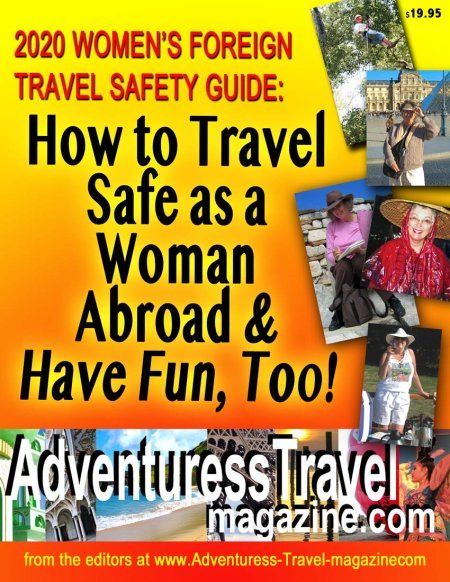 For a limited time, receive a FREE download of our Special Guide, How to Travel Safe as a Woman  Abroad & Have Fun, Too!  when you subscribe to Living the Adventuress Life.

CLICK HERE to get yours now!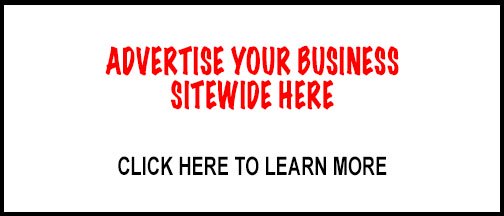 © 2009-2020 SWIFT HOUSE PRESS & adventuress-travel-magazine.com -  All Rights Reserved
To read our PRIVACY POLICY, CLICK HERE