Against the Wind,
Kayaking Tomales Bay
The staff at Tomales Bay's Blue Waters Kayaking did not feel that the winds would increase and well, the white caps were not too big…were they? 
And what do you do when there is a wind and wave advisory at Point Reyes on the California coast and you have a kayak trip planned? Who determines what's safe when winds are 20 to 30 miles per hour?
The kayaks were loaded with camping gear by the time my camping friend Connie returned with the permit from Big Bear Center. She had booked a campsite online, but they still require that you pick up the paper permit from their office in order to camp on Marshall Beach at Tomales Bay. 
Permit in hand, we stood on the shore and contemplated the waves. We agreed that if we got out in the waves and it was too difficult, we would return and not feel defeated. 
Dressed in wetsuits and splash coats, we grabbed our kayaks to give it a try. A staff member held the front end of my kayak as I gingerly sat down and situated myself in the seat, paddle in hand. He pulled me out into the water then returned to retrieve Connie. 
Heading alongside the dock, we maneuvered ourselves out into Tomales Bay, keeping careful watch on the waves. It was imperative to point the kayaks directly into the waves to avoid getting side-swiped and flipped over with all of our gear. 
Everything was in dry bags, but we had no interest in going for a swim. Attempting to flip a kayak upright in rough waters, fishing for and getting all gear back inside, as well as hefting my own body back into the kayak seemed like a daunting task I did not wish to undertake. Connie agreed. 
After clearing the dock, we made a sharp left and headed down toward the west end of the bay where we hoped to find Marshall Beach. A group of high school girls and their two leaders soon followed. 
Marshall beach was located two miles west of the Blue Waters Kayaking Shop. We dug our paddles deep into the water to move forward. Going with the current should have helped, but the high winds continued to try to push us backward. There was no resting—if we stopped paddling even for just a moment, we lost ground. 
According to the staff, Marshall Beach was only a two-hour paddle from the shop. 
The intense sun caused sweat to mix with seawater as we continued to take stroke after stroke. Map in hand, it was difficult to get our bearings while we tried to keep moving forward. Each cove we passed did not hold the landmarks we so desperately looked for.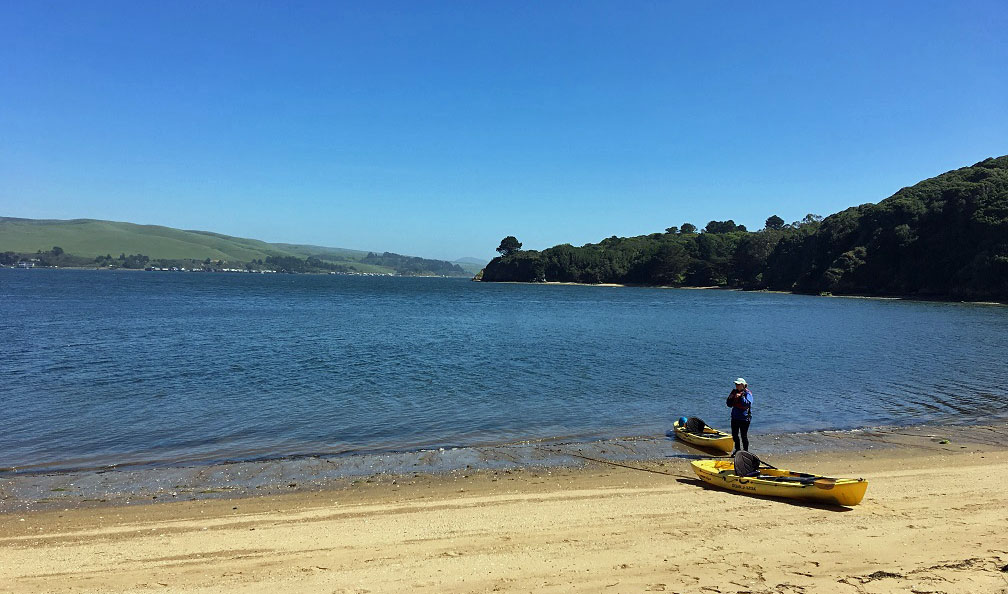 After two hours of vigorous paddling, we stopped on a quiet shore for a break. The high school girls passed us and stopped for lunch on a beach further down. After eating a quick premade wrap we brought for lunch, we ventured back into the waves. 
The going was tough. After 3 hours of paddling we finally began passing recognizable landmarks. A piece of land jutted out into the bay in front of us, clearly marked on our map. 
Marshal Beach was just around the bend. We pushed on hard, aching with every stroke. Connie fell behind, but was still within earshot. Turning the bend, I confronted "the washing machine."
The white-capped waves tossed and turned in every direction. I tried to keep my kayak forging forward into the waves, but it was difficult to keep from spinning sideways, which could prove disastrous in the end. 
The sandy beach where we planned to camp was in sight. I paddled hard, occasionally looking back to make sure Connie was still afloat. It seemed like hours passed fighting churning waves, but finally I broke free and dashed for the beach. 
Sore but grateful, I watched Connie struggle against the waves. Fifteen minutes later she arrived safely, and we worked together to set up camp. Once the tents were up and the gear was stored, we sat down on the beach and each enjoyed caramel apple suckers. 
Thirty minutes later we watched the girls and their leaders struggle through the washing machine. They landed further down the beach, and we heard the complaints regarding the perils of their travels. 
As the day went on, the wind died down and the waves calmed. We cooked pasta with red sauce for dinner and relaxed knowing we had earned the privilege of sleeping on the sandy paradise at Marshall Beach. As the sun went down, a chill entered the air. We retreated   READ MORE at page 2