Against the Wind at Tomales Bay, continued
..to our individual tents for the night and mentally prepped ourselves for the return trip the next morning.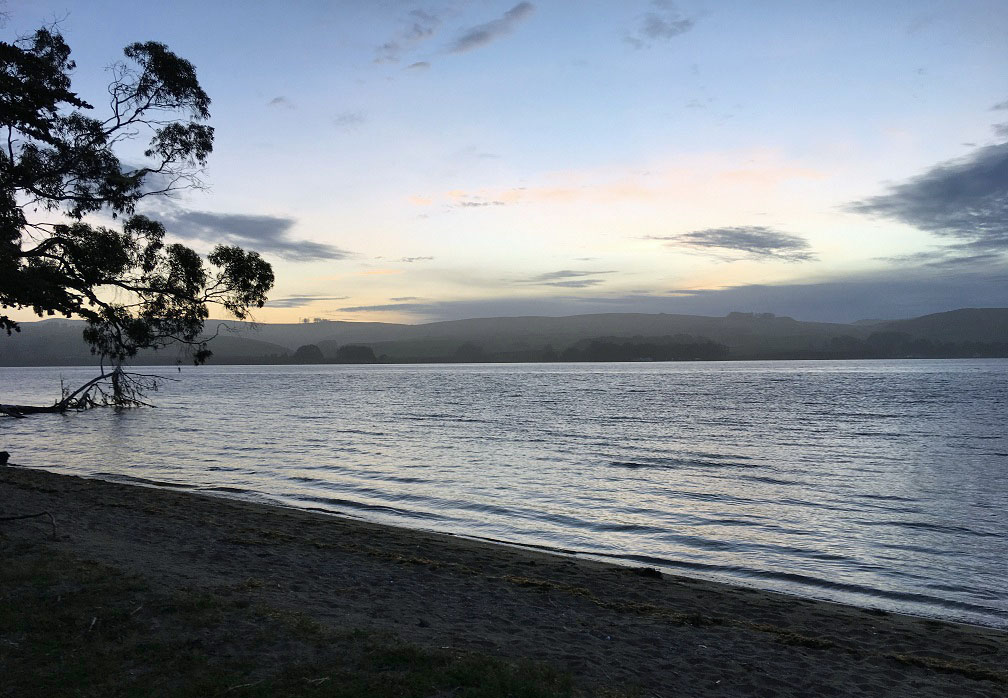 The sun rose in the sky and glistened on the still waters of tranquil Tomales Bay. We heated coffee and drank from our lightweight titanium cups. Reconstituted beans, avocado, and tortillas made for a tasty breakfast of burritos. 
We packed our tents and gear and tugged and pulled our way into our damp wetsuits. The women leading the girls' group approached us and asked if their spirited noise had kept us up in the night. We said "No." 

They responded with grace and admiration, stating that the girls commented on how the ladies (Connie and I) had kicked butt against the waves. They were very impressed at how quickly we arrived at the beach and how far we stayed ahead of them. 
These were empowering words. It's rare for two women, ages fifty-two and fifty-three, to impress eight high school girls. A real feat, proving that you are never too old for exciting adventures.
The paddle back was easy, and gloves helped ease the pain from blisters earned the previous day. The return trip to Blue Waters Kayaking took one hour and 45 minutes, which was less than half the time it took to get out to the beach. The staff helped us pull our kayaks back up onto the beach. We chatted with them for a while, unpacked our gear, and loaded the car. 
On that bright, sunny day we felt a true sense of accomplishment.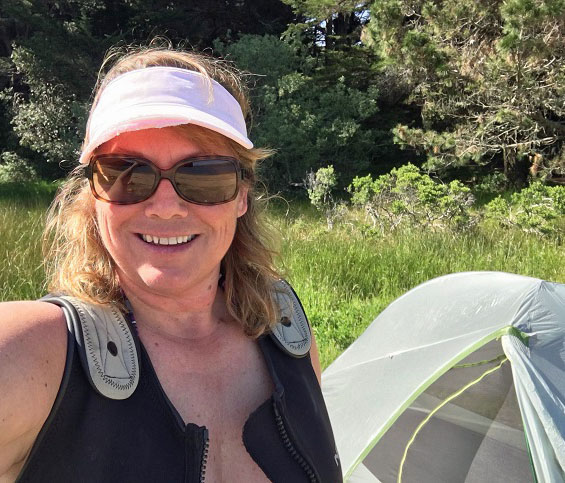 My longtime friend Connie and I car camp with our families, backpack, and sometimes have the blessing of staying in luxury accommodations. This time we sought out something new, and the kayak/camp trip fit the bill. If you are looking for a new kind of adventure, give kayak/camping a try.

--story and photos by Tracy Beard

---
Tracy Beard is a freelance writer specializing in travel, non-profits, alternative medicine, and direct response copywriting. As the founder and past president of an international children's non-profit, Tracy traveled extensively, empathized with people in need, learned the importance of good health, and raised funds writing exceptional direct response copy. Her thirteen years of experience writing in various genres has added to her expertise. She is a member of AWAI (American Writers and Artists Inc.) and ITWPA (International Travel Writers and Photographers Alliance). Check out her website www.tracybeardwrites.com

---
If you liked this story, read other adventures with Tracy Beard:
Ski Patrol 'Ski Along' at Powderhorn, Colorado
Sailing on a Windy Day in Sardinia
Going Downhill in the Island of Crete's Samariá Gorge
Canyoning near Lucca, Italy—Hanging from cliffs…Why not?
Bicycle Touring in Rome—84 Degrees and Sunny
---
---