L is for Las Vegas memories
Forty years ago, in the 1970s, the "old Las Vegas" still lived.
The summer after I arrived in Las Vegas to join a circus and ended up opening the original MGM Grand as a cocktail waitress, my parents drove down from Seattle to visit.
In his retirement years my father had taken up photography. He delighted in driving up and down the famous Las Vegas Strip photographing all the hotels.
Most of these hotels, photographed in 1974 by my father, Arthur H. Vagts have been resold, remodeled, or imploded in the last four decades.
That Las Vegas had a population of 172,000 people; today there are over two million people who live and work there.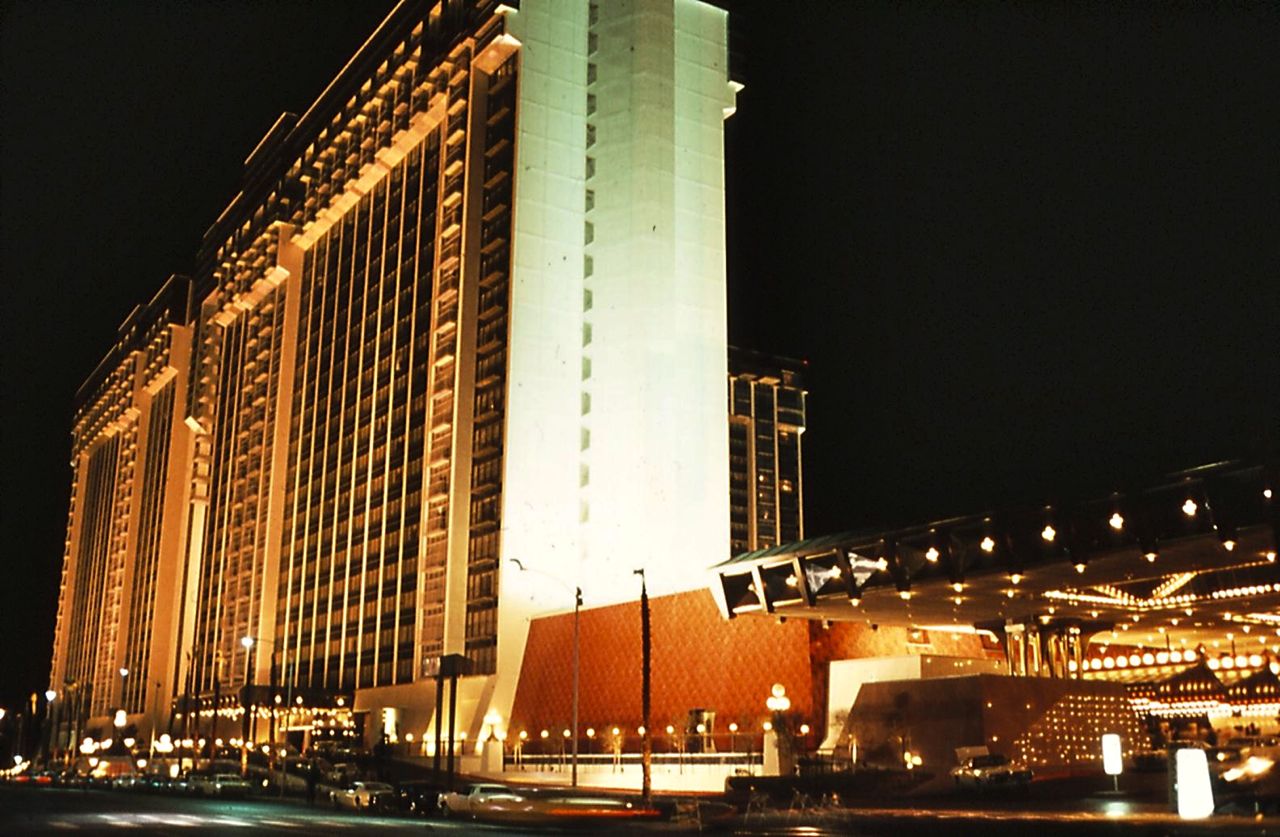 I don't count the MGM Grand as one of the "hotels still standing" because this location is now Bally's, and there is a new MGM Grand down the street.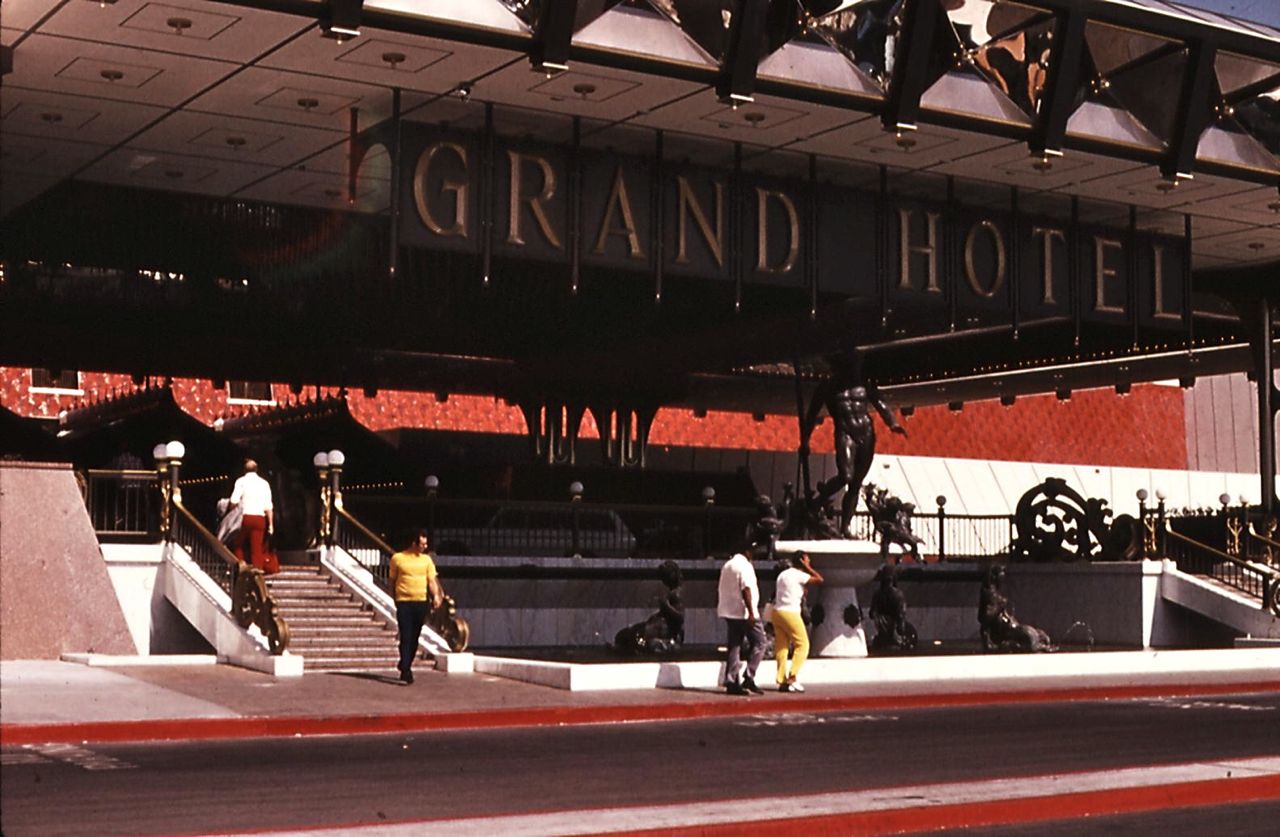 The main entrance to the MGM Grand faced Las Vegas Boulevard (the famous "Strip"). The marquis says only "Grand Hotel" because the theme concept was based on the MGM movie, "Grand Hotel."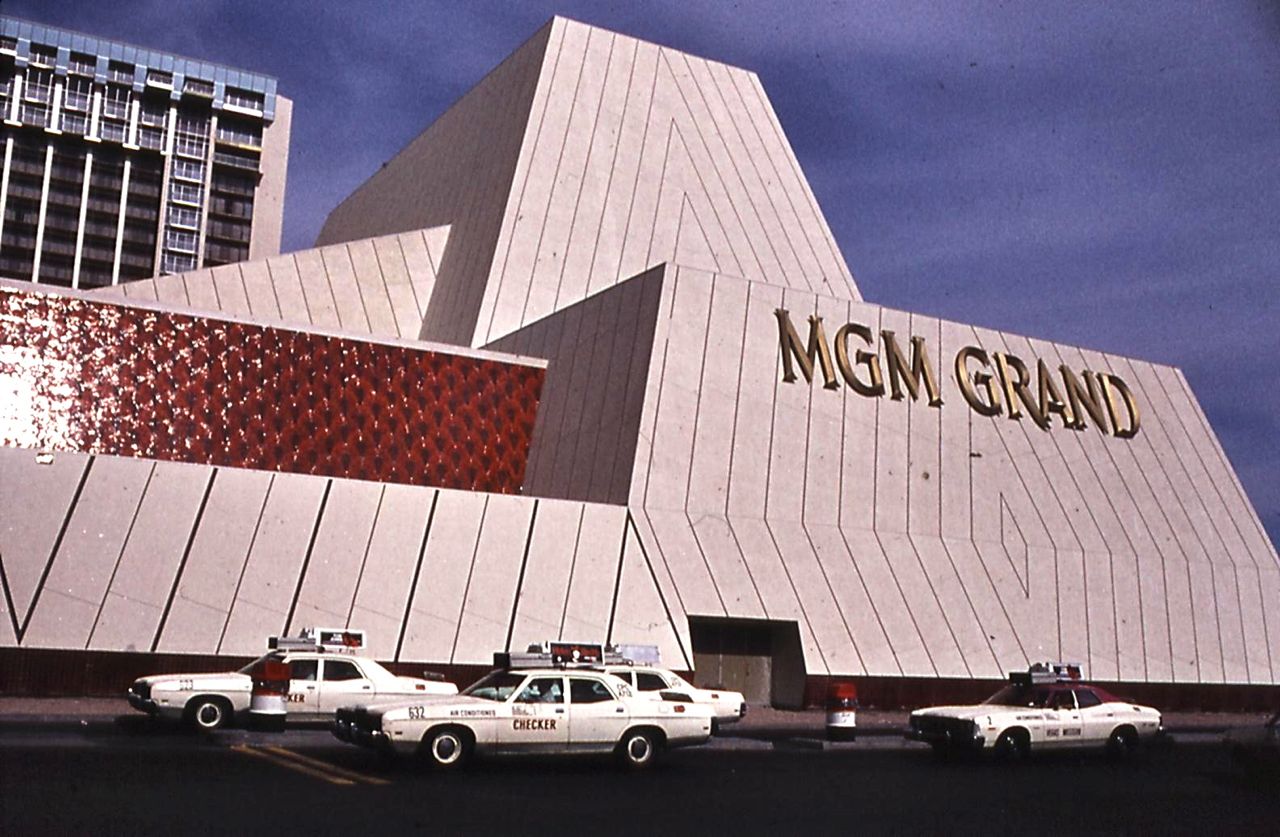 To see the "new" MGM today, CLICK HERE.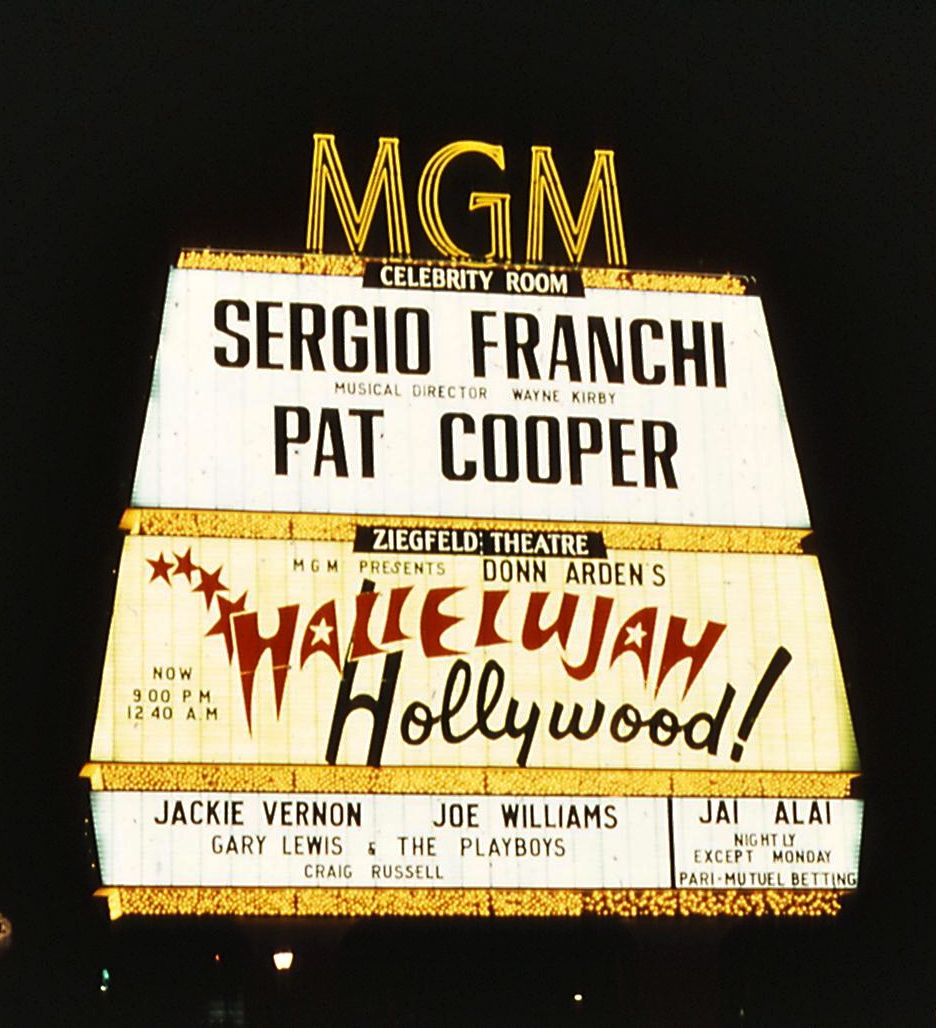 This marquis later burned down, but that's another story. In the memoir I'm currently writing, "Coming to Las Vegas" I have a funny story about Pat Cooper.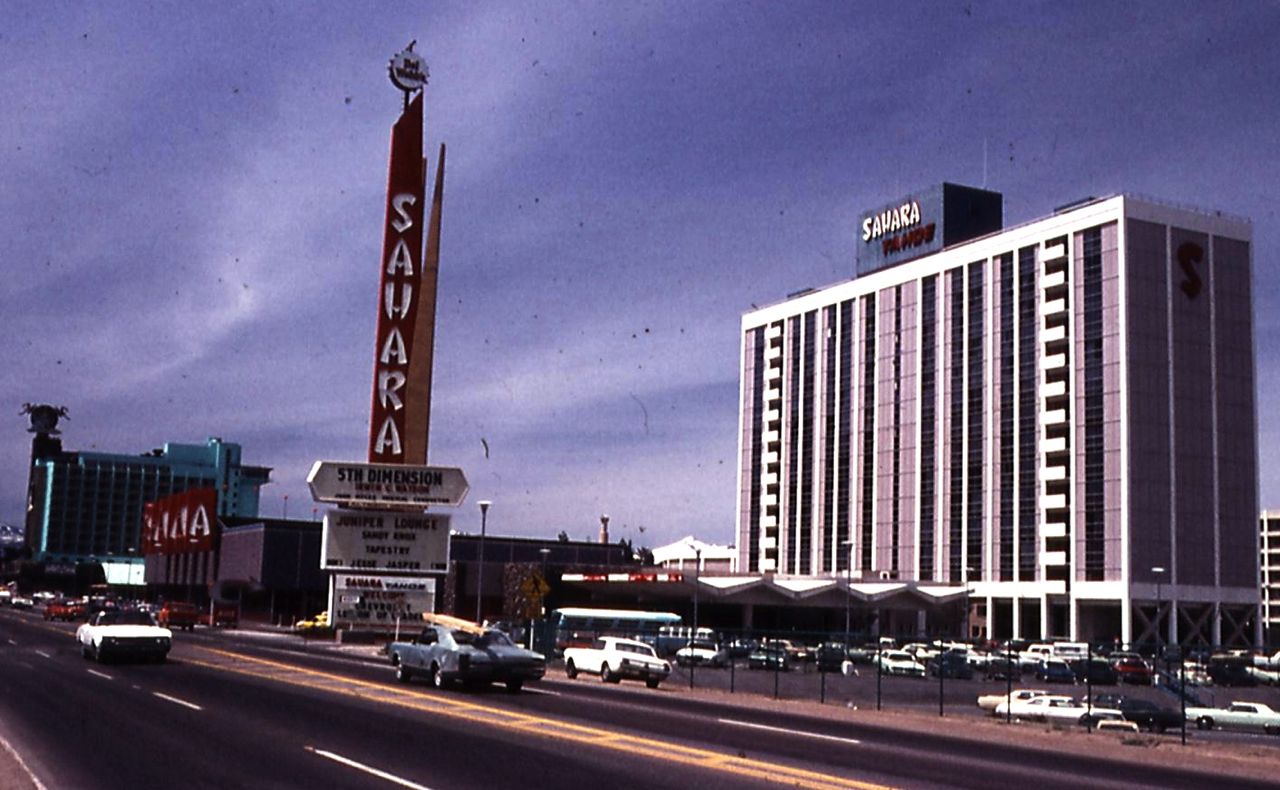 After 59 years the Sahara Hotel closed in 2011. A new project, SLS Las Vegas, with 1,600 rooms, plans to open this year on August 29.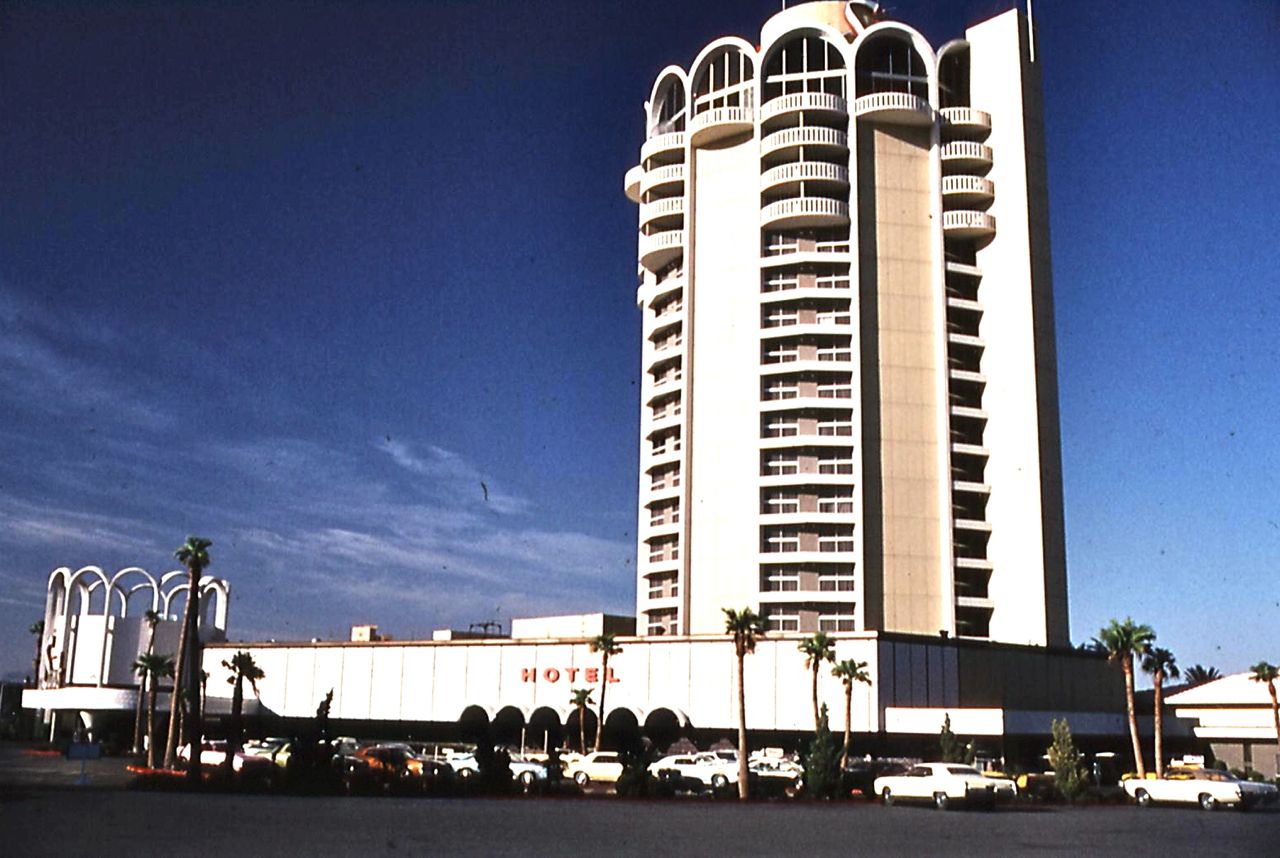 If you've seen "Ocean's Eleven" and know about the Rat Pack, you remember the Sands Hotel, which opened in 1952. The film was originally conceived as a promo piece for the hotel.
There's a story that after filming a scene Frank Sinatra was leaving when the director said, "Wait, Frank, we want a second take." To which he replied, "If you want a second take, print it twice" and left.
The Sands was imploded in November 26, 1996, and the Venetian Hotel sits there today.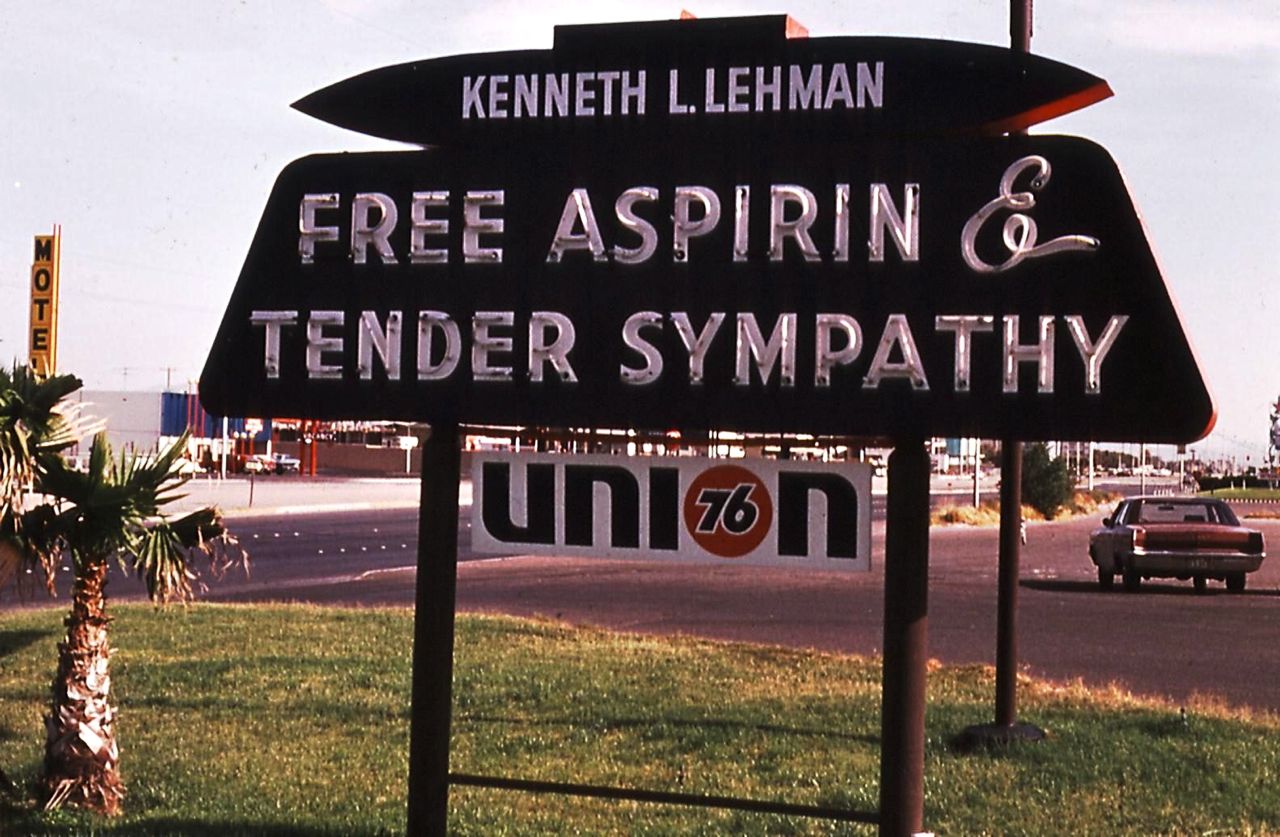 This sign was in front of a gas station next door to the Lone Palm Motel/Trailer Park where I lived for the first year after I arrived in 1973. The New York New York Hotel and Casino sits there today.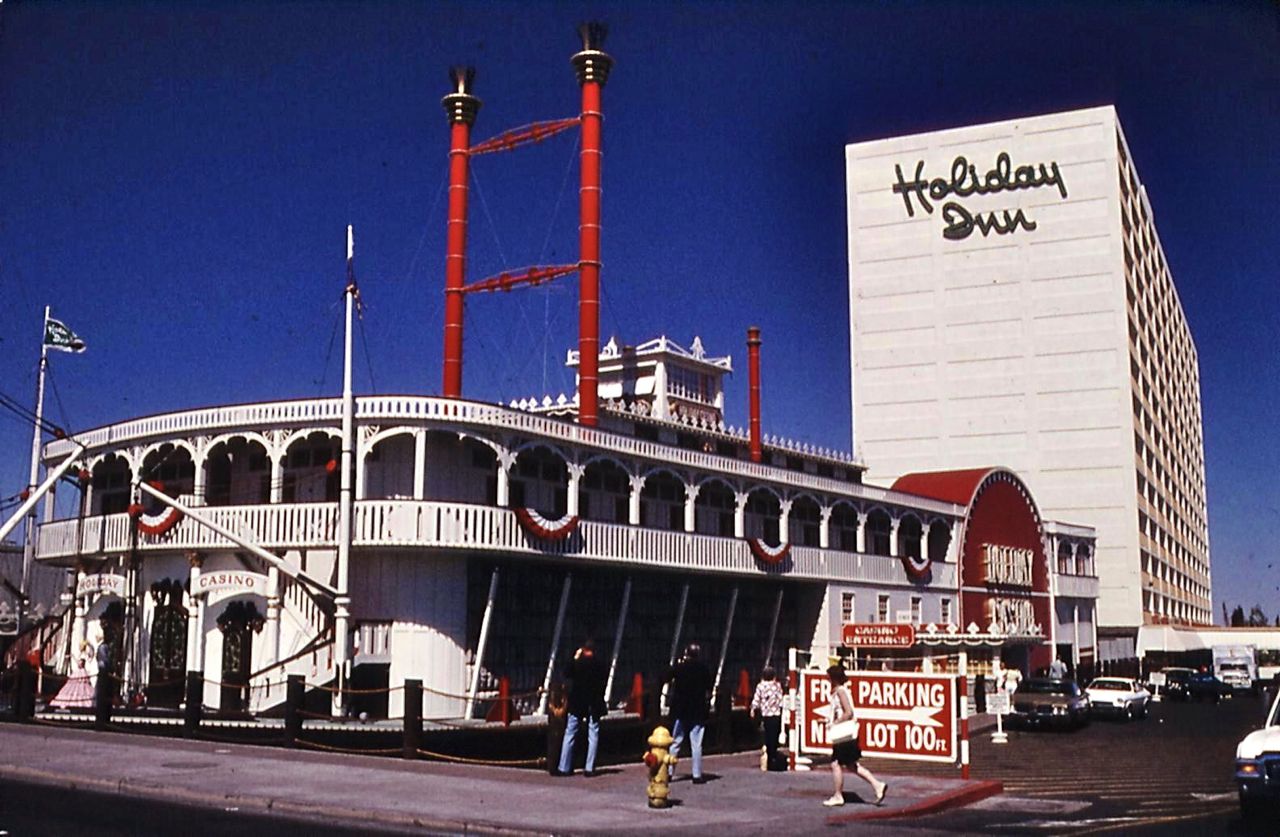 This river-boat themed Holiday Inn was right in the middle of the Strip.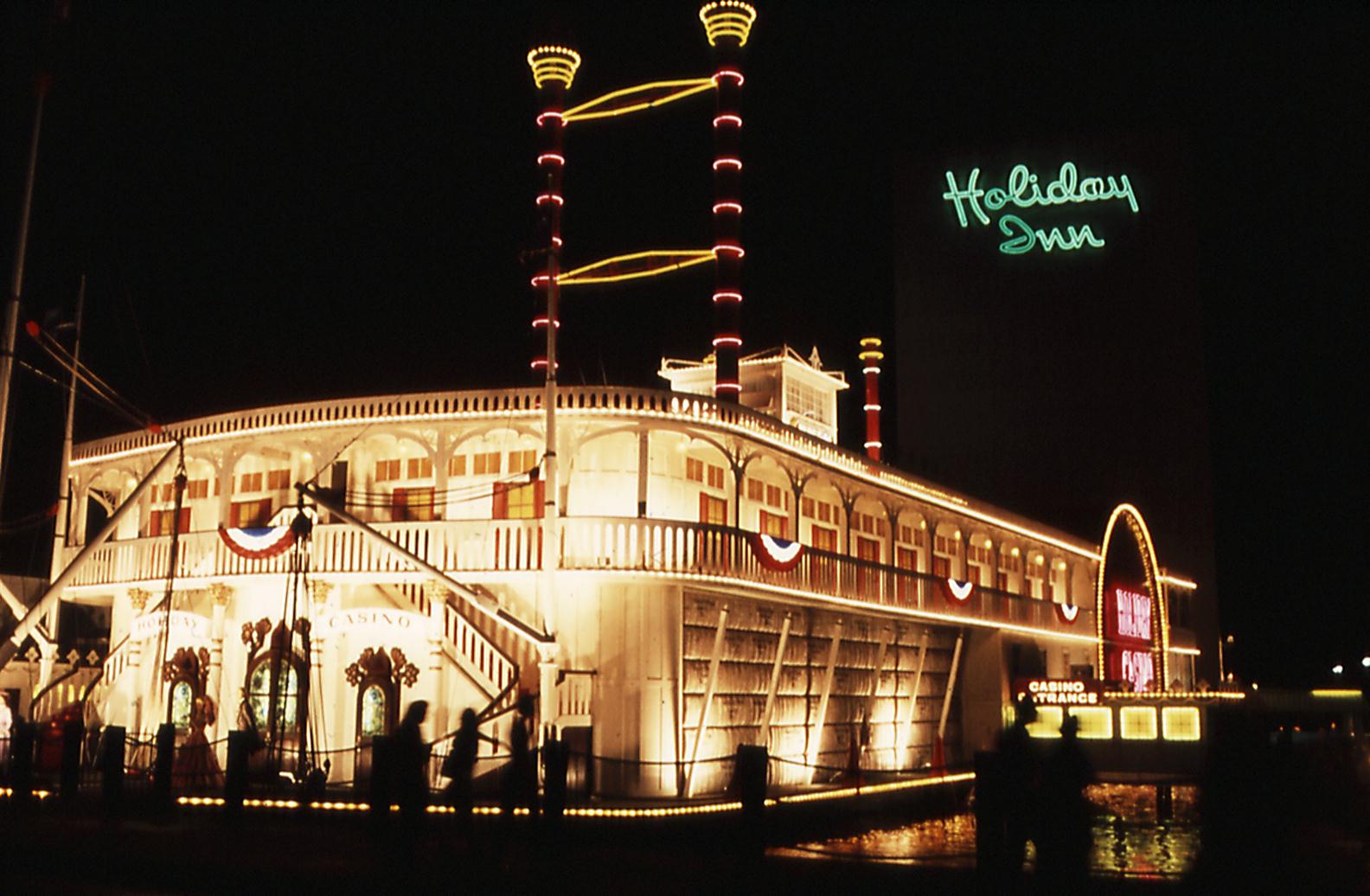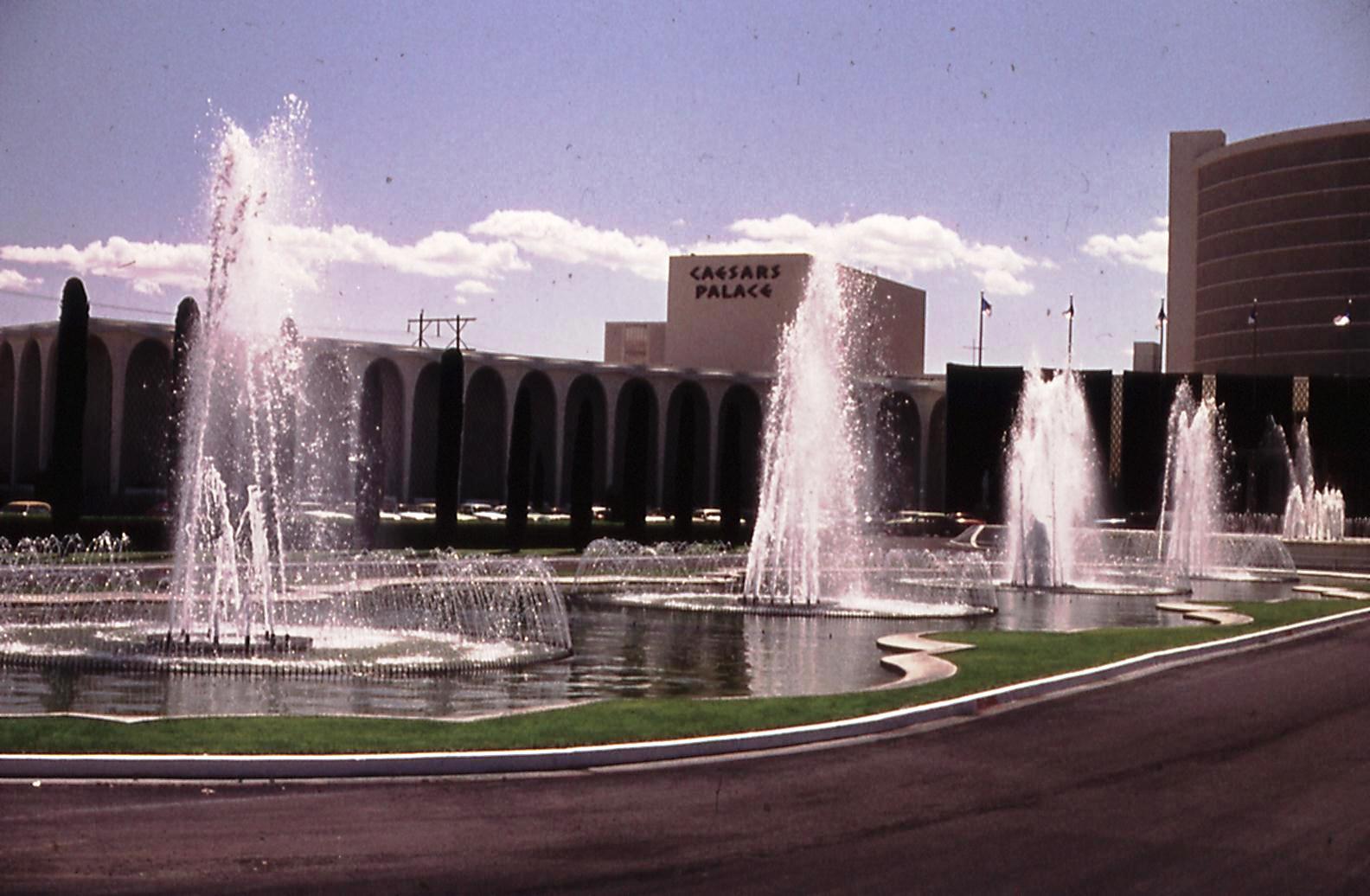 Caesars Palace, which opened in 1964, remains a striking landmark on the corner of the Strip and Flamingo Road.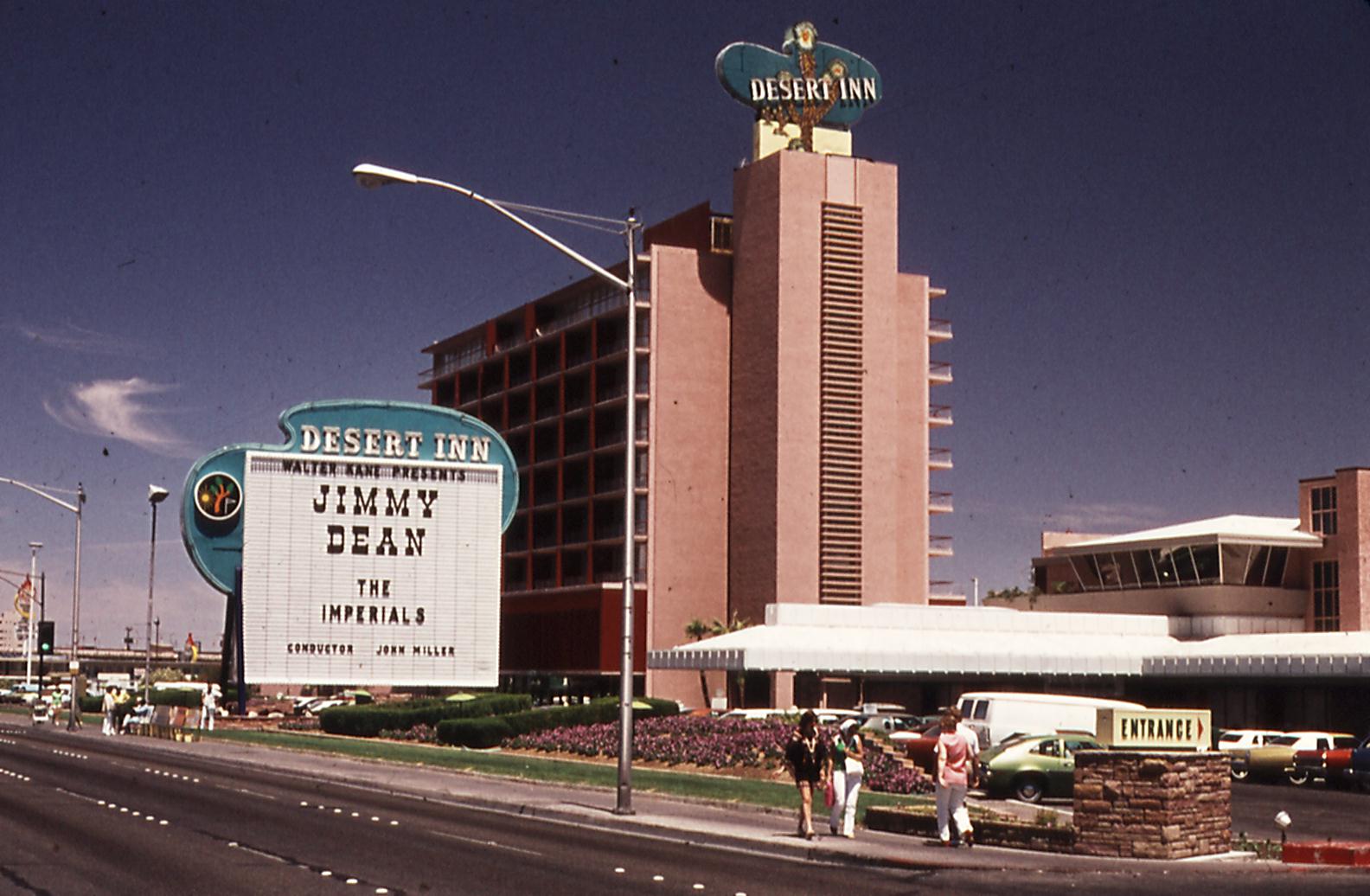 Opened in 1950, the Wilbur Clark's Desert Inn included an 18-hole golf course.
The hotel/casino's other claim to fame is that from 1966 until 1970, Howard Hughes lived in seclusion on the top floor. 
In a series of four implosions, the last of it was imploded in 2007. Wynn Las Vegas sits there today.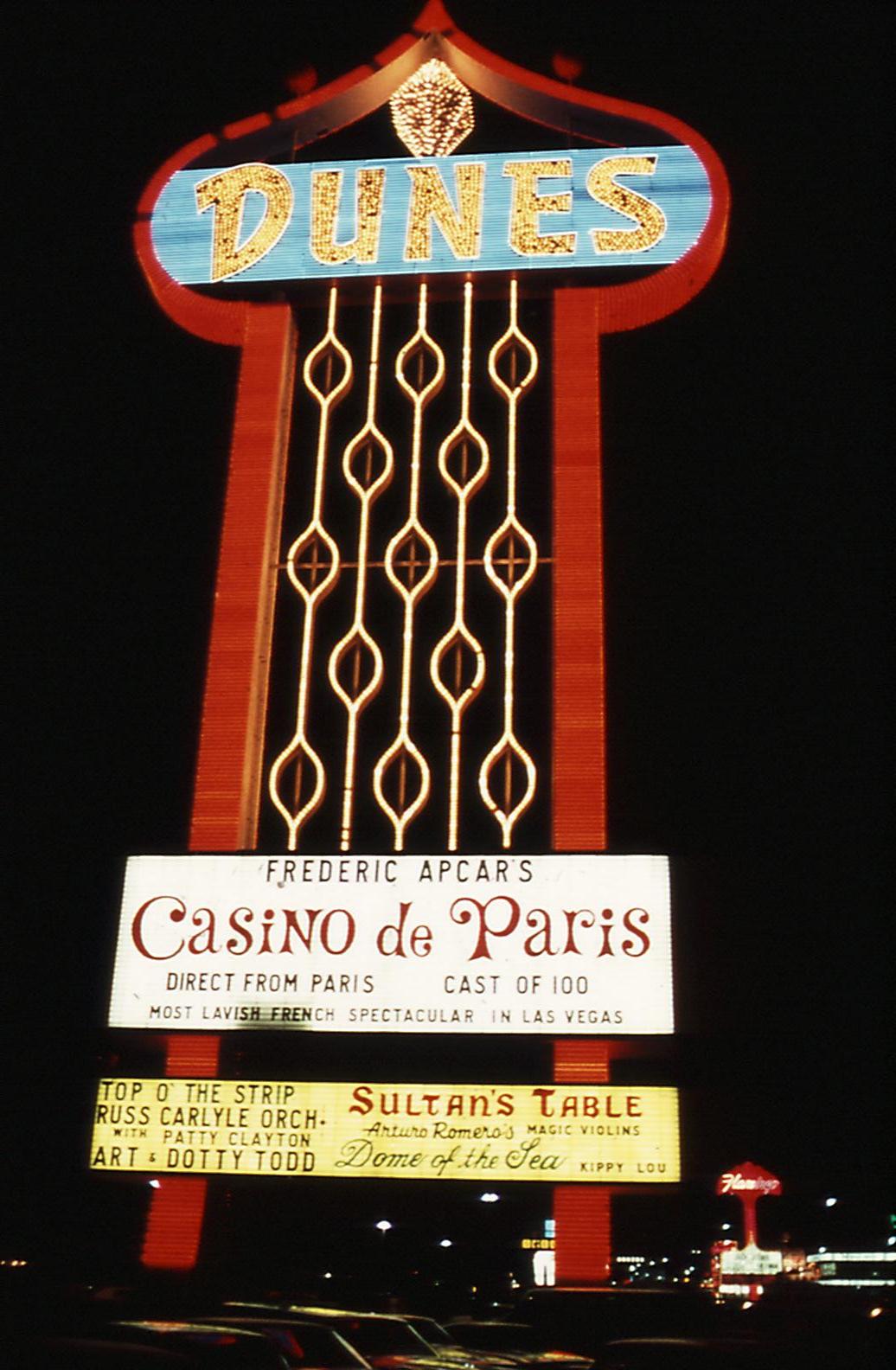 When the Dunes Hotel/Casino opened in 1955, the resort also had an 18-hold golf course, plus a 90 foot-long swimming pool, and a rooftop health spa. I loved that spa! It was the only place in town you could sunbathe nude.
Steve Wynn bought it and when he imploded it in 1994 to build the Bellagio, nobody paid much attention.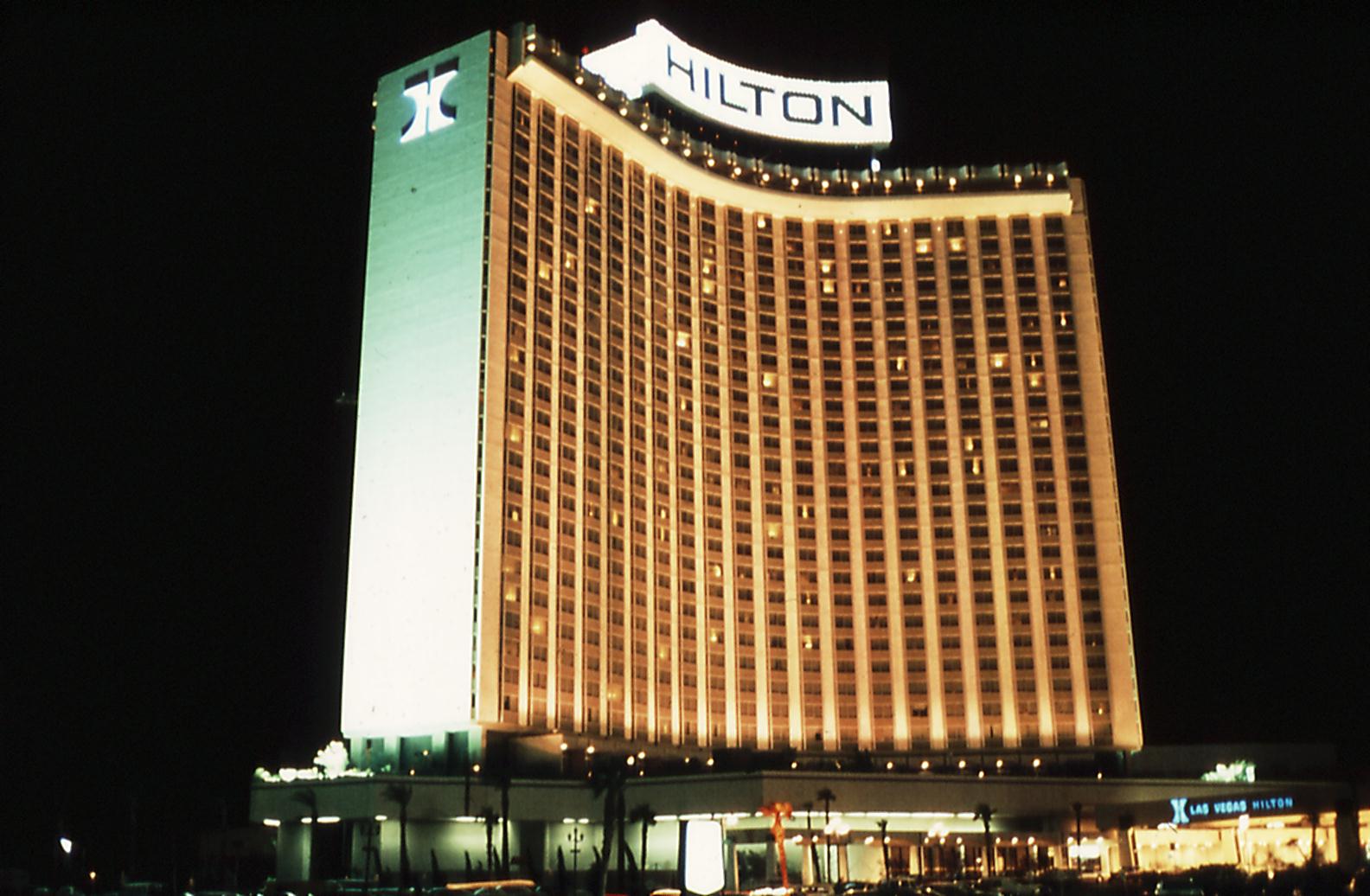 Hilton Hotels pulled their franchise out of Las Vegas in 2011, and after decades the Las Vegas Hilton now has new owners and is the LVH, Las Vegas Hotel and Casino.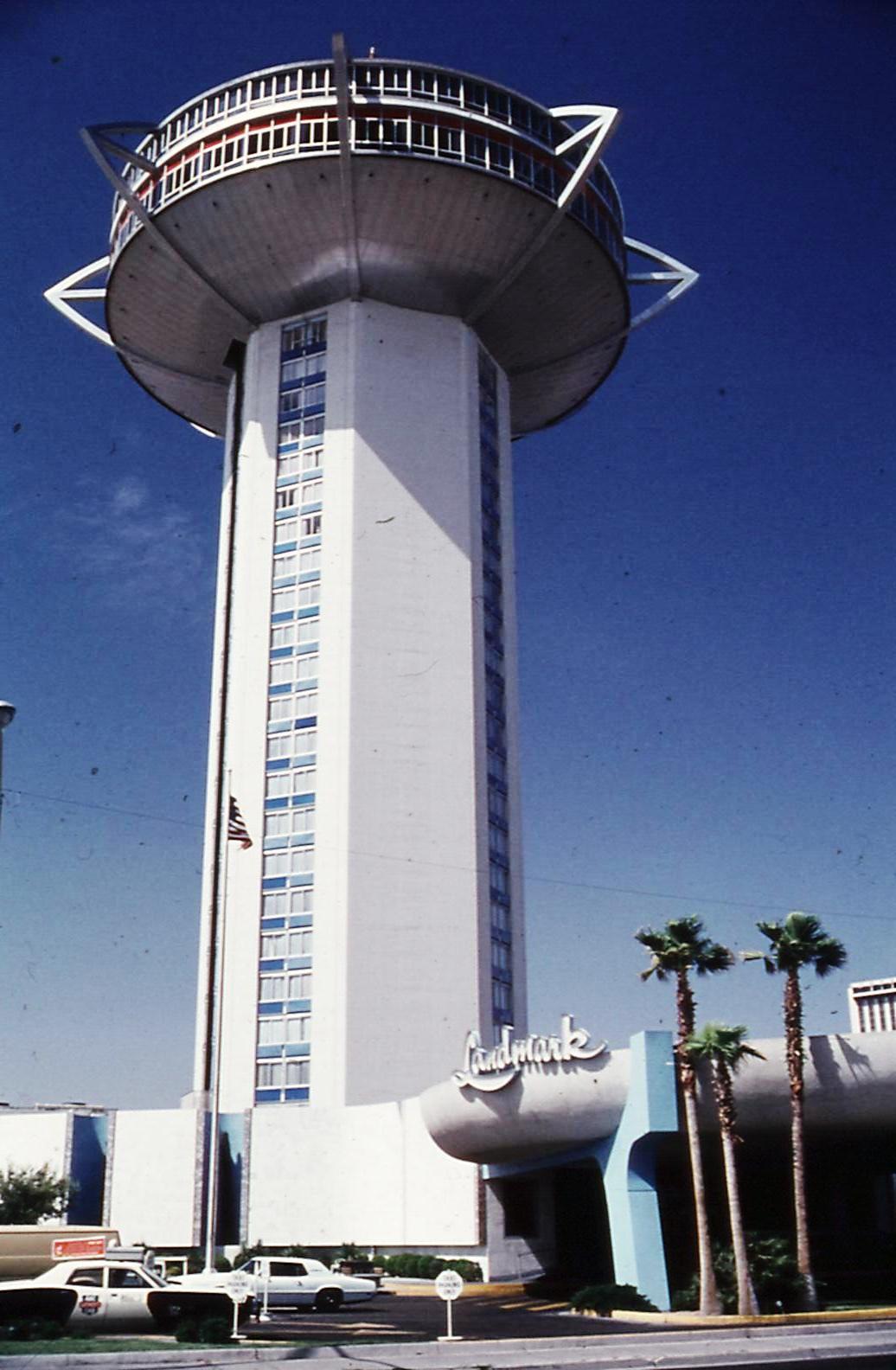 Howard Hughes built this hotel in 1963 but didn't open it until 1969. In the Martin Scorcese film "Casino", the Landmark's exterior was used as the outside of the fictional movie casino, The Tangiers.
This was never seen as a "high-class" hotel, and a lot of locals hated the tower architecture.
It went ka-boom in 1995 and today the 22 acres where the Landmark stood is a parking lot for the Las Vegas Convention Center.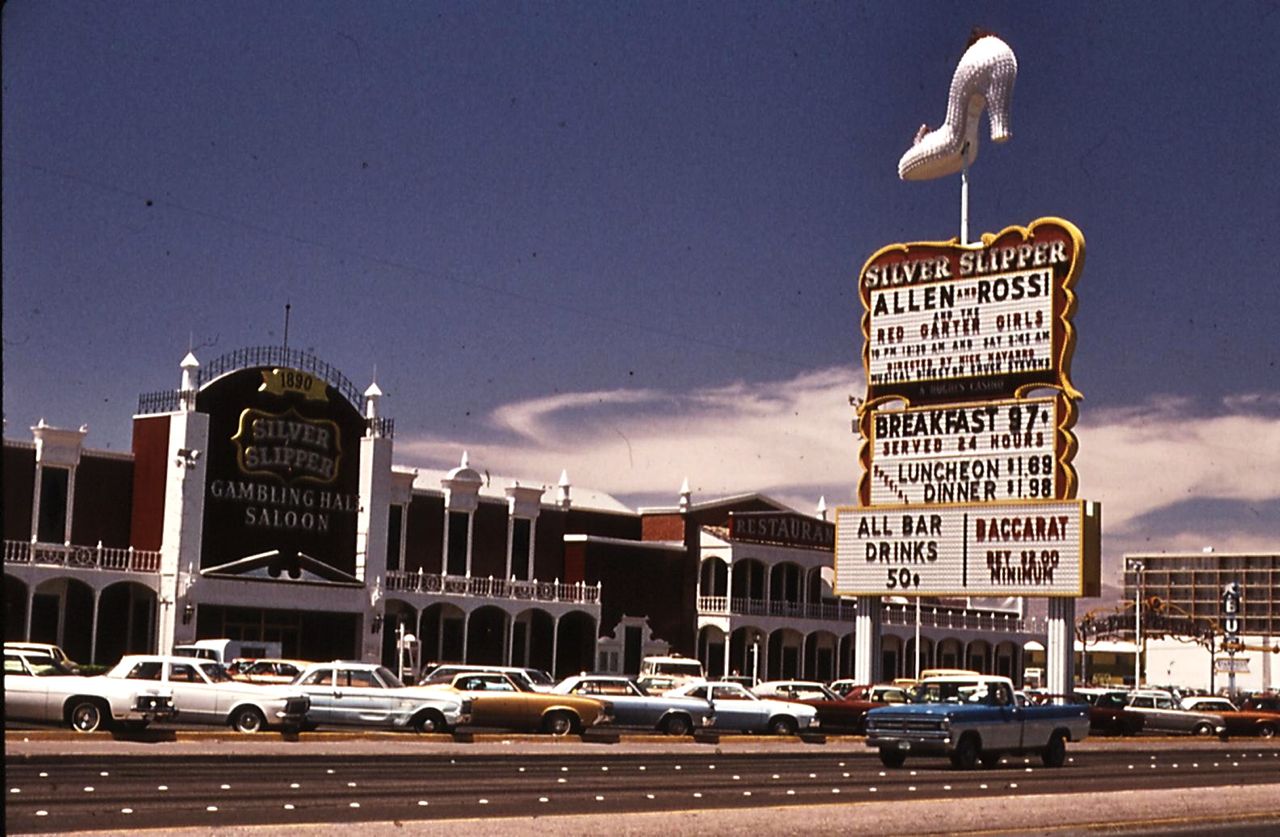 The Silver Slipper was a little Strip casino that operated from 1950 to 1988. The rotating sign of lights shaped like a high heel has been preserved, though.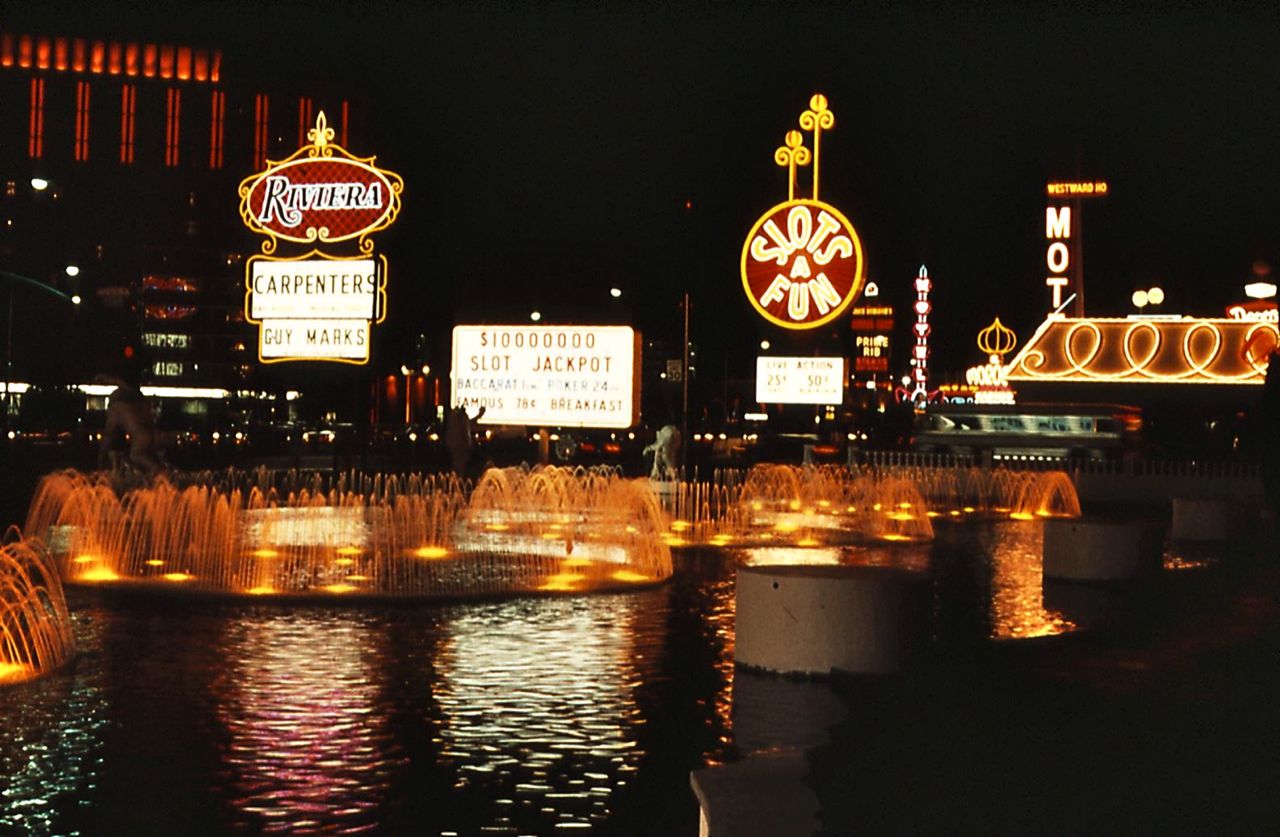 The Riviera and the Slots-A-Fun casino are still open today.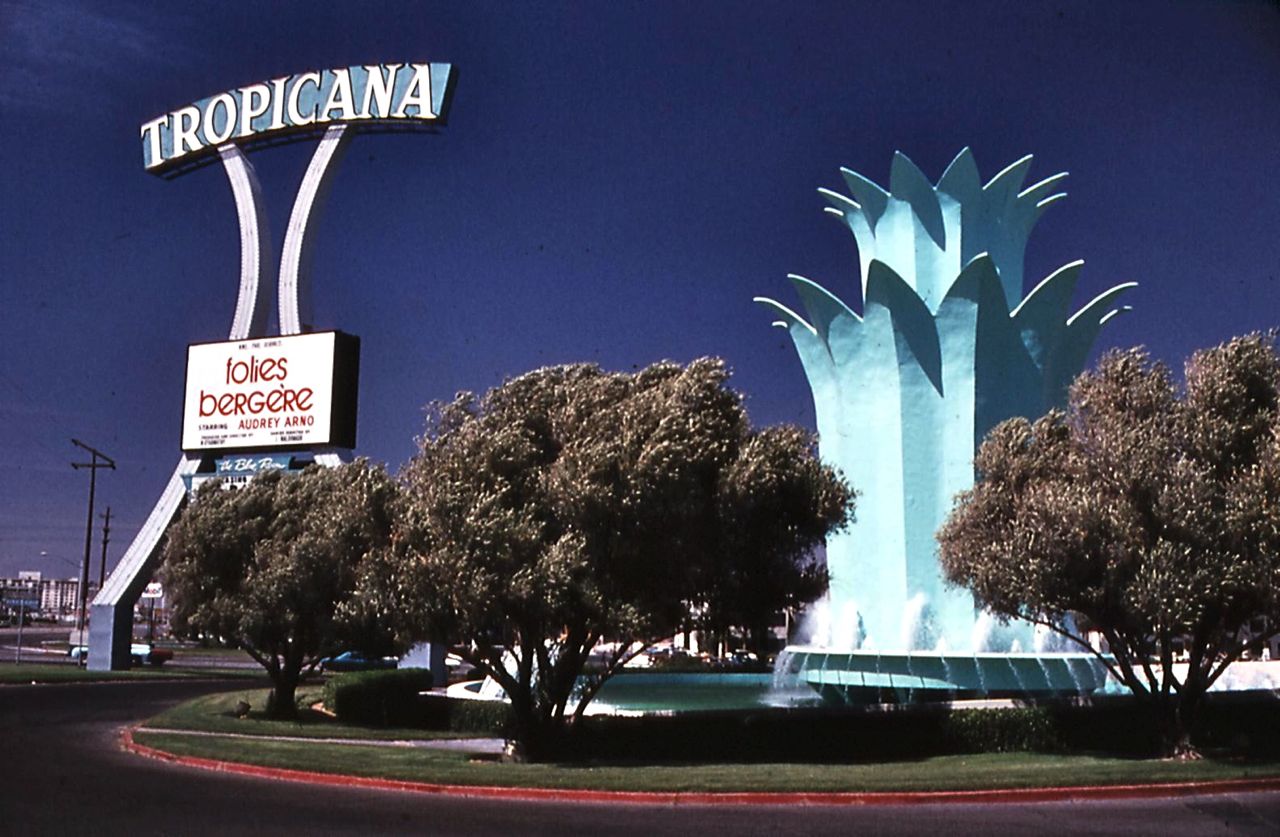 The Tropicana was built by some guys out of Miami and opened in April, 1957.
A huge, 60-foot-high fountain structure on the corner of the Strip and Tropicana Avenue, in front of the hotel, became a landmark.
At night it glowed with blue and rose lights and was trimmed by neon.
An interesting piece of Trop trivia is that Barbara Walters' father, Lou Walters, brought the Folies Bergere from Paris to the Tropicana showroom in the late 50's.
The Trop also had a famous jazz room, the Blue Room.
Today the hotel doesn't look anything like this picture.
If you'd like to see some videos of all the implosions in Las Vegas, CLICK HERE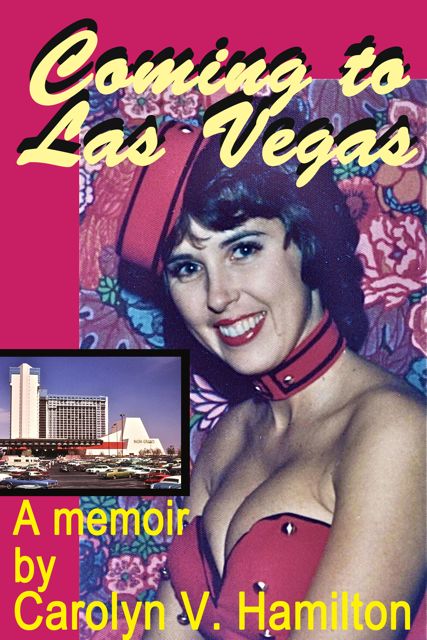 My Las Vegas, home for 35 years, is gone. But my memories of arriving as a young woman looking for adventures will live on in my forthcoming memoir, "Coming to Las Vegas."
Tomorrow's AtoZ Challenge: For the letter M, I'll tell you about being hit by a police car in Montana.
—Carolyn V. Hamilton, Editor and Chief Adventuress
Photos © 1974 Arthur H. Vagts
I welcome your feedback! Did you like today's e-essay? 

Please let me know at my personal e-mail: adventuresstravel@gmail.com

And, please feel free to forward this post to a friend!

To read more for adventuresses like you, Go to HOME PAGE for www.adventuress-travel-magazine.com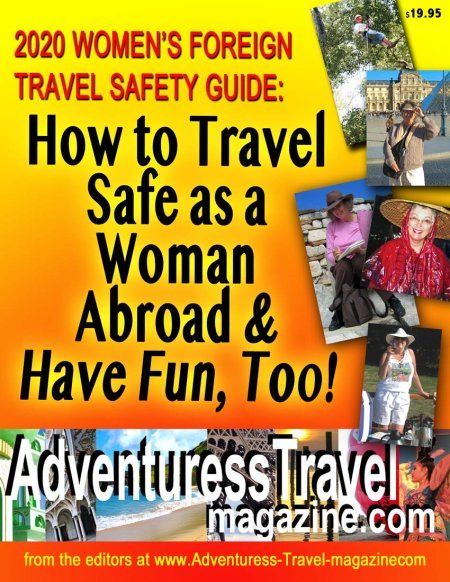 For a limited time, receive a FREE download of our Special Guide, How to Travel Safe as a Woman  Abroad & Have Fun, Too!  when you subscribe to Living the Adventuress Life.

CLICK HERE to get yours now!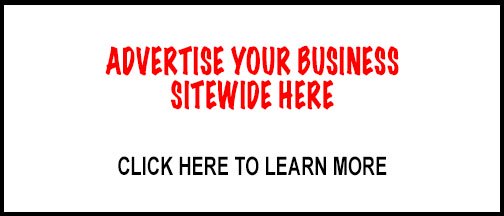 © 2009-2020 SWIFT HOUSE PRESS & adventuress-travel-magazine.com -  All Rights Reserved
To read our PRIVACY POLICY, CLICK HERE