Dear VIA (Very Important Adventuress)


Hummingbirds in heat
It's spring in the Andes mountains of Ecuador in South America.
Our hummingbird feeder hangs outside the kitchen window of our 3rd story condo in the UNESCO World Heritage town of Cuenca, Ecuador. Cuenca is at 8,400 feet.
Our feeder hangs from an L-shaped piece of rebar my husband, comedian Cork Proctor, constructed in the window frame.
All day the hummingbirds zoom, dip and dive around the feeder. They buzz me while I'm refilling it, the contents of which last about one day.
It's a war zone out there. It's like there's a sex drug in the sugar water.
In Spanish hummingbirds are called colibris. There are so many of them here in Cuenca that they have become a symbol of the city. They're quite large compared to the ones we saw when we lived in Las Vegas.
While we can't tell the males from the females, Cork says, "That one is Leroy Brown, the baddest bird in town."
I've read that the average hummingbird love act is 4 seconds. Cork says, "Well, that's the average time span of the American male."
We like to watch them with our morning coffee, and he does a running monologue describing the "reality TV" activities of our colibris.
Here's a hummingbird illustration from my art journal: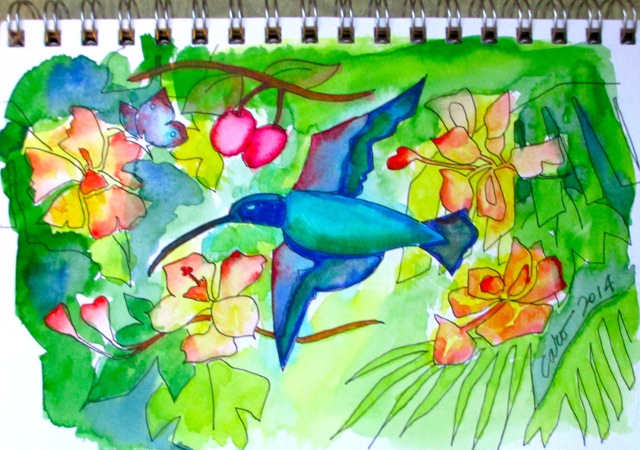 This little luggage scale can save you big $!
When I do my "suitcase runs" from Seattle to Ecuador, my airline limit is 4 suitcases that cannot weight over 50 pounds each.

First I weigh the empty suitcase itself. 12 pounds. Then I weigh bags of items to arrive at a remaining 37 pounds. I leave myself 1 pound "contingency."

I've got this down to a science, thanks to my EatSmart luggage scale. It's a godsend, because the cost for 51+ pounds is over $100!

I got my EatSmart Luggage Scale for $19.95 from Amazon.com.

You can set the screen in the handle to show pounds or kilos.

It's wonderful to arrive at the airport calm in the knowledge that none of my bags will be overweight.

You don't want to leave home without this handy scale: EatSmart Precision Voyager Digital Luggage Scale w/ 110 lb. Capacity & SmartGrip

Do you have a favorite travel product that I could feature in Adventuress-Travel-Magazine.com?
My life on Twitter
In the past 5 months I've become addicted to Twitter. My excuse is that I'm "marketing my books."

But I must admit I've met some cool "women over 50 doing fun things" on Twitter.

I see some fun stuff there, too.

It's where I found this "voice" website. Type anything, in any language into this, and it will pronounce it correctly for you: Language pronunciation site

How fun is that?

Make it an adventuress day,
Carolyn
—Carolyn V. Hamilton, Editor and Chief Adventuress