Midwest Seniors Run Away From Home, page 2
all body parts inside the windows, or risk scraping off those parts on the mountainside. 
At Trunk Bay everyone received a mask, a pair of flippers and a life jacket. We were prepared to become One Horned Butt Fishes.
Loaded down with snorkeling gear and bags brought from the ship, we followed a narrow trail down to the beach.  Trunk Bay features clear, warm turquoise water and a gorgeous long stretch of white sand.
It also features a unique self-guided snorkel tour. Snorkelers follow a trail of undersea stone markers, which are stamped with descriptions of coral and fishes of the area. The crystal clear water allowed for reading the markers as we swam. 
Patty, Diane, Donna, Linda, Trudy and Carol snorkeling at Trunk Bay on the Caribbean island of St. John.
Our last port, on day four, was

St. Maarten

. 
Little did we know that morning that we had saved the best for last.
A  Segway tour didn't appeal to Linda and Trudy, but the rest of us signed our lives away on the required waivers. The tour guide provided us with helmets, elbow pads and knee guards. That should have made us think twice about this venture.  
Patty had done this before, so the instructor took her first. She was a great example of how to step onto the Segway, balance, and just motor off. Simple! 

Diane was most nervous, so we all agreed she should go next. The instructor held the Segway steady, but every time Diane stepped on, it would move. Diane was scared stiff and wanted to back out. Good friends that we are, we wouldn't let her! She tried again, grabbed the young man's hand with a death grip and gave a scream that sent everyone into peals of laughter. Finally, she was able to control the Segway. 
Donna was next in line and then me. We both caught on fairly quickly and the four of us motored carefully around the practice area.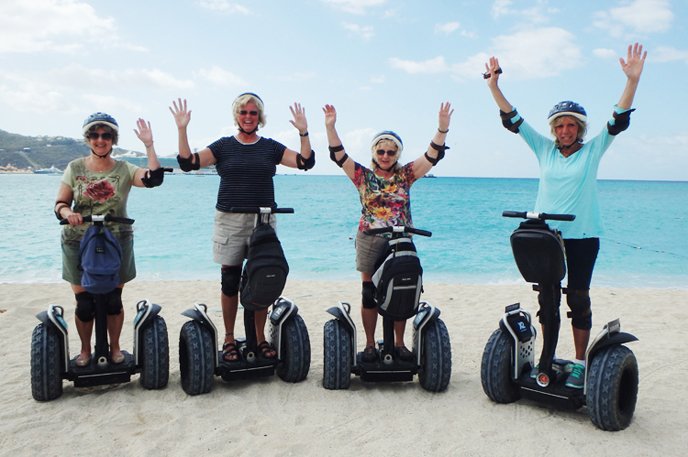 We're ready to take off on the segways. From left: Diane--who just couldn't let go of the handle--Carol, Donna, Patty)  

Soon the tour guide told everyone to fall in line and follow him. He started slowly, but before long the necessary leans became second nature.
We rolled along the beach, onto the boardwalk, and thru the market. I was afraid of running into someone in the market, but everyone survived intact. 
He took us thru a small obstacle course, and then it was break time at The Lazy Lizard, a small open-air bar across from the beach.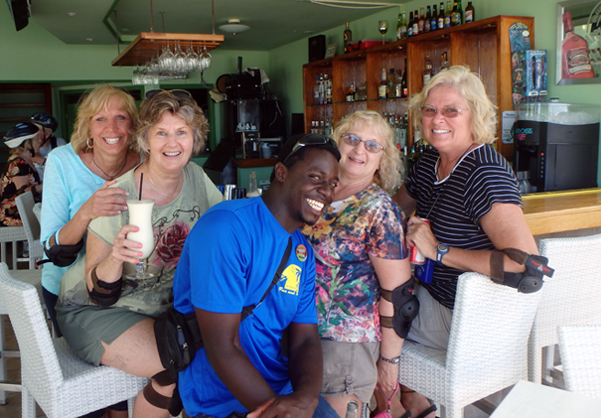 Break time on the island of St. Maarten - L to R: Patty, Diane, our tour guide, Donna and Carol.
The tour ended too soon. After disembarking, we needed to walk a bit to regain our 'land legs', and then we headed for town.
As we walked, several gentlemen along the sidewalks tried to sell us private island tours. We debated the safety of four women going with a strange man before deciding to give one a try. 
We chose Al. He led us to his tour-licensed taxi, giving us island history along the way. 
St. Maarten, also called the 'The 'Friendly Island', is half Dutch owned, and half French owned. The Dutch side is Sint Maarten, the French side is Saint Martin, and islanders are called     CLICK HERE TO READ MORE