Fifteen Hundred Miles Of Bad Road: On the Road in Namibia, continued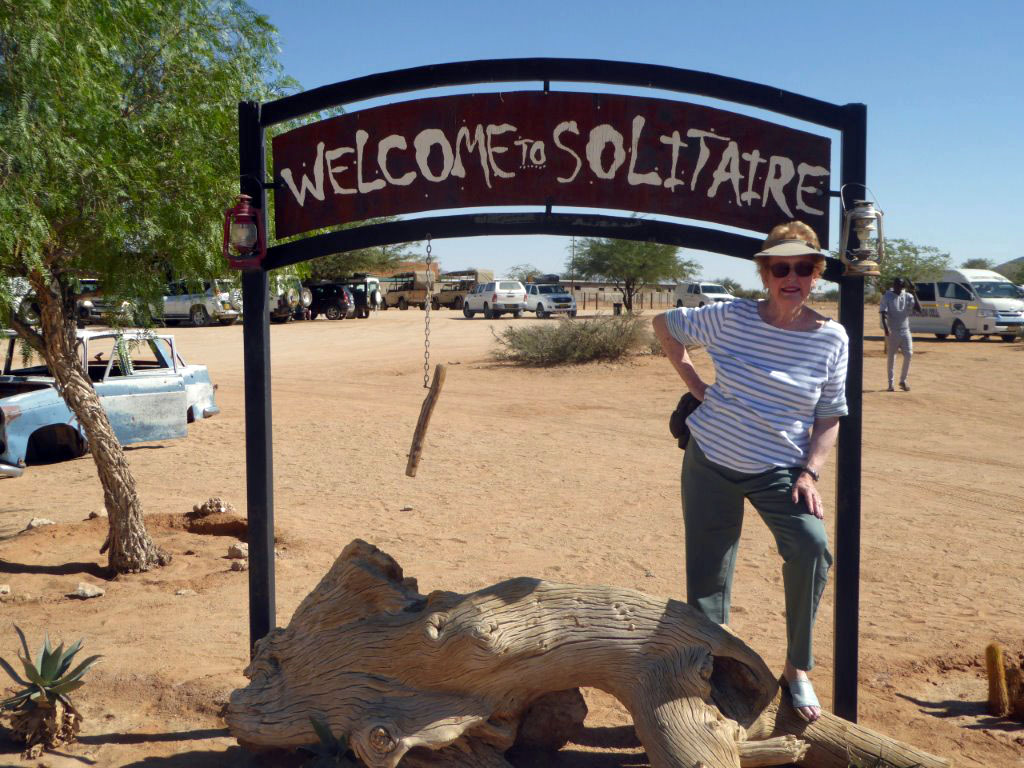 "the best apple strudel in Namibia." There was none by mid-afternoon so we missed out on this famous pastry at an improbable venue.
This backwater quasi-oasis is the only business within fifty miles of anything. The compound of Solitaire features a display of rusty US automobiles positioned in sand bordering the entrance. Onsite are a cactus garden, gas pumps, general store, airstrip, and small lodge with a brackish pool. After a 30-minute respite, we were primed to move on.   
Heading north from Solitaire toward the coast, the road was especially rough; the bus rattled and shook as we trundled along at 40 mph. The surroundings became a monochromatic void in every direction, a lonely stretch of emptiness with no underbrush, inclines or bluffs to interrupt the horizon.

Along the 110-mile stretch, the only distractions from the monotony were decorative rock piles. These creative mounds were low-rise totems assembled along the edge of the road. Curiously, most were erected on the west side.  
Desert ecology
As we advanced across the expansive wasteland the day's highlight was crossing the Tropic of Capricorn. It was unnerving to watch the sun traverse the skyline north of us, unlike in the US where the sun crosses south.
On the dunes bordering Swakopmund, the resident naturalist provided an intriguing lecture about desert ecology.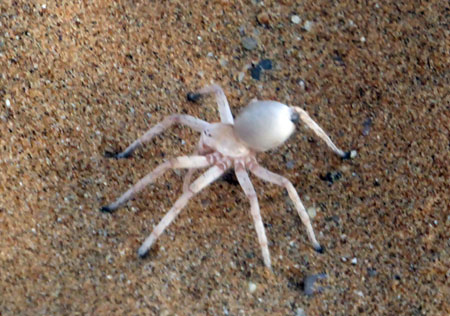 As geckos and lizards skittered around us, Chris dug a poisonous sidewinder and sizeable white princess spider out of the reddish sand, as well as a giant black scorpion plucked from a stone wash.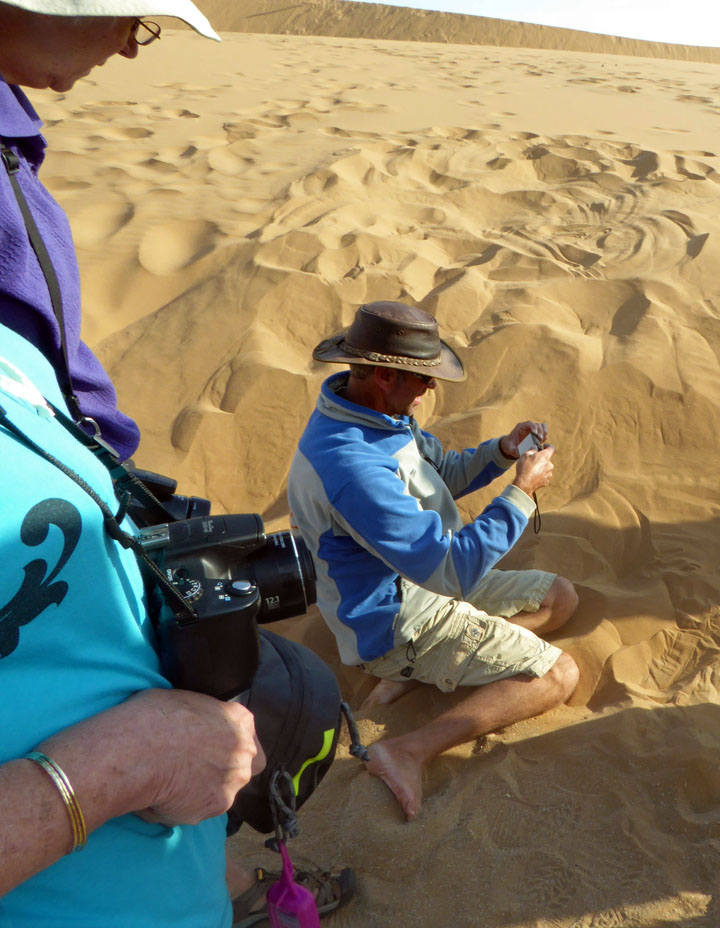 After placing the specimens in his hands, they climbed up his arm.
"Don't agitate them and they won't bite," he said, but there were no takers to share the macabre experience.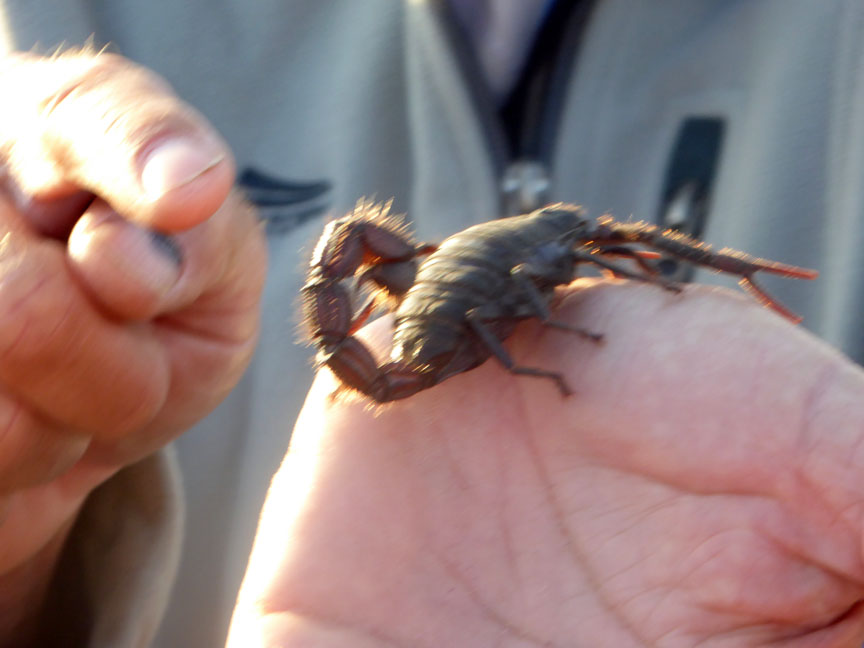 Following the nature hike, with Walvis Bay as a shimmering backdrop at sunset, we raced 4x4s across the extensive sands, the same impressive crimson ridges where the 2015 blockbuster Mad Max: Fury Road was filmed.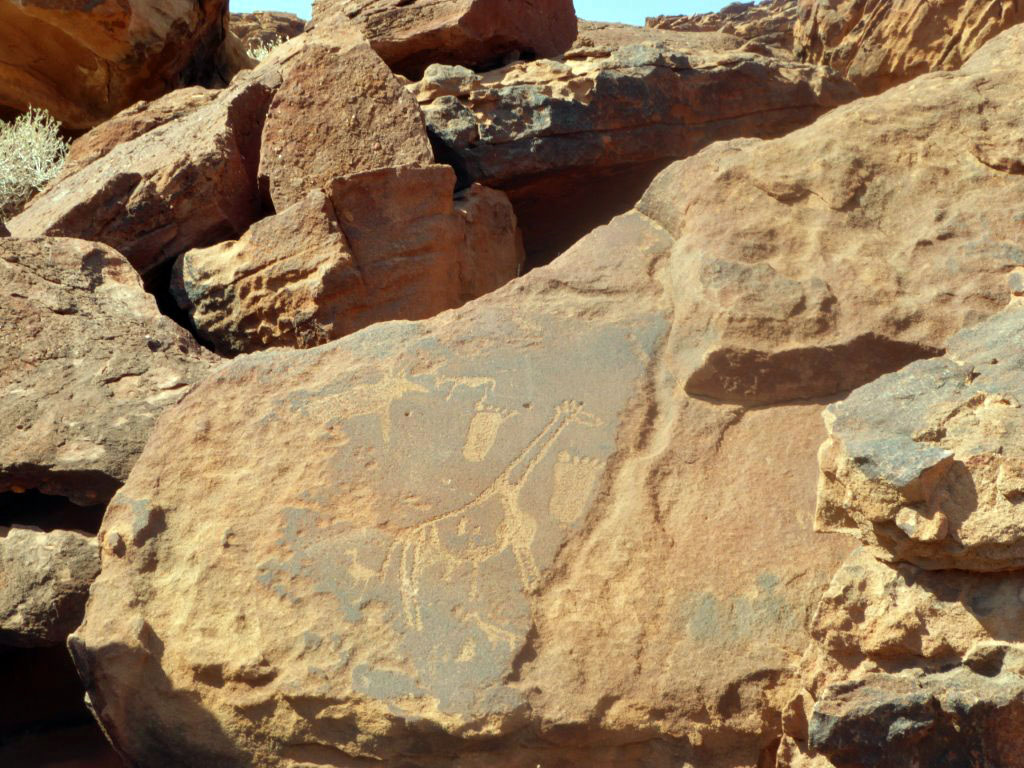 Traveling those long and winding Namibian roads, we admired ancient petroglyphs at Twyfelfontein, were fascinated by baboons eating flowers outside our lodge in Damaraland, waited as elephants crossed our path in Etosha National Park, visited a native Himba village, drove along Fidel Castro Boulevard and Robert Mugabe Avenue in Windhoek, viewed the sparkling Milky Way in complete darkness, and heard lions roar at dawn at our Etosha lodge waterhole.   
Grueling and rewarding. Would I return? In a heartbeat!
-Story and photos by Cam Usher, Editor & Associate Adventuress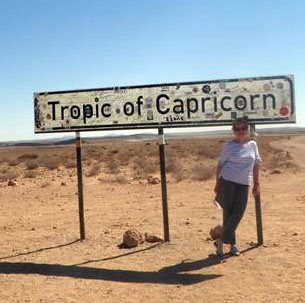 editor's note:
Besides Mad Max: Fury Road—filmed halfway up the coast outside Namibia's second city of Swakopmund—other movies filmed in Namibia include Beyond Borders, The Sheltering Desert, Beyond Borders, The Cell, Flight of the Phoenix, The Prisoner (miniseries) and Samsara​. 
---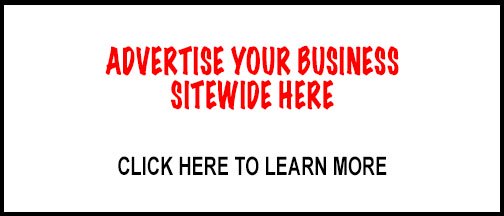 © 2009-2019 SWIFT HOUSE PRESS & adventuress-travel-magazine.com - All Rights Reserved
To read our PRIVACY POLICY, CLICK HERE