Join Editor & Chief Adventuress Carolyn V. Hamilton (that's me) to Discover South America while you learn how to write & sell articles & photos to travel magazines!
Wouldn't it be great to be able to travel all over the world, enjoying wonderful cultural adventures, fine dining and photographing exotic scenery?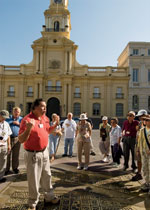 I can tell you from personal experience that it's not as hard as you might think.
As a travel writer and photographer I once spent a week barging in France, eating two different cheeses and drinking two different French wines with each lunch and dinner—a $3500 vacation value—and I didn't pay a dime!
I've written about restaurants, spas, hotels, tours and concerts, none of which I paid for. 
Now I want to teach you how easy it is to do this.
Join me next February 18, 2015 in Santiago, Chile's Andean capital city on the captivating Pacific coast for a 12-day adventure traveling across the Pantanal to Buenos Aires, Argentina.
Imagine selling a dramatic photo like this to travel magazines world-wide!
As you cross the continent from Santiago to Buenos Aires with me you'll discover a spellbinding blend of native cultures and international influences.
Together we'll visit Puerto Varas, our jumping-off point for tours of the breathtakingly beautiful lakes region. This is a great place to meet locals and savor delectable desserts with a surprising German influence.
Then we'll cross the Andes Mountains to Bariloche, in the heart of Patagonia, for a chocolate-covered taste of the Alps.
In the capital of Argentina, Buenos Aires, included sightseeing, exclusive Discovery Series events, and your own wanderings will give you a fascinating glimpse of South American daily life.
And throughout your South American adventure, you'll get FREE workshops and guided instructions on how to write and sell magazine articles.
With diligence, you could end up easily covering the entire cost of your trip!
As an ADDED BONUS, as Editor & Chief Adventuress of Adventuress-travel-magazine.com I guarantee to publish your travel article(s) and photographs, thus providing you with a "clip" you can use as a sample when you approach other magazines.
I'm excited about being able to share with you this fantastic South American adventure in February, and to teach you everything you need to know to write and sell stories and photographs of your travels to magazines.
Here are some of the in-depth subjects I promise to teach you:
— How to take stunning scenic photographs with just a point-and-shoot camera
— How to photograph food
— How to sell your photos to stock photo companies
— How to structure a travel magazine article
— How to make your article stand out in a personal way
— How to find the right magazine for your story
— How to approach editors so your chances of acceptance are almost guaranteed.
Now, here's a little bit about my experience, so you know exactly who you'll be sharing this adventure with: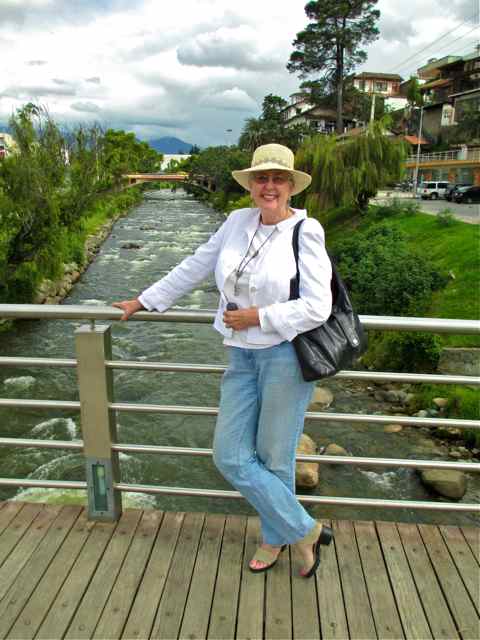 Here I am crossing the Tomebamba River that flows through the UNESCO World Heritage city of Cuenca, Ecuador.
Originally I was professionally trained in Los Angeles as an illustrator and graphic designer. I went right into the world of "Mad Men" to specialize in print and direct response advertising.
In addition to graphic design, I learned to write copy for radio and television commercials, news releases, sales brochures and newspaper ads.
In 1995 I became the designer and founding editor of a new regional magazine, Nevada Woman.
Two years later I left the magazine to work as a free-lance journalist writing about travel, business, celebrities and current topics of interest in the news. You can read a few of my favorite published articles at www.carolynvhamilton.com.
A stint in the US Peace Corps, living in the northeast corner of the Amazon basin, inspired my first historical novel Elisabeth Samson, Forbidden Bride."
At the same time I began writing my Amazon eco-adventure romance, "Hard Amazon Rain." I've since published other books and hundreds of magazine articles.
There've been a few awards along the way, but I won't bore you with that.
The important thing you want to know is that I've presented numerous writing workshops at conferences and conventions. In 2009 I founded www.adventuress-travel-magazine.com, the digital magazine "for women over 50 doing fun things."
Now, I want to be clear that writing travel articles and selling travel photos is not a get-rich-quick endeavor.
While it is doable to make decent money as a travel writer, my focus has been more on getting free travel, meals, and experiences in exchange for the articles I write.
For me, that's the cake—getting paid is the frosting.
I want to share with you everything I've learned about how to do this. I can save you time and show you how to greatly increase the odds that you will be published—and paid.
Here's the day-to-day itinerary & workshop schedule for your South American travel writing adventure:
February 17, DAY 1: Depart from the U.S. to fly to Santiago, Chile.
February 18, DAY 2: Arrive Santiago, Chile • Chilean Family Winery
This morning you'll arrive in the Chilean capital to begin your South American Adventure. Your Program Director will meet you and help get you transferred to our hotel. While you wait to check in to your room, there will be a guided orientation walk of your Santiago neighborhood.
Early in the afternoon you will meet your travel companions.
As Editor & Chief Adventuress of adventuress-travel-magazine.com (the magazine for women over 50 doing fun things), I will have a special welcome gift for you.
Then, with our Program Director, we'll all depart for a nearby family-owned winery. There we'll learn about Chile's most famous export, wine!
That evening, at the winery, we'll enjoy a delicious welcome dinner.
February 19, DAY 3: Santiago Highlights city tour • Chilean history discussion
After breakfast this morning, your Program Director will present a Welcome Briefing. You'll learn more details of what's to come on your South American adventure.
After lunch we'll head out for a city tour. Surrounded on all sides by Andean peaks, Santiago rests at the confluence of the Mapocho and Maipu rivers. It's a breathtaking setting for a capital with a remarkable history—from settlement by conquistadores in 1541 to Marxist, military, and, finally in the 20th century, democratic governments. A third of Chile's 16 million people call Santiago home.
Pass through Providencia, a district of great tradition with strong commercial and social activity.
Begin your included city tour with a scenic ride through the residential districts of Bellavista, Vitacura, and Las Condes, full of beautiful homes and parks.
You'll see historic monuments and buildings, including the Palacio de la Moneda, the current seat of the government. 
We'll stop to stroll Plaza de Armas, the most important plaza and heart of the capital since 1541.
Ringing the plaza you'll see buildings considered national monuments: the Correo Central (main post office), Iglesia Catedral (Cathedral Church), the Municipalidad de Santiago (City Hall), and the National Historic Museum.
At the nearby Mercado Central (Central Market), an elegant 1872 wrought-iron structure you'll visit colorful stalls and enjoy lunch one of the many popular seafood eateries (called marisquerias).
Dinner will be "on your own." I'll go with you and present an informal introduction to the fun, adventurous, and lucrative, business of travel writing.
After dinner, there will be an informative discussion on Chilean history and the country's most controversial leaders: Allende and Pinochet.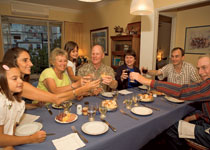 February 20, DAY 4: Santiago • Valparaiso tour • Graffiti Art of Valparaiso activity • Lunch in a local home
After breakfast, we'll head out for a full-day tour to Valparaiso, an important Chilean port city and a UNESCO World Heritage Site.
This distinctive city has cobblestone streets and ancient ascensores—electric cable cars that climb into hillside neighborhoods with splendid sea views. You'll ride one up the hill and be able to photo Valparaiso in several directions.
I will talk about picture composition, what makes a balanced scenic photo, light sources, and answer your individual photography questions.
The streets here are also known for colorful, detailed public art on the walls, and you'll learn all about it during an exclusive Graffiti Art of Valparaiso Discovery Series event.
You'll visit a local artist's studio, and be able to contribute to a "work-in-progress."
You'll also visit La Sebastiana, Pablo Neruda's home, and learn about the life and legacy of this world-famous local poet. 
Lunch will be served in a local home where you'll learn more about Chilean culture as you enjoy home-cooked food and talk about life in modern-day Chile.
After lunch you'll go to a lapis lazuli shop to learn about this valuable local export.
Dinner will be "on your own." I'll go with you and show you tips and tricks to photograph food whether you have a luxe 35mm camera or just a point-and-shoot.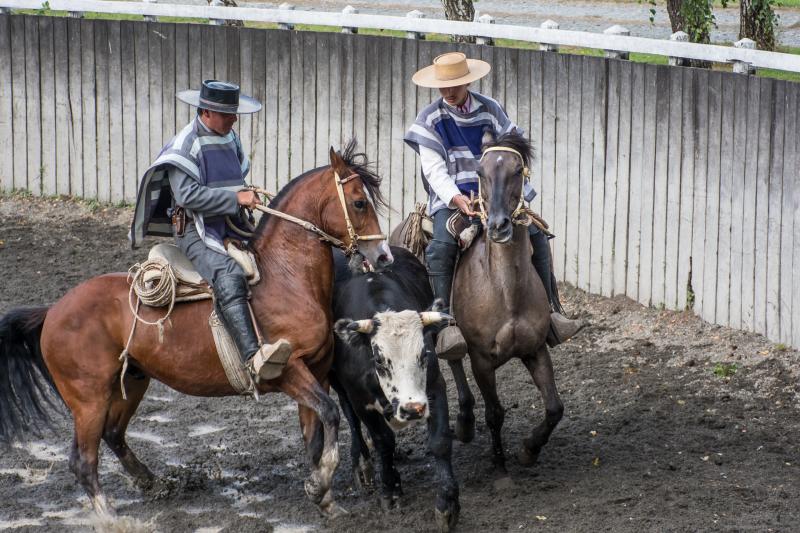 Learn how to find magazines that would be interested in action photos like this.
February 21, DAY 5 - Santiago • Puerto Montt city tour • Puerto Varas • Chilean rodeo demonstration & dinner
After an early breakfast, we'll head for the Santiago airport and fly to Puerto Montt, arriving in the early afternoon. 
You'll enjoy an afternoon sightseeing tour of the city and visit the interesting German Family Collection museum, which showcases the areas cultural heritage.
After hotel check-in in Puerto Varas, you'll enjoy a taste of everyday, family-centered Chilean life as a guest at a local horse-breeding ranch. Here you'll see how a farm family lives and works, and enjoy a tasty home-made dinner in the company of these welcoming people. You'll also see Chilean rodeo demonstration.
February 22, DAY 6 - Puerto Varas • Petrohue Falls • Mapuche Discussion
After breakfast, you'll gather with your new friends for an exclusive Discovery Series discussion on this area's fascinating native Mapuche people. While they are only 4 percent of Chile's total population, their traditions of extended family and agricultural customs have had widespread influence.
You'll then leave for Petrohue Falls to explore the lush setting surrounding the rapids. The falls are downstream from lake Todos los Santos and are supported by basaltic lava. You'll enjoy the view of the distant Osorno Volcano.
Afterwards your Program Director will guide you through the bustling stalls of the Angelmo Fish Market, where local seafood from nearby Chilean lakes is sold.
And perhaps you'll try the local curanto stew—meat, seafood and vegetables.
Lunch today is "on-your-own", and you can join me, try the local curanto stew—meat, seafood and vegetables—and learn how to structure and write a travel article.
Before dinner at a local restaurant, you'll enjoy a pisco sour tasting with your Program Director and learn what to expect on tomorrow's scenic travel through the Andes.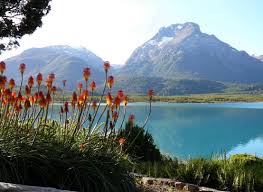 February 23, DAY 7 - Puerto Varas • Cross the Andes • Bariloche, Argentina
After breakfast and an early start, you'll travel with me by comfortable air-conditioned motor coach for about nine hours through the Andes from Chile into Argentina.
Along the way you'll stop at Villa la Angostura in Argentina. Lunch is on-your-own and you can join me to learn about stock photography and how to sell your photos to stock photo companies.
After lunch, you can stroll this tiny mountain village with me and learn more about structuring stock photos that will sell.
Early in the evening you'll arrive at your hotel in Bariloche, where your dinner will also be served. 
February 24, DAY 8 - Bariloche • Panoramic tour & visit to Campanario Hill • Local brewery
In the heart of Patagonia, Bariloche—officially San Carlos de Bariloche—in the province of Rio Negro, Argentina, is located in the Nahuel Huapi National Park and sits on the shores of Nahuel Huapi Lake.
The city is a curious blend of cultural influences. Building designs recall the Austrian Tyrol. Ranches dot the outlying Patagonian plains, many of them English-owned and operated but worked by Chilean peons from across the border.
After breakfast you'll enjoy a tour of Bariloche. You'll ride a chair-lift to the top of Campanario Hill for panoramic views of the mountains (if the weather is clear) and the lake, which is studded with fir tree-covered islands.
I will continue to point out interesting "photo-ops" that editors look for and answer your questions about stock photography.
Then you'll visit a traditional Argentine brewery, have lunch, and learn how this family prepares their local beer.
The rest of the afternoon is on your own, and you can join me to learn about what magazine editors look for in stories, how to find the right magazine for your story, and how to approach magazine editors.
You can also join me for dinner on-your-own tonight. We'll photograph more food and talk about how to get free restaurant meals and write restaurant reviews.
February 25, DAY 9 - Bariloche • Nazis in Patagonia discussion • Patagonian ranch visit 
After breakfast at your hotel, there will be an exclusive Discovery Series discussion on the Nazi presence in Patagonia during World War II.
Afterwards, you'll leave for the Patagonia steppe, where you'll be a guest on a working Patagonia ranch. You can tour the grounds of the ranch, learn about life in the windy Patagonian steppes, and enjoy a traditional lamb barbecue lunch.
The afternoon is free for your own discovery. You might like to visit the archeological, historical and cultural displays of the Museo de la Patagonia.
During this time, I'll be available to meet with you individually to discuss your story ideas for publication at adventuress-travel-magazine.com.
Dinner is on your own this evening, and you can join me in further discussions about travel writing and photography. I'll share tips on photographing native people and when you do and do not need a photography release form.
February 26, DAY 10 - Bariloche • Buenos Aires • Tango lesson • Optional Tango Show & Dinner
After breakfast there will be some free time before heading to the airport for your flight to Buenos Aires, where you'll arrive in late afternoon.
There will be a tango lesson where you'll learn the basic steps of Argentina's passionate signature dance, its multi-cultural origin and colorful, notorious history.
Tonight you may choose to join your fellow travelers in an optional dinner and tango show with some of the country's best tango dancers and musicians at a sophisticated supper club. 
I'll definitely be going to this to photograph tango dancers, and hope you'll join me!
February 27, DAY 11 - Buenos Aires Highlights tour • Home-Hosted Dinner
After breakfast, you'll set off on a half-day tour of beautiful Buenos Aires, with its elegant mix of Spanish Colonial architecture and traditional European styles. At Plaza de Mayo you'll see historically-important buildings like the Casa Rosada (Government House), the Metropolitan Cathedral, and the Cabildo, the first City Hall built during Spanish rule.
In La Boca, Buenos Aires' first merchant and fishing port, you'll have time to stroll along the waterfront promenade and visit the famous Caminito, an outdoor museum and art show where painters offer tango pictures.
You'll also see the Recoleta Cemetery with the Duarte tomb and final resting place of Eva "Evita" Peron. The Recoleta neighborhood is an area of elegant homes and fashionable restaurants and shops.
Lunch is on your own and the rest of the afternoon is yours to discover more of Buenos Aires on your own.
Or you can meet again with me to go over final edits of your article and/or discuss future story ideas for adventuress-travel-magazine.com.
Tonight you will visit an Argentine family, take a seat at the table and share their evening meal. You can chat and learn about each other. This will be a memorable evening of good conversation and fellowship.
February 28, DAY 12 - Buenos Aires • Argentina Today discussion
After breakfast in your hotel, you'll enjoy a relaxing boat ride through the exotic landscape of the delta area where the Parana River empties into the Rio de la Plata, just half an hour from the city. Here you'll see traditional houses built on pilotes (stilts) separated by a twisting maze of waterways.
This is a truly amazing wetland environment of subtropical scenery and plant life, perfect for adventure photography.
You'll then enjoy lunch with your fellow travelers and I at a local restaurant.
Before tonight's Farewell Dinner at a local restaurant you'll attend an exclusive Discovery Series discussion on Argentina Today that highlights the current state of the country's economy and political scene.
March 1, DAY 13 – Farewell, Buenos Aires
After breakfast together at your hotel, your morning will be free to explore Buenos Aires on your own.
I will continue to meet with you informally and individually to answer any questions about the article (or articles) you want to write for adventuress-travel-magazine.com
Lunch will be on your own, and tonight you will depart for your flight back to the U.S.
* * *
This is going to be an amazing learning adventure for anyone who wants to write & sell articles & photography to travel magazines!
Please join me now by calling the 800# below: