Dancing in My Nightgown
A book by Betty Auchard, Dancing in my Nightgown.

After forty-nine years of marriage, and almost ten months after being diagnosed with cancer, Betty Auchard's husband, Denny, dies.
A retired art teacher who married at nineteen, Auchard has never lived alone, never put gas in her car, never filled out an income tax return, and never paid bills. By her own admission, she has "more to learn than most."
---
Write for us!
If you have an interesting travel tale, please tell us about it. We'd love to hear about your travels and experiences. Please send your story (or simply an enquiry) to us at our contact page. Thank you!
---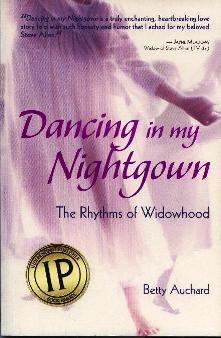 While some readers, especially younger women, may find this aspect of her experience hard to relate to, there is a universal truth in her feelings of loss and pain and bewilderment.
Auchard paints and rearranges the bedroom.
She leaves men's shaving gear in the bathroom so the plumber won't suspect she lives alone.
She gets her hair dyed, and throws herself into gardening.
But it's in writing that she finds the comfort she seeks as the pen becomes her "tool for healing."
Dancing in my nightgown
The story of Auchard's adjustment to widowhood is told in a collection of poignant, thoughtful, often whimsical vignettes with such titles as "Apple Butter For Denny," "Dirty Towel Tricks, ", "Proof of Life After Death," and "Killing an Hour at the Car Wash."
Through participation in writers groups she has developed her passion for story-telling and refined her writing skills to reflect a personality you'd love to meet.
There is heavy sadness here, but Dancing in My Nightgown is no maudlin memorial. Just as in real life, Auchard presents grieving and laughing and learning new things in rhythmic balance.
As an example, it would be easy for anyone to be discouraged by the internet "dating" experience, but Auchard's excerpts from e-mails with potential dates on the online matchmaking service reflect the humor that is one of her strongest survival tools.
Another delightful insight is her confession to carrying eye drops in her purse, so that when tears threaten to flow she can lean her head back, squeeze a few eye drops into her eyes, and by this action disguise her moment of emotion.
She has also developed her humor and story-telling abilities into public speaking presentations.
Dancing in my Nightgown is a quick read that may evoke tears and smiles, but will ultimately bring comfort to the soul of anyone who has experienced a strong emotional loss.
—Carolyn V. Hamilton
To order Dancing in My Nightgown in paperback, CLICK HERE
---
---