Desert daydreams,

continued
However, I've paid the room in advance and obtained the door code. My hosts Alana and Richard have even provided a door lock and key for my room after my request for more privacy. I enter cautiously. It's my first experience with absent hosts. 
The house is an oasis steeped in Southwestern style, daubed in salmon-coloured adobe with red clay roof tiles like its every counterpart on the street. Every room is spotless. Navajo blankets adorn the sofas. On living room coffee tables, books describe the ghost towns and highways of the Southwest. 
I go up the stairs to my simply-furnished but elegant and comfortable room and set down my bags.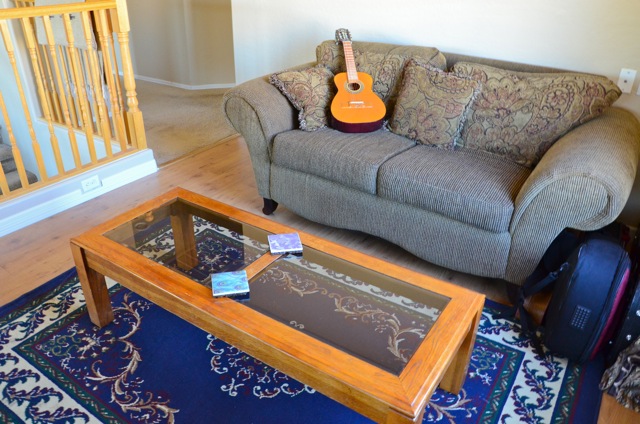 Next to my room, facing the carpeted stairs, an alcove holds two guitars and a sofa. One of these instruments is a Takamine classical. For the first time in many years, I begin to play.
My first day in Phoenix
The next morning, I head downstairs in hopes of greeting my hosts. I meet Alana. We chat about the house, Phoenix and music. She uses music in therapy and doesn't mind guests playing the Takamine. 
The couple is young, friendly and easy-going. In the kitchen, guests have access to several food options. South Mountain Park, with its many hiking trails, is less than half a mile away. 
Perfect.
In the morning, startling blue skies delineate every pinkish beige house on the street. The sun drenches them in a radical light. As the mercury rises over seventy degrees, I finally experience warm weather. 
My first day in Phoenix is with clients who have become friends. They're Canadian snowbirds in nearby Mesa and they offer me an automotive tour of downtown Phoenix and historic Scottsdale. They reminisce about the time they wore Toronto Raptors jerseys on a light rail transit car to a Suns basketball game. 
I mention the sign I saw in a Flagstaff family restaurant prohibiting firearms. They say the Mesa public library also has signs telling people not to bring in their guns. Since I don't share their bravado, I make a mental note not to wear foreign jerseys on public transit.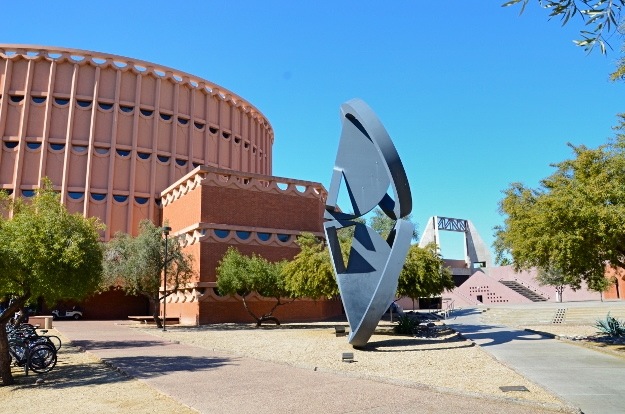 Grady Gammage Building and music auditorium at ASU
We drive to Arizona State University to park and walk around the Grady Gammage Memorial Auditorium. This is the last public building designed by iconic local resident Frank Lloyd Wright. 
With its art deco touches and elegant arches, it looks like an orange-pink concrete birthday cake. The music auditorium across the square offers a Pueblo-style contrast in assorted colors. 
For more photos and to continue reading, CLICK HERE