Desert daydreams in Phoenix



Continued, page 3

My friends take me out to lunch at the Tempe Gordon Biersch, with its memorable fries and views of orderly, light-filled streets. Everywhere striking blue skies flood the senses.
At the end of the day, I head to Keegan's on East Ray Road to meet some members of an international club that has several branches across Canada and the U.S. 
Mixed impressions
The South part of the city gives me mixed impressions. Though some of the area is apparently associated with gang activity, you'd never know it from the developments like the one where I'm staying.

A local police map lists it as a low-crime part of the city. As I drive, the only sounds I hear are occasional cars and crickets. 
I want to explore this desert that stretches in every direction. Up South Mountain Park, I reach 1,100 feet before turning back.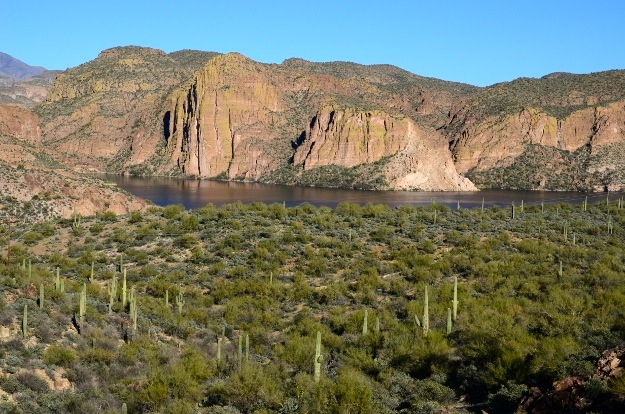 Lost Dutchman State Park
East of the city, Lost Dutchman State Park has, along with short and easy trails, a good rough trail called the Siphon Draw. The park is named after a local legendary mine: German prospector Jacob Walz died with rich gold ore hidden under his bed. Its source, the mine, has never been found. 
The Apache Trail
Highway 88 leading to the Apache Trail is a spectacular drive with lakes, canyons and hairpin turns all the way to Hoover Dam on the Arizona/Nevada border.

I make it to Tortilla Flat—population: six residents, 10,000 tourists—before I have to turn back because the road is washed out. Since desert sand doesn't soak up water well, flash floods are omnipresent threats. Apparently, more people drown in deserts than die of thirst.
As I drive back to Phoenix, I catch the sun setting on Apache Junction. 
I won't leave the city without a trip to the Desert Botanical Garden. Cacti are now the newest objects of my fascination.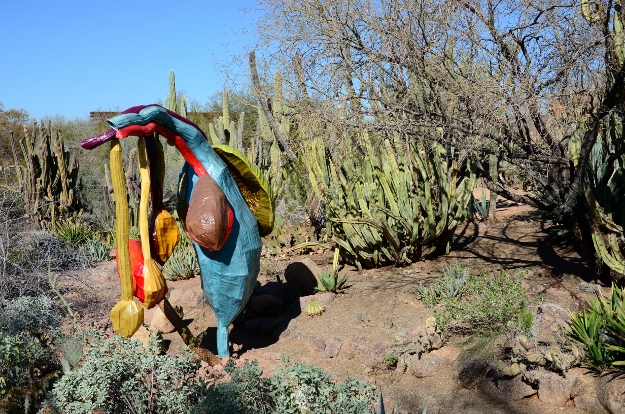 Phoenix's colorful Desert Botanical Garden
The Garden fulfills its promise, listing every cactus imaginable from here to the depths of Mexico: totem poles, bunny ear and black spine prickly pears, octopus cacti, ocotillo, candelilla, fish hook barrel cacti, and the massive cardon, each more colourful than the one before. An emerald hummingbird hovers near the garden path long enough to pose. 
Pork tacos at Gertrude's, the botanical garden's elegant and delightful restaurant, cap the morning perfectly. 
For more pictures and to read more CLICK HERE
---
Return from Desert Daydreams in Phoenix to Adventuress Travel Magazine
Return to Desert Daydreams in Phoenix

---