Ghost of Elvis!
On the Road - A call to play the Ghost of Elvis . . .

When my ex-husband, 84-year-old veteran actor and stand-up comedian Cork Proctor, got the call to play the ghost of Elvis Presley, he invited me to go with him. The show, Rendezvous With the King, would run for three special nights in Sammy's Showroom at Harrah's in Reno, Nevada.
---
Write for us!
If you have an interesting travel tale, please tell us about it. We'd love to hear about your travels and experiences. Please send your story (or simply an enquiry) to us at our contact page. Thank you!
---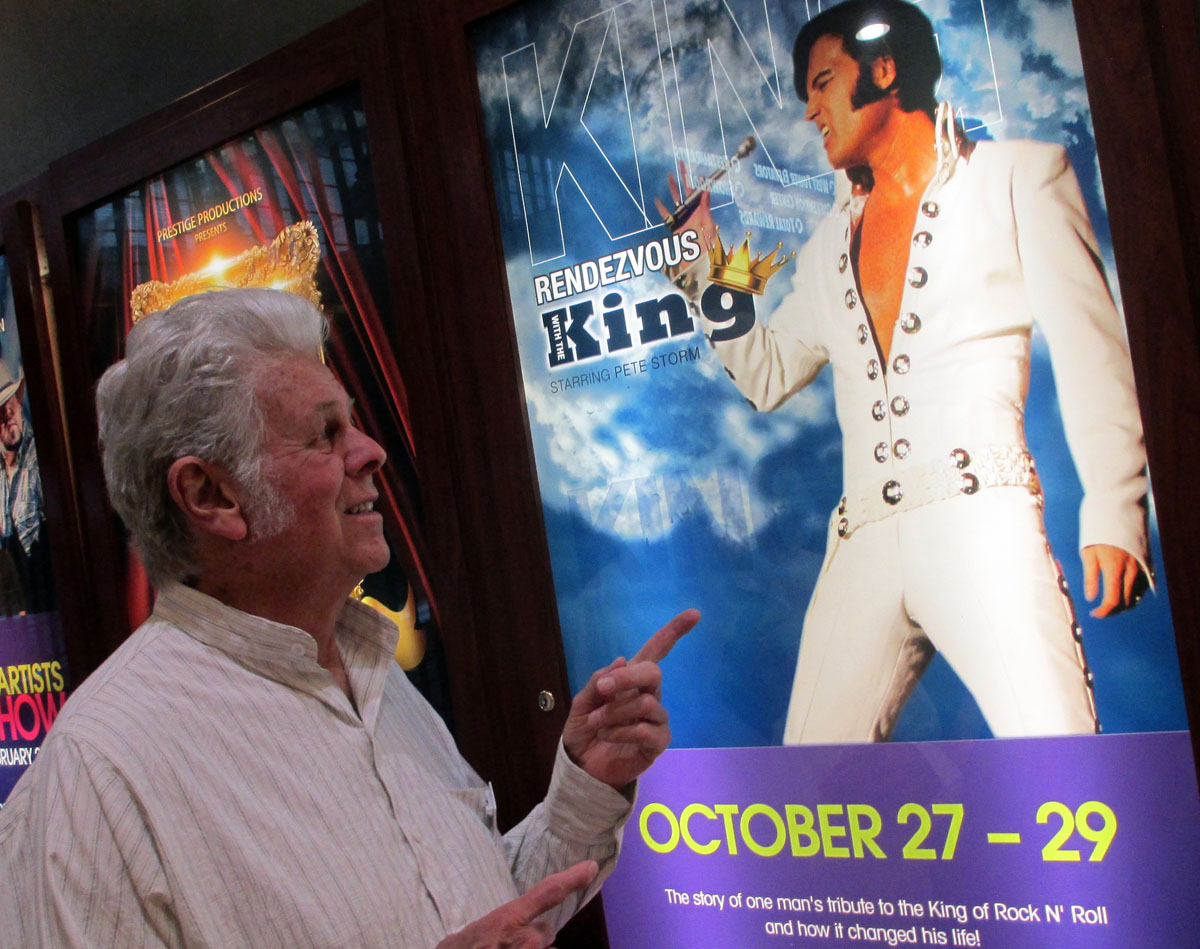 For decades, Cork Proctor was the comic relief in many stage shows in Las Vegas, Reno, and around the US, designed and produced by Greg Thompson. This would be a kind of old-home-week for Cork, as he already knew the company manager, the back-up singers, Sammy's Showroom, some of the crew, and the producer.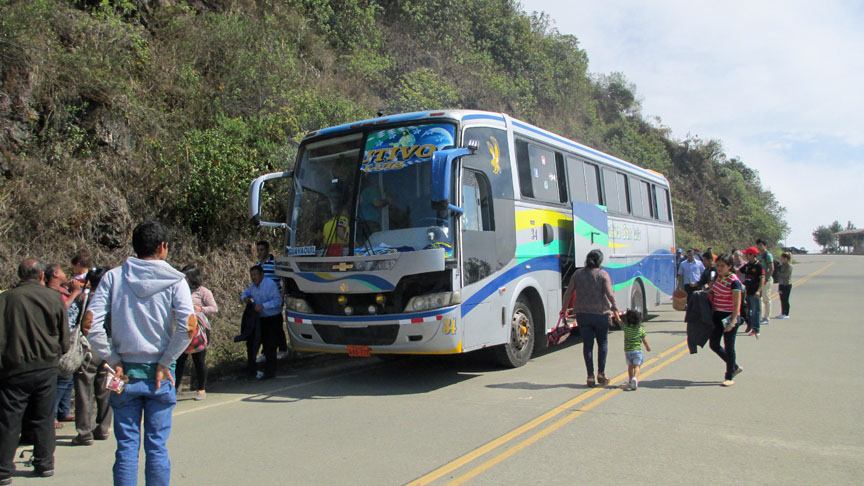 A burst tyre
Pick up at the airport in a Harrah's limo made up for the bus tire explosion in the Andes crossing the mountains to get from our home in Cuenca, Ecuador down to Guayaquil for the flight to the US.

Day One, Monday, 12:00 noon. 
    – 79.5 hours to SHOWTIME!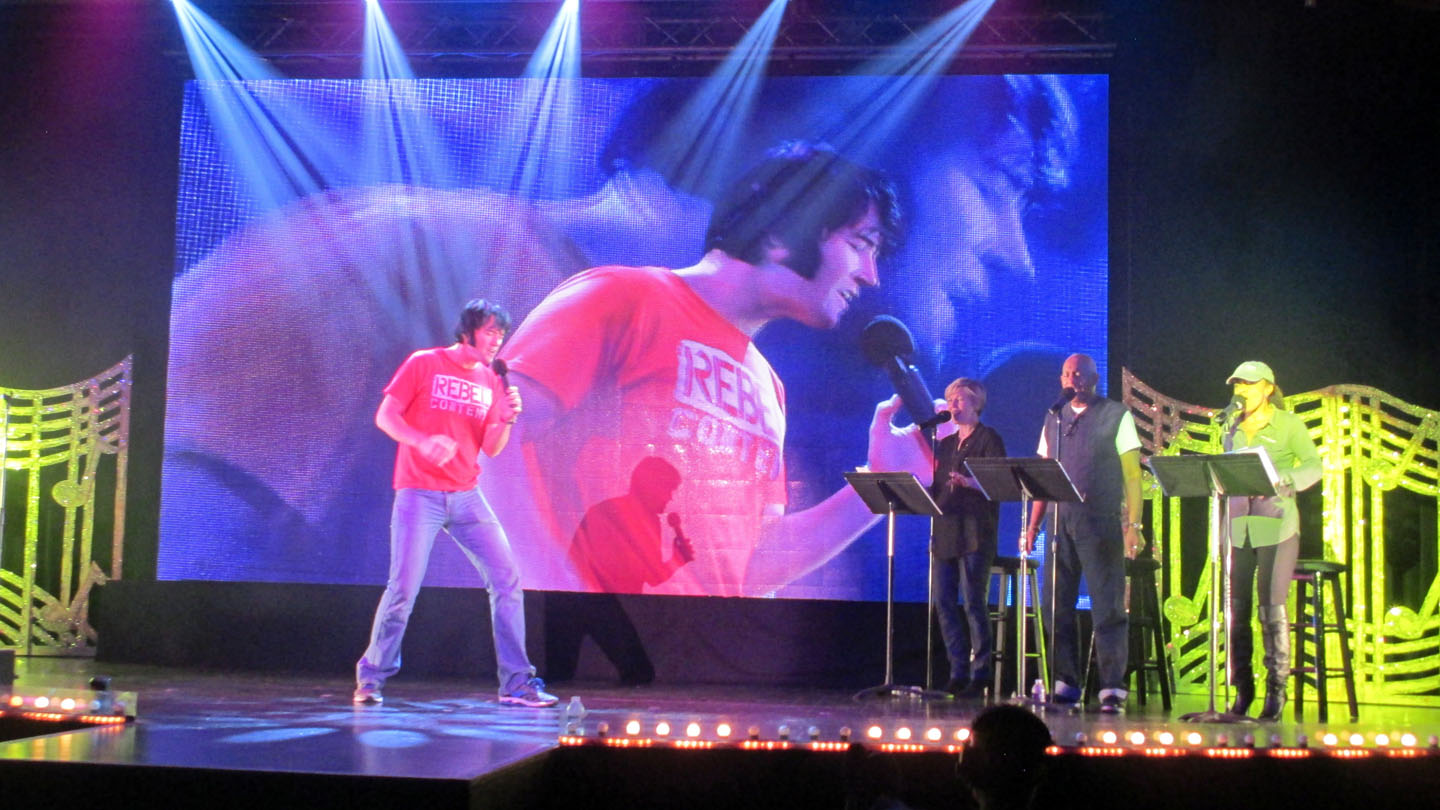 We meet Number One Worldwide Elvis Tribute Artist Pete Storm for the first time. Pete is from London, England, so it was bizarre to hear "Elvis" speak with an English accent! When I asked Pete how tall he is, he said, "Oh, six-three and a bit."
Pete Storm and Cork Proctor - the latter as the ghost of Elvis - read through the show dialogue for the first time together.
While Pete can patter between Elvis songs, he has no formal theatrical training and I hear that now, with story lines to memorize, he is terrified.
Cork, our old Elvis, hasn't performed in a play in twenty years and at 84 is having trouble memorizing lines. He has major senior stage fright;  he's also terrified.
Producer Greg Thompson says: "Sheesh - I have two stars who don't know where they're going…"
That evening in our Harrah's hotel room, I sit nervous old Elvis in a chair, make him close his eyes, and do some hypnosis and repeat positive affirmations. I hold his hand and do my best to calm him.
Ghost of Elvis
Day Two, Tuesday - 4:30 a.m.
    – 63 hours to SHOWTIME!
Can't believe it! Yesterday's preliminary rehearsal for Rendezvous With the King went really well - at five a.m. old Elvis woke up worrying that … the costume pants are a little snug and there's no belt and how will he tuck in his shirt and maybe he can leave the coat open and are they really going to spray his hair white?

2:00 p.m.
– 53.5 hours to SHOWTIME!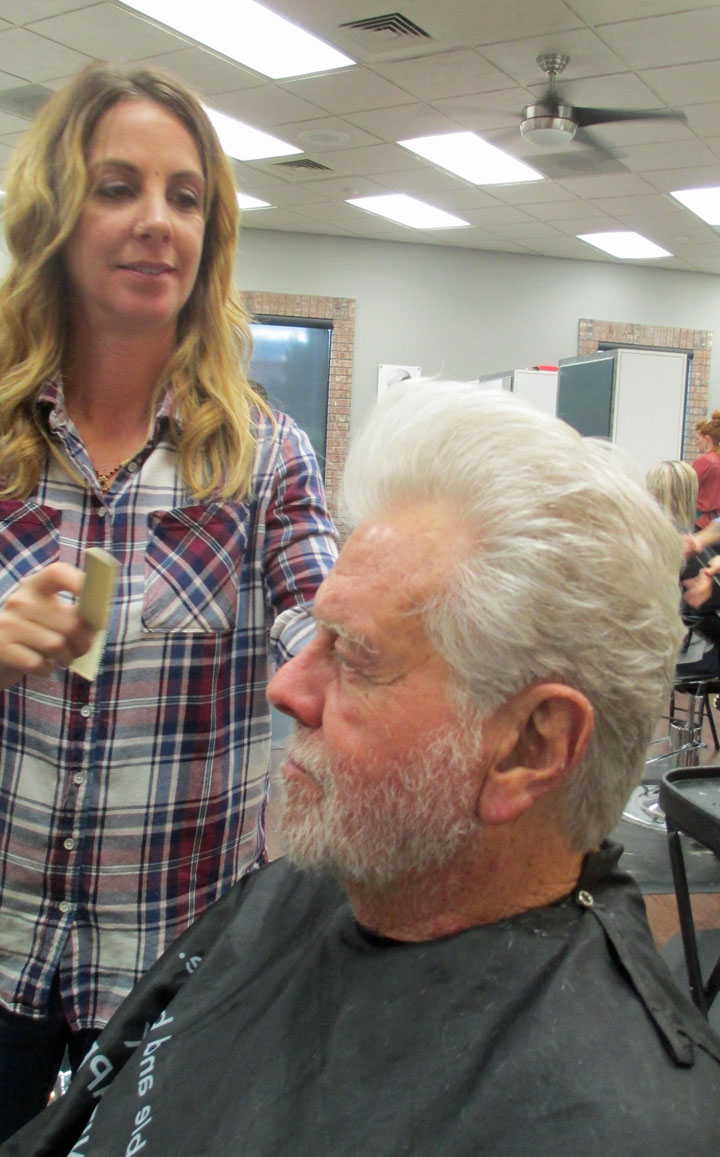 Posh Salon
Posh Salon, where stylist Jessie will make Cork's wild two-month growth of white hair into an Elvis-like updo. There will be fat sideburns, and the producer's wife has given me a can of white hair powder to make them really stand out. Spraying with a handmade template triangular sideburns on Cork's face appeals to the artist in me.

(Jessie tells us she's leaving the following morning for Mexico to be the stylist for a zombie movie—from Elvis to zombies!)
4:30 p.m. – 51 hours to SHOWTIME!
Master impressionist and comedian Tony D'Andrea is in the showroom watching the rehearsal.  Producer GT to shuffling old Elvis: "Don't make me send Tony D'Andrea up there to show you where center stage is."
In Rendezvous With the King, the ghost of Elvis comes back to advise the young Elvis tribute artist to "update your act, son. That's what I'd have done." It's a high concept story line created by Greg Thompson.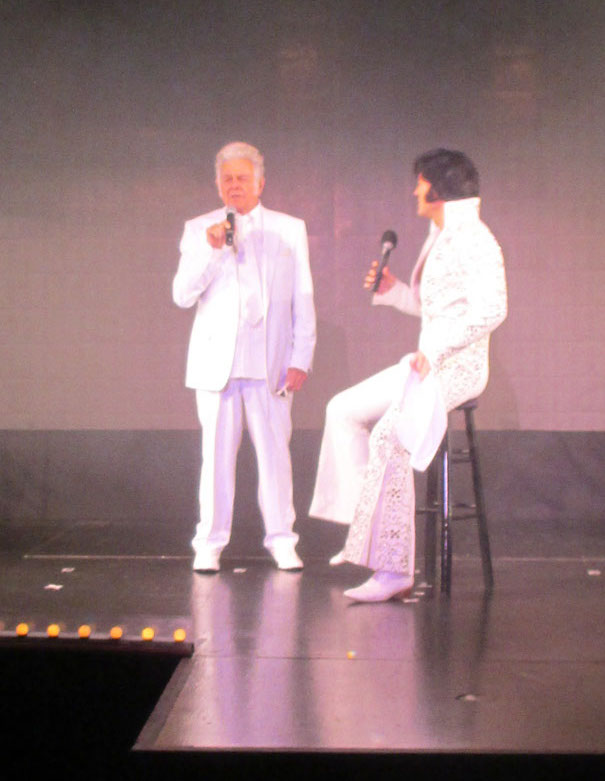 Old Elvis and Young Elvis
Day three, Wednesday, 1 p.m. – 30.5  hours to SHOWTIME!
Old El was awake again at the crack of dawn, worrying, worrying, worrying . . .  The rehearsals are going well. Very fun to hear everyone banter back and forth with off-script quips.

Producer GT's script note to old Elvis: "Now you need to pause here because there will be applause - something you may not have been familiar with in your career - and then deliver that line."
Ghost of Elvis
Vicki, the wardrobe lady, puts cue lines on white paper along the stage side of the footlights so Cork can follow the story line. But old El is still flustered and having trouble with the flow. He's so afraid of letting everyone down—especially Greg Thompson—that in the middle of the rehearsal he almost has a meltdown.
Producer GT to the rescue. "We'll wire your ear and Carolyn can feed you the lines from backstage." Old El is visibly relieved.  "She'll save your ass," Thompson adds,  "for about the fiftieth time." 
(Rats! Now I have to really work. And I won't be able to enjoy the full show from the audience view.)
The backstage crew sets up a lighted music stand for the script with a microphone wired to the earpiece old El will wear. The music stand isn't too stable because the floor seems to slope. One of the stage crew guys explains, "That's because in the olden days this area used to be a parking garage, before they built Sammy's Showroom."
Ghost of Elvis
After the first rehearsal we enter the elevator to go to our 16th floor room with a bellman carrying a gift basket. We chit-chat, make the usual "is that for me?" joke. He gets off on our floor and heads down the hall. We see him stop in front of our door!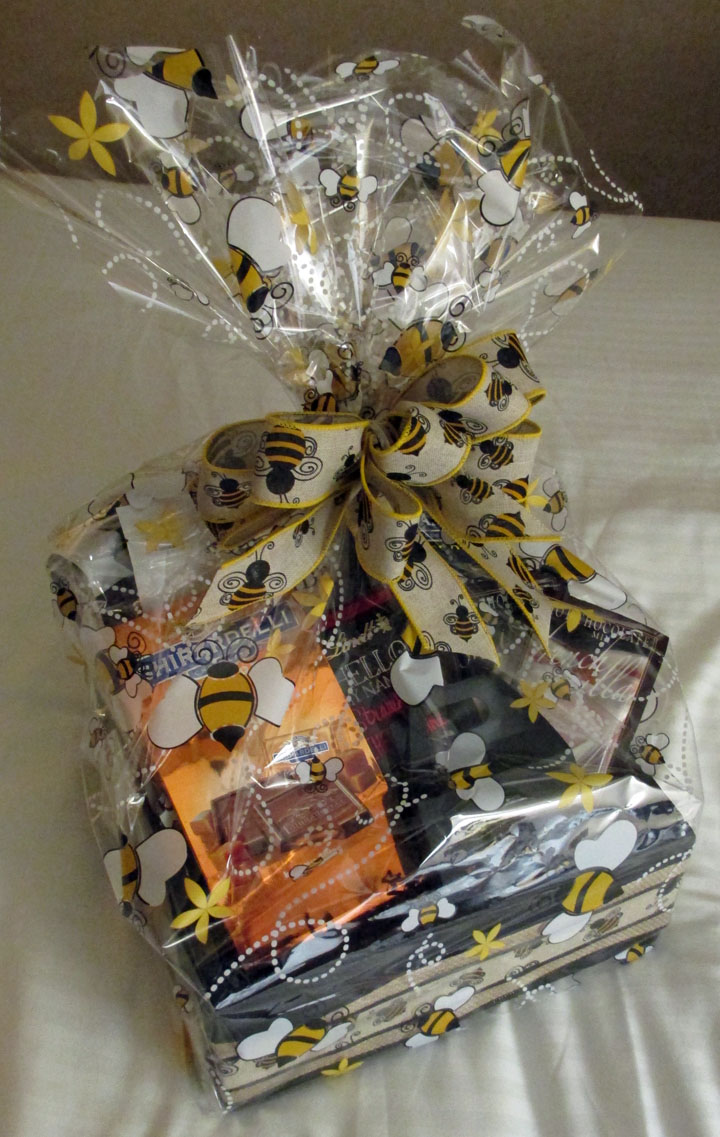 The Chocolate basket!
It's an opening night congratulatory gift basket from our comedian friend, Jeff Wayne.

And it's all CHOCOLATE! Chocolate candies, chocolate bars, gourmet hot chocolate mixes, chocolate coffee—just the drugs I needed - I had no idea there would be such major hand-holding involved to combat senior stage fright anxiety.

The accompanying card from Jeff reads, "Break both legs!" (Another comedian friend e-mailed, "Break a hip.") That's show-biz speak for "good luck."
6:30 P.M. – FULL DRESS REHEARSAL
As I'm feeding Old Elvis his lines, I notice that Pete periodically glances over my shoulder to read the script and review his entrance cues.

Day four, Thursday, 2 p.m.  -
 5.5 hours to SHOWTIME!
Only in show business do people show up for work at two in the afternoon and say, "Good morning!"  Old Elvis complains that the white shoes - that came with the white suit, white shirt, white tie and white underwear - are "killing" him.
While all sizes were provided well in advance, a mishap has occurred and the shoes are two sizes too small. Producer GT says, "Ah, forget the shoes, then…just come out in your white-stockinged feet."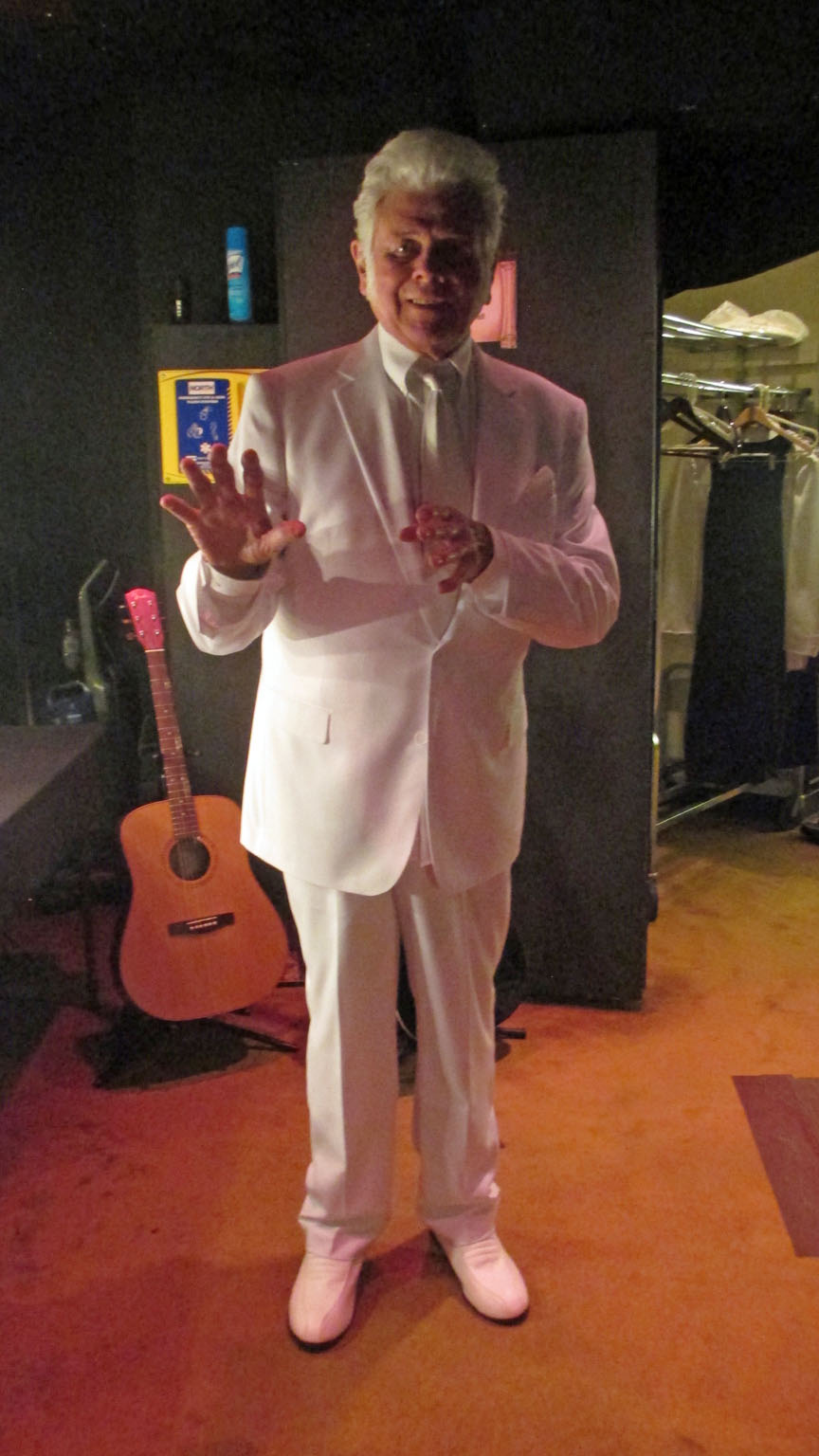 Old Elvis backstage
OPENING NIGHT, 7:30 pm.
It's SHOWTIME !
In the opening night performance, "Now, where'd I leave my shoes?" becomes a running "old-Elvis" gag line.

Pete's and Cork's lines flow together and the show goes well and the audience loves it and everyone is happy.
Day five, Friday
Old El actually slept a full eight hours last night. Now he's feeling back in the fling of things. The afternoon full dress rehearsal progresses with a minimum of stops for Producer GT to comment.

In the Friday night performance, the "Where'd I leave my shoes?" line—now a running gag—continues to get laughs.
Day six, Saturday

There's no rehearsal today. Pete goes with his girl friend, Abby, to work out—he has Old El's fabulous old body—while old El takes naps.
The 7:30 show is sold out, which makes everyone excited to perform.
When the show ends, at the curtain bow old Elvis carries out one white shoe, waves it in a broad gesture, and says, "Hey, I found one!"

So what was the highlight of my week in show business? Seeing tall, handsome Pete Storm backstage wearing nothing but the male equivalent of a g-string…


                 - story & photos by Carolyn V. Hamilton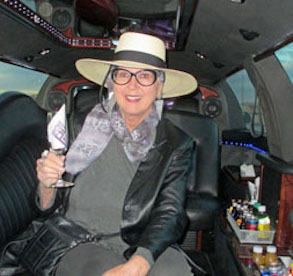 ---
---