Greek Taxi Drivers
Lessons from Greek Taxi Drivers

Ah, Greece, how I looked forward to seeing its waters and diving into the clear blue ocean among the ruins, just like James Bond and his girl of the moment in For Your Eyes Only.
Deep among the many thousand year old ruins I would glide and twirl, like a Greek nymph playing underwater, without JB, of course. No matter.
---
Write for us!
If you have an interesting travel tale, please tell us about it. We'd love to hear about your travels and experiences. Please send your story (or simply an enquiry) to us at our contact page. Thank you!
---
When my friend, Sharon, and I were stuck in Rome with everything closed, closed, closed due to the Easter holidays, we thought we'd take a mini-trip to Greece.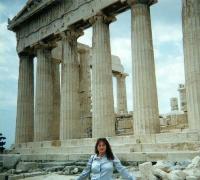 Greek Taxi Drivers
Olympic Airlines, where one could actually smoke in the rear seats of the plane, thrilled Sharon, a two-pack-a-dayer. She ended up with a couple, all puffing away together in back and enjoying themselves for the entire trip.
I couldn't complain. Virtually alone in front, I got to look out the window over the sea and all its islands and dream of films like Boy on a Dolphin with Sophia Loren looking all wet and wonderful.
We thought we deserved a stay at the Intercontinental, which turned out to be a very good decision, indeed. The Intercontinental Athenaeum in Athens is half the price of the Intercontinental in Paris, and it has many of the same amenities without the price tag.
The thing I learned about Athens or Greece in general, is that if you are women, or a woman traveling solo, you are free game for a little verbal and economic abuse.
This is why staying at the nicest place in Athens that you can afford is something I would recommend, preferably an American chain like the Marriott or Holiday Inn. You can stay at those charming pensions in the outer villages or on the islands.
Sharon and I were introduced to the Greek male and his backward thinking when we went up to the top floor to dinner.
The gentleman tending bar was very vocal about how we American women just take off and leave our husbands and children behind and go off traveling.
He argued about how superior Greece was with its philosophers, sculptors and literature, something with which no other country could compare.
Greek Taxi Drivers
Because I love history, I laughed and went back and forth with him. Sharon took her martini over to our table, instead, I suspect, of tossing it in the bartender's face. She wasn't about to humor another Greek male.
I must admit the dinner was beyond delicious and the service impeccable. Best of all, the view of the lighting up of the Acropolis from the window of the dining room lured us back nightly.
We enjoyed our days out and about. We hired a car for a lot less than you might think and then returned in the evening to the relative comfort and safety of our hotel.
Taking a three hour ferry out to the island of Hydra, an island where Mick Jagger and the like love to come, proved to be wonderful. We spent the day amid the donkeys. No cars allowed on this quaint island, and the beautiful seaside cafes where people-watching is the main activity.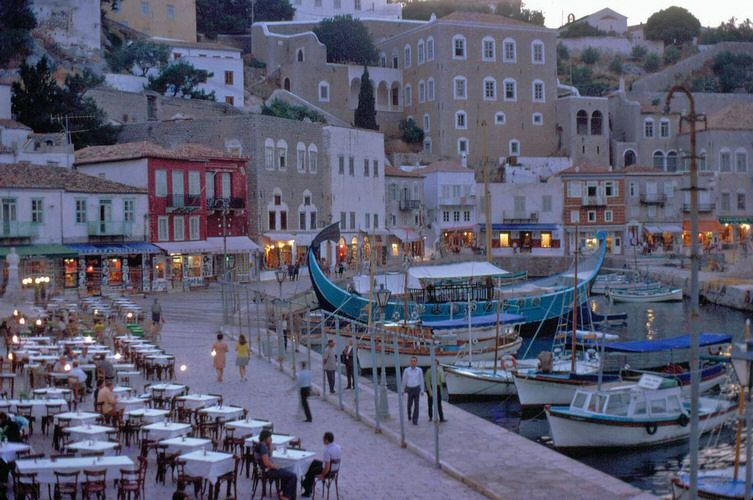 Hydra, Greece
You can literally sit all day ordering just one coffee or soda, and they won't chase you away. The Greek way of life is definitely slow-paced.
Greek Taxi Drivers
If you wish to stay overnight, plan ahead and make sure your reservations are confirmed. After all, where else do you get your luggage carried up a hill on a donkey?
If you wish to stay overnight, plan ahead and make sure your reservations are confirmed. After all, where else do you get your luggage carried up a hill on a donkey?
The town has been restored, made to look as it was in the1800's, when blockade-running and piracy helped it prosper and thrive.
We walked up and down the hills, enjoying the shops, really first-rate, and then had lunch at one of the waterside cafes.
Another day, in the nicer part of Athens, we bought some priceless souvenirs. When the taxi returned us to our hotel the fee was double what we paid for exactly the same distance!
Sharon and I got out of the car to check with the hotel concierge. Off went Mr. Taxi-man with all our gear! Eventually he called the hotel and negotiated with them, and they negotiated with us, on a bribe to get our items returned.
The hotel concierge seemed to consider this quite normal. After an hour of bickering back and forth, we paid twenty-five dollars to the thief taxi-cab driver and all was settled.

Greek Taxi Drivers
We wondered, had we not been lone women, would we have been taken advantage of like this?
As we said farewell to Athens, we piled our suitcases onto the luggage carts at the airport. This Mr. Taxi-man screamed that it was a holiday. The holiday had actually been the day before. Therefore the fare was double the usual amount.

I think he saw "Rich American Women." He fetched the police, who asked us to please come down to the police station.
This absurdity did not get by my wonderfully straight-faced friend, who said, "No, we have a plane to catch."
Sharon turned around with her luggage cart filled to the brim and walked away. I followed, Taxi-man screaming over and over that the fare was more expensive because it was a holiday. The policeman just stood there, not knowing what to do.
So in Greece I learned to pick my fights, and to realize when to stand up for myself and explain, and when to turn and walk away.
--Marla Pyne
---
---