KGB museum     
Cam explores lithuania's KGB museum for herself!

On this rainy spring Sunday afternoon in Vilnius, Lithuania, I suppressed my sense of dread and stepped inside to explore the grim surroundings of the building known officially as The Museum of Genocide Victims, and unofficially as the KGB Museum.
---
Write for us!
If you have an interesting travel tale, please tell us about it. We'd love to hear about your travels and experiences. Please send your story (or simply an enquiry) to us at our contact page. Thank you!
---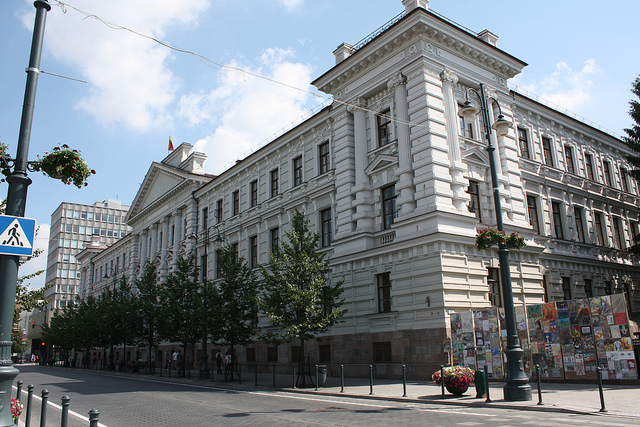 photo by Rachel Cotterill
The placid façade masks an interior identified colloquially for fifty years as the "House of Hell." 

How explicit would it be? As it turned out . . . very graphic but enlightening, disturbing and sobering, and with more excruciating detail than any History or Military Channel program.
Constructed in the 1890s, the handsome five-level white structure near Vilnius' city center, resembles most of its neighbors on the quiet street. Buoyant trees and a wrought iron fence enclose landscaped grounds, while benches line the walkway. 
Streetside near the entrance is a wall of granite tiles memorializing the men and women murdered inside . . . so many names. photo by Rachel Cotterill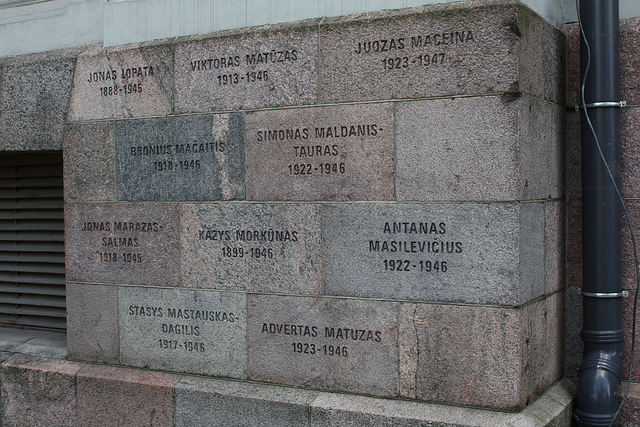 During the German Occupation from 1941 – 1944, the property was a prison and regional headquarters of the ruthless Gestapo, Nazi secret police charged by Adolph Hitler with the decimation of Lithuania's large Jewish population as well as political adversaries in the Baltic area.
During the fifty-year Communist dictatorship beginning in 1944 under Josef Stalin, the same building housed the brutal KGB security agency which imprisoned and tortured Lithuanian resistance fighters and other enemies of Soviet repression.
When the country was granted independence in 1991 during the glasnost era, the facility was closed and subsequently reopened in 1992 as a memorial to those who fought for independence and human rights.

KGB Museum
Inside: spying, torture and resistance
The range of themes covers resistance, deportation, gulags and stalags, and the torture and murder of victims. All are absorbing and heartbreaking.
Spying and eavesdropping equipment, institutional furniture, photographs, underground publications, period uniforms, books, official documents and personal letters are displayed throughout three floors in what were used as staff quarters, offices, fingerprinting and interrogation rooms, and prisoner cells.
Vintage photos and films of combat, capture, punishment and retribution are also shown on TV monitors.
Faded wall inscriptions inside prison chambers are readable decades later.
Down a slippery and steep flight of stairs is the basement, the most horrific level, which contains holding space, cold and narrow solitary confinement dungeons and padded torture cells. Most of the walls, floors, ceilings, hallways and stairwells are an uncomfortable shade of green-ochre. In summer, the windowless rooms seared.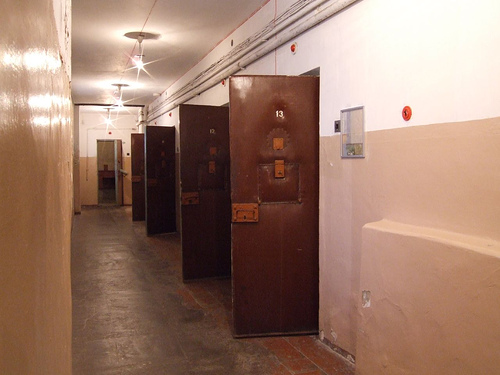 One gruesome enclosure is the water cell: the floor was flooded with water which froze and naked inmates stood on a tiny circular metal pedestal to avoid the icy floor. To this day, that image gives me chills.
Across the exercise courtyard, the low-ceilinged, dimly-lit execution cavern exhibits inmates' personal items under a glass floor.  A continually running film loop shows the onsite slaughters, man after man after man.  
KGB Museum
Remember the past
The museum is a stunning example of barbarism and the extremes of human cruelty. It's impossible to view the exhibits and be unmoved.
The experience was unsettling and thought-provoking, while viewing the savagery inflicted on the heroic populace decades later bordered on surreal. Almost in a trance, my mind refused to believe what my eyes had seen.
Richard, our guide disclosed that former employees of this facility, guilty of crimes against fellow citizens, continue to live in Lithuania and receive a federal pension from the Russian Federation, creating profound bitterness and hatred among their countrymen.
When we exited two hours later, the open space and clear air was most welcome, although the irrepressible fear that Big Brother was still watching besieged me for days.  
Lest we forget, the prescient philosopher George Santayana reminds us" "Those who cannot remember the past are condemned to repeat it."
Cam Usher 

---
---