Lost Passport
What happens when you lose your Passport? A lost passport can be a nightmare . . .

On the fourth day of our Discover South America tour, my best friend and travel companion, Joyce, lost her passport. Panic!

Our Grand Circle Discover South America tour began in Santiago, Chile, traveled to Puerto Montt and Puerto Varas in Chile's Lake District, and on to Bariloche and Buenos Aires in Argentina. The post trip, which Joyce also had scheduled, went on to Rio de Janeiro and Iguassu Falls, Brazil.
---
Write for us!
If you have an interesting travel tale, please tell us about it. We'd love to hear about your travels and experiences. Please send your story (or simply an enquiry) to us at our contact page. Thank you!
---
Lost passport?
Joyce, who lives in Las Vegas, Nevada and your editor, who lives in Cuenca, Ecuador had planned this trip for 2 years.
For 4 days we caught up on family gossip, laughed, wined and dined ourselves and explored Santiago's Bohemian Bellavista neighborhood and the colorful hills of Valparaiso.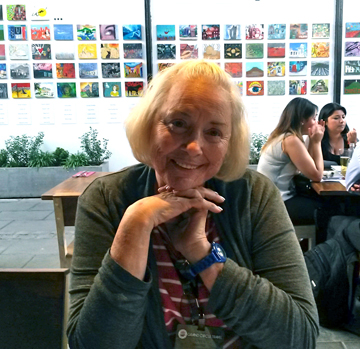 Before the "reckless" happened, Joyce enjoyed a delicious dinner at Tambo in Patio Bellavista, Santiago
Lost Passport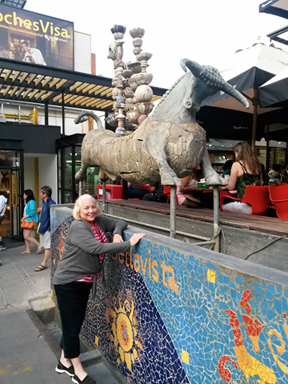 Santiago's Patio Bellavista, full of inventive art and open-air restaurants, is the heart of the Bohemian Bellavista neighborhood.
On the fourth day, our group flew further south in Chile to the fishing "capital" of Puerto Montt. By Joyce's own admission, she did something reckless.
After she showed her passport to board the plane, she stuffed it in the outside pocket of her loose-knit cardigan. On the plane she removed the sweater, balled it up and stuffed it in the overhead. When she got off the plane, she retrieved it and put it on.
In the Puerto Montt airport, she stuck her hand into her pocket and realized her passport was gone.  Too late. The plane, with her passport loose in the overhead, had flown on to Chiloé Island.
Virginia, our Grand Circle tour guide, took Joyce to the Puerto Montt police station where she was given a special letter to allow her to fly back to Santiago - otherwise she would have had to take a bus. 
Frantic phone calls on Virginia's part to Lan Air proved futile in finding the lost passport, even though Joyce knew where it was.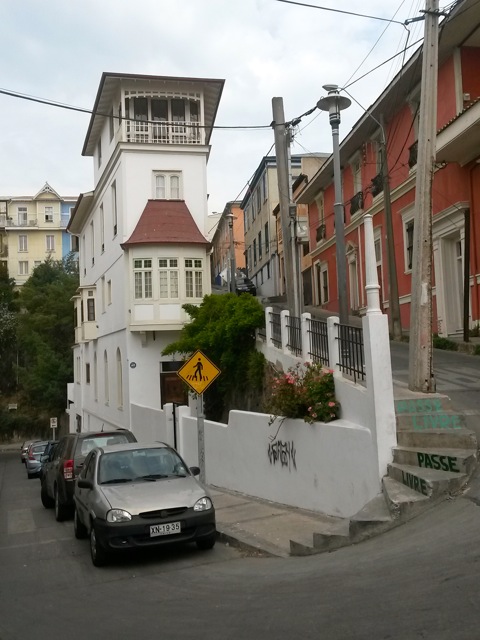 The colorful hills of Valparaiso, the Port city adjacent to Santiago, reminded us of San Francisco.
Lost Passport
Here's the story of Joyce's subsequent adventure, in her own words:
I want to share my experience at the US Consulate in Santiago. U.S.  being the operative letters. Not a soul in the front office spoke a word of English. I got a pat down that puts the TSA folks to shame. They took my camera, iPad, phone, and cuticle clippers.

I figured out where to go from there because I can count to twelve in Spanish and luckily it was window eleven. There were two people in front of me.
The man presently being served at the window, was born in Haiti, but said he was a U S citizen. By his graying hair and general appearance I judged him to be somewhere between forty-five and fifty-five.
His new wife, on the other hand, was at best eighteen. Very cute girl holding their two-week-old baby.

He had brought wedding pictures and Chilean status for his son and also a passport showing the baby's Chilean status. He wanted to get a US passport for his bride.
Fun in an artistic plaza up in the hills of Valparaiso, before Joyce lost her passport.
The young man in front of me had had his backpack stolen with his passport in it. He had an American passport although he has been living in Australia since he was three months old. Go figure. He was also waiting to be interviewed by the police. 
After thirty minutes, a female consulate employee came to help me. She gave me papers to fill out and told me to come back in an hour. I was not allowed to stay there while I did this.

Back to the front office. I tried to get across to them that I wanted to go get coffee. I learned that there is only one word recognized worldwide: Starbucks! 
I didn't find Starbucks, but did find a cute neuvo chic cafe. I knew it was neuvo chic because the two-inch by two-inch pie de lemon was $4. I didn't bother to calculate the latte.
Back at the window an hour later, Mr. Haiti was still there. He was now arguing about his social security card. He was telling the woman that, yes, he had a social security card.
It is blue and red with a bunch of numbers on it, but he doesn't have the card and doesn't know the numbers and besides that, his numbers are none of her business.
Meanwhile his wife tried to cope with a very fussy baby. She had fed him earlier but now she held him like he was going to break.
I went to her and gestured that I wanted to hold him. After about four or five good pats on the back he gave out a burp that would make any couch potato proud. The fussing stopped.
Lost Passport
I took my papers to another counter where the clerk said it would be another hour, but I could wait there.
Another American woman showed up and told me no one told her that she couldn't travel through South America with a passport card. I don't know how she got into the country in the first place.
At last I was handed a replacement for my lost passport. Mr. Haiti was still at the counter, the woman with only a passport card was being interviewed by the police, and the young Australian had no clue if he was going to get a new passport.
Lost Passport
You may not believe this, but trust me it's true: There is no phone in the consulate that can dial a cell phone number. Finally I got someone to lend me their cell and I walked out of there with a smile on my face.  

Lesson learned - never lose your passport! And keep copies, just in case you do!

I recommend doing this in 2 ways;

    First, take 2 high-quality color photocopies of your passport, including the photo page and any pages that have current visas needed for your trip. Then hide one copy carefully inside your suitcase somewhere. The other copy should be kept in your carry-on bag when traveling, separate from your original passport.

When on a plane, ALWAYS keep your passport in a small zipped pocket of your handbag or wallet, and keep your color photocopy in a separate compartment of your carry-on bags. If you happen to lose your passport, it is a HUGE advantage to have a color photocopy when you go to the local consulate or embassy.

    Second, before you leave home, you should SCAN the photo page of your passport plus any visa pages needed for your trip, and then email them to yourself using a web-based email service such as gmail, yahoo, etc. That way, you can access your emails from any computer on the planet and print out a copy of your passport should you lose ALL your bags and luggage.

Lost Passport
Anyway, Antonio the Grand Circle representative who had picked me up at the airport, had given me his card and said to call his cell when I was done.
One other interesting, or rather sad, thing. 
A new GCT group had arrived at the Crowne Plaza and there was a couple on the computer who forgotten the paperwork to get into Argentina. My heart went out to them.
So my trip back to Las Vegas was, albeit long, an easy one. Grand Circle was on top of everything. 
I enjoyed a good day and a half in Santiago. I took the funicular railway to the zoo and saw animals I don't remember ever seeing before. I went to the sandwich shop near the hotel, which provided lunch for two days. That first night I went to sleep watching reruns of Pawn Stars, the only thing on cable television in English. 
EDITOR AFTERWORD: Joyce was not allowed to travel outside of Chile on her replacement US passport, so she was unable to rejoin the tour and continue on to Buenos Aires, Argentine and Iguassu Falls, Brazil.
The replacement passport only allowed her to fly back to the United States, where she must file a lost passport claim and wait to receive a new official passport.
Joyce Marshall Moore, a seasoned traveler, has made over twenty trips with Grand Circle Tours. An archivist who is retired from the Special Collections department at the University of Nevada, Las Vegas, Joyce has lived her entire life in Las Vegas, Nevada.
---
---