Mayan Ruins Tulum
Sherry's Day at the ancient Mayan Ruins Tulum

Let me back up...so my husband and I may have been enjoying drinks well into the night with our Canadian friends the night before we jumped on an early morning Caribe passenger Catamaran from our all-inclusive hotel on the Cozumel side.

---
Write for us!
If you have an interesting travel tale, please tell us about it. We'd love to hear about your travels and experiences. Please send your story (or simply an enquiry) to us at our contact page. Thank you!
---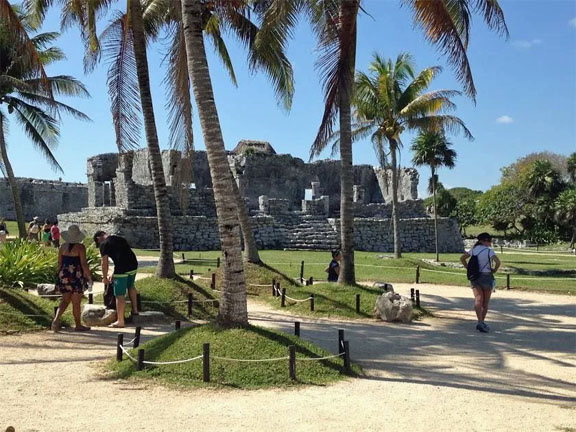 Insider tip: NOT recommending this for your open sea crossing...we both eyed the trash bin as it slid past us, first left and then right, on the tipsy, harrowing, 45 minute catamaran ride!
Thankfully, we arrived and found a driver who agreed to take us to the Mayan ruins at Tulum. The region is also called Tulum, so the words, "Las Ruinas" were also needed to further designate we meant the ancient ruins and not the little resort town.

This tidbit, from a couple in the pool the day before: It does pay to speak with locals but lessons learned from travelers who've made a few mistakes along the way are also quite valuable.
Our driver would wait there and return us - great! The paperwork was set, we agreed on a price, paid cash, all of which took longer than I would have thought. 
The van was comfortable and air-conditioned. The driver was listening to American music, but chatting was on my mind. I had questions about this beautiful place, and how long it would take to get there. 
Mayan Ruins Tulum
He laughed at all the questions. Guess he was used to the more quiet travelers. He goes back to his music while we took in the lush surroundings and huge hotel complexes. 
So many resorts here with exciting opportunities on this mainland Mexican side; cenote caves, zip lining, swimming with dolphins, sea turtles, plus Mayan Adventures.
The massive parking lot was a hive of activity with many tourist busses and vehicles of every size. At the ticket booth, we hired a guide, and he came with trolley tickets, figuring we'd walk enough inside the 26-acre park.
 
Our chatty guide started right off naming every tree and bush. At first this was awesome...but it was hot, even at this early hour.
Our guide spewed facts and did not get the "personal space hints" vibe at all, so 40 minutes into the one hour paid-for tour we cut him loose with a tip and a smile, to continue on our own. 
Armed with a detailed map, I could breathe again, walking at my own pace.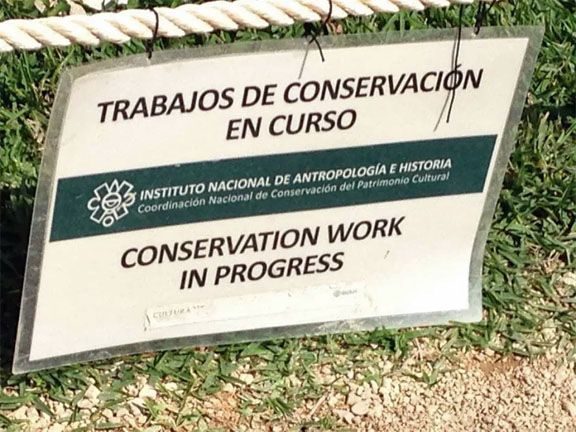 There are about 50 structures here and some are undergoing restoration. It is amazing to see such painstaking work. Inside one, a sign reads, "Trabajos de conservación" - Conservation work in progress.
Our guide spewed facts and did not get the "personal space hints" vibe at all, so 40 minutes into the one hour paid-for tour we cut him loose with a tip and a smile, to continue on our own. 
Armed with a detailed map, I could breathe again, walking at my own pace.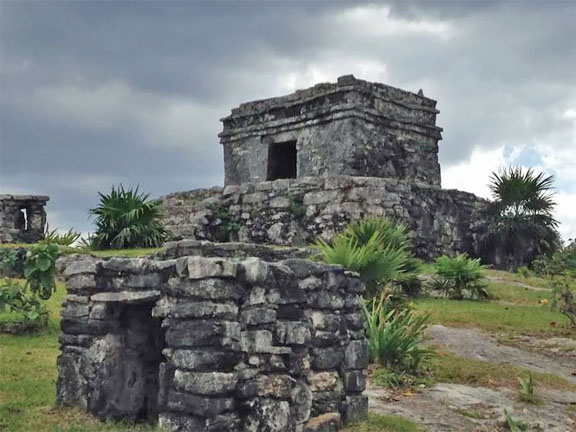 Mayan Ruins Tulum
The weather changed, growing black, stormy-looking clouds. I marveled to see the Temple of the Wind structure with menacing storm clouds above it. 
With its rugged cliffs and hills, one can see how pirates would find Tulum a formidable place to approach, even in fair weather. 
Warm Caribbean rain arrived, a welcome thing, so different from my native Pacific Northwest.
We found the long dark wooden staircase to the beach, and now were thankful for the trolley ride, saving us a half mile walk into the park in the heat. Sure that step counts would be high for the day, this was a nice suggestion by our guide.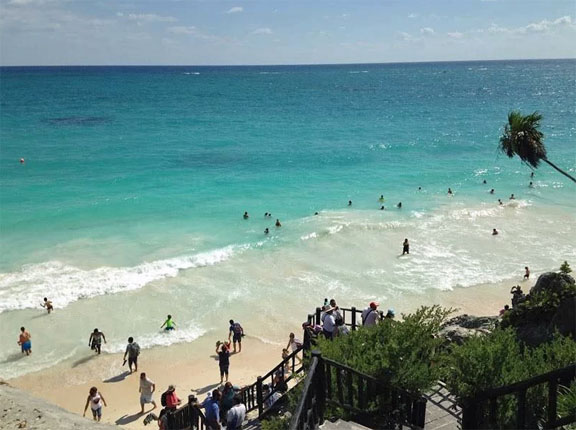 Crowded steps were tall and deep for a short person. I had to be careful not to lose a sandal while I eyed that gorgeous turquoise water ahead.

With no bathroom/changing area it was just wading for today...rolling up the capri pants and wishing our guide had mentioned the ONLY bathhouse was at the park's entrance. I carried that heavy swim bag for nothing.
In the heat, toes in the grainy sand and the water was refreshing. I questioned whether or not to plunge in fully clothed—would things dry before jumping back into that nice air conditioned van? I decided not to.
Back on the trolley, which looks like a train with cars behind it, I spotted folks just now making their way into the park. It was much warmer and busier now, and we were glad to have beat the high heat and crowds.
There's no food in the park, and we spotted a place named the Palapa, serving fast, fresh Mexican food. Ordered shrimp tacos and Carne Asada street tacos, so delicious and a great value.
At a restroom break before the van ride back, there was a man outside the banos (bathroom) with a little table set up between the men's and women's entrance. He charged .50 cents for each person going in which included toilet paper. What an enterprising man. I snapped his photo as well.
The Catamaran trip back to Cozumel was calm by comparison, the horizon in sight the entire time and no rough water. We shared tales with folks in the swim up bar at the resort at day's end ~ Viva Mexico!
story & photos by Sherry Meyers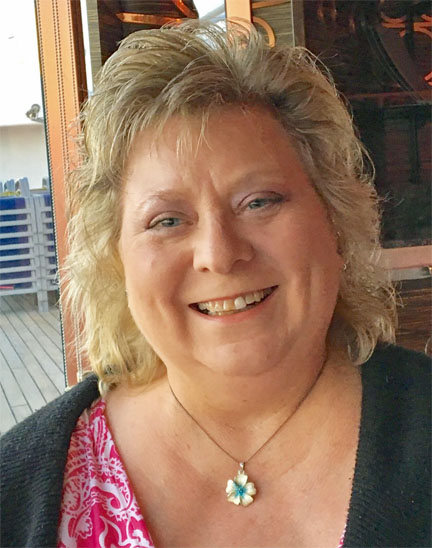 Sherry Meyers, an adventuress from the Pacific Northwest, enjoys escaping to new destinations. Married to her high school sweetheart for 30 years, she hopes this writing thing takes off so she can buy an island somewhere.
They have a 23-year-old son, who has inherited a love of travel and an incredible pallet. Sherry comes from a large, tight-knit family with loads of shared stories, and appreciates a sense of community in any culture. 

---
---