M is for Montana
Highway Patrol

How we got hit by a police car - Montana Highway Patrol

This is an ironic and yet funny story about a genuine human mistake, where no-one was injured and there was a happy ending! Read on to find out what happened.

In the basin country of northwestern Montana lies Flathead Lake, and the home of my ex's cousin Syd.
That was our destination when we flew from Las Vegas to Kalispell, Montana. At the Kalispell City Airport we rented a car to drive the 7 miles to Big Arm and their home on the lake.
---
Write for us!
If you have an interesting travel tale, please tell us about it. We'd love to hear about your travels and experiences. Please send your story (or simply an enquiry) to us at our contact page. Thank you!
---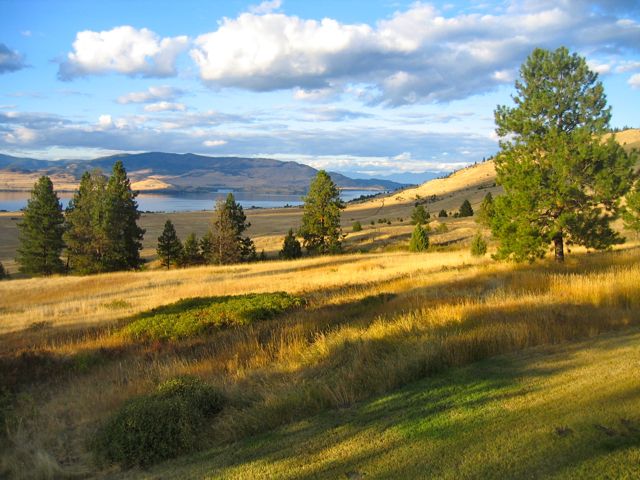 We were hungry. The food on Allegiant Air was lacking, and we wanted to grab a quick bite to eat before we hit the road.
We drove into a restaurant parking lot, checked out the coffee-shop style restaurant and decided we didn't care for their fare and would find something else.
At the exit driveway from the parking lot to the street, we waited in our rental car to enter the traffic.
In his side mirror, Cork saw a parked police car begin to back up towards the driver's side of our car.
Montana Highway Patrol

We couldn't go forward into the traffic, and we couldn't back up because there was a car behind us. Cork laid on the horn, and we watched in horror as the Kalispell police car backed right into our rental car, smashing the door on the drivers' side.
Unable to open his door, Cork had to crawl over the console to get out on the passenger side.
The Kalispell cop was young, embarrassed and repeatedly apologetic. We had to wait while he called the Montana Highway Patrol, who had jurisdiction over the Kalispell police department.
Questions were asked, statements were given, Cork made jokes, and we were "released."
He crawled back across the console and into the drivers seat and we drove back to the airport to return the damaged car to the rental agency.
Back on the road in a new vehicle, we were so stressed from the accident that we drove 80 miles in the wrong direction, towards Boise, Idaho.
Montana Highway Patrol

Cousin Syd, concerned because we didn't show up on time, called and directed us to his house via a "shortcut" through a beautiful valley we would not have seen otherwise.
Afterwards, Cork wrote the Montana Highway Patrol a nice thank-you note, I guess because they were so polite. So, a slightly bizarre accident but without injuries!

Tomorrow's A to Z travel blog Challenge: For the letter N, I'll tell you about the most beautiful beach in Portugal: Nazaré. And then there's the surf, too!

 Carolyn V. Hamilton, former editor.

---
---