Peace Corps Diary
By former editor Carolyn V. Hamilton

In August 1999, I began my Peace Corps adventures, accompanied by my husband, Cork Proctor. No such adventure would be complete without a journal, and in the end I filled countless notebooks with writings and watercolor paintings. My photography habit overwhelmed our Peace Corps living allowance.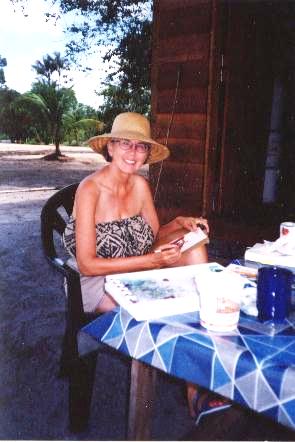 ---
Write for us!
If you have an interesting travel tale, please tell us about it. We'd love to hear about your travels and experiences. Please send your story (or simply an enquiry) to us at our contact page. Thank you!
---
Peace Corps Diary

So many people have asked me what it was really like, so to celebrate the tenth year, I've decided to publish my journals here.
For the next two years—if you stay with me—you can live a Peace Corps experience vicariously, alternately enjoying and suffering and laughing and feeling the passion and frustration of daily life living and working under the umbrella of our government in a developing country.
You'll learn how at a time in our lives when our contemporaries were bouncing grandchildren on their knees and thinking of moving to Arizona, Florida, or even Las Vegas, we put our respective careers on hold to go in search of our tax dollars at work, how we (barely) survived "one-room marriage" and how much our lives changed as a result of the experience.
"What are you thinking?" exclaimed comedian Sandy Hackett when my husband, comedian/entertainment manager Cork Proctor, told him we'd joined the Peace Corps.

After a year of paperwork that included copies of military records, our marriage certificate, medical reports and sealed references, we were scheduled to depart at the end of August, 1999.
But not without a little help from our friends, who demanded a going-away party.
Cork's pride was an orange, 900-square-foot air-conditioned garage in which he intended to restore old cars. Instead, it turned out to be a great place to throw parties.
The flyer/invitation/mailer headlined, "Bon Voyage From Our Garage, a Festival & Celebration of Cork & Carolyn's Departure for the Peace Corps." Dress was "Casual jungle attire" and it announced, "Cork & Carolyn are off to the tropical South American country of Suriname, where they will be supported for the next 27 months by your tax $$$!"
Suriname (formerly Dutch Guyana), is an equatorial South American country on the northeast corner of the Amazon basin. Think half-way between Devil's Island and Jonestown. Not that Americans are necessarily geographically challenged, but one of my friends actually thought the Amazon River was in Africa…
Our assignment is Rural Community Development, a broad title that could cover any number of projects. We are off on this adventure without any clear picture of what we will be doing.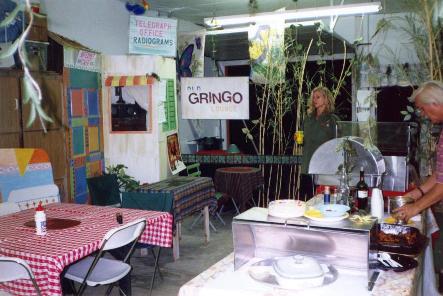 Privately we've talked about whether or not we'll last the whole two years of service. Peace Corps isn't like the military; if you don't like it, you have the option to leave. But we've made a good show of being committed. I cut my hair really short for the humid jungle, bought a simple gold wedding band to replace the diamonds I'll leave behind in the safety deposit box, and closed my graphic design business.
Our magician friend Jac Hayden really knocked himself out to decorate the garage in as close to a "Suriname" theme as he could research. He discovered the country flag colors are red/yellow/green, the capitol is Paramaribo, and somehow he's even run across a few words in Sranan Tongo, the lingua franca of the country. Some of his signs read, "Kondre Mahti Hotel" and "Langa Langa Shipping Company."
Under a red and yellow umbrella, one sign read, "Club Paramaribo." Along one wall (where cupboards store a lot of our personal belongings from the house, which we have rented), he created an almost life-size backdrop of how he imagined a city bus looked like.
Our comedian friend Peter Anthony wore a Viet Nam tee shirt and made a tee shirt for his wife, Bonnie, showing a map of the northeast Amazon basin and the location of the three Guyanas on the Atlantic Ocean.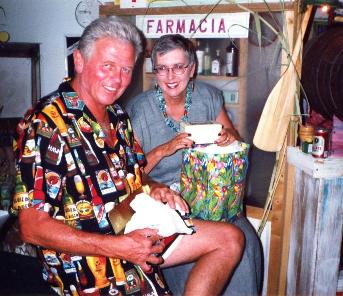 Friends gifted us with their ideas of "jungle necessities": hand-sanitizer, blank journals, fanny packs—even a machete!
There was a lot of love and laughter in that garage, making me pause to reflect, "What are we thinking, to leave all this behind?"
(As it happened, two friends from that party would not live to see us return.)
By Carolyn V. Hamilton

---
---