Les Promenades Gourmandes
Shop, cook and eat in a Parisian neighborhood, Les Promenades Gourmandes

"At this hour we're the only ones up," says Paule Caillat to our little group of six. We're ready to shop, cook and eat in the narrow streets of an old Parisian neighborhood.
It's nine a.m. on a sunny Saturday morning, and we're shopping for the necessary ingredients to prepare a menu of French culinary delights.
Madame Paule Caillat is une vraie Cuisenaire, an experienced Parisian cooking teacher and food consultant who owns and operates Les Promenades Gourmandes. This intimate one-day French cooking experience includes a shopping excursion and hands-on preparation of several dishes followed by a sit-down luncheon complete with wine and good company.
---
Write for us!
If you have an interesting travel tale, please tell us about it. We'd love to hear about your travels and experiences. Please send your story (or simply an enquiry) to us at our contact page. Thank you!
---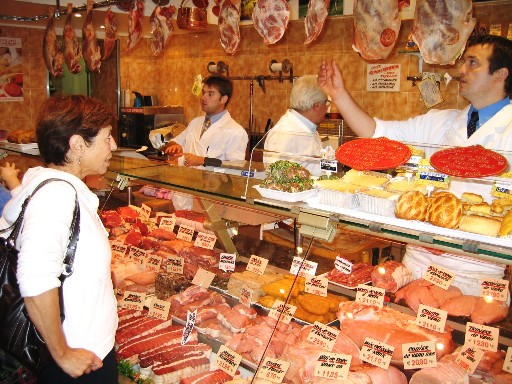 Paule Caillat's lifelong interest in food has led her to seek out the best that Paris and France have to offer, be it bread, cheese, spices or chocolate. She believes "the product is the star" and does not compromise on quality. Madame Paule is an endless source of inspiration and can transform grocery shopping into a treasure hunt.
Les Promenades Gourmands
THE SHOPPING 

We meet at the establishment of her favorite butcher where she cheerfully explains the label Rouge, a certification of quality.
"It represents a contract with a grower or producer that a certain product will be grown in a certain way," she says. "For example, with chickens the agreement will extend to what it is fed as well as how big an area it has to move in."
There is also the French Appellation Controlée, or AOC. For this a product must come from a certain area, with a long tradition. This designation began with wine and has extended to meats and cheeses.
Another designation is "organic" but "It's not organic in the way Americans think--it's more biologic." Madame Paule smiles. "The only thing wrong with it is the cost--you naturally pay more."
The French are very serious about these designations.
Madame Paule explains, "By law you have to say where the food comes from, even vegetables, and if it's farm-grown or sauvage." It is most important to know the source of your product.
Before leaving the boucherie, we learn what makes a good meat: no stress when it's butchered; some chickens are even wrapped in a warm cloth and relax to soft music before the final moment.
The boucherie Paule favors is next to Les Enfants Rouges, the oldest market in Paris, dating from the 17th century. This is where we go to by fish, vegetables, cheese and bread.
Like proper students, we gather obediently in front of the fish stand, where fresh seafood is spread out before us in orderly and decorative arrangement.
How to tell if a fish is fresh? You must see "shiny eyes and blood in the gills."
Blood? Did I understand correctly? Madame's English is excellent, but I could have lost something in cultural translation.
Okay, if not actual blood, then a bright red color.
But, she confides, "The best way to know your fish is to know your fish man. An honest man who will tell you the truth."
Paule Caillot is a diminutive woman with short chestnut hair, very cheerful and animated. Very French. Regarding a row of daurade, I ask how she can tell they originated in a fish farm.
She waves her hands dismissively. "I don't have to ask, I know they're farmed because they're all the same size."
Next she scrutinizes the vegetables. "Eggplants must be as shiny as possible."
Naturally shiny, of course, not artificially polished like we often see in American markets. In this French market, I marvel that all the vegetables are so fat and clean.
Les Promenades Gourmandes
In addition to eggplant, we buy tomatoes, garlic, red onions and fennel. Fennel? Yes, the bulb is edible and a very healthy vegetable.
Next we buy cheese and, naturellement, bread.
"There's a lot of blah, blah, blah around the bread," Madame Paule says, "to sell it better, but that does not mean. . ." Her voice trails off with another expressive flourish of the hand as she begins a conversation with the baker.
Our final shopping stop is to buy the wine to accompany our meal. Always seeking to improve my French vocabulary, I note that wine shopkeepers are called cavists.
Monsieur le cavist advises: "To freshen a red wine, put the bottle in a bucket with fresh water and only one or two ice cubes, then let it sit for fifteen minutes."
About buying wine, our French culinary guide again emphasizes, "Know your supplier."
Shopping for food here is about the experience of discussing the products with the merchant and cultivating a relationship, never about haggling over price.
"In France you must always think local; wine, cheese, whatever is there," says Madame Paule, bobbing her head and waving her hands for emphasis.
THE COOKING
Her now very hungry flock of students is guided to her apartment, where her kitchen has been specially designed to accommodate several people working at the same time. There are two sinks, two gas stoves, many cupboards, and all the modern conveniences.
This is a contemporary kitchen in an ancient Parisian building. Microwave and refrigerator are hidden behind blond Euro cabinet doors that match the rest of the cupboards. Marble tiles cover the floor, with a small oriental rug here and there.
One wall has bookshelves and tall windows overlooking a courtyard. Against another wall is a comfortable couch fronted by a coffee table. Above the couch hangs framed Chinese prints of delicately-illustrated herbs.
Raised in Paris and college-educated in the United States, Paule Caillot's bilingual and bicultural background gives her unique insights into French cuisine and culture.
Inspired by an aunt who studied at the Cordon Bleu in the 1930s, Madame Paule developed her own passion for cooking and entertaining while raising two children and working as a fashion executive.
When she decided to devote her considerable energy and talent to la cuisine, Les Promenades Gourmandes was born.
We drop our purchases on a large, well-worn oval pine table that dominates the center of the kitchen, a preparation area as well as a dining place.
But before we settle into the wicker chairs around it, Madame passes out aprons and towels and announces, "First everyone must wash their hands."
In this fun and informal setting Madame Paule shares her modern take on traditional French cooking.
Today we are preparing Tian D'agneau (baked lamb with eggplant and tomato), Daurade au jus Pointu (a white fish with a piquant sauce), Oignons Fondant (candied onions), and Fenouil en Fondue (fennel fondue).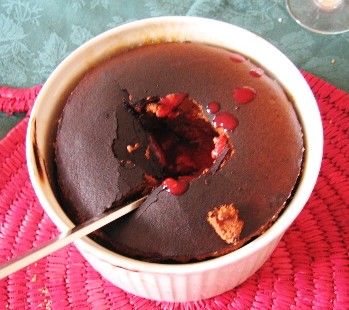 For dessert we will make a chocolate soufflé with raspberry coulis and a large fruit tarte with almond cream.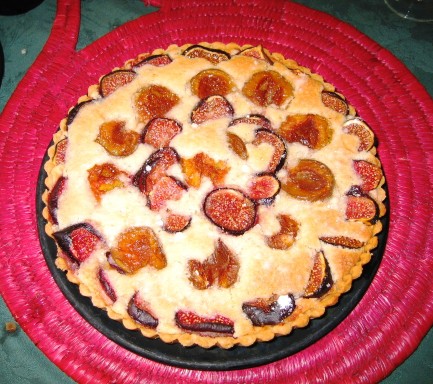 This all turns out to be not as complicated as it sounds. "I'm not interested in making elaborate recipes that you won't make at home," says Madame Paule, "with ingredients you can't find."
The lamb does not go immediately into the refrigerator. Madame Paule likes the meat to be room temperature, "at least a couple of hours out of the fridge because it's delicate."
I'm surprised to learn that the French normally "seed" their tomatoes. "The seeds don't add, they take away," she announces. "They have no flavor and they have an unpleasant texture." However, she says this step won't be necessary because in the lamb dish the tomatoes will be baked.
"One of my rules: no unnecessary steps because there are enough necessary steps."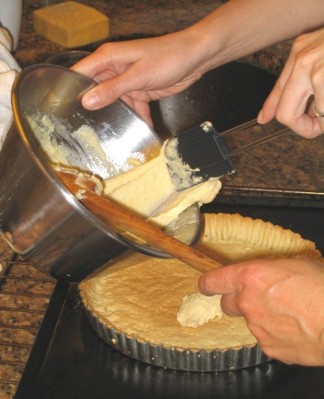 While we are slicing eggplant, tomatoes, red onions and fennel, our culinary guide educates us: "There are three food cultures in France, determined by region. In the north it is butter and cream. Southwest of Bordeaux, in the areas including Dordogne and Perigord, it is red wine. In the southern Catalonia region, close to Spain, it is olive oil and butter. These are the main ingredients people in these areas cook with that determine the food culture."
The lamb dish is deposited into the oven. By now our mouths are watering, so Madame Paule directs us to break out the cheese and bread for a little before-luncheon "snack." The first bottle of wine (white) is opened.
This is also a good time for an olive oil tasting.
"'Extra lite' is a marketing invention," says Madame Paule. "All olive oil is extra virgin. The color never determines the quality or the flavor. The color is determined by the color of the olive, that's all. The difference is going to be if it's a blend of olives or made from a single variety. If you know your olive oil geography you'll have a little idea of what to expect. It's complex, like any food product that hasn't been standardized."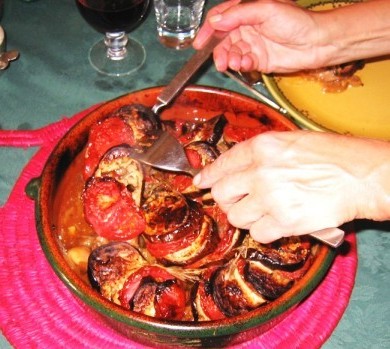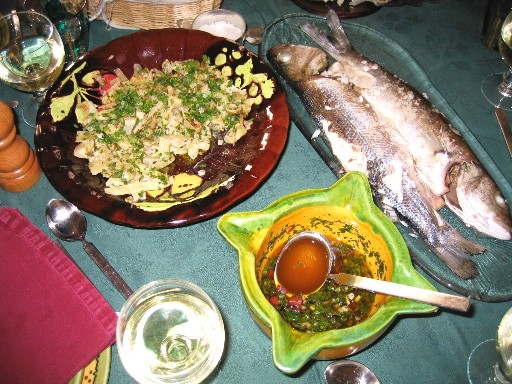 Next we prepare the fish dish because it takes a shorter baking time. While lamb and fish dishes are baking, we prepare the crust and almond cream for the tart and shave chocolate for the souffle.
As the base for the tarte, Madame Paule shares with us her Caillat family recipe for crust, Ma Pate Sucree.
The first ingredient, butter, is very important. In France butter is normally unsalted and cannot be called butter unless it has an 82% fat content.
Finally, the eating!

By the time we sit down to enjoy the fruits of our labors, we're very impressed with our newly expanded cooking abilities.
Not surprisingly, afterwards there are no leftovers.
Sated with incredible food and wine, feeling somewhat like how you feel after Thanksgiving dinner, I'm thinking of a nice nap, but oh no--Madame Paule takes us outdoors on an expanded walking tour. An assistant will arrive to clean up the dishes.
BUT WAIT, THERE'S MORE!
We visit a long established wine shop, and Dehillerin , Paris' landmark kitchen emporium, its dark, cramped interior unchanged since the last century.
Because it's Saturday, it's as crowded with Parisians as it is with every imaginable cooking implement.
Eyeing a pot that's easily two feet in diameter, I wonder how you'd get that home on an airplane.
It's been an unforgettable day in Paris, combining the pleasures of strolling the markets, choosing ingredients, preparing an authentic French meal and savoring the delicious result.
In the 1920s Ernest Hemingway wrote, "Paris is a moveable Feast."
So could be described Les Promenades Gourmandes.
--Story & Photos by Carolyn V. Hamilton
---
---