Rossiya Hotel

At the Rossiya Hotel in Smolensk I experienced a pre-Glasnost  night "Back in the USSR".

Formerly an immense conglomerate of 15 republics, the U.S.S.R. (Union of Soviet Socialist Republics) disbanded in 1991, granting independence to many regions with the remaining territories rebranded as the Russian Federation. 
---
Write for us!
If you have an interesting travel tale, please tell us about it. We'd love to hear about your travels and experiences. Please send your story (or simply an enquiry) to us at our contact page. Thank you!
---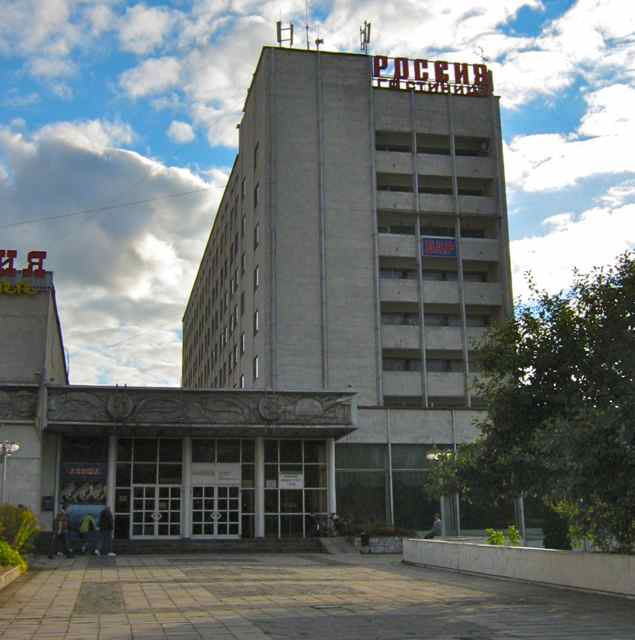 Touted as the best hotel in the region, the vintage lodging was a Cold War holdover, a drab concrete block of intermittent windows, eight floors and 220 rooms built by the government for the 1980 Moscow Olympics.
There was big anticipation of an influx of tourists fascinated by Olympic cycling. The race's course was the 475 mile highway from Moscow to Minsk with Smolensk the only sizable city between start and finish.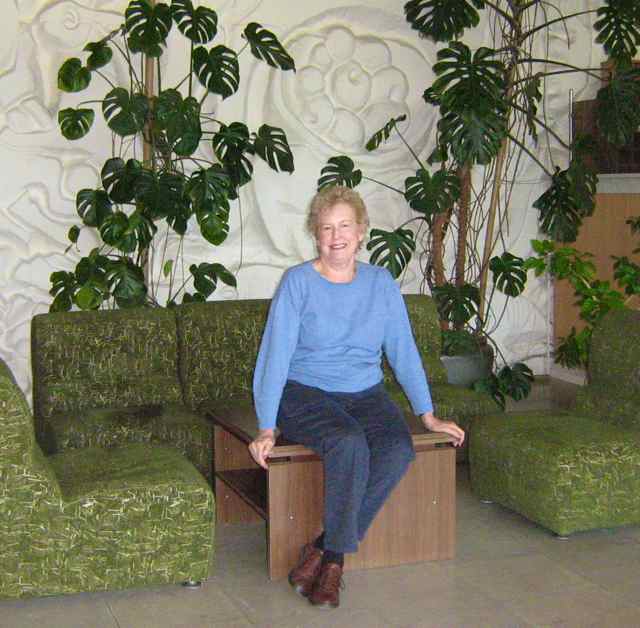 The Rossiya Hotel's sparsely furnished reception area was decorated with an abundance of green plants thriving along the glassy southern exposure.
Expecting a profusion of hammer and sickle symbols throughout, only one bas relief  wall depicted agricultural and industrial themes reminiscent of the Communist decades. 
After check-in, a security guard and the Rossia Hotel's only English speaker escorted our 41-member group to the lobby elevators. We waited while the three lifts, each holding four people, transported us to our respective floors.
There was no room for suitcases which were taken up separately in the same elevators. I was one of six single travelers so our bags were delivered last and left outside our doors.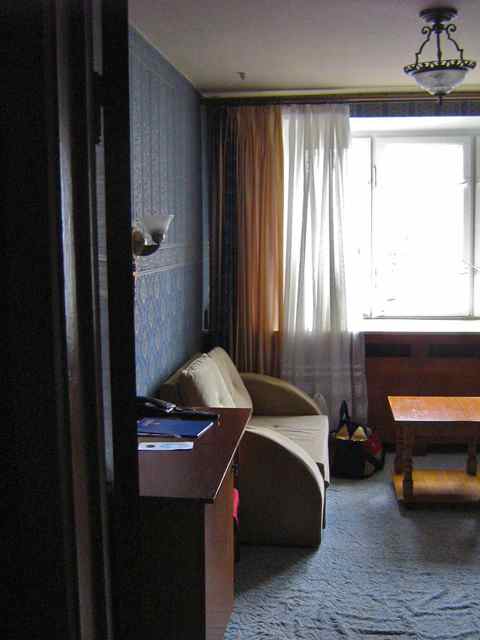 Rossiya Hotel
My room was tiny and garish with a wall-to-wall view of a neighboring apartment complex. The wallpaper was navy blue and gold with matching striped spread and blue striped gold-tasseled drapes. A gray carpet, unattached to the floor, completed the look.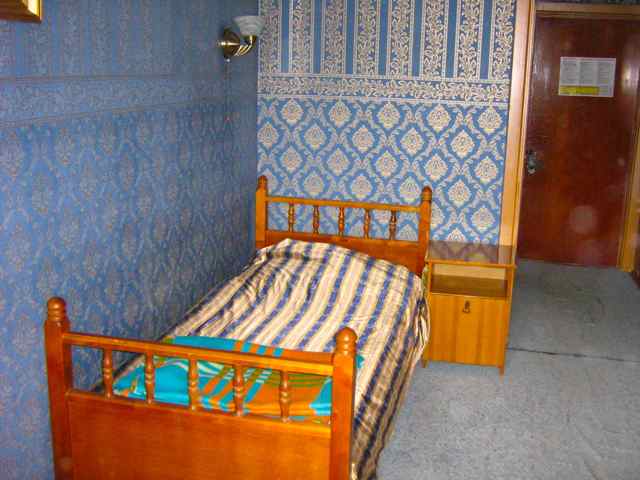 Furniture included one twin bed with orange and brown patterned sheets, a frayed beige loveseat, scarred wooden desk, TV with rabbit ears, a non-working phone, and a worn-out portable fan. If there was a hair dryer or clock, I didn't find them.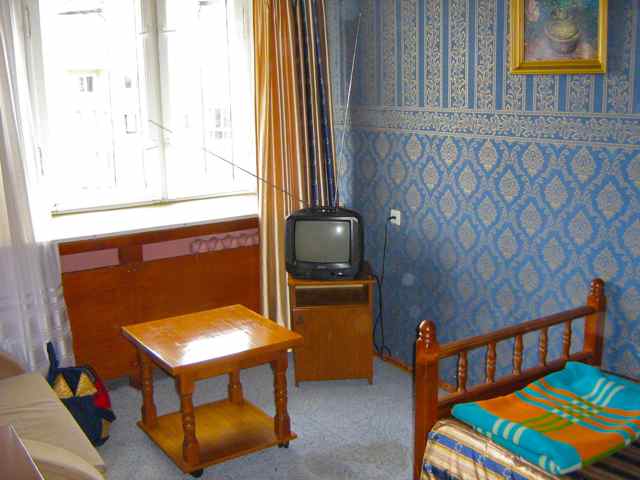 The entry light never stopped buzzing even when unlit. Along the floor boards and ceiling were disconnected wires – holdovers from the Soviet years when Big Brother was interested in guests' behavior?
The green-tiled bathroom was beyond compact with the sink's faucet doubling as the water source for the three-foot-square tub/shower. There were two towels the color of mango sorbet, and no wash cloth or tissues.
The TP was not as scratchy as anticipated. Some in our group had only hot water, others had only cold water, a few had periodic or no water. My water supply was constant but tepid.

A wooden knob the size of an avocado pit held the room key. When exiting, I had to remember to lock the door from the outside; keycard access has not yet reached Southwestern Russia.
Rossiya Hotel
On every floor there was a housekeeper with an office near the elevator so she could observe the comings and goings of the denizens assigned to her level.
After an afternoon of sightseeing at the medieval fortress, 1812 Battle of Smolensk war monument, and gold-leaf Orthodox cathedral, we returned to the Rossiya Hotel for cocktails prior to dinner.
The bar was the 7th floor elevator lobby complete with two chartreuse pleather sofas where we relaxed while the elevator doors continually opened and closed dispersing no one.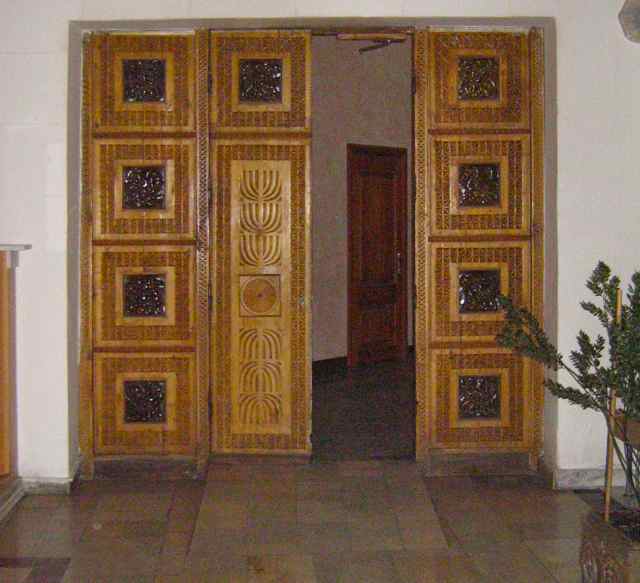 Images of menorahs were carved on the restaurant's entry doors. An above-average chicken-cutlet dinner, cabbage, and plentiful vodkas were served in the cavernous wood-paneled cabaret. Several of our group jitterbugged into the night while a Slavic vocalist crooned unidentifiable tunes in Russian to pre-recorded accompaniment.
Next morning the 6:00 AM wake-up call was a forceful knock by the Rossiya Hotel floor matron. Immediately, the din of moving furniture emitted from the adjacent room. My young neighbor was doing push-ups. How do I know? His door was open when I left for breakfast at 6:30.
The Russian Men's National Volleyball Team was also overnighting at the Rossia so the hotel withstood an invasion by giants. The handsome athletes were touring the motherland after their gold medal win at the 2012 Summer Olympics.
These enormous jocks were at least 6'4" with several in the seven-foot range. Each enjoyed two platefuls of pancakes and cold cuts for breakfast. At 5'9", standing next to them in the buffet line, I felt downsized and almost petite.
Throughout our 18-hour pre-perestroika stay-over, I was reminded of the 80s Broadway tour de farce, A Day in Hollywood, A Night in the Ukraine, where Marx Brothers surrogates perform Chekhov's The Bear creating good-natured disorder in a somber milieu - such was the quirky aura at the dated but memorable Rossiya Hotel.   
— Cam Usher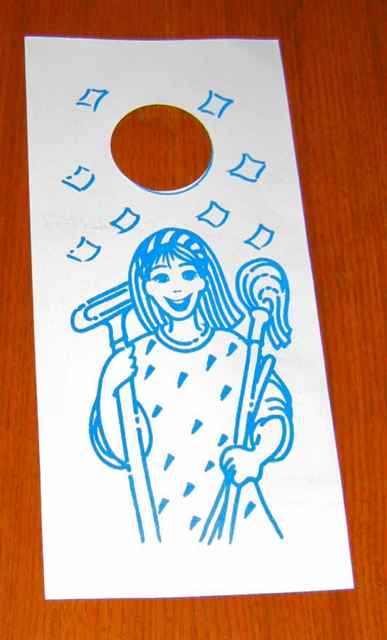 "Please clean my room"
---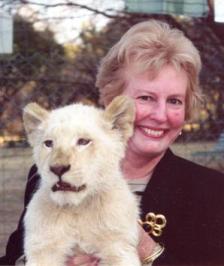 Adventuress Travel Magazine Associate Editor Cam Usher enjoyed a 35-year career in the tourism industry, most recently as Director of Tourism and Director of International Sales for a major destination marketing entity. 
She has visited over 50 countries on business and leisure and considers travel one of life's most rewarding experiences. 
A graduate of the University of Nevada Reno, she also earned a master's degree in public policy from the University of Nevada Las Vegas.  
Awards include the American Society of Travel Agents' Allied Member of the Year, Womens' Convention Sales Association Top Executive, and 4 times selected one of the 100 Most Powerful Women in Travel by Travel Agent magazine. 
Favorite places are Greece, Hong Kong, and any tropical rain forest. Other interests include sailing, foreign films, jazz, and cinema history.
Click here to read Cam's adventure in Belarus, Russia
Click here to read Cam's adventure in the Vatican Museum
Click here to read Cam's adventure in Israel.
---
---