Sedona Arizona
A spellbinding trip to Sedona Arizona.

In the heart of Red-Rock country, Sedona, Arizona lies in a canyon where rushing Oak Creek and red-rock monoliths meet. 
It is spellbinding.
No wonder U.S.A. Weekend voted Sedona the #1 Most Beautiful Place in America. It's easily accessible. Just a two-hour drive from Phoenix and on the way to the Grand Canyon.
---
Write for us!
If you have an interesting travel tale, please tell us about it. We'd love to hear about your travels and experiences. Please send your story (or simply an enquiry) to us at our contact page. Thank you!
---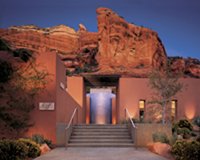 Jeep tours through the back country are a great way to see fantastic scenery. It's a thrilling ride. Horseback riding is also available. The Visitors Center will provide you with maps showing scenic routes to drive and hiking trails for all levels of hikers.
Sedona Arizona
Sedona is an artists' haven; you'll find many galleries and artisan shops. The Spanish Colonial architecture of Tlaquepaque forms a village of great shops and restaurants. Hugh sycamore trees shade, fountains splash, and there are colorful flowers for every season.
Enchantment Resort nestled in Boynton Canyon, is a destination resort equipped with every luxury. Towering red cliffs shelter it. The adobe casitas blend perfectly into the landscape. The scenery is captivating. Gorgeous red cliffs provide a background for stunning greenery.
Sedona Arizona
The spa
Mii Amo, the spa at Enchantment, has been rated one of the ten best spas in the US. Indoor and outdoor swimming pools take full advantage of the views. The list of services offered is extensive. Three restaurants on the grounds take care of dining needs.
The Spa restaurant satisfies guests who choose lite fare. The Yavapairestaurant has a four-diamond rating from AAA and an award-winning winelist. Yavapai serves breakfast, lunch, dinner and a Jazz Brunch on Sundays.
Tii Gavo has a more casual atmosphere with outdoor seating that provides expansive views of the red cliffs. Tii Gavo serves Southwest cuisine for lunch and dinner.
Sedona Arizona
There are several hikes through Boynton Canyon that start at Enchantment Resort. For tennis buffs there are several courts with a tennis pro on duty. Enchantment also has available for guest use a putting green, bocce ball court and ping pong table.
Other restaurants in Sedona offer equally fine dining.
Terrace on the Creek offers lunch on the banks of the rushing Oak Creek under the shade of towering trees. 
The well-known L'Auberge de Sedona serves gourmet fare with a changing seasonal menu. Picazzo's serves gourmet pizzas, terrific organic salads and gluten-free pasta. A casual restaurant with a wide menu, Picazzo's is especially favored by locals.
To seek out the spiritual side of Sedona, walk, hike or drive to a few of the vortices and experience the magnetic charge felt by many.

Sedona Arizona
The Chapel of the Holy Cross
Be sure to visit The Chapel of the Holy Cross. Designed by Marguerite Brunswig Staude, a student of Frank Lloyd Wright, it's built into the side of a bluff, looks out over the city and blesses it with its beauty. You can even attend an evening prayer service on Mondays at 5 p.m.
Sedona exemplifies the colors and creativity of the great southwest. It's a place you'll want to return to again and again.
--Caroline Lake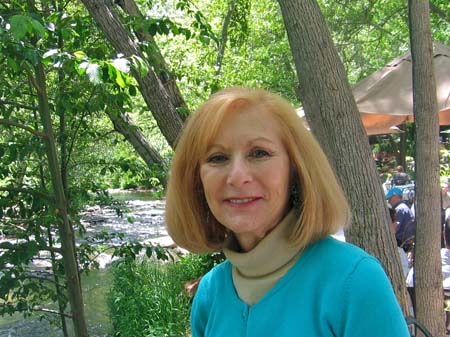 If you enjoyed this article, be sure to read Linda's Grand Canyon Hummer Adventure
---
---