US Peace Corps 
What to expect as a senior woman when you join the US Peace Corps

"What are you thinking?" exclaimed our friend when my husband and I told him we'd joined the Peace Corps. 
When you are accepted to the two-year U.S. Peace Corps program, you are cautioned to have "no expectations." It's easy to imagine what your host country will be like, based on what you've read on the Internet, the country information the PC office in Washington, D.C. sends you, and what you've seen in movies.
---
Write for us!
If you have an interesting travel tale, please tell us about it. We'd love to hear about your travels and experiences. Please send your story (or simply an enquiry) to us at our contact page. Thank you!
---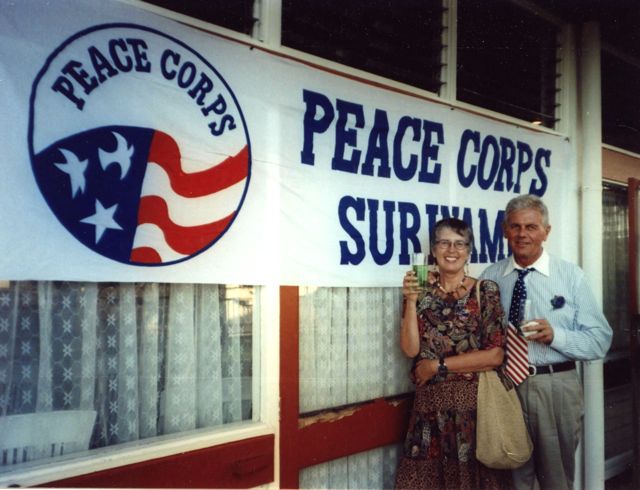 We certainly didn't expect to get tearful as we were sworn into the Peace Corps and shook the US Ambassador's hand, but we did.
One of my fellow volunteers in Suriname, South America was surprised by all the fruits and vegetables in the market. "I came here prepared to live on rice and beans for two years," she said.

I thought the Peace Corps office in the coastal capital of Paramaribo would be staffed by Americans. In fact, everyone was a host-country national except for the Country Director and the Administrative Officer (the budget guy).

So, no matter how much you try not to have expectations, you'll find some things will be different from what one would assume. For instance, some activities during training may not make sense to you, and you'll find yourself wondering, "why, why, why?"
The only explanation is that the US Peace Corps is a U.S. government organization, brought to you by those same folks who bring you the military and the IRS.
If you expect to have inconveniences, problems and difficulties, you will find them; if you expect to have a terrific cultural, learning and personal growth experience, most likely you will. 
Here are the major concerns of potential Peace Corps volunteers:
What will I do in the US Peace Corps?

Whatever your assignment, an emphasis will be on sustainability, sharing information and teaching skills that can be replicated and used after you are gone. 

Placement, according to your skills and a country's requested needs, can take from six to eight months for a single, and more like one year for a couple because both persons must qualify for their own job.

You will be assigned a counterpart, someone who is a member of the village or organization of your assignment who may speak English. This person will be your major liason, helping you find the right people to help with your project, the proper place to plant your garden and wash your clothes, or the closest internet cafe.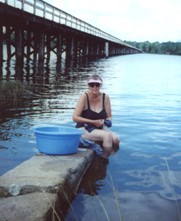 The first thing I learned from my neighbor is how to wash clothes in the Suriname River!
While there is no pressure from PC to "perform" immediately--we were told it takes about six months to become fully integrated into the community--our Country Director said, "Of course, if we hear you never come out of your house and nobody likes you, we'll be talking."
From a book in the PC office library I learned to make a chalkboard on which I taught English to giggly, restless and inattentive children. From one of the girls I snatched a piece of paper with a doodle of male genitalia. Another came to class with a pet monkey clinging to her head, often a distraction.
How will I learn the language?

In many third world countries, the education system can be compared to the U.S. in the 1950s. You learn by rote: the teacher writes it on the board, you memorize it, and the test is on Friday.
Your PC language training will be conducted by host-country people who may not be trained teachers. They will teach you the same way they learned.
The good news is that you will have plenty of opportunity to practice with the locals, most of whom will be happy to help you.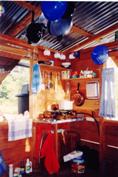 US Peace Corps
Where will I live?

You will be provided with pre-assigned accommodation.  In a city, an apartment that you will most likely share with another volunteer; in a village a house like your neighbor's, or you will be allotted a rental budget. No matter where you live, your home will be approved for habitation by the Peace Corps Medical Officer.
You may or may not have electricity, or not on a regular basis. It's amazing how quiet life is without the sounds of things that plug in: the electric coffee grinder, t.v., radio, electric can opener, blender, vacuum cleaner.
You may or may not have indoor plumbing. We bought a toilet seat in the market to put on top of the hole in our latrine to make it more comfortable.
What will I eat?

Food can be a challenging issue: what is it? where do you buy it? How do you cook it? You may find yourself losing weight as you become accustomed to the dining habits in your host country. This is especially true in tropical countries. If you are a vegetarian, that is generally considered for meals provided during Peace Corps training.
The central market in Paramaribo, Suriname's capital, sold sweet potatoes, cucumbers, tomatoes, garlic, peppers, potatoes, avocados, bananas, plantain, pineapples, and pumpkin. Pamplemoes, a football-sized pink grapefruit, became my favorite.
Popular leafy green vegetables people ate had strange names; we understood they came from Indonesia with the Javanese plantation workers imported in the 19th century. In our village we occasionally dined on tapir, cayman, bush pig, deer and monkey (very stringy) and were told "toucan is delicious."
We also had McDonald's, Pizza Hut, Royal Castle, KFC, and Pop-Eye's Chicken. Popcorn, peanut butter, and chocolate spread were popular. In restaurants, satay with spicy peanut sauce, war won ton soup and potstickers were cheap and tasty.
US Peace Corps
What if I get sick?

Each country program has a Medical Officer to administer to the health needs of volunteers. He or she will be a qualified host-country medical person--doctor or nurse--who speaks excellent English. When we decided to hop off to French Guyana for a vacation and needed yellow fever shots, they were provided free by our Peace Corps MO.
You will be given a personal medical kit that may include such things as Neosporin, an anti-itch cream, aspirin, band-aids, sunscreen and even condoms. PC asks you not to share any of this with your neighbors.
How will I communicate with my family back home? Will there be Internet?

In the early days of the Peace Corps, mail was often censored, as with the military, but thankfully times have changed. While you'll be able to receive mail at the PC office in your host country, the internet will be your primary form of communication.
Many volunteers today find it easy to maintain blogs documenting their experiences. When we arrived in Paramaribo in 1999 there was one internet cafe. By the time we left two years later, it seemed there was one on every corner.
We were the first volunteers in Suriname to have a cell phone, which we bought ourselves. Today cell phones are often distributed free to volunteers as part of Peace Corps' security service. 
How safe is it?

The Peace Corps takes your safety very seriously. If you live in a village and go to town, you will be expected to check in with the PC office and out again when you leave. They want to know where you are at all times.
There will be an emergency evacuation plan. You will have a way to communicate with the office, usually by radio or cell phone.
All this "checking on you" can seem annoying to older volunteers, but many younger volunteers may never have traveled outside the U.S., and accidents can happen.

US Peace Corps
How much money will I make?

You are given a settling-in allowance and a monthly living allowance to cover food and expenses. This is not considered earned income, as you are a volunteer, not a U.S. government employee. Our PC office helped us open a bank account complete with ATM card in order to access our funds, which were automatically deposited monthly.

In addition, PC sets aside money for you for each month of service you complete; you aren't dumped back on the streets of America with no money in your pocket when you return home after your service.
Other perks of PC service are a masters' degree program and opportunities to continue on in foreign service jobs.

What about cultural differences?

Living without electricity and indoor plumbing was the easy part. The real challenge was cultural and the vagaries of human nature. Apathy and the idea that the government owes you something can be just as prevalent in any third world country as in America. 
Our village neighbors found it hard to understand why anyone would leave a rich, cushy, American lifestyle to go to another country and help people they don't know for no pay.
You'll find stereotypical thinking everywhere in the world. In Suriname, many people believed that the Maroons (descendents of African slaves) will steal, the Amerindians are lazy, the Dutch and Americans are all rich, and the Hindustanis are successful in business because they can change themselves into snakes at night and steal money from the banks.
We found our Amerindian neighbors to be naturally shy. They would never talk about stealing, rape, or incest because "you don't bring shame on your family."
Once, our neighbor shot an ocelot. How do you tell a man not to shoot an endangered species when it is a traditional food source for his family?
Cigarette smoking together is often a way men "bond" in other cultures. Some non-smoking PC volunteers find that at the end of two years, they enjoy smoking.
And of course there is still some prevalent thinking worldwide that we are secretly CIA agents.

US Peace Corps
What if I hate it?

You will find that the days may drag by while the months will fly. But if you wake up one morning and absolutely cannot stand your assignment and your host country one minute longer, you can ET (early terminate).
If you are injured or become pregnant, you will receive a medical termination.
Admittedly there were days when our spirits wavered and we asked ourselves, can we really help these people who have one foot in the past and one in the new millennium?
When my neighbor children one day brought me a bouquet of wild morning glories and orchids, I thought, maybe it's enough if our presence teaches them that all Americans are not like J Lo and the Rock.

When you join the Peace Corps, you can expect your life to change.

At the end of two years you will have grown through incredible experiences, learned a foreign language, ate something you never expected, realized a new appreciation for the joy of service, and exchanged cultural ideas with wonderful new friends.
-story, photos & photos by Carolyn V. Hamilton
To learn more about joining the Peace Corps today, CLICK HERE
---
---