Cafe Des Artistes 
A bistro gourmet restaurant, Cafe des Artistes

When Cafe Des Artistes opened over twenty-five years ago in a Spanish Colonial mansion in Puerto Vallarta, it offered exclusive seating for just forty people.
Today, this bistro gourmet restaurant with separate rooms featuring different illumination and a private outdoor cocktail area can seat five times that many.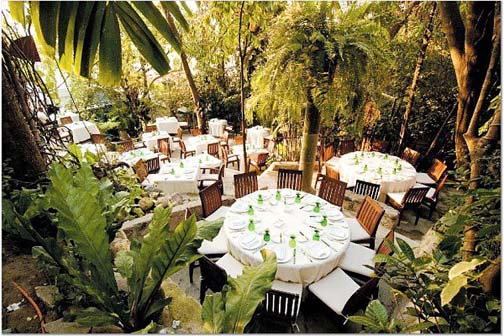 The outdoor dining area at Cafe des Artistes
We choose to dine in the garden under a canopy of bamboo, rubber trees, and big-leafed diefenbachias, illuminated by votive candles and caressed by background vocals of Norah Jones and Ray Charles.
We're immediately served an Amuse Bouche, a small chicken mousse with balsamic vinaigrette and paper potato with parmesan cheese. For the bread there are three butters; natural, garlic and parsley, and sweet red bell pepper.
A popular appetizer is the Tuna and Salmon Tartar with Dijon mustard sauce, served in a martini glass. Or you might choose a Block of Foie Gras with apples and pistachios or a Salad of Fried Goat Cheese wrapped with pumpkin seeds, pear, vegetarian bacon, caramelized almonds and toasted nuts.
Cafe des Artistes
I couldn't resist the traditional Cream Soup of Prawn and Pumpkin, which the waiter pours into my bowl from a real carved pumpkin while I sip my Italian pinot grigio from the La Braghena Vineyard.
"We have one of the biggest private wine cellars in Mexico," says the waiter. "2,500 bottles, 350 labels. Our wine list is very dynamic."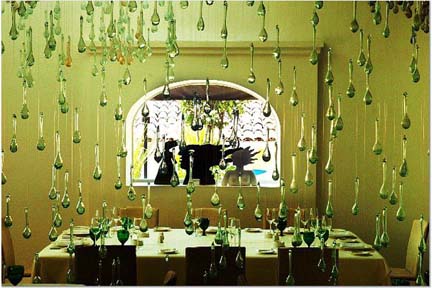 Café Des Artistes has a menu section entitled, "To Share." This includes bistro items such as a classic Cheese Tray with pecan bread and green tomato jelly; a dozen fresh Baja oysters; or Fruits De Mer, a fountain arrangement of shrimp, Baja oysters, crab, scallop coconut-mint ceviche, served with a mini Caesar.

Popular entrées are Roasted Sea Bass with potato slices; Seared Grill Tuna over wok-sautéed seafood chop suey; and a Calamari Risotto served with an Alaskan King crab leg.
Other entrees include Stuffed Chicken with pine nuts, a mesquite-wood smoked and grilled Rib-eye, and Roasted Duck Adobado (a lime and ginger honey sauce) with creamy polenta. Vegetarians will enjoy the Ratatouille.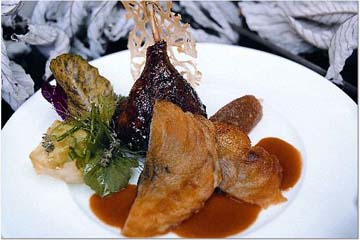 Chef/owner Thierry Blouet believes that the chef must be an artist. "If you come here you don't just come to have dinner," says the maitre 'd. "You come to have an experience."
Born in Puerto Rico to French parents and educated in France and Mexico, Blouet was admitted in 2000 to the Maîtres Cuisiniers de France, the highest qualification in the world of gastronomy.
Cafe des Artistes
The dessert menu has several chocolate selections such as the Moctezuma Chocolate Fondant as well as fruit desserts such as a Breton Apple/pear/pecan Tarte and fruit-flavored ice cream coupes. Or you may simply enjoy a dessert cocktail or wine.
The Thierry Blouet Cocina de Autor, an intimate 40-seat venue with a demonstration kitchen, serves a prix-fixe chef's signature wine-pairing dinner once each evening for formally-attired guests. After dinner entertainment follows in a private Cognac and Cigar Room with piano bar.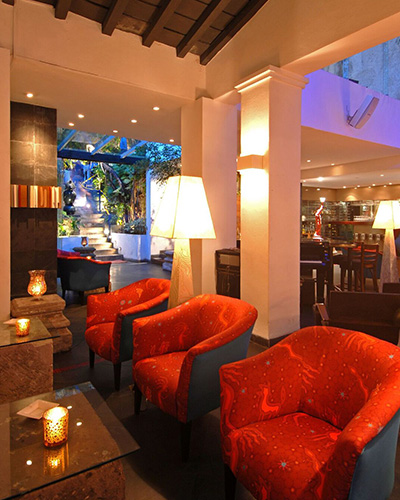 The P'Yote Lounge Bar name was inspired by indigenous shamanic traditions of healing and spirituality that began with the cultivation of the peyote and transformed it into a medicinal tool for the soul and body.
Contemporary artwork by Mexican artist Telloso is featured in the garden, which was designed on different levels to accommodate palms and orchids and existing trees like guava and passiflora.
The Puerto Vallarta evening restaurant scene is one of candlelight, open air, soft breezes and international dining choices.

— Carolyn V. Hamilton
photos by Carolyn and courtesy of Office of Puerto Vallarta Tourism
---
---