A Travel Benefit
Travel is about more than seeing the sights.  I have been lucky to make friends as well around the world.  Thanks to the internet we keep in touch.  It really underscores the fact that we are all one human family on this planet.  However it can make for difficult choices like this one:
A friend from New Zealand is putting together a very ambitious tour of Maya archeological sites in Central America.  One of his stops will be Copan in Honduras and he invited me to join him there.  Copan is one of my favorite places in the whole world.  It was my first visit there in 2000 that started me on a grand adventure of research and writing about the ancient Maya civilization.  Since then I have visited Copan seven or eight times, thoroughly explored the ruins, and published many articles and books some of which can be found on my website at http://mayas.doodlekit.com.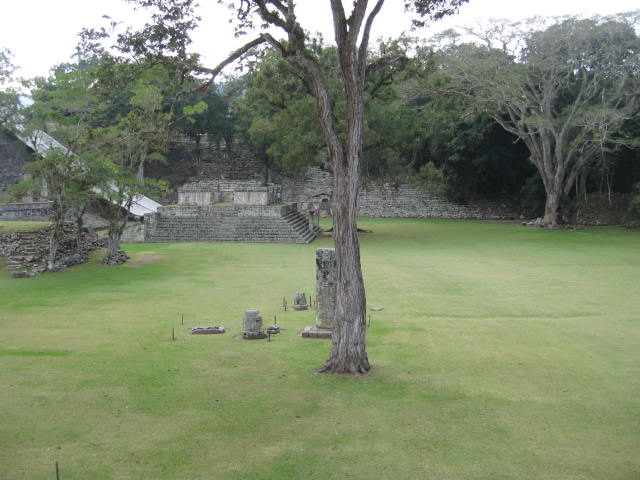 Copan Ruins
Copan was one of the major kingdoms of the Maya from 427 to 820 CE.  It is known as the "Athens of the West" for its magnificent sculptures, abundant artifacts, and copious inscriptions.  It is the inscriptions that drew me in.  They include names and dates – real history – which make its mighty kings come alive and speak to us in the 21st Century.  I was so captured by the history that I grabbed every dictionary, glyph guide, and translation I could find to actually begin to read the glyphs on my own!
The nearby village of Copan Ruinas blossomed from the archeologists and tourists coming to study the ruins.  My first friend there was an innkeeper originally from Brooklyn who took advantage of the tourist trade to build several hotels.  Next were the staff and lead archeologist at Asociacion Copan, a nonprofit dedicated to the preservation of the archeological site, cultural education, and reconnecting Hondurans to their heritage (http://www.copanmaya.org).  I soon met other archeologists and people attending conferences and eventually I connected to the Institute of Maya Studies.  This led to several more adventure trips and many new friends.
Copan Ruinas Village
So when my New Zealander invited me, I was more than ready to jump at the chance to revisit Copan.  Then I received an email from another friend who lives in Perth, Australia.  I met her in 2013 at an English immersion program at La Alberca, Spain.  Pueblo Ingles brings English-speaking volunteers to Spain for a week to coach Spanish business and government people to perfect their English (https://www.volunteerspuebloingles.com).  How could I resist a week in Spain at a resort with free room and board?  This time she was planning a trip to Barcelona and Carcassonne.  Oh how I've always wanted to see those places!  On impulse I offered to accompany her and she said yes.   Now I had a choice to make.
My creaky old body made the decision.  Copan is all laid out for me, it is familiar, my friends there want me, and it is only seven days.  My innkeeper is even arranging the transfer from and to the airport.  The Barcelona trip would be two weeks and maybe more than my body wanted to handle just now.  Copan is easier.  Surely there will be a time when a tour of Barcelona and Carcassonne is possible.  Also I can visit my friends in Australia later.  So I told everybody that I decided on Copan and booked the flight.
I am so fortunate and so grateful for the friends I have here and around the world.  Travel makes it happen.
- Story and photos by Janice Van Cleve
Author Bio
Janice Van Cleve's travel stories are in The Jumanji Passport vol. 1 & The Jumanji Passport vol. 2.  She named them from the movie "Jumanji" because her passport makes boom buppa boom noises when it hasn't been somewhere in over six months!