My Travel During
Pandemic COVID Experience

Travel during pandemic.

When we decided to emigrate from Spain to New Zealand in February 2021, we didn't realize how many things we would have to do beforehand  in order to make it work - and we were stunned at how quickly it all worked out for us in the end!
Why did we want to emigrate at all? After 12 years in Spain, we were ready for a new life, a new experience, and some travel. Of course, the global pandemic made things more complicated, and we had several hurdles to jump. 
Disease control was the main factor. Wearing a face mask any and every time we were out of our home was compulsory, in every airport and on every flight, for the entire duration of each flight. We also had to maintain social distancing at all times, keeping at least 2 meters away from others.
Our last evening in Spain!
My Travel During
Pandemic Conditions Experience
The World Health Organization was reporting increasing numbers of covid-19 cases, and the best way of reducing our risk was to emigrate to a low-risk country like New Zealand.
The New Zealand borders were closed except for essential workers, and of course, cruise ships from the United States were banned! We spent hours researching travel recommendations for foreign nationals.

Air travel could be considered high risk, due to being in close contact with other people for extended periods of time. But by using best practice measures, we felt confident of arriving safely. As we were departing from Spain, we were considered high risk, so we needed pre-departure negative covid tests as well as 3 negative tests in managed isolation.
First off, my fiance (who is a dentist) got a job offer in Blenheim, on the northern end of the South Island. According to climate statistics, it has the most sunshine hours of any place in New Zealand, AND it is the center of the famous Marlborough wine-growing region.
First hurdle - he discovered that his Australian passport (pretty much essential to get into NZ) had expired 3 months before. In the past, he had renewed his Aussie passport online. But now the renewal process involved a face-to-face interview at the Australian Embassy in Madrid. That meant a six-hour drive one-way across several provinces, while Spain was in lock-down!
Fortunately, he was able to make the trip on eerily quiet highways, and submit his Australian passport application at the Australian Embassy without a hitch.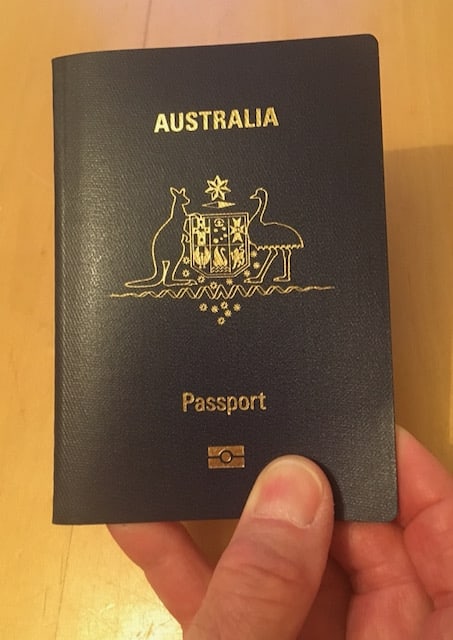 The new passport!
Travel During Pandemic Conditions
Next, he had to apply to be registered with the Dental Council of New Zealand. Among other things, this involved sending his original registration certificates from every country he had ever worked in. This involved the U.K., Barbados, Germany, Australia and Spain.
While he had records from 4 of these countries, he had nothing from Barbados. When he contacted the Barbados authorities, they said they had no record either, as it was 40 years ago, and that they would have to go into the archives!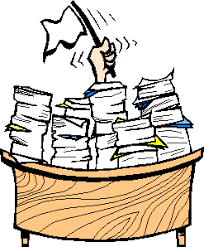 Lots of paperwork to complete!
After digging around in the archives for 3 weeks, they found the original registration certificate, and promised to mail it to the authorities in New Zealand. Unfortunately this was the week when the volcano on neighboring St. Lucia erupted, producing a cloud of volcanic ash over Barbados.
The volcanic ash cloud meant that ALL government offices in Barbados were closed - including the Post Office! They could not mail his registration! Taking the circumstances into account, New Zealand decided to accept an emailed version, and finally issued the NZ registration. Phew!
Travel During Pandemic Conditions
- Entry Visas
Next up, we had to apply for exceptional visas, to be able to enter New Zealand during the border restrictions due to the pandemic. We thought we might have to engage the services of an immigration agent in NZ, at around $5000; but after reading the NZ Immigration website, we decided to try applying ourselves directly.
Contact Me if anyone wants any tips on NZ Immigration!
We applied for the "Critical Health Worker" category visa, filling in all the questions and uploading what seemed like a ton of documents online. This allowed us to avoid the "nonessential travel" category. We had to prove that we had been in a relationship for at least 12 months, and compile a "relationship diary" made up of dated photos and FaceBook history. We've been together over 7 years so our diary was pretty huge!
After a few days, we received an email from our NZ Immigration case officer, asking for my fiance's job offer letter - but we didn't have one! So he sent off a frantic email to the dentist in Blenheim, asking for an official offer. He sent it back 2 days later, and we were able to upload it to the visa application.
Two days later our visa was approved!  This came through in the middle of the night so I was woken up by a very excited fiancé!!

Travel During Pandemic
- Registering for MIQ
During these days we also had to register for a place in the New Zealand Managed Isolation Quarantine (MIQ), for 14 days isolation in a hotel before we could enter New Zealand life; and places were as scarce as hen's teeth. Every few hours we would log into the MIQ website and check availability. It was sparse, but dates were constantly being added and removed.
When we looked at possible flights from Spain to NZ, there were many options, but only a few made sense in terms of route and total travel time. For example, some options took us from Madrid to London, to Qatar, to Sydney and then Auckland. But it took 2 days and involved a 12 hour stop-over in Qatar!
The Quickest Route
In Covid pandemic times, we couldn't spend time in an airport hotel, to limit the spread of covid-19, especially after the delta variant appeared. So we had to look for the quickest route. This was from Madrid to Frankfurt in Germany, with a 2 hour stop over before flying on to Singapore for a 3 hour stop over, and thence to Auckland.
The only flight that really worked for us departed Madrid on May 13 2021, and arrived in Auckland just before midnight on May 14. So were were looking for a place in MIQ from May 14. When a place became available, we had not yet received our visas, but we reserved it anyway, in anticipation of the visa being granted. It would be held for 48 hours.
But 36 hours later our visas had not come through, so we cancelled the reservation. We thought our window of opportunity had vanished.
But the next day, we received the email approving our entry visas. Back to the MIQ website! To our astonishment, the 14th May slot had opened again, and we booked again in an instant!
So, we had my fiance's professional registration, we had our entry visas, and we had places booked in MIQ. All that was left was to book a COVID PCR test, and the flights and tell family and friends! We went with our preferred MAD - FRA - SIN - AKL route with Singapore airlines.
We had 2 weeks to sell or store our possessions. We managed to get PCR tests at a private clinic just 24 hours before our departure, and we both had a negative result, allowing us to travel.
At this point, there was no requirement to prove vaccination status. Covid-19 vaccines were just getting started in Spain at the time. We just needed a negative viral test. The European Union was issuing mixed travel guidance, but New Zealand was very clear.
Overnight Stay in Madrid
We flew from our nearest airport, Alicante, to Madrid on the 12th May, and stayed overnight in the airport hotel. This was quite weird, for 2 reasons. First, the hotel was in an underground bunker beneath the airport, and not easy to find. Second, the restaurant and bar were closed - room service only! So we ordered our dinner and a bottle of wine, and had an early night!
Once we stepped out of our room, face coverings were mandatory. But there was no requirement for a vaccination card.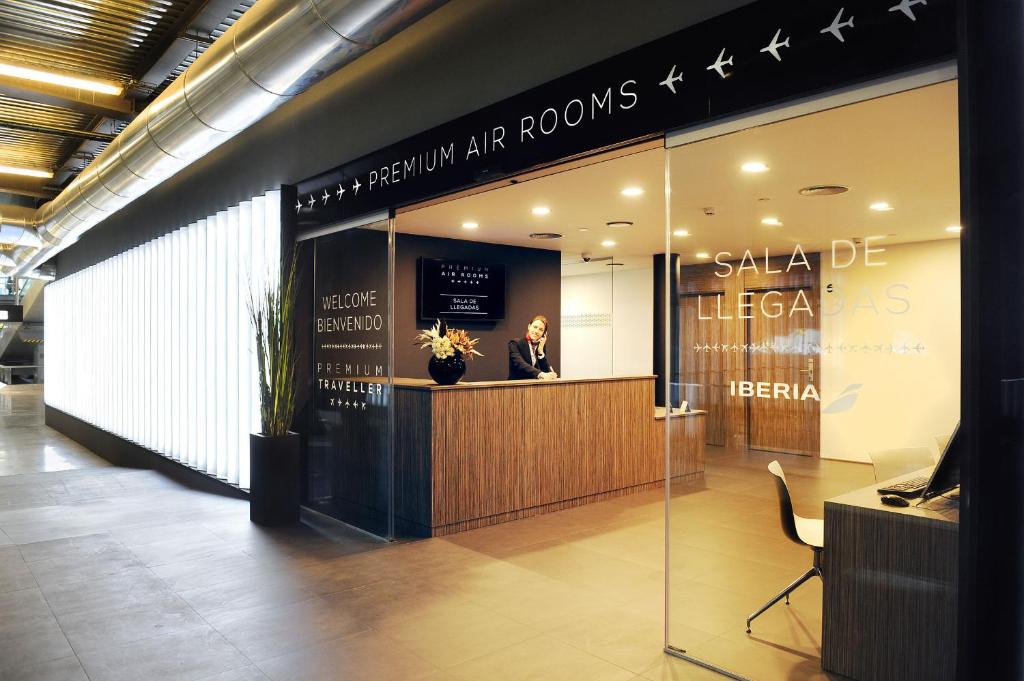 Air Rooms Madrid Airport Hotel - where we stayed underground before our flight!
Travel During Pandemic Conditions
- First Leg

Madrid to Frankfurt
We were up early next morning, checked out of the underground hotel, and made our way to check-in at the Lufthansa desk - for the code-share flight from Madrid to Frankfurt. As well as the usual check-in procedures, we had to provide evidence of our negative PCR tests.
The testing requirements were strict, and although unvaccinated people were allowed to travel, they had to have a negative test no more than 48 hours before departure.

Onwards to Frankfurt!
The flight from Madrid to Frankfurt was almost full. All passengers and cabin crew had to wear masks. Service was limited to a plastic bottle of water and a bag of biscuits. This was acceptable for a 2 hour flight during a global pandemic.
Arriving in Frankfurt at the west side of Terminal One, we had to traverse the underground tunnel to the other side of Terminal One. This is a 15 to 20 minute trip by foot, and we picked up a sandwich to munch as we walked.
Arriving at our departure gate (or so we thought), we saw what looked like 200 passengers lounging around, with a small queue building up at the gate itself. We had been under the impression that long-haul flights were very quiet, and so were quite dismayed to see the huge volume of people. Then we heard our names being called out on the public address, to report to the gate agent.
BUT WHERE WAS THE GATE AGENT?

We had no clue. There was now a seething mass of people lining up for the gate, with the boarding staff checking passports and boarding passes. Now we started to panic. We didn't know who to approach. We tried to get to the head of the check-in queue, and catch the eye of a member of staff. No-one looked at us.
Miraculously, we then noticed a series of desks off to one side, one of them a Singapore Airlines agent. We went over, and introduced ourselves. The lady beamed at us; it had been her calling us on the public address.
First she needed our boarding passes. Check. Then she needed our passports. Check. Next she needed our negative test result. Check. Finally, she needed to see our visas to enter New Zealand, AND proof of our reservations in MIQ.
Would we make it on the plane?!
But wait, there was one more thing. She had to telephone New Zealand Immigration to confirm that we would be allowed to land at Auckland, enter the country, and enter MIQ. After what seemed like hours (and watching the boarding queue behind us getting smaller and smaller), she re-printed our boarding passes for Singapore Airlines, and shovelled all our paperwork back at us.
We frantically stuffed everything into our bags, and ran over the departure gate, waving our boarding passes. The gate agent was distinctly unimpressed. "Madam" she said to me, "look at where this flight is going", and pointed up to a sign off to the left. It said "Hurghurda". Egypt. Wrong gate with everyone staring at us!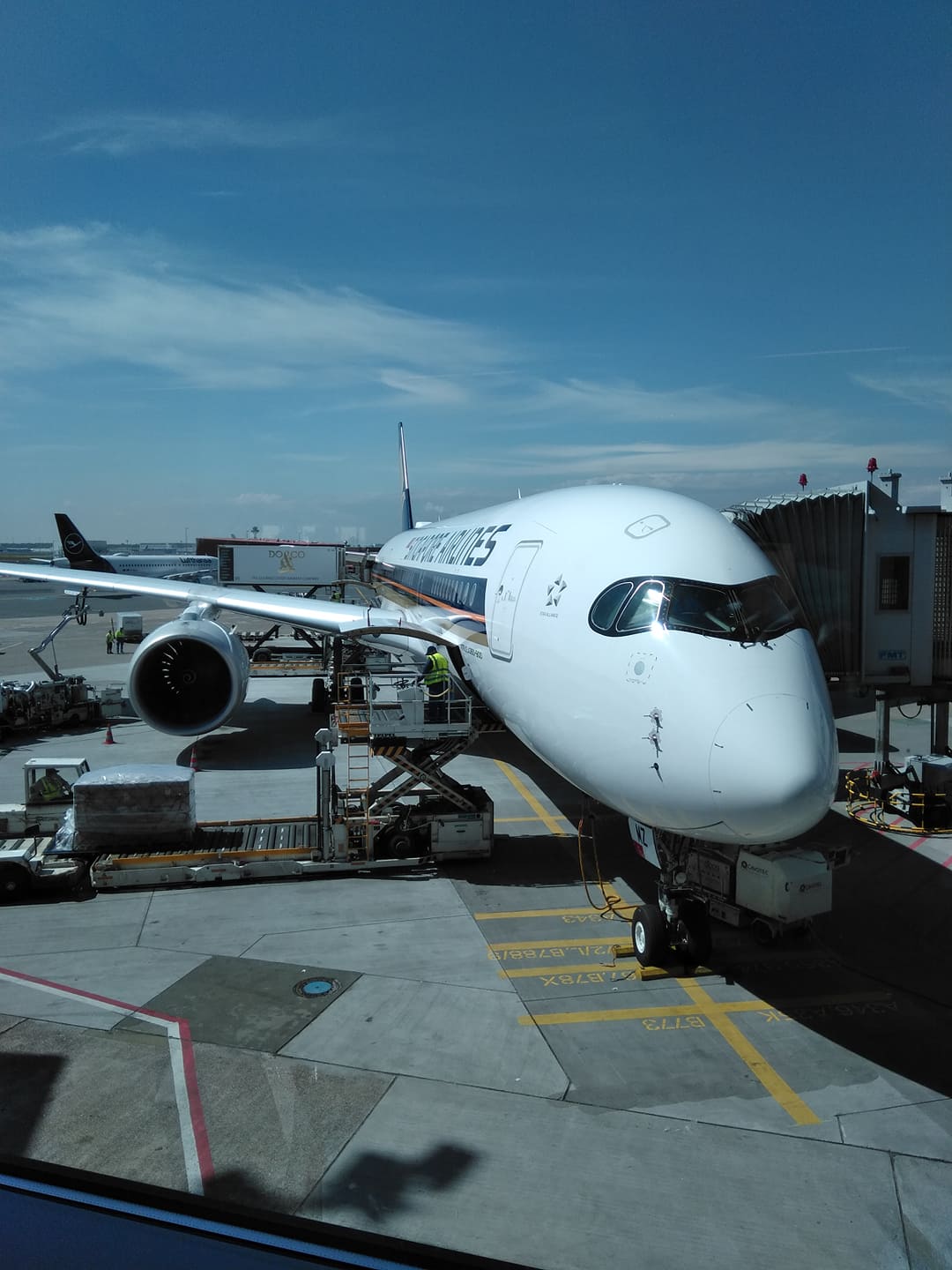 Our plane waiting for us to board!
Looking back at the line of desks where had seen the Singapore Airlines agent, we realized that there was another gate just to the side, but unmanned, with only 15 people sitting there. This was going to be a very quiet flight! From what I saw, there were no U.S. citizens on the flight.
Travel During Pandemic Conditions
- Leaving Frankfurt
Frankfurt to Singapore
Boarding the plane was very strange compared to my previous experiences with SIA. First, there were far fewer visible cabin crew than usual. Just one at the door as we entered the plane, one in business class, and 1 in economy.
I had paid a little extra to reserve particular seats, but I need not have bothered. The entire economy class cabin had just 12 people in it! No doubt, we would have been at higher risk if the cabin had been more busy.
Looking back on the plane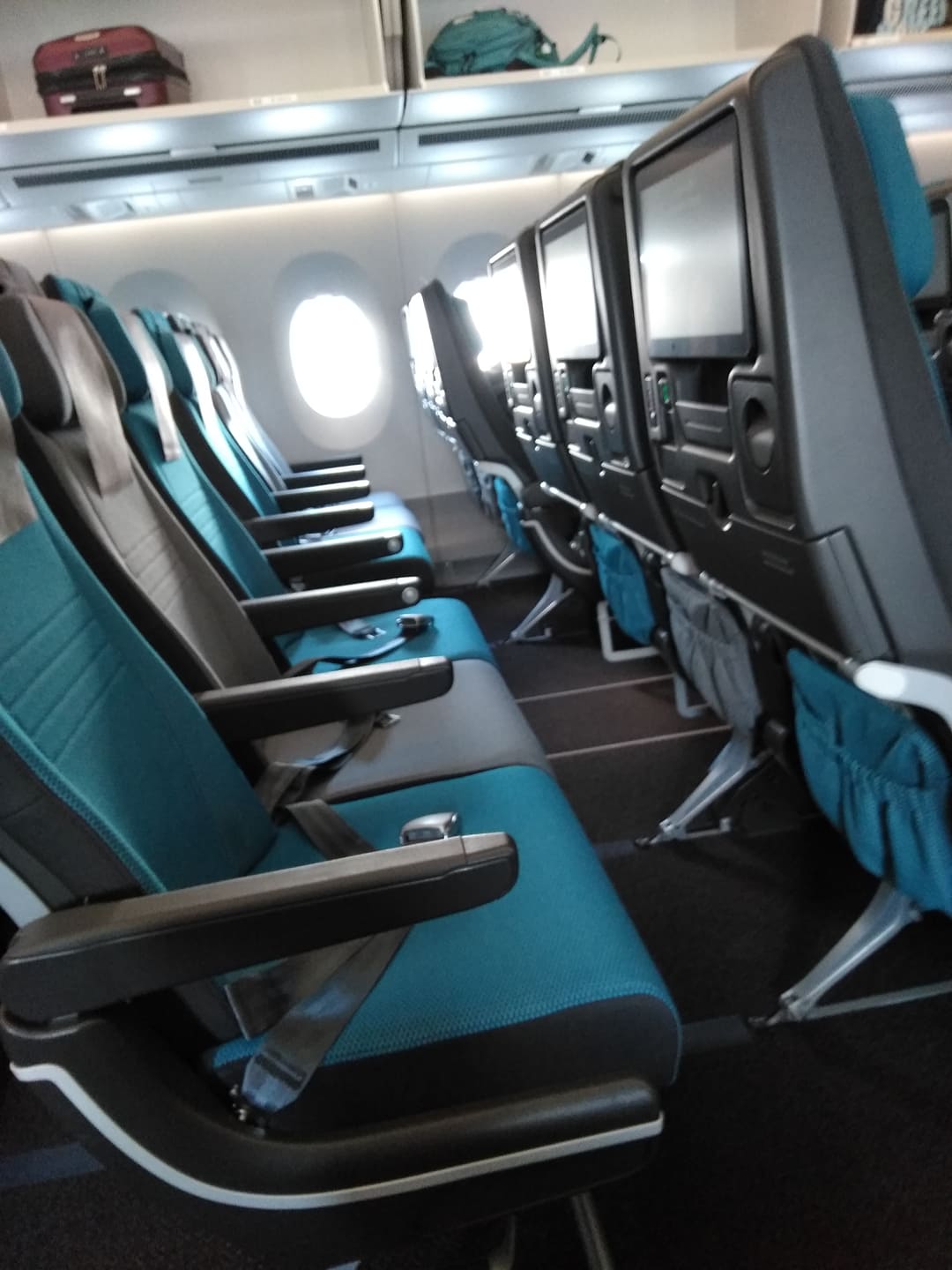 Empty rows!
We could move around as we wished. Everyone kept at least 3 rows apart, and there was nobody in the center section! So, no travel companions in our vicinity!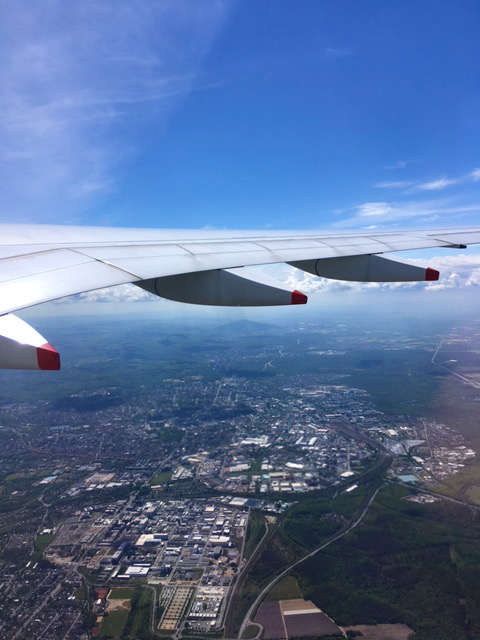 The view from our seats as we left Frankfurt
We departed at 11.00am, and had an early lunch. Then the cabin crew went around pulling all the window blinds down. And then they dimmed the lights! This was OK at first, as we watched some movies, but it was a bit strange being in semi-darkness when it was full daylight outside.

Travel During Pandemic Conditions
- Arriving in Singapore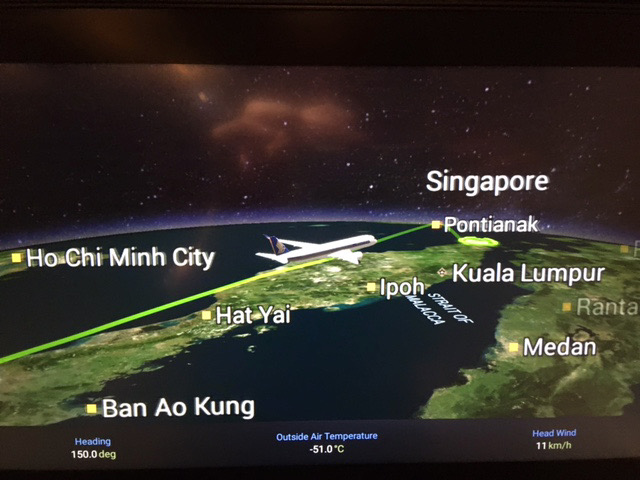 Our approach to Singapore
I have been through Singapore airport several times, but this time it was unrecognizable. As we left the plane and walked through the air bridge, we had to walk in single file. As we got into the terminal, staff in full PPE ordered us to stay in single file, with 2 meters between each of us.
We were marched to a small transit train, and were taken to a holding area in terminal 2. While the main areas were eerily quiet, the holding area was very busy, with people sleeping in chairs, some wandering around to stretch their legs, and others concentrating on their smart phones or laptops.
Thankfully there was a small stall selling drinks of all sorts, and we settled for a couple of Tiger beers.

After 2 hours our next flight (to Auckland) was called, and we made the reverse trip back to our gate. Again, there were only about 15 people in total at the gate, and when we boarded we had just 10 of us in economy! Travel during pandemic conditions was definitely very odd!
Singapore to Auckland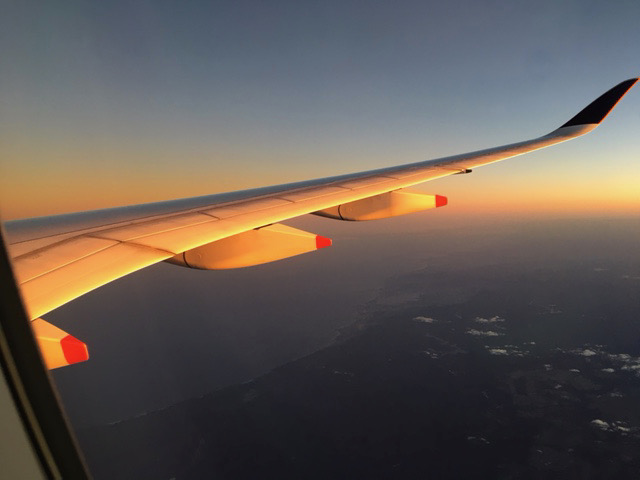 The view 30 minutes after leaving Singapore
We had traveled with just 2 bags each filled with clothes (mainly winter clothes as it would be coming into winter in NZ) to go in the hold. We had a rucksack each on the flights with personal stuff - including Brian Bear - made from my late father-in-law's clothes. He was too precious to go in the hold, so sat with us for all the flights!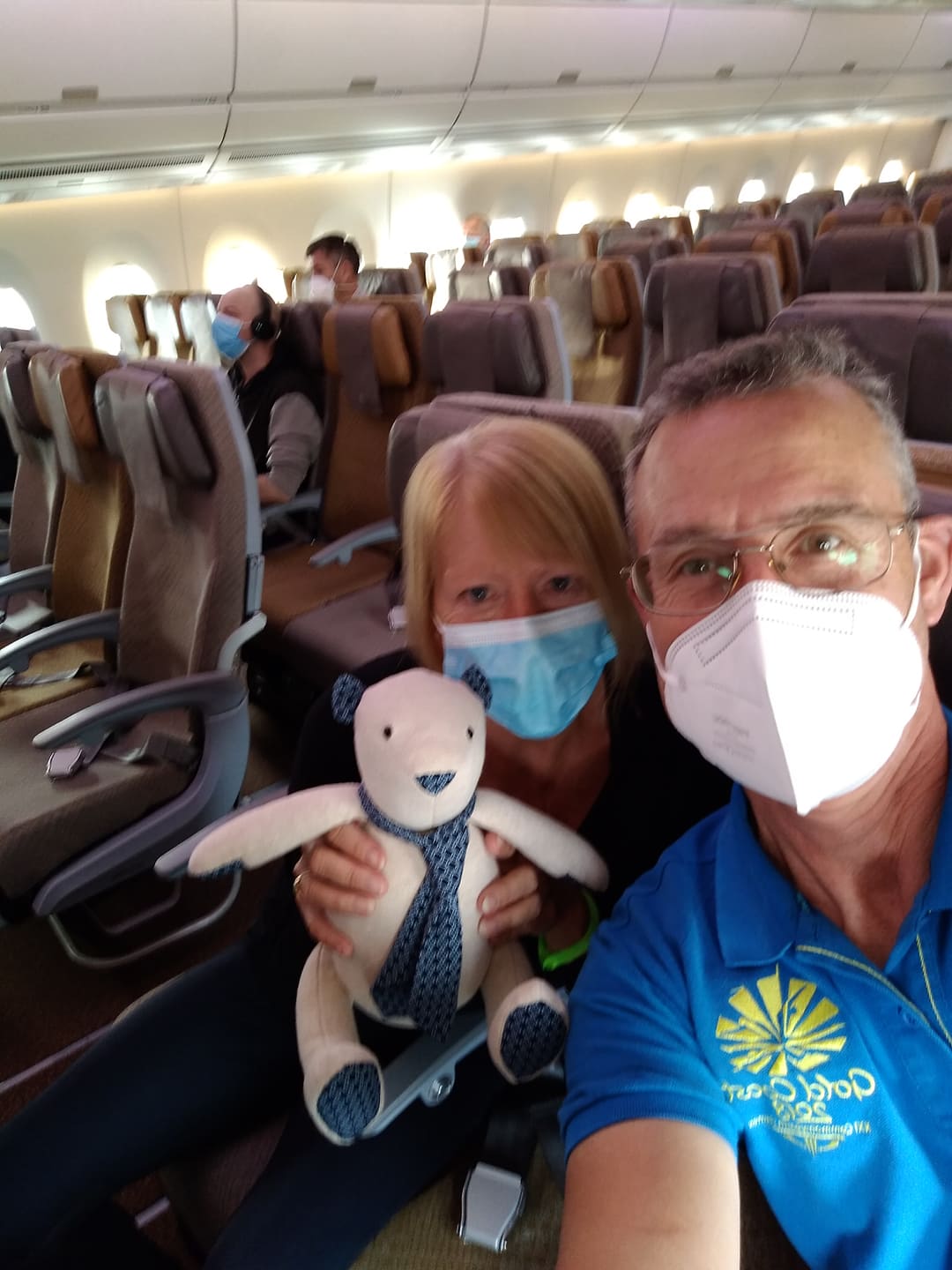 On the plane with Brian Bear! Spot how empty the seats are around us
The flight from Singapore to Auckland was pretty much a repeat of the previous leg - empty cabin, minimal cabin crew around, and trying to stretch out across 3 seats to get some sleep. During all this travel on airplanes, we were very concious of high-touch surfaces on the plane, and we used a hand sanitizer regularly.
After 10 hours we started our approach into Auckland.

Travel During Pandemic Conditions
- Arriving in Auckland
Approaching Auckland!
We landed around 10pm local time, and had to go through an extended immigration process, checking our passports, our visas, our negative PCR tests, and our reservation in MIQ. Of course, all international travelers needed to have proof of a negative test for covid-19.
The staff were all very welcoming and friendly, even so late at night and we were in a separate area of the airport. Eventually we made it on to the bus for the ride to our MIQ hotel, Rydges in central Auckland. We didn't see our luggage till we arrived at the Hotel.
Travel During Pandemic Conditions
- Managed Isolation Quarantine

We arrived at the MIQ facility at Rydges Hotel just before midnight on Friday 14th May. We had to stay for 14 nights, and have proof of a negative covid-19 test result on days 1, 5 and 12 - not the most pleasant of experiences but it had to be done! The infection rate was low at the time, and we felt safe in New Zealand. Both local government and national government were very strict.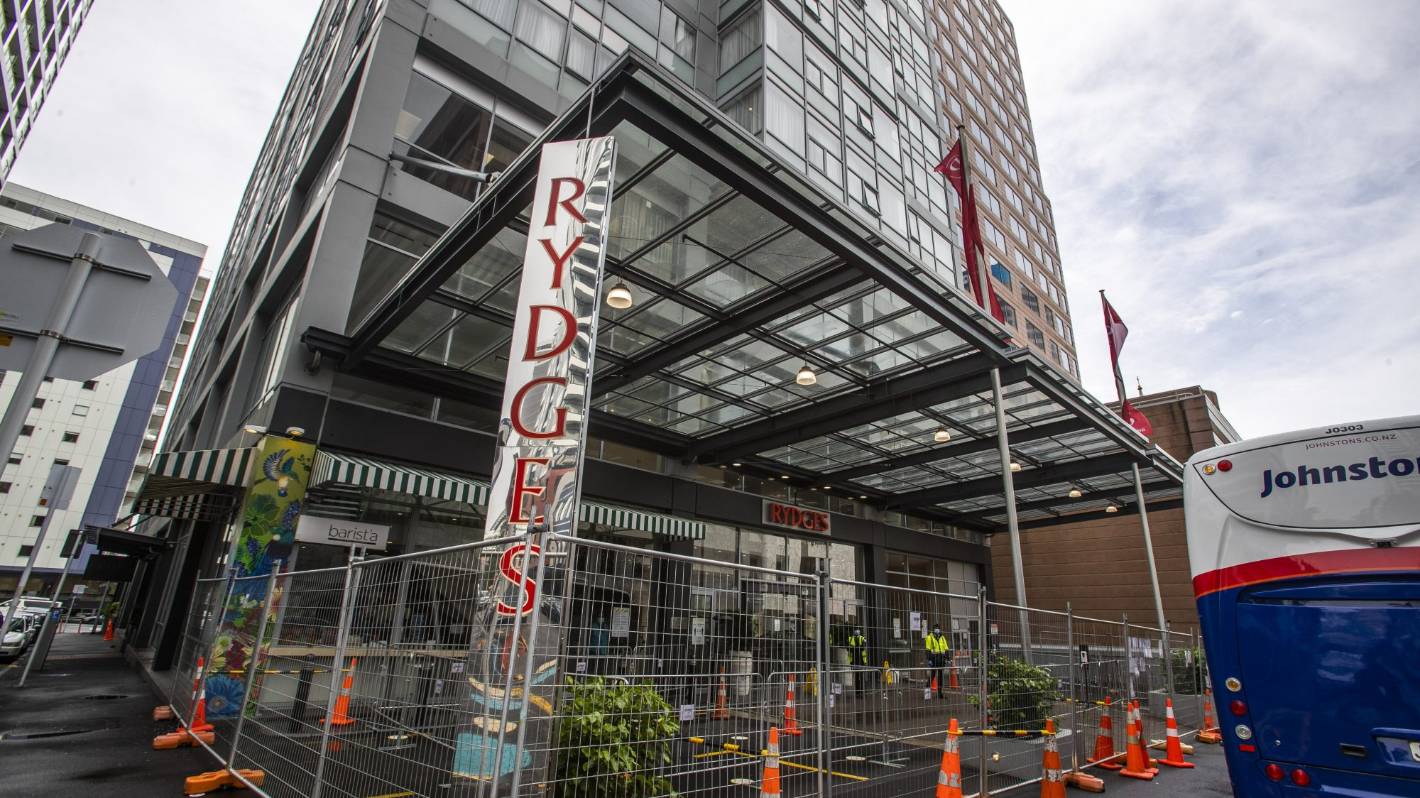 Rydges Hotel, Auckland, our fenced in MIQ facility
On arrival we could see the hotel had wire fence around and was guarded by the Army! We could not go to any public places in the hotel , or outdoors.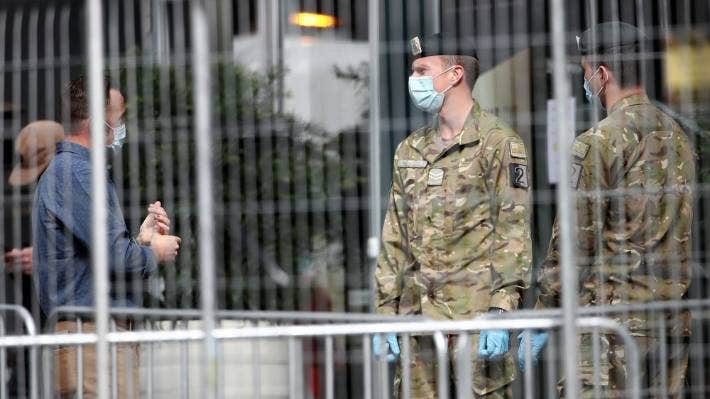 The Army at the entrance!
Our room was comfortable, with a huge double bed, a desk, a sofa, and a small refrigerator. We were not allowed to leave the room unless we were attending a PCR test, or going on a pre-arranged exercise session.
This was limited to 30 minutes walking up and down the delivery ramp at the side of the hotel, or else a walk around a nearby rugby field, always wearing masks and keeping 2 meters apart!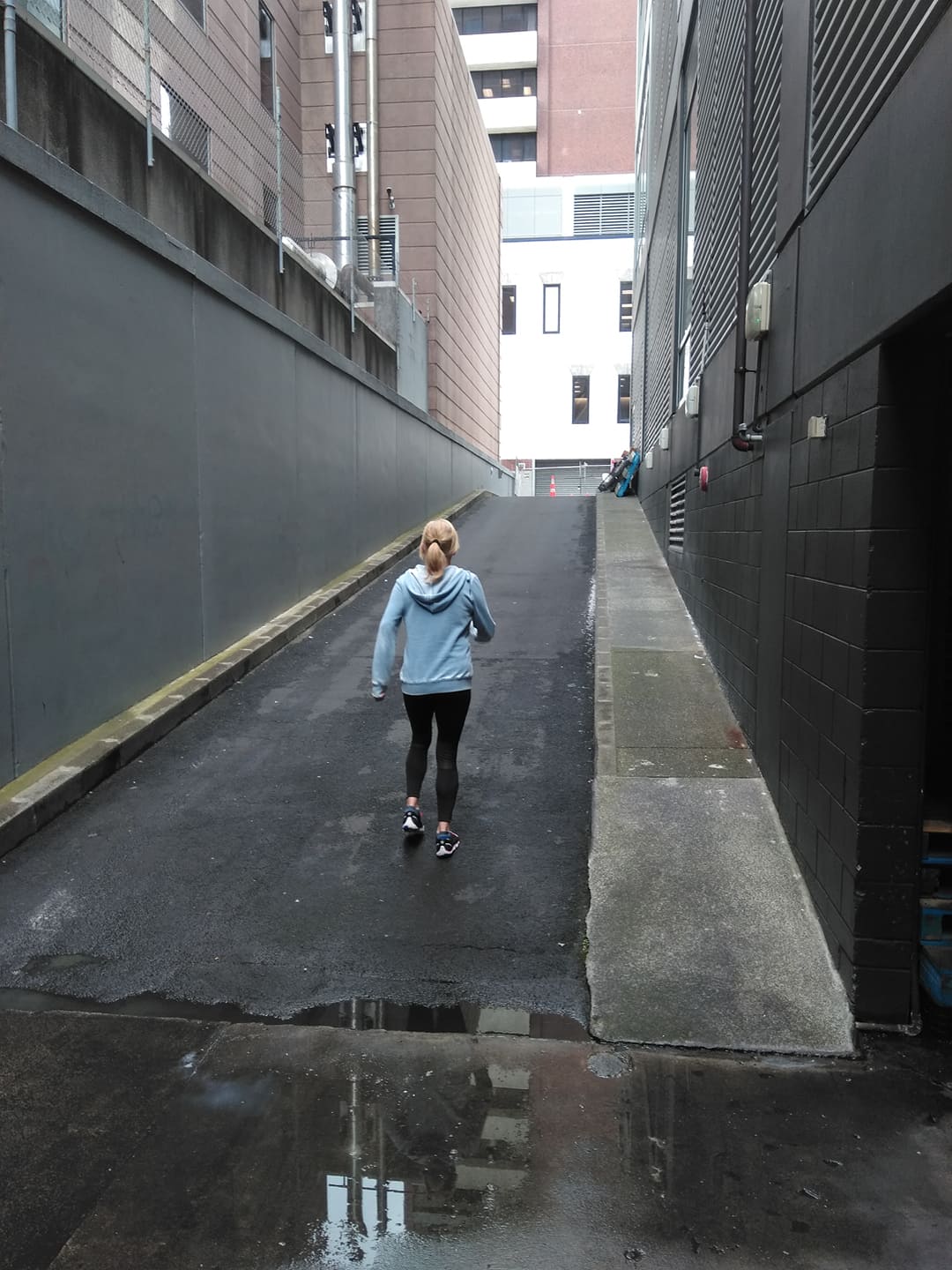 Exercise walk on the delivery ramp - we weren't allowed to run and get sweaty! At least we could leave the room for 30 mins!
The hotel provided 3 meals a day. We could book our preferences on the hotel website, from a limited menu. Each morning, midday and evening we would hear a knock at the door.
After putting a mask on, we opened the door, and there we would see a brown bag with our meal inside. We had paper plates and wooden knives and forks, all disposable.
The 'meal bag' at the door! One of the highlights of the day was the bag arriving!
The portions were very generous, and we ended up slowly accumulating fruit and yogurts in the fridge.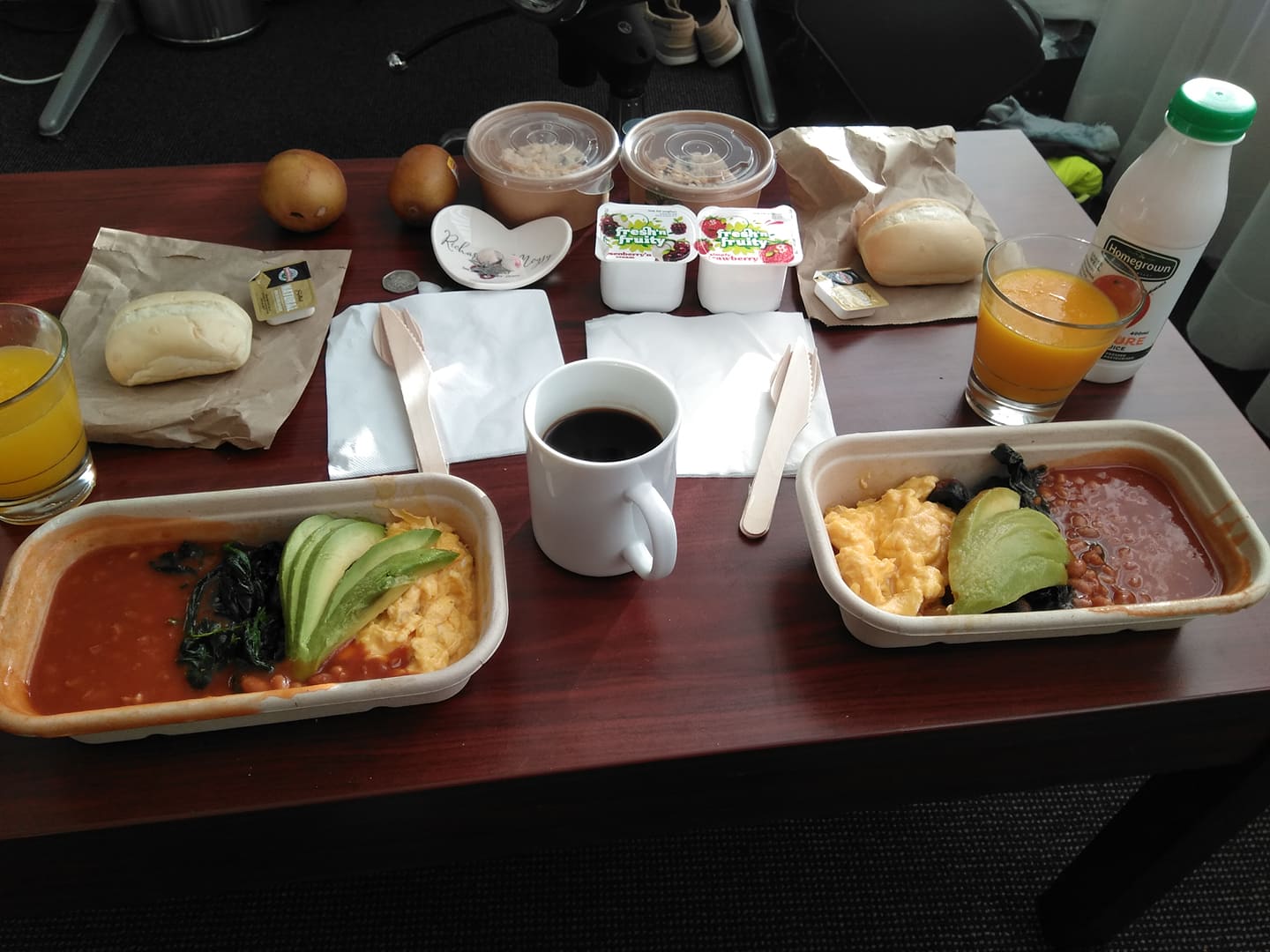 One of our breakfasts!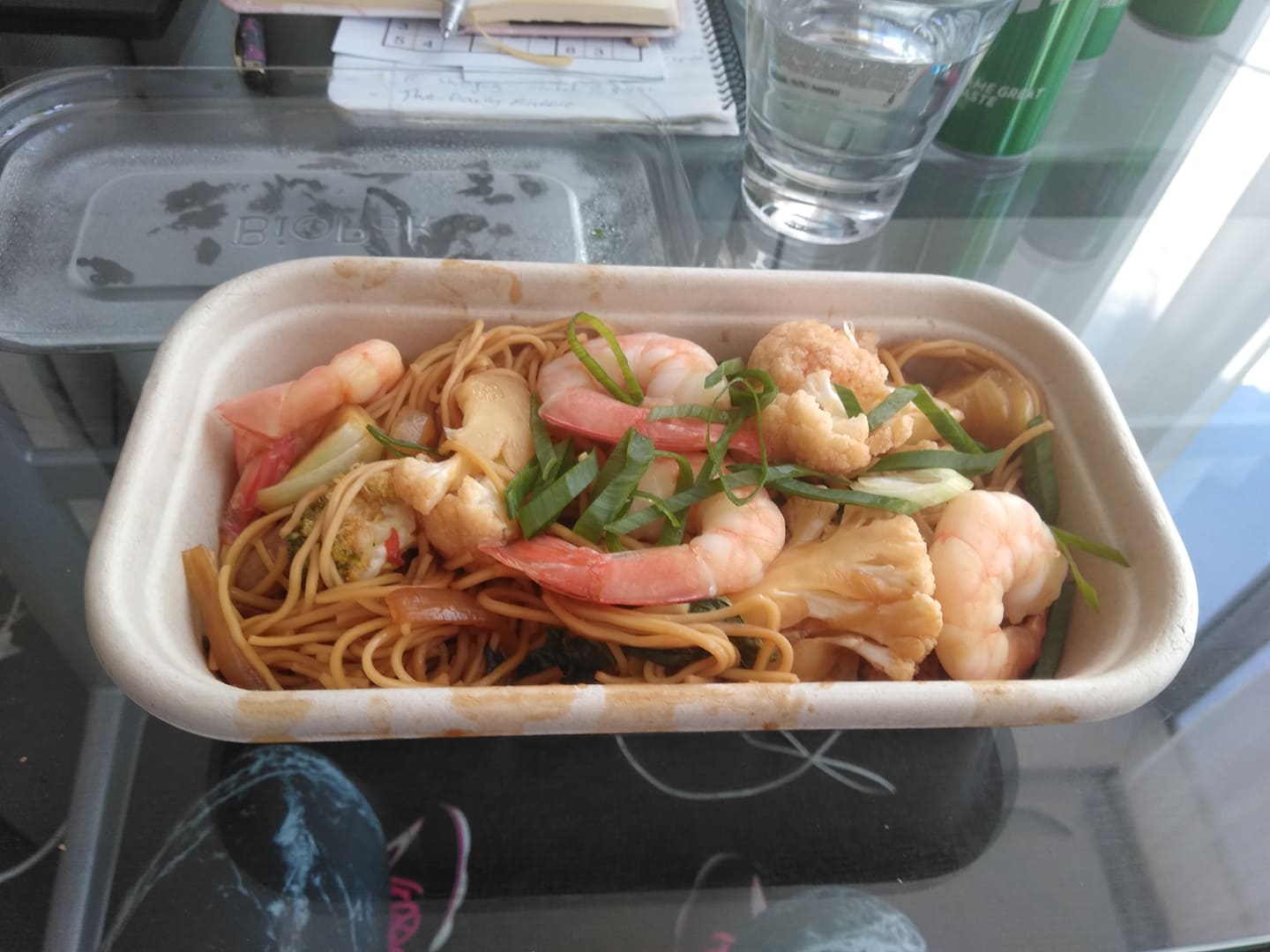 lunch - hotel food in takeaway packaging
In addition, we could go online to the local supermarket, and order anything else we wanted, such as toiletries, extra food, and of course a bottle of wine! They would deliver to the hotel, and then someone would bring the bag up to our door. Very organized!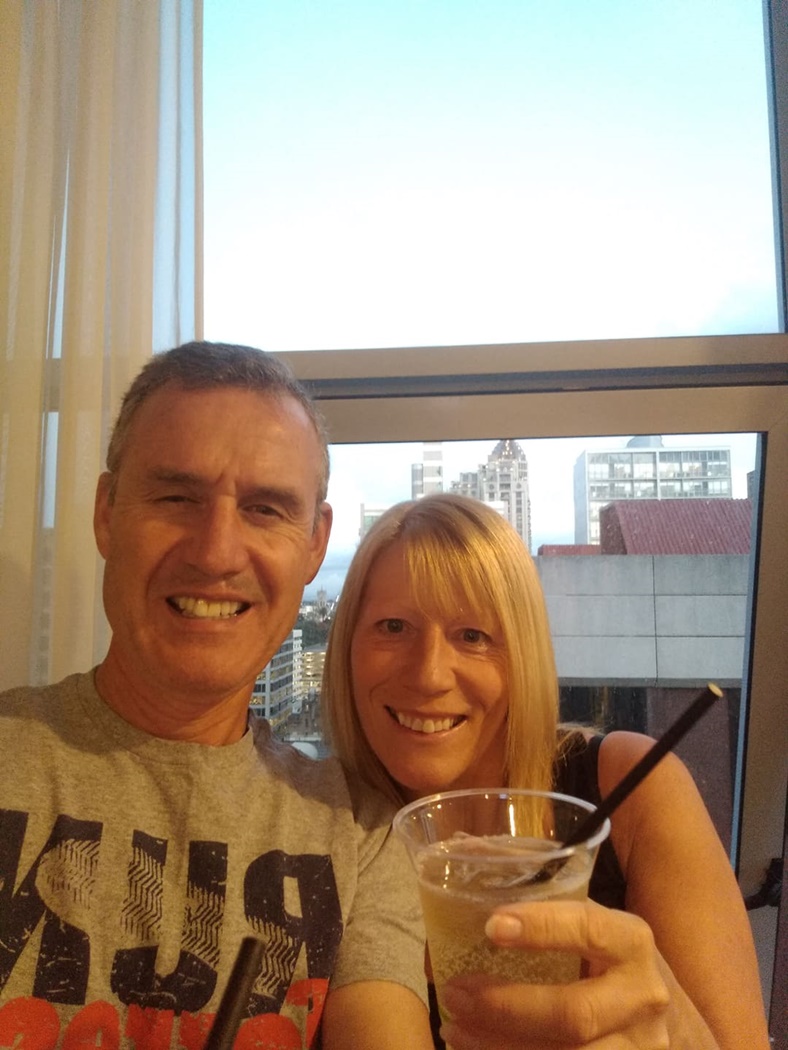 Drinks in our MIQ room with Auckland tower buildings in the background
We spent our time trying to do some work, writing for this magazine, doing crossword puzzles, and also a huge jigsaw puzzle! We also tried to keep reasonably fit, by doing some Joe Wicks Body Coach sessions online.
A friend in Spain said we were 'upside down' people now so I practiced my headstand!!!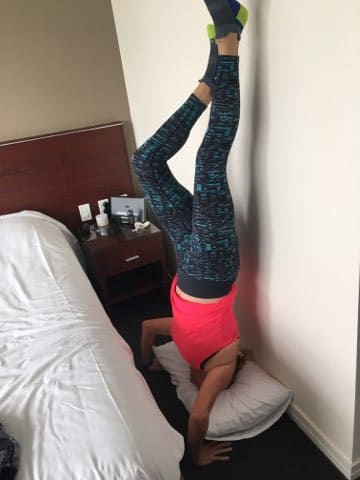 In upside down land!!
After our 3 negative PCR tests and 14 days, we were allowed to leave, and we caught a cab to the airport and our final flight to Blenheim! Our travel during pandemic conditions experience had come to an end.
Next, we had to find a rental home in Blenheim.
What an experience!!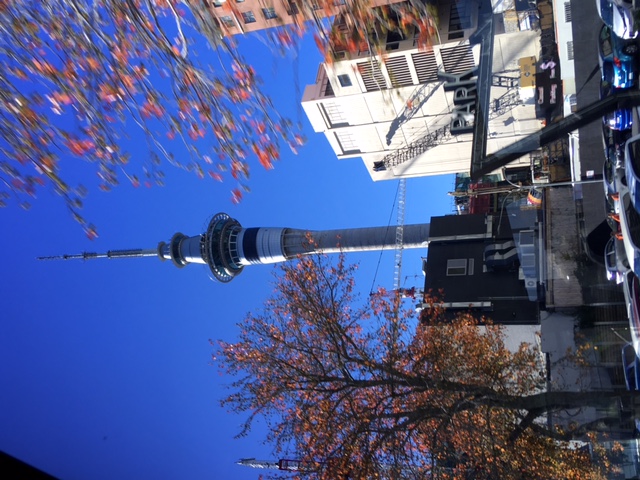 leaving Auckland - the Sky Tower which was right next to our MIQ Hotel
---
-  Story and Photos by Mogsy Ford, Editor, Adventuress Travel Magazine
If you enjoyed this story check out some of Mogsy's other adventures by clicking on the links below:
Mogsy visits the beautiful coastal resort of Byron Bay, and runs up the path to the lighthouse at the most easterly point of Australia

Mogsy undertakes a 4 week road trip with her 2 teenage daughters in New Zealand, North Island
Editor Mogsy's Mauritius Misadventures as a few things don't go quite according to plan on a Birthday trip to the Indian Ocean!
---