Overseas Adventure
Travel

Things to know about before you go on overseas adventure travel!

If you're like me, you love planning overseas travel, and finding out about possible new adventures. Here are some top tips about things to do and things to check on before you go, which will reduce the chances of potential problems.  And 'adventure travel' does NOT mean that you have to climb a mountain or kayak up the Amazon!
All journeys that take you somewhere new count as overseas adventure travel.

These simple precautions will help you to avoid many issues which could complicate your international trip!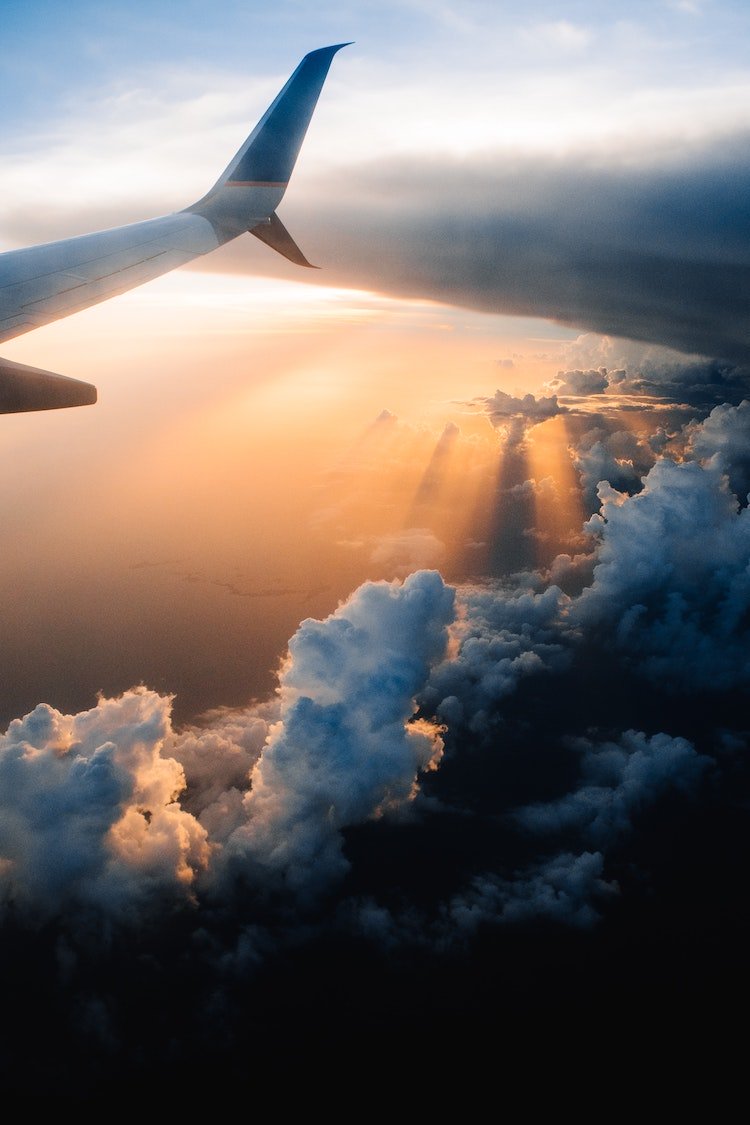 Off on an overseas adventure!
Overseas Adventure Travel
- Planning

Where do you want to go? This may seem obvious, but the first step on any travel plan is deciding where you want to go, and WHY. Sometimes this can be obvious and clear, such visiting the Alhambra palace in Granada, Spain.
But some times it's more ambiguous, such as saying to yourself "Oh, I feel like seeing Cuba".  I feel that you need to clarify to yourself WHY you want to visit Cuba (for example) and what you hope to see and experience there.
THEN you can start to plan and assemble an itinerary. Of course, you can also have 'empty' days on your trip, where you do something unexpected, or go somewhere you didn't know about before you got there. BUT the basic skeleton of an adventure trip should be in place beforehand, to maximize your journey experience.

What adventure activities do you want to try?  If you want to try out a specific activity, make sure it's on offer in or near the place you want to travel to! It sounds obvious, but it's well worth making sure.

Climate
NEXT check on the season at your destination. It's easy to forget that seasons vary around the world; and not just summer/winter in the Northern and Southern hemispheres, there are also wet and dry seasons (eg. Northern Territories of Australia) that can dramatically alter your experience,  hurricane and cyclone seasons in the tropics, and daylight/night time hours.
Be sure to check the season, the rainfall, the hours of daylight, and the average temperatures during the day AND the night at you planned destination.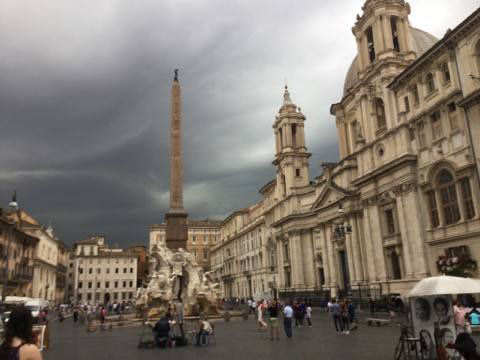 Storm clouds
National holidays and school holidays at your destination;  You should check for National holidays and school holidays at your overseas destination, and also for any major sporting or cultural events if you're visiting a city.
These things can mean that travel is busier and more expensive, accommodation is harder to find and more expensive, and some National Holidays can mean certain buildings and attractions are closed.
Once you have decided where to go, and checked the weather and events calendar, you need to look at exactly how to get there. Most of the time, it's pretty obvious. If you want to go to Singapore, for example, then your only choices are to fly direct to Changi airport, or get the train down though Malaysia into Singapore.
But some other places are not so clear. Stockholm in Sweden has 2 airports that can be used, as does Milan in Italy. Of course, the low-cost airlines fly into the airport that is furthest from the city center. BUT it depends on exactly where you want to go. If you wanted to visit the Italian lakes of Maggiore and Como, the best airport is actually Milan Malpensa, (MXP) which is a full hour north of Milan by train, but actually quite close to the lakes!
So you need to do some research on the airport or railway station nearest to where you actually want to be.

Overseas Adventure Travel
- Flying

Overseas air travel took a huge hit in 2020, but will recover in time, and the tips and advice that applied before 2020 will still be valid in the future.
The first thing to think about is your class of travel. If you can afford first or business class seats, then you are likely to have a nice flight no matter where you sit. You can usually select your seat when you make the booking. For reviews of seats have a look at seatguru.com. You'll need to know your airline, flight number and departure date.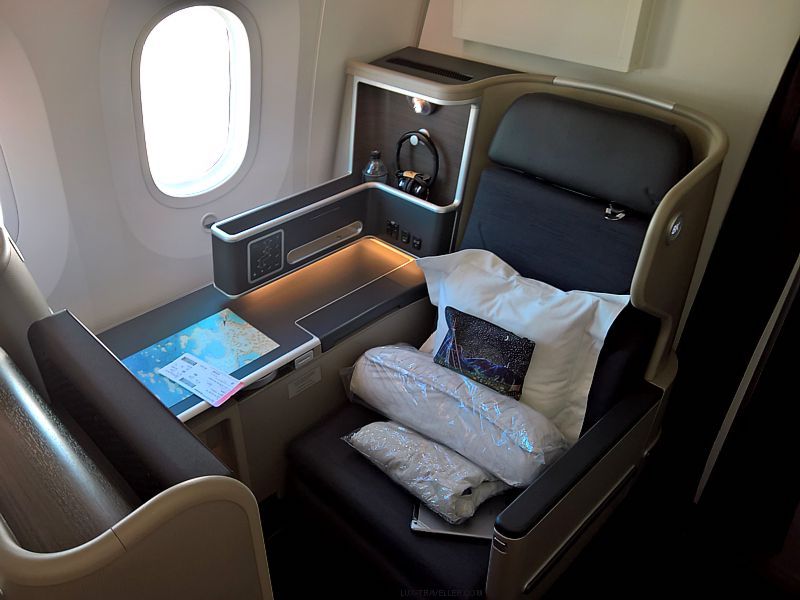 Qantas business class seat
Seat guru will then look up the particular aircraft for that flight, and will show you a seat map. Seats with bad reviews from previous travelers will show up red, and seats with positive reviews will show up green. By hovering your cursor over seats you are considering, you will also see comments about things like equipment boxes under the seat (reducing foot space) and bassinet points for babies. Useful information!

The same holds true for economy and premium economy cabins. In fact, I think Seat guru is even more useful for these cabins. For example, a few years ago I was flying from Los Angeles (LAX)  to London (LHR) on a double-deck Airbus A380 operated by British Airways.
We were in economy, but after checking Seat guru I decided it was worth paying a little extra to reserve 2 seats upstairs, at the front of economy, right by the emergency exit in row 70. (Seats J and K).

This gave us 2 seats to ourselves - no 3rd passenger next to us, AND unlimited legroom with nobody in front of us reclining their seat into our faces. The possible negatives were no window, (but it was a night flight anyway), colder temperature by the door (but an airline blanket was enough to keep us comfortable), and finally the small gamble of disturbance from the restroom about 8 to 10 feet in front of us, actually in the next cabin section (premium economy - 'World Traveler Plus') and behind a thick curtain.

During the flight, because we were at the front, we enjoyed the legroom, being served first, and a tad more privacy. The lack of window didn't bother us, and we were warm enough with a blanket. Below is the Seat guru.com seat map - we had seats J and K in row 70.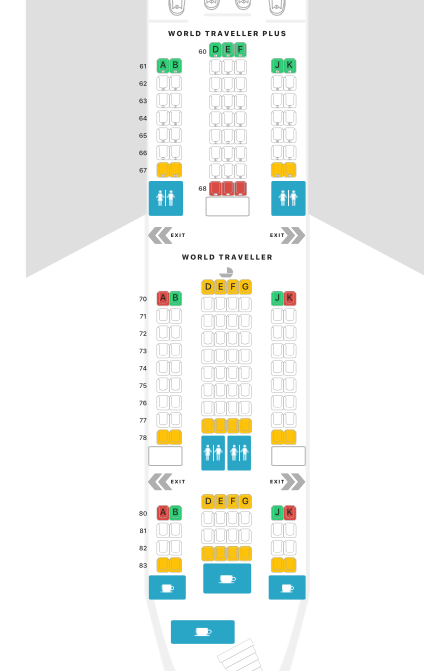 Airbus A380 Premium Economy seat map.
And we could use the restroom that was just a few feet in front of us, behind the curtain for Premium Economy, which British Airways calls World Traveler Plus.  (It is standard practice across all airlines that Premium Economy passengers use the same restrooms as Economy fare passengers.)
Interestingly, very few of our fellow Economy passengers realized that there was a restroom at all behind the curtain, and if they did, they thought it was out of bounds because it was behind a curtain. So we had easy access to the facilities.
Also interestingly, we were not disturbed at all by the proximity of the restroom. First, the slightly higher sound level by the emergency exit masked any flushing noises. (Although the A380 is a very quiet aircraft). Second, we were not disturbed by the light inside the restroom as the door opened and closed, because of the curtain.
Unlike the poor passenger who had paid double my Economy fare to be in Premium Economy, but ended up in 68F, the seat directly opposite the restroom, being disturbed each and every time the door opened and closed, just 3 feet away.
They also had less legroom than me, AND had the passenger in front of them reclining their seat back. The only benefit they had over me was a slightly wider seat and slightly better food and drink.

So you CAN snag economy cabin seats that are much better than standard seats, for a small extra cost - certainly much less than paying the full premium economy fare, which doesn't always result in a good seat; ALWAYS do some research, and check your seat map on Seatguru.com to avoid unpleasant surprises!

Tip - Read previous passengers' Reviews!
I also like to read the individual comments on the Seatguru seat map from passengers who have recently flown that aircraft, on the right side of the page, towards the bottom of the seat map. I have picked up several valuable nuggets of information that have made my flights much more comfortable (and predictable).
For example, some seats have an equipment box under seat in front, limiting your foot room. Also, some modern aircraft do not have individual air vents that you can adjust yourself; they rely on a central air-conditioning system; When I read about this before a flight to Hong Kong on Cathay Pacific, I bought 2 small USB-powered fans, to slot into the USB sockets on the seat backs in front us, for our own personal ventilation! The flight crew were a little bemused, but we were comfortable, thanks to the tip on Seatguru.com.
You can get a great deal on a mini USB fan for your flight here on Amazon!  This fan bends so you can direct it for your comfort.
USB Mini Fan!
Overseas Adventure Travel
- Flight Essentials
Regular flyers on some flying forums have complied a list of essentials to have in their carry on bag. These include;
face wipes
face mask

sanitising hand gel
iPod for music
personal headphones (more hygienic, better quality sound
sudoku or crossword puzzles
2 pens
book to read

eye shade
soft foam ear plugs
compression socks
low-dose aspirin (30mg) for DVT
several layers of clothing, to adjust for temperature

Luggage
Make sure your luggage is the right weight before you go to avoid fees when you check in!
We recommend a simple digital luggage scale. The one we've found is compact, accurate and easy to read.
CLICK HERE for more information and the best price.
Portable Digital Luggage Scale
Accommodation
When it comes to accommodation, you have several choices. I usually choose between Air BnB or Booking.com.  The difference is basically down to how long I want to stay in one location. Usually, if it is just 1 or 2 nights, I will look for a hotel on Booking.com, or Trivago.com.  For a couple of nights it's just more convenient. Also, many Air BnB owners will have a minimum stay of 3 nights or more.
But for a longer stay, say 3 nights +, I will look at Air BnB, because it gives me a fully self-contained space where I can sit on an armchair or sofa to read or watch TV, and have cooking facilities and laundry facilities. which you don't normally get in a hotel.
But be sure to check the cancellation policy, and entry and check-out times.

Overseas Adventure Travel

Passports
Many countries require passport validity of 6 months or more. This means if your passport is due to expire in less than 6 months from your travel date, you may not be allowed to board the plane. So be sure your passport is up-to-date! If you need to renew, allow a full 30 days to complete the process.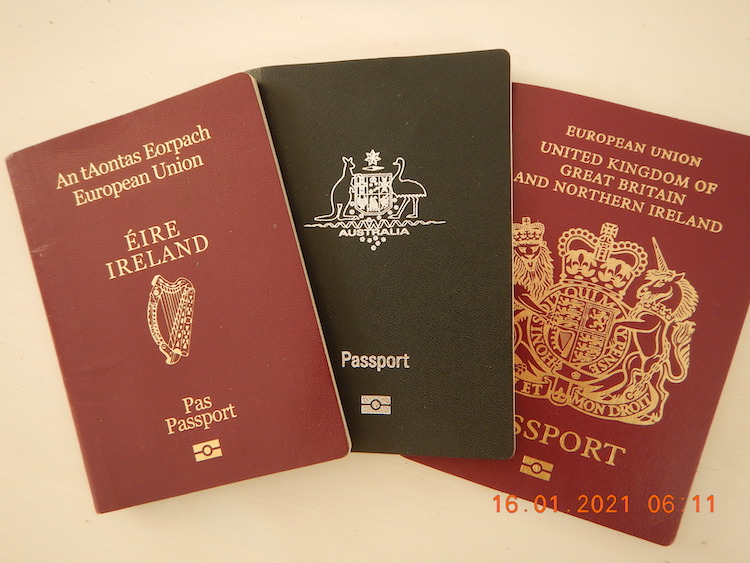 Make sure your passport is up to date!
Personally, I recommend having 12 months validity on your passport from the date of your planned flight home! This may seem extreme, but if you are unexpectedly forced to stay on longer at your destination, you will be OK passport-wise.

Put a color photocopy of your passport ID page and visa pages in each suitcase, carry-on and in your purse, each tucked away in a well-hidden location.
Do the same with your flight itinerary, to prove your schedule, as many countries need proof of onward travel.
For travelers from the United States - at least two weeks before your departure, register with the US Department of State to let them know the countries you'll be visiting. Their website is user friendly, with spaces for your name, passport number, emergency contacts and the inclusive dates of your trip. In the information block, list the name, address and telephone numbers of both the US and in-country tour operators if you've purchased your trip through them. 
The websites of US consulates in 200+ countries can be accessed on the US Department of State website, providing invaluable information about any country – climate, visa information, road safety, health alerts, scams, unrest etc.
Vaccinations
To learn which vaccinations are required for the countries you plan to visit, check the Center for Disease Control or ask your travel agent. Schedule your shots at least 4 to 6 weeks in advance because some of them are given in a series over days or weeks or need time before they are viable.
Bring copies of your vaccination record – some countries check this before authorizing admittance or departure.
Check the monetary exchange rate for the countries you plan to visit so you have an idea about the value of your dollars.
Overseas Adventure Travel

Currency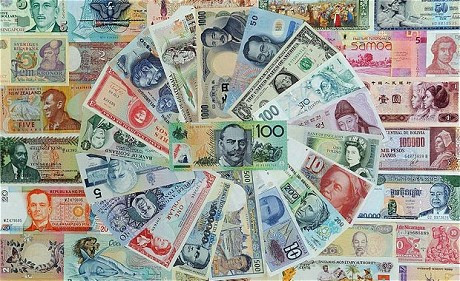 Before leaving the US, change at least $100 into the currency of the first country you will visit. Then, prior to arriving in each new country, change additional monies as needed.  You should always carry cash. Tuck away a few small denomination bank notes into several places like a toiletry kit, pair of shoes, or a shirt pocket, in case of emergency.

Flights may arrive after currency exchanges are closed, and in some travel situations – delays, missed transportation or needed cabs, late or early meals - local currency is required. Most banks are not open on Sundays or holidays, and it's not a good idea to use unauthorized money exchange locations.
Don't carry any credit cards or ATM cards you won't be using. Also leave behind any supermarket or retail credit cards. I recommend one credit card/ATM card as your main source of funds, and one spare card hidden away somewhere safe as a back-up.
In addition, it's a good idea to have  a pre-paid credit card. This looks like and works like a normal credit card, but you have to 'top up' the card before spending with a pre-payment. So, if your card is lost or stolen, the thieves can only spend what's left on the card - assuming they can break the security before you cancel the card.

Overseas Adventure Travel
- Cell Phone
If you want to take a cell phone, you have 2 options; your normal service provider may allow connection with an overseas  service - but check on "roaming" charges!  OR you can frequently buy a SIM card at your destination which you can top up when needed for the duration of your trip.
If you have a spare phone, consider taking that instead of your brand-new smart phone.

If you plan to drive or hire a vehicle, an international driver's permit (IDP) is essential along with your US driver's license. You must carry both. The American Automobile Association can issue the permit.
Overseas Adventure Travel
- Valuables
Do not take any items of value, such as expensive jewelry or watches. Wear just a simple wedding band. Leave your costume jewelry at home as well. It's also best to wear an inexpensive plastic watch. Keep a low profile!

If you are taking a laptop computer, use an old, battered carrying case to make it look less valuable. And put some scrubbed and faded stickers on the outside of the laptop itself, again to make it look older and less valuable.
AND always take your laptop and anything else of value in your carry-on bag when flying. Most insurance policies will NOT cover loss of anything valuable if it's in the hold baggage.

Overseas Adventure Travel
- Insurance
Travel insurance specific to your trip is essential. It must include trip cancellation, loss of baggage, loss or theft of valuables and cash  (you shouldn't take much of value); public and personal liability; emergency medical and dental treatment, and emergency air ambulance and repatriation.
Needless to say, your travel insurance should also cover any adventure activity you plan, such as hiking, rock-climbing, scuba diving, kite-surfing and sky-diving, for example. Check your policy very carefully before you buy it!

Rock climbing course
Rock climbing and sky diving are almost always an extra cost on travel insurance.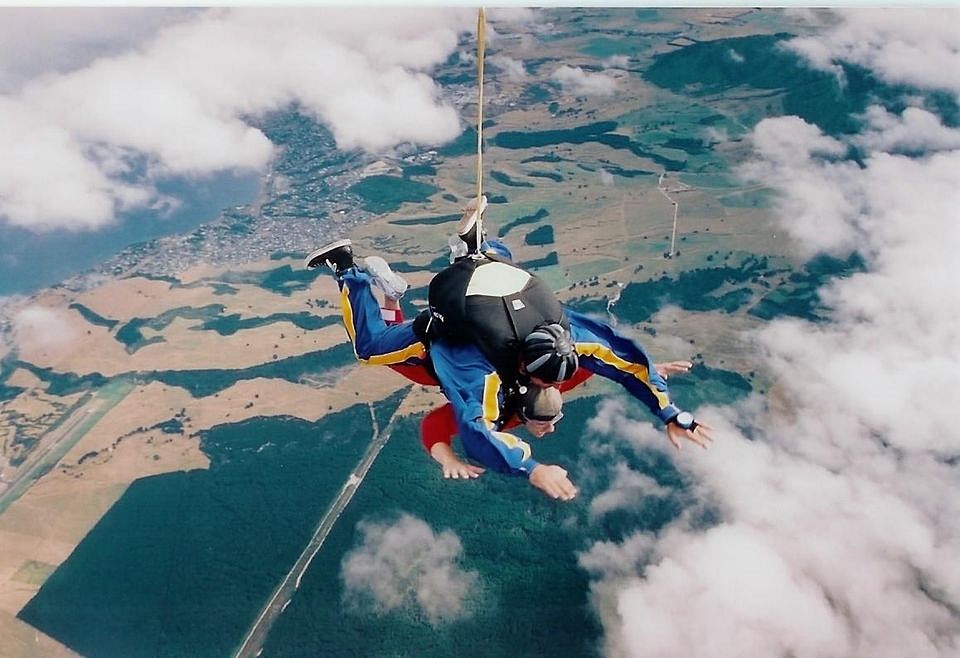 Skydiving over New Zealand!
Should you encounter health problems or be involved in an accident, your domestic health insurer may not cover out-of-country medical expenses, which can be eye-wateringly prohibitive. Make sure you are covered on your travel insurance!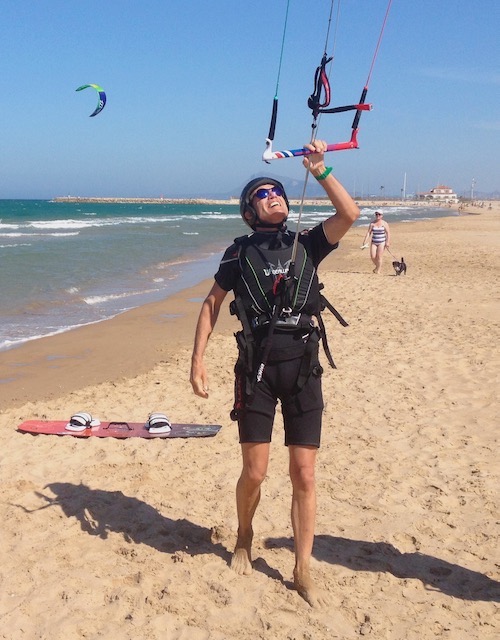 Kite surfing course
Overseas Adventure Travel
- Drugs and Medications

Be sure to take all your medications and doctor's prescriptions for them in your carry-on bag, with photocopies. Never pack them in checked luggage. Some countries will need to see a valid prescription from your doctor for restricted drugs.

Over the counter drugs may have limited availability in some countries, so it's a good idea to carry extra supplies. Copies of your prescriptions will be useful if you need refills. Keep the medication in its original container. This is helpful at Customs in the US and overseas should an inspector question your meds.

Careful planning and preparation will not prevent all mishaps on overseas adventure travel, but it WILL reduce the chances of a mishap, reduce the severity of a mishap, and make recovery and normalization easier and quicker.
Overseas adventure travel should be fun and enjoyable as well as exciting and thrilling!

Written by Cam Usher and Mogsy Ford, Editor.

---
---