Choose Your Own
Adventure Activity
Choose your own adventure activity here!

If you want to choose your own adventure activity, and are wondering what to do, just scroll down our list of true tales of fun activities to get some inspiration! The outdoor activities are listed alphabetically, and we are adding to the list all the time.
So if you don't see anything that interests you yet, be sure to bookmark this page and come back soon to see what we've added!
Choose Your Own Adventure Activity

So many activities, some close to home, some overseas. What might stimulate your interest? Something you've done before, and want to get more experience? Or maybe something completely new - a new skill, a new country, a new  adventure? Check out what other Adventuresses have been up to!

Biking/Cycling
Read about Tracey Beard's cycling adventure in Rome, Italy, when the weather started out with clear skies and high temperatures, only to deteriorate with heavy rain and flooded streets.
For motorbike inspiration, have a look at Jessica Ho's article on 67 year old Mardelle Peck and her motorbike. This is all about Adventuresses and their bikes, with age no obstacle to having a ton of fun!
And then there's dirt biking up a volcano  in Angelique Bibby's story about exploring the island of Ometepe in Nicaragua. It's in the middle of Nicaragua Lake, and most people visit the island to hike up Volcán Concepción, but Angelique hired a couple of dirt bikes for her trip!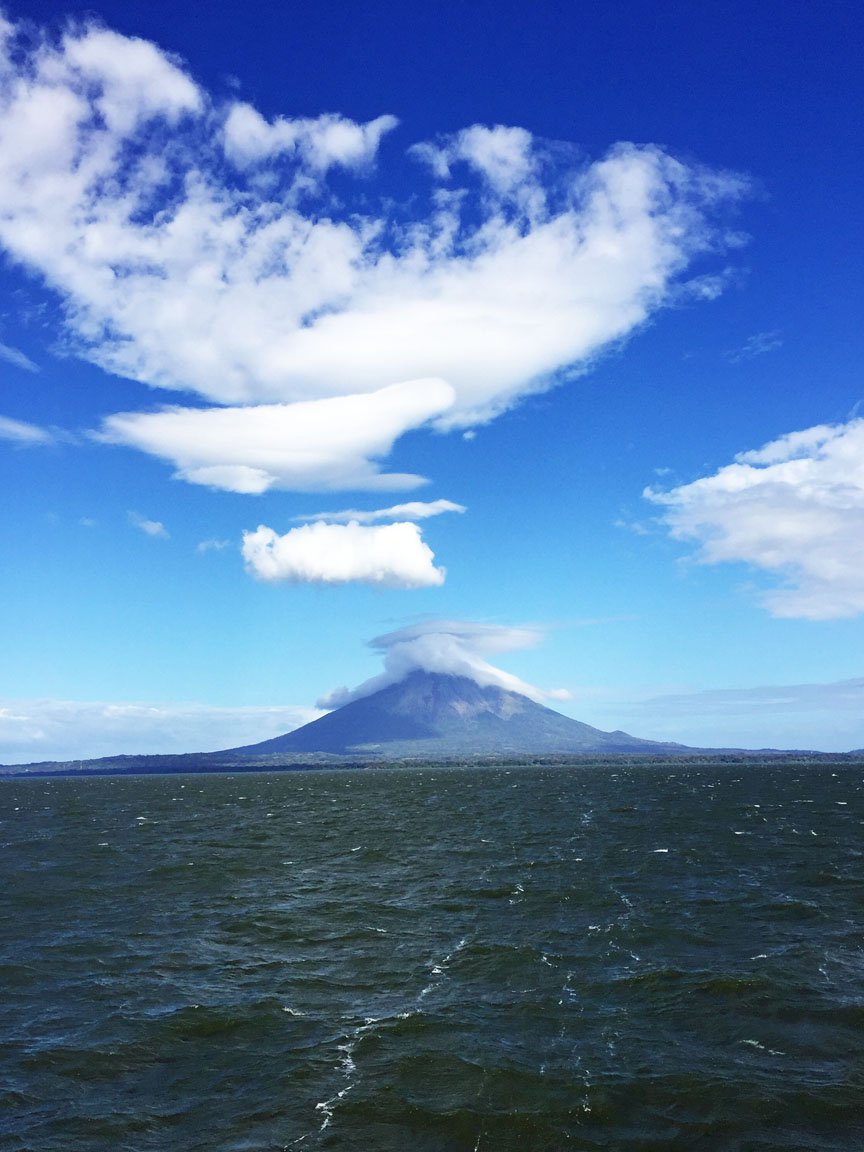 Volcán Concepción
Camel Riding
Cam Usher had an interesting adventure camel riding in Morocco. Discover how she survived riding through a sandstorm on the Atlantic Ocean side of North Africa.
Camping
Erin Coyle experiences a stay at Sara Luxury Camp, Jordan where the tents look like bubbles, and takes a trip to the desert paradise of Wadi Rum.  Discover the amazing rock formations, also where 'The Martian' movie was filmed!

Canyoning
Tracy Beard challenges herself canyoning near Lucca, Italy -  an adventure sport combining rock climbing, bouldering, with hiking, cliff jumping, rappelling, sliding down natural slides, and challenging swimming.
Climbing
This story is Paula Nandi Szabo's account of her climb up volcanic Mount Batur in Bali, Indonesia. This adventure started with a 1:30am alarm call, and an ascent of 5,600 feet. Although this is technically a steep hike, NOT needing ropes and climbing gear, it is still a challenge for any 63-year old. And Paula saw a Brocken Specter at the top!  Just go to the page 'Climbing Bali's Mount Batur' to read all about it!
Falconry
An account of the sport of falconry at The Broadmoor Hotel in Colorado Springs, by Nasiri Suzan. She even gets to hold a falcon!  Discover the royal sport of falconry here.
Delilah the eagle owl
Hiking / Trekking / Running
Hiking the Inca Trail to Machu Picchu
Follow travel writer and hiker Erin Coyle on her 4 day hike on the Inca Trail to see the Ancient Ruins of Machu Picchu!
"After four days of walking up and down uneven stairs, ascending 1,000 meters up a steep gravel path, while having a few walking breaks on a flat course, I had checked off one of the items on my bucket list: hiking the Inca Trail to Machu Picchu. The two-year wait due to Covid was well worth it."  Read more....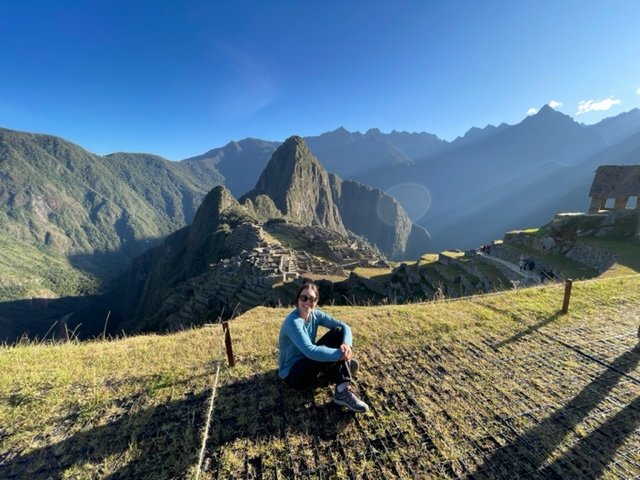 Erin overlooks Machu Picchu
Erin Coyle visits 6 beautiful Oman Wadis during the hot summer months to hike, swim and cool off! Yes, it's scorching, with temperatures at nearly 45 degrees; however, there are ways to beat the heat. For those who like hiking and swimming, visiting some Wadis is a great way to cool off. Wadis usually have pools of water, surrounded by trees and views of the mountains.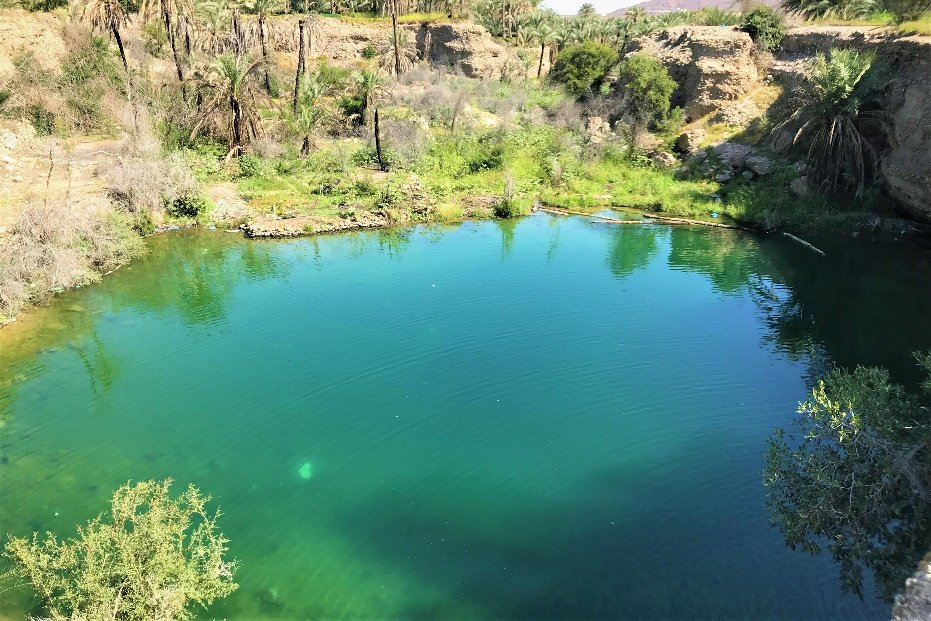 Beautiful Wadi Hoqain
Erin Coyle goes hiking in the Utah National Park and discovers the Utah Mountains. Read her report that includes an interview with the tour guide and find out if group travel could be for you!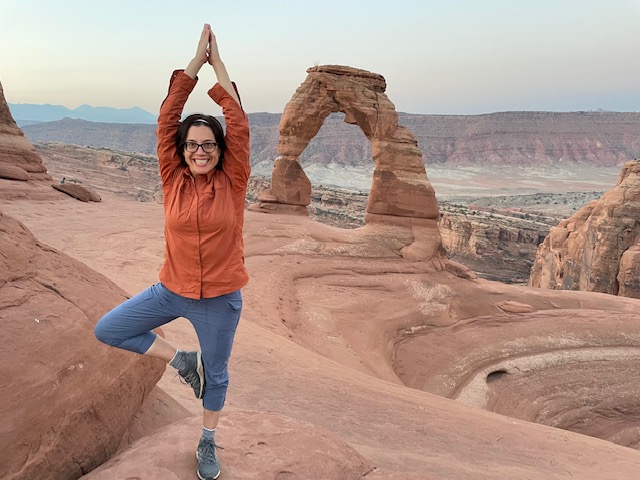 Erin Coyle at Delicate Arch - Arches National Park
Hiking is one of the most enjoyable ways to see the world while traveling.  Find out how to prepare for your first day hike in Paula Casey's article and great infographic resource, with top tips and advice for before, during and after your hike! CLICK HERE to read more....
Hiking up Koko Crater on Oahu, Hawai'i, Cassandra Ellis discovers that it involves 1,048 steps up abandoned railway ties. At 51years old and recovering from anemia, she shows true Adventuress spirit to overcome her fear of heights and lack to training to make it to the top. Find out how she did it HERE!
Loretta goes hiking in the Galapagos Islands, and meets with some misadventures. Discover what happens when she climbs Volcan Chico!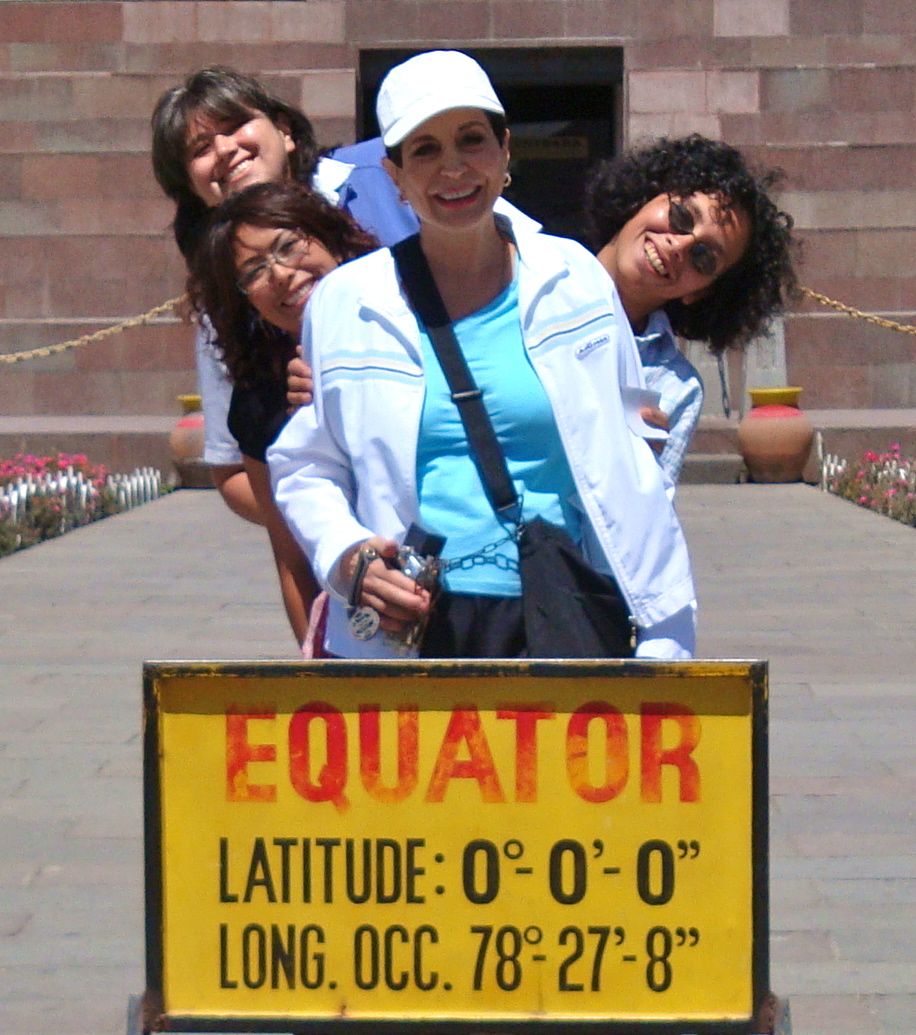 On the Equator!

Tracy Beard writes about her 10 mile hike down the Samariá Gorge on the island of Crete. Read about her hot and trying day!
Editor Mogsy tells us about her trip to San Francisco Bay Area with a side trip to Monterey for the Big Sur Marathon.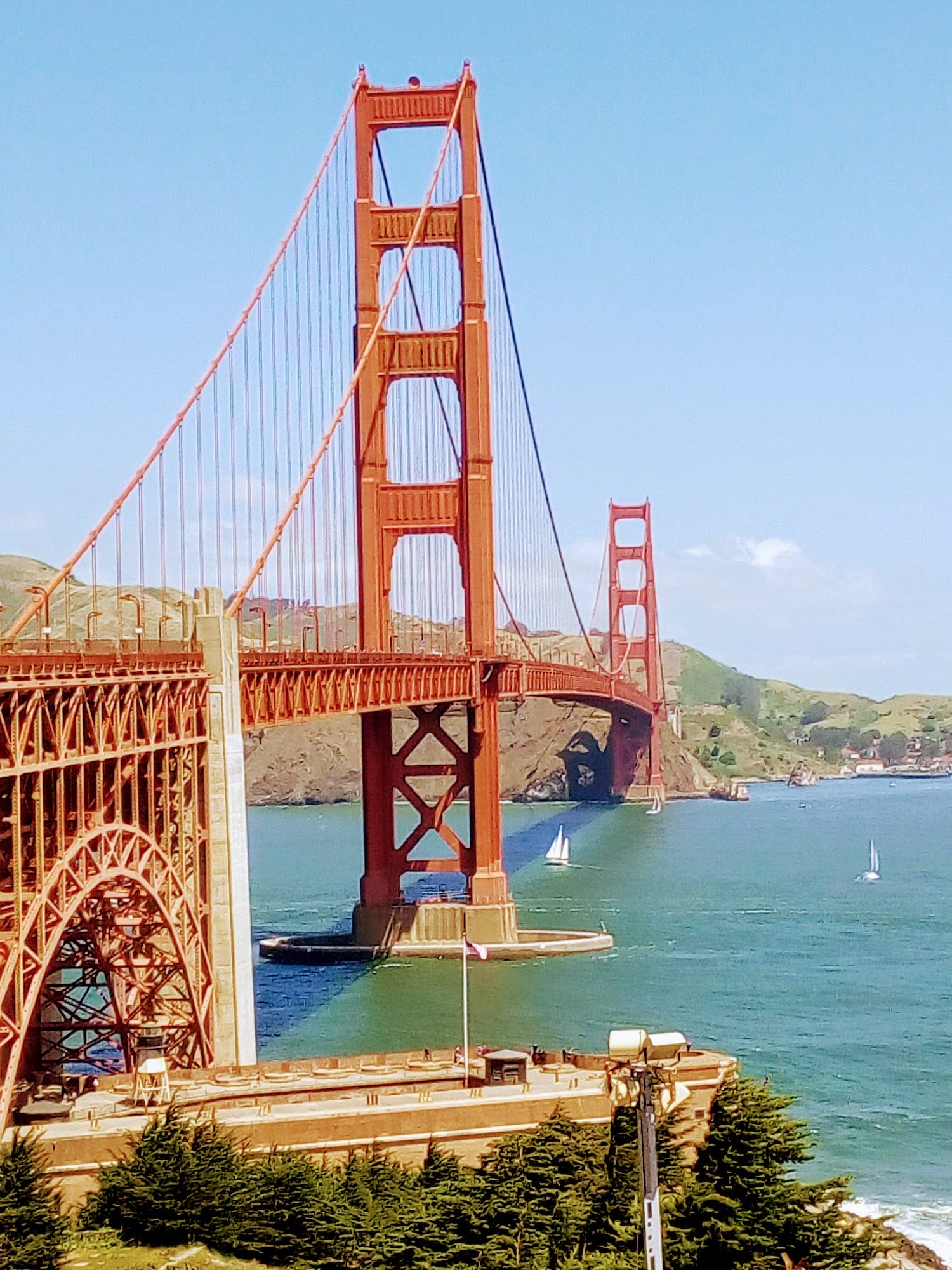 Golden Gate Bridge
Hiking the famous Queen Charlotte Trail is a 4 to 5 day trip in the Marlborough Sounds at the northern tip of South Island New Zealand. Editor Mogsy got married at one of the resorts along the track, at Punga Cove.

Horse Riding
Barbara McNally goes for a horse ride, through the Waipi'o valley on Big Island, Hawai'i. Read about this trip in the 'Old Hawai'i', the rainy side of the island.
Hot Air Ballooning
In Central Turkey, Cam Usher goes on a hot air balloon ride, despite her extreme fear of heights (acrophobia). The views and photographs are stunning - see for yourself!
Choose Your Own Adventure Activity
Hummer Trip
Follow Lind Lou's trip through the Grand Canyon in a Hummer. There are 3 pages to the story, so be sure to click the link at the bottom of each page to go on to the next part.
Jugaad Joyriding
Riding around in a Jugaad in Rajasthan, North India, might seem an odd thing to do - after all, there are no traffic rules - that anyone abides by - and the trip is hair-raising! Read about Sharon Kurtz' incredible journey.
Joyriding in a Jagaad
Kayaking
Tracy Beard and her friend Connie kayak against the wind at Tomales Bay, and camp overnight before returning the next day.
Sailing
Tracy Welsh goes sailing in Penobscot Bay, Maine, on a trip aboard the schooner Stephen Taber. Read about her adventures on this 147 year old wooden schooner, including a plunge into 57-degree water and a 40 lobster bake on the beach!
Sailing on a windy day in Sardinia is Tracy Beard's account of going sailing with her daughter when the wind got up. Fortunately the captain and crew were up to the job!
Christine Couch tells us about her sailing journey from New Zealand to Queensland via Lord Howe Island (to clear Australian customs), on her 32 foot yacht. Finding the harbor entrance at night presents some problems!
Segway Tours
Discover the Best Maui Segway tours at our page about the amazing Hawaiian island of Maui. There are several tours you can take, with a guide to lead you and explain what you are seeing!
Skiing
Tracy Beard visits the Ski Patrol at Powderhorn Mountain Resort in Colorado to see how the rescue services train for their job. Enjoy her skiing adventure by reading her account here!
Snorkeling
Read Loretta's account of how she got into difficulties when snorkeling in the Galapagos Islands.
SwimRun
SwimRun is a new sport that involves running and swimming from island to island. This is my account of an Italian adventure  that took in a SwimRun event near Castiglione dei Pepoli, by lakes Brasimone and Suviana in Emilia Romagna, Italy.
Tubing
This tells the story of Patrizia Ballerini-Trackman taking a tubing adventure down the Wisconsin River. Find out what happened!
We hope you enjoyed our list of fun activities. Be sure to check back to read our new additions!

---
---