Adventuress History
Just about everywhere you look, you can find a woman who strikes you as a true adventuress.
History and film are no exceptions.
Imagine the heroic women who have tip-toed, rampaged, danced and otherwise stepped through the pages of history.
Cleopatra, Isadora Duncan, Marie Curie, Dolly Madison, Marie Antoinette, Eleanor Roosevelt, and Elizabeth I are some adventuresses who come to mind.
It's a shame we weren't very much exposed to them in school. But now, through the internet and books and film, we can meet the women who survived exploration, wars, primitive medicine, and settlement to fascinate us today.
Read on to find out more about some of our favorite female adventurers!
In the Footsteps of Nellie Bly
In the Footsteps of Nellie Bly
Rosemary J Brown follows in the footsteps of intrepid journalist and adventurer, Nellie Bly, who in 1889 raced through a 'man's world' in 72 days -- alone and literally with the clothes on her back -- to shatter the fictional record set by Jules Verne's Phileas Fogg in Around the World in 80 Days.  Read Rosemary's journey 125 years later, traveling alone with one single bag on the same route!
Nellie Bly, 25, became a global celebrity. To this day she remains among the top 10 female adventurers.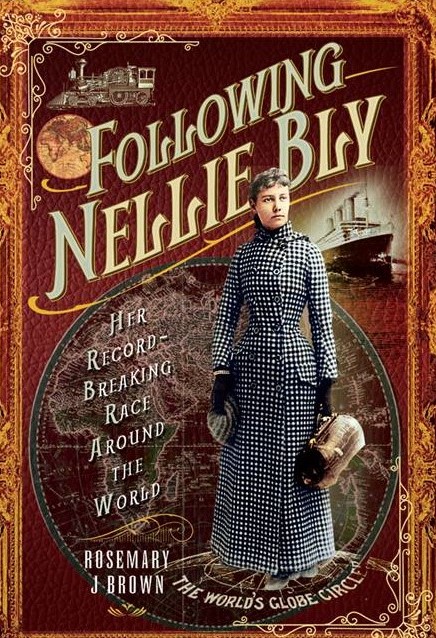 "Following Nellie Bly: Her Record-Breaking Race Around the World" by Rosemary J Brown
---
Dian Fossey
Dian Fossey - Animal Rights Activist and Protector of Mountain Gorillas
For nearly two decades, Dian Fossey immersed herself in the study of mountain gorillas in Africa. She became known as a highly respected primatologista scientist who studied apes and other primates and a fiercely devoted champion of their safety and preservation

One of the most important books ever written about our connection to the natural world, GORILLAS IN THE MIST is the riveting account of Dian Fossey's thirteen years in a remote African rain forest with the greatest of the great apes. Fossey's extraordinary efforts to ensure the future of the rain forest and its remaining mountain gorillas are captured in her own words and in candid photographs of this fascinating endangered species. As only she could, Fossey combined her personal adventure story with groundbreaking scientific reporting in an unforgettable portrait of one of our closest primate relatives. Although Fossey's work ended tragically in her murder, GORILLAS IN THE MIST remains an invaluable testament to one of the longest-running field studies of primates and reveals her undying passion for her subject.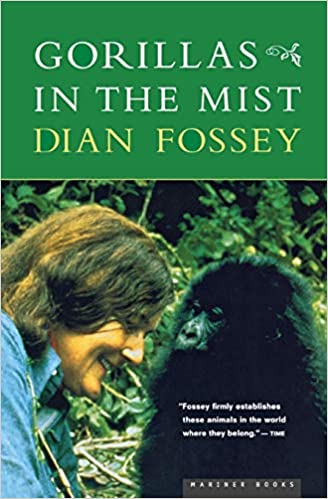 A highly recommended read! Click on the image to purchase this book
---
The Mabel Hubbard Telephone Connection
Mabel Hubbard, the Woman Behind the Telephone. Maude introduces us to Mabel Hubbard, the wife of Alexander Graham Bell. read more...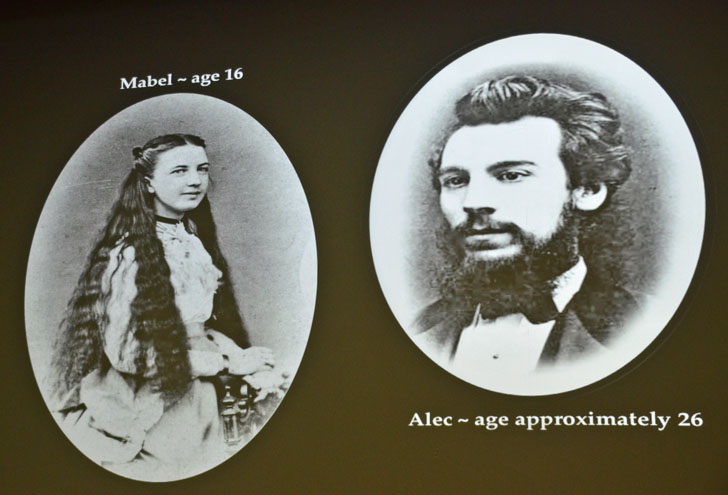 Mable and Alec at a young age
---
Adventuress History
Joan of Arc
Janice follows the trail of Joan of Arc, ending in Rouen, France.  Janice follows the historic trail of Joan of Arc, ending where Joan died, in Rouen, France. read more...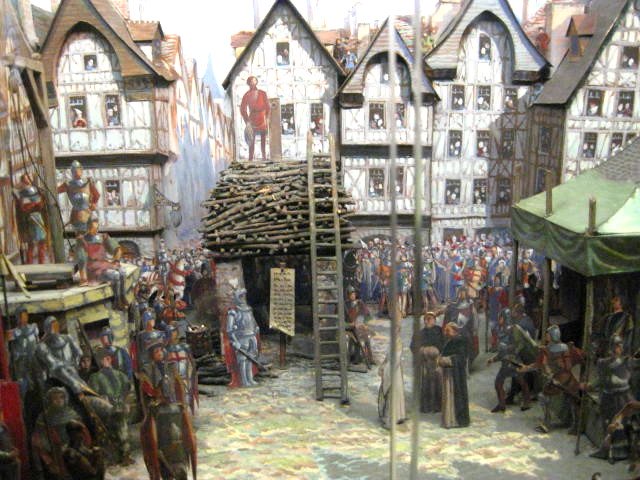 A small diorama in the historical museum depicts the scene
---
Amy Johnson
Sky Roads of the World: Amy Johnson's Story about Her Adventurous Flying Career
Amy Johnson bacame world famous as the first woman to fly solo in a historical journey from England to Australia in 1930. She also set records in other flights, including a 1931 flight from England to Japan, a 1932 flight from England to Cape Town and another flight to Cape Town in 1935. She was also the first British trained woman ground engineer, the only woman in the world to do so at that time.
Amy Johnson married Scottish aviator Jim Mollison in 1932 with whom she flew non-stop from South Wales to the United States in 1933. They also set a record together flying non-stop to India in 1934. The couple divorced in 1938. During WWII Amy joined the Air Transport Auxiliary. Her flying duties consisted of ferrying aircraft from factory airstrips to RAF bases. It was on one of these flights that she crashed into the Thames estuary and was drowned in 1941. Her body was never recovered and her legend was thus born.
Click here to purchase the full story!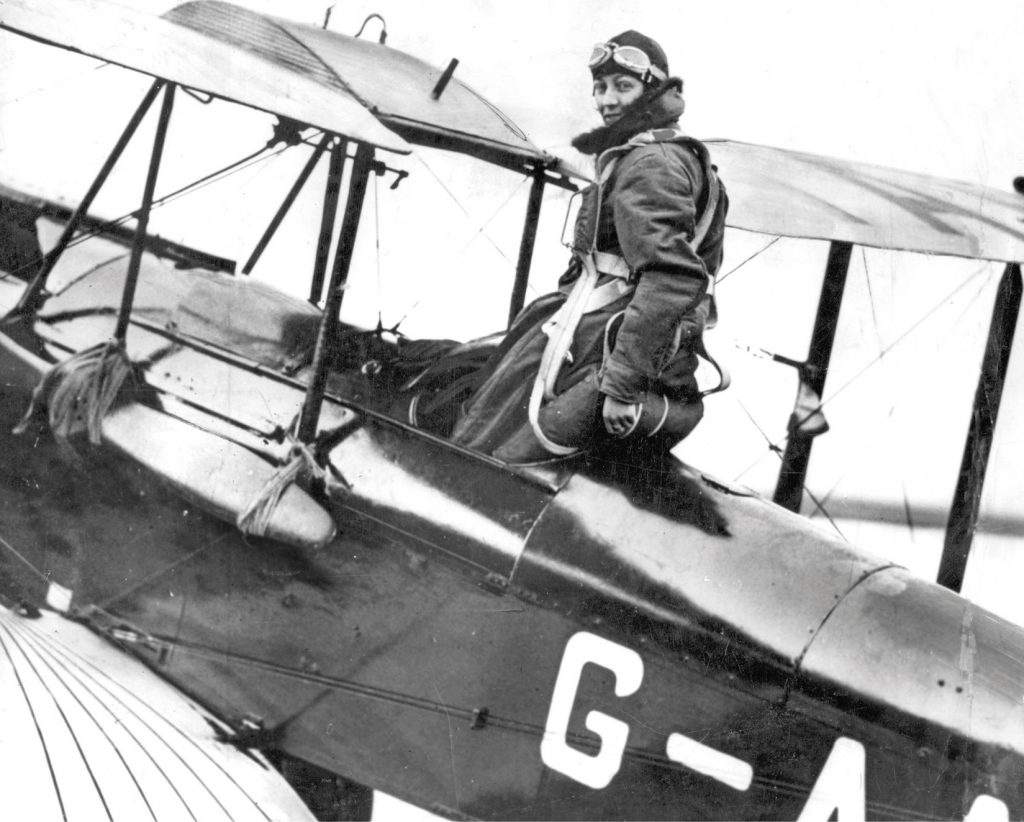 Amy Johnson flying solo!
---
Isabela Godin
The Amazing Amazonienne, Isabela Godin. The story of the earliest known woman to travel the length of the Amazon--in the 18th century--is a story of love and tragedy. read more...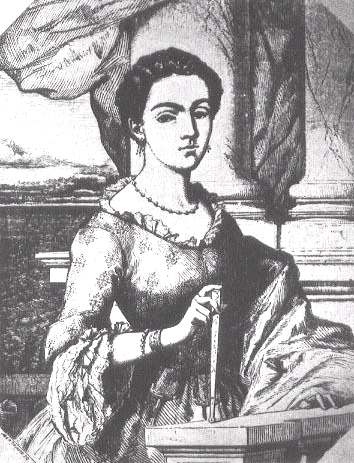 Isabela Godin
---
Suriname's Miss Alida Pageant

Miss Alida, a Freedom Celebration in Suriname. Before a slave woman from an eighteenth-century Suriname sugar plantation escaped into the jungle, she  wove rice into her hair so she'd have something to plant. read more ...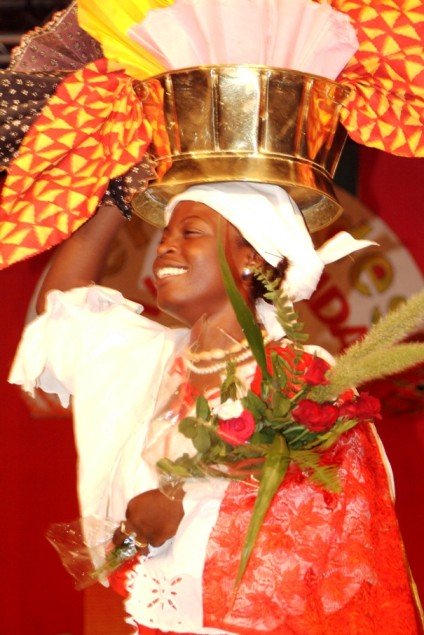 Miss Alida
---
Annie Londonderry
Annie Londonderry was the first woman to cycle around the world, from 1894 to 1895.  We are just researching this amazing adventuress and will be uploading a new page shortly!
In the meantime you can find out more in the paperback edition "Around The World On Two Wheels: Annie Londonderry's Extraordinary Ride" by Peter Zheutlin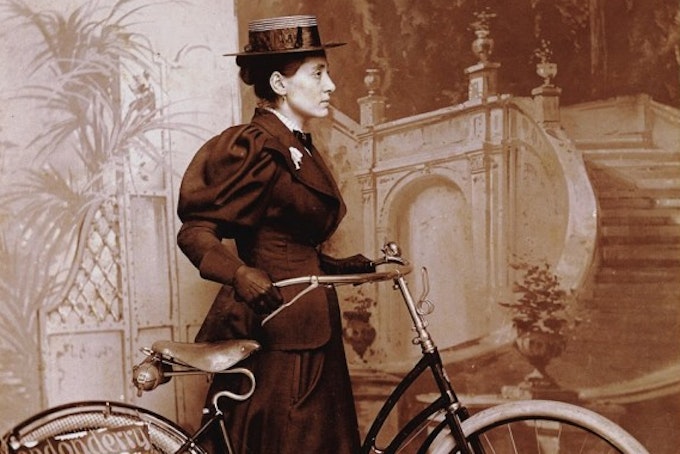 Annie Londonderry - first woman to cycle round the world!
---
We hope you have enjoyed reading about some of the world-famous adventuresses in history.  Contact us if you have a story to add about a female adventurer, or if you there is one you would like us to research and add an article!  We would love to hear from you.
---
---