Best Spas
Around The World

Discover the Best Spas around the world, recommended by Adventuresses!

As any dedicated adventuress knows, "time out" is critical to the appreciation of life. Discovering spas is an adventure in itself. A spa experience is a special gift an adventuress gives to herself.

Take care of yourself
I'm reminded of the airline introductions at the beginning of every flight, the introductions most of us pay no attention to.
When the flight attendant describes the oxygen mask dropping from above your head, he/she says, "Fasten your mask securely before helping your child or the person in the seat next to you."
The message is that if you don't take care of yourself first, you can't help someone else, even someone you love.
So it is with your psyche.
When was the last time you soaked in your bathtub, allowing yourself a quiet, peaceful moment of personal bliss? Do you even own a bathtub?
So many condos and houses today are being built with only showers. If there's a tub at all, it's miniscule, nothing a woman over 5' could luxuriate in.
And luxuriating is what we want. A totally experience that feeds your senses—that takes your mind off the stresses of your day, the responsibilities of your life.
Best Spas around the World
An unexpected getaway
Once, when I felt the need of a vacation, but didn't have the time or money, I found a Chinese spa in my home town. There was this tiny ad in a newspaper, offering a body scrub at very reasonable prices.
I'd never had a body scrub, and it sounded heavenly, even healthy.
It was in a neighborhood that would later become known as Las Vegas' "Chinatown."
Today that spa is gone, but I'll never forget the memory of the experience. How it took me away from the everyday life of running my business, exposed me to an entirely different culture, and made me feel that, for the moment, I was a long way away from the deadlines and demands of my life.
Since then I've had the pleasure of experiencing some incredible most body-and-soul satisfying experiences, from my hot rock massage at Snoqualmie's Salish Lodge to the beaches of Thailand's Koh Samed.
Best Spas just for you
What adventuress isn't lured by the enticing pleasure of total relaxation while focusing completely on her body?
Feel free to fantasize about some of our favorites, introduced to you by women who've savored all the warmth, fragrance, relaxation and soul-rejuvenating pleasure these spas offer: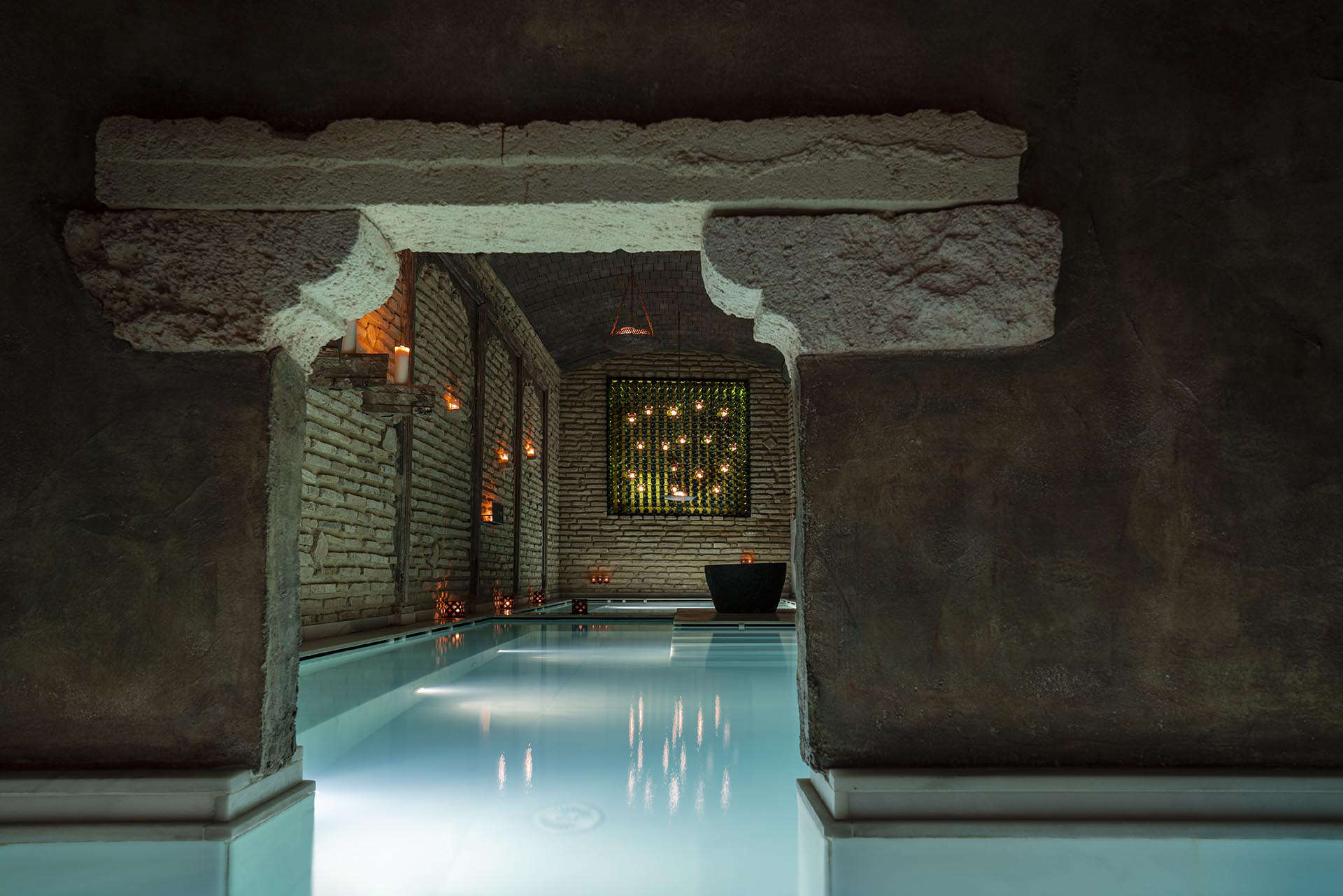 The underground, candlelit baths at Aire Hotel & Spa, Almeria
Ancient, subterranean candlelit baths at the Aire Hotel & Spa in Almeria, Spain - Mogsy discovers the magical atmospere of the underground baths and experiences a night in the bustling city of Almeria.  READ MORE
Lomi Lomi at the Hapuna Spa by Mandara - Joeann shares an exquisite Lomi Lomi spa experience that will make you want to leave today for Hawai'i. READ MORE
Sumptuous Spa at the Shelbourne Hotel in Dublin, Ireland - Gail travels 5,000 miles from home and discovers the sumptuous spa at the Shelbourne Hotel in Dublin Ireland. READ MORE
A floating Spa in the Caribbean!
Tina floats in a spa in the British Virgin Islands - read about her refreshing experience at her favorite "floating spa" in the British Virgin Islands HERE
Mii amo: A Real Indulgent Mother-Daughter Visit - Joeann escapes with her adult daughter for an indulgent Mother-Daughter visit to Mii amo Spa in Sedona, Arizona. READ MORE
Spa Break in Abu Dhabi  Jennifer introduces you to options for ultimate relaxation in Abu Dhabi's world-class spas. READ MORE
MacArthur Place Country Inn & Spa North of San Francisco, in the historic town of Sonoma, is a landmark country inn & spa. READ MORE
Salish Lodge & Spa Snoqualmie Fall's Salish Lodge & Spa, nestled in the foothills of the Cascade Mountains of the Pacific Northwest, beckons you. READ MORE
---
---