J for Journal

How to use a travel art journal on your adventures - J for Journal

One night in Amsterdam I took out my scissors, pens, brushes and glue stick, cut out images to paste in my art journal, and made a mess all over the room.
This while my then-husband channel-surfed the Dutch adult channels.
My art journals are predominantly related to travel, perhaps because that is the way in which I was introduced to art journaling.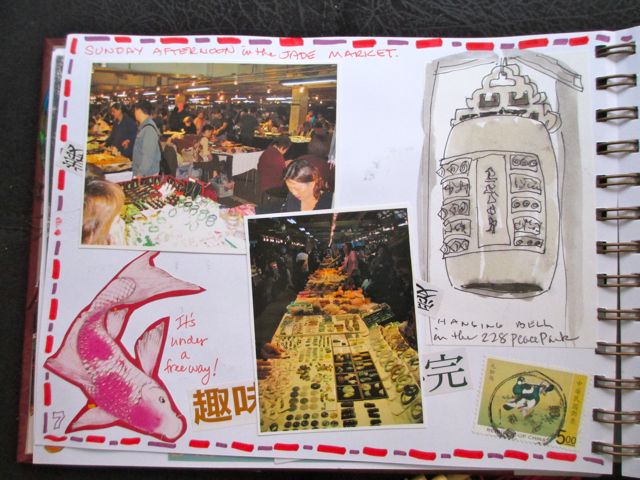 Blue Moon was a restaurant I liked in Honolulu, Hawaii.
My inspiration and mentors, Robin Rector Krupp and Kara Knack, travel extensively. Robin is a children's book illustrator who also writes and is a teacher as well. Kara is a collector of all things astrological, has devoted much of her time to Los Angeles' Griffith Park Observatory. She created the Cosmic Connection exhibit and has traveled all over the world observing cosmic phenomena.
There are many other types of personal journals besides travel journals.
"Art" can be a part of documenting the little details of your everyday life that become a celebration of who you are.
"Along the Klondike Highway" is from my art journal created on an Alaskan cruise.
J for Journal
Who doesn't love to doodle? 
As you explore and consider people and things around you, you'll heighten your awareness and increase your power of observation. You'll find that observation leads to reflection and pondering about what things mean.
What do the things you see mean to you?
When you stop to study an environment, a landscape, an object, you see it in a much more complete way than if you photograph it with your camera. You can become connected to the light, the relationships, the intense colors in a new way.
A personal art journal can be a place to search your soul, vent your feelings, consider what's happening around you, write down words of inspiration you encounter, or just make little doodles and designs in colors that move you.
Machu Picchu was an enchanting place to sketch.
Here are 3 ideas to get you started:
1. Using watercolors and a big brush, swash the entire page with one color. Let it dry. Don't be concerned if the page buckles—that's part of the charm of an art journal. This can be a nice background for writing.
2.  Use two or three of your favorite colors to draw a border around the entire page. A border can be as simple as repeated dots, lines, squiggles or a combination of them.
3. Cut out an image from a magazine and paste it into your journal. Now write three or four lines describing why you chose this picture, what it makes you think of, or how it makes you feel.
Ile Royale is one of the three Isles de Salut
Off the South American coast of French Guyana; the most famous is Devil's Island. In fact, Papillon was actually imprisoned on Ile Royale, not Devil's Island, but that's a tiny detail in an otherwise adventurous tale.
J for Journal
Your art journal could be spiral-bound or leather-covered. 
I've used both, but keep coming back to Bee Paper Company's SUPER DELUXE SKETCH BOOK, a 6" x 9" (15.24 x 22.86 cm) book with 60 sheets of artist-grade paper in 93# heavy weight. I like how the spiral binding allows me to open the pages flat.
I've ordered a dozen at a time from Cheap Joe's Art Supplies at www.cheapjoes.com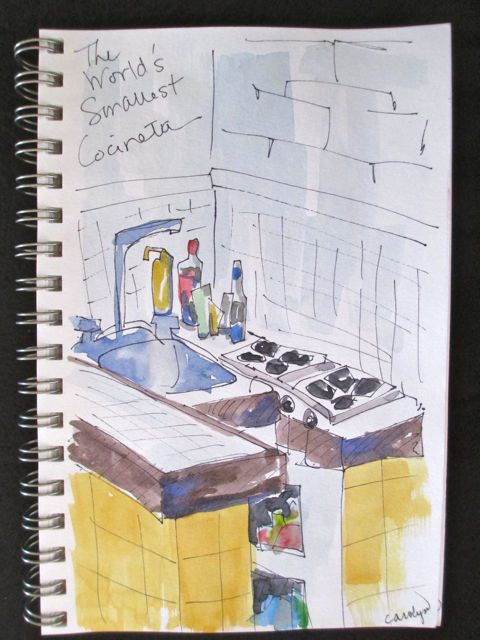 Puerta Vallarta
In Puerto Vallarta, Mexico I spent some time attending an international school to be certified to teach English as a Foreign Language. (EFL). I stayed in an apartment hotel with what I called "the world's smallest cocineta."
Here's what I travel with:
- A blank journaling book
- At least two or three permanent ink drawing pens, like a thin-lined Sharpie.
- A calligraphy pen with each end a different width.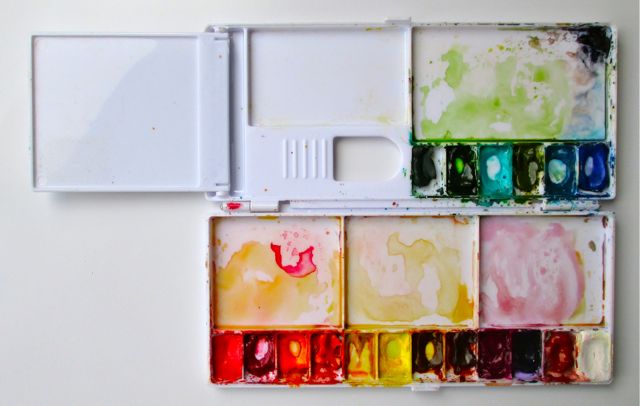 - Two or three watercolor brushes
- A plastic fold-out watercolor travel palette.
- A pair of scissors
- A glue stick
- A roll of toilet paper
Art Improv 101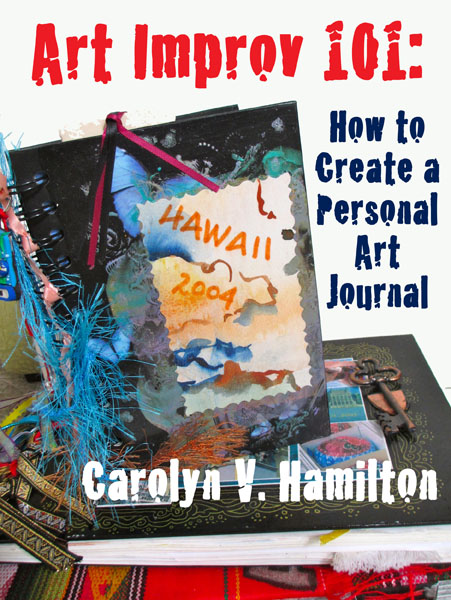 Last summer in Cuenca I taught an art journaling class: Art Improv 101: How to Create a Personal Art Journal. It was so well-received that I just repeated it last month.
In between, I found I had collected so much material to share that I needed to assemble it all in a book, which I included as a bonus in this last class.
That's how I created the e-book "Art Improv 101: How to Create a Personal Art Journal." Just click on the link to go to Amazon for your copy!

Carolyn V. Hamilton, former editor

The next AtoZ Challenge: For the letter K, I plan to tell you about my Australian adventure, camping out in Kakadu National Park.
---
---