30 Days in Quito
Discover what 30 days in Quito is all about!

In the summer of 2013, Kris Loomis and her husband sold all their worldly possessions and, along with their three-legged cat, Triplet, left their comfy life behind and moved to Ecuador.

Follow along as they battle "mañana" time, stinky buses, and the dreaded 'Frankenstein' shower.
Will they adjust to South American culture?
Will Triplet learn to meow in Spanish?
Will the stupid black beans ever cook at that altitude?
'Thirty Days In Quito: Two Gringos and a Three-Legged Cat Move to Ecuador'  is a humorous first-hand account of a couple stepping out of their comfort zone, holding on tight, and learning to breathe at 9,000 feet.
It is a huge step to leave your own country, leave behind everything you know, and take the step into a new culture, a new country, a new way of life.  To quote Jack Kerouac - "Because, in the end, you won't remember the time you spent working in the office, or mowing your lawn. Climb that goddamn mountain!"

Listen to this quote. Go do it! You won't regret it ever - life is for living!

As Jack Kerouac said in "On The Road" - 'There was nothing to talk about anymore - the only thing to do was GO."

30 Days in Quito
Written by former Cuenca, Ecuador resident, K. Kris Loomis, this is a charming and enlightening book about taking a true leap of faith and coming up survived.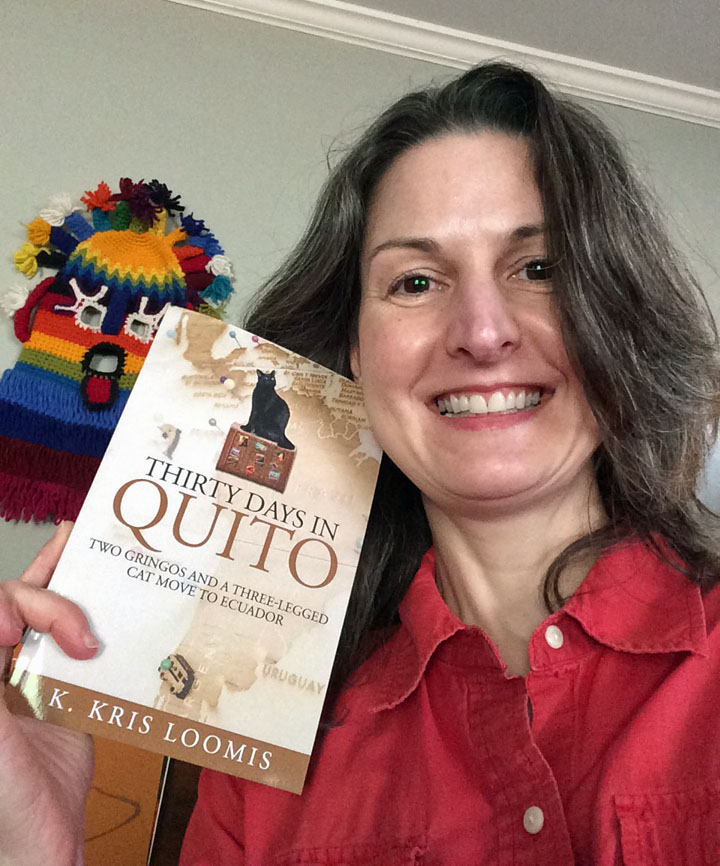 ---
K. Kris Loomis is an American author of both fiction and nonfiction. Along with writing about her years living in South America, Kris also writes about yoga and meditation in her nonfiction world and loves crafting short stories and parables in her fiction one.

Kris and her husband lived in Ecuador for over three years but moved back to the states in 2016. They currently live in Rock Hill, South Carolina with their two cats (including Triplet, feline extraordinaire and star of Thirty Days In Quito!).
When she is not writing, Kris can be found playing chess, folding origami cranes, or practicing a Beethoven sonata on the piano.

You can find out more about Kris and follow her blog at www.kkrisloomis.com. You can also connect with Kris on Facebook, Twitter, and Pinterest @kkrisloomis!
We love the book "Thirty Days in Quito" for it's humor and honesty. We recommend that you buy it!

---
---