Agustin Inn
in St. Augustine, Florida

Cheryl Trenary experiences a cozy night
at Agustin Inn in St. Augustine, Florida
Rumbling down the narrow brick street, my car nearly brushed trees draped with Spanish Moss. Peering through the windshield, my eyes caught sight of the home, gold walls with wide, wrap-around porches soaring three stories into the blue sky. Tires crunched into the dirt parking lot nearby and I stepped out, breathing in the moist, humid air of St. Augustine, Florida. Through the stucco fence, pineapple shaped chimes sang in greeting.
The wrought iron gate swung open smoothly, and crossing the gracious brick patio I climbed the steps onto the porch. Entering the foyer, an antique armoire loaded with fresh-baked cookies and coffee beckoned. I looked over to see a warm smile greeting me. In that moment, I was home.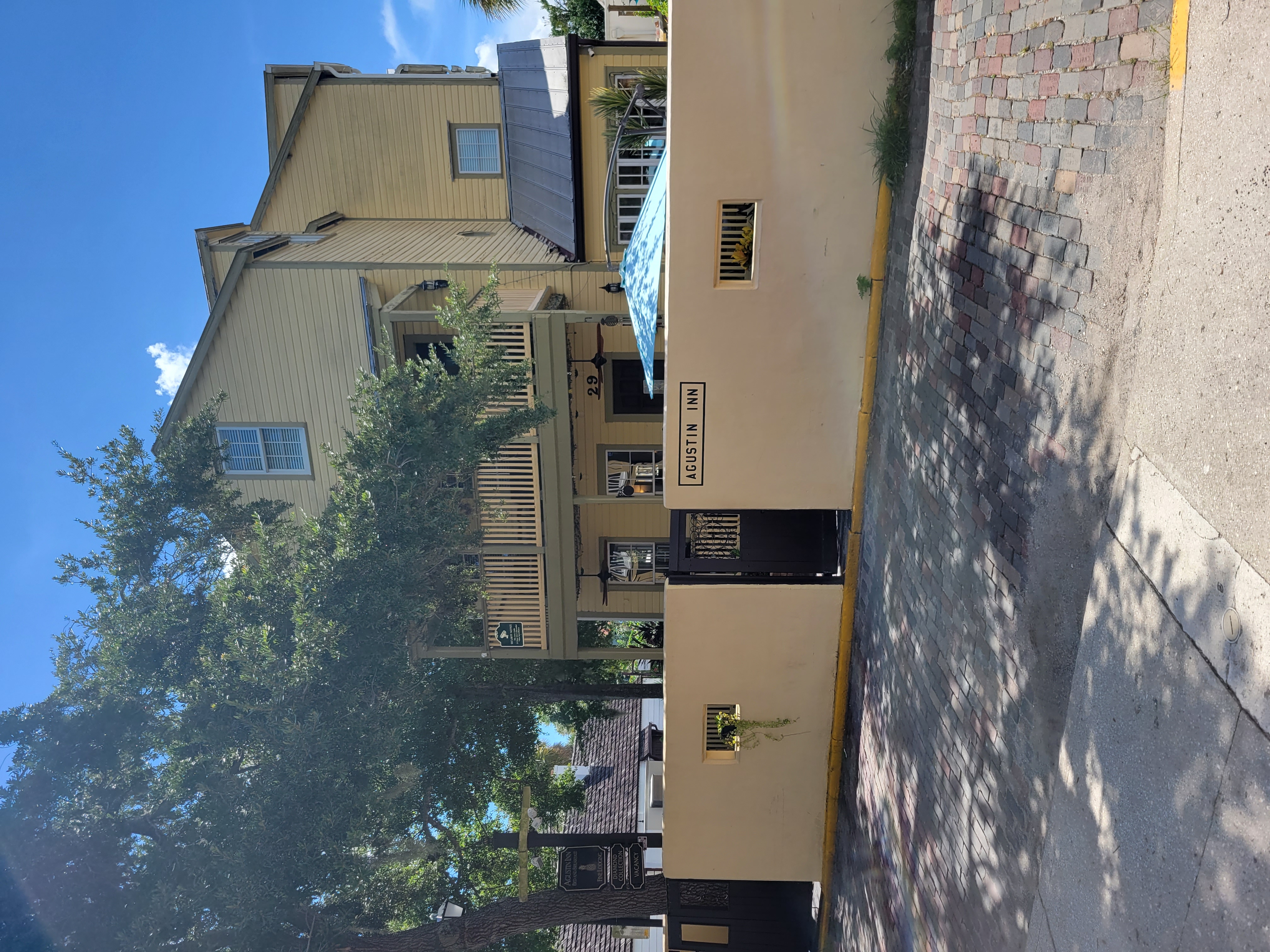 Agustin Inn
The Agustin Inn, a Bed and Breakfast Diamond Collection property, is 123 years of history wrapped in modern comfort. Eighteen individually decorated rooms grace three stories, where guests are pampered by a team of professionals whose goal is to provide each guest exceptional customer service exceeding all expectations.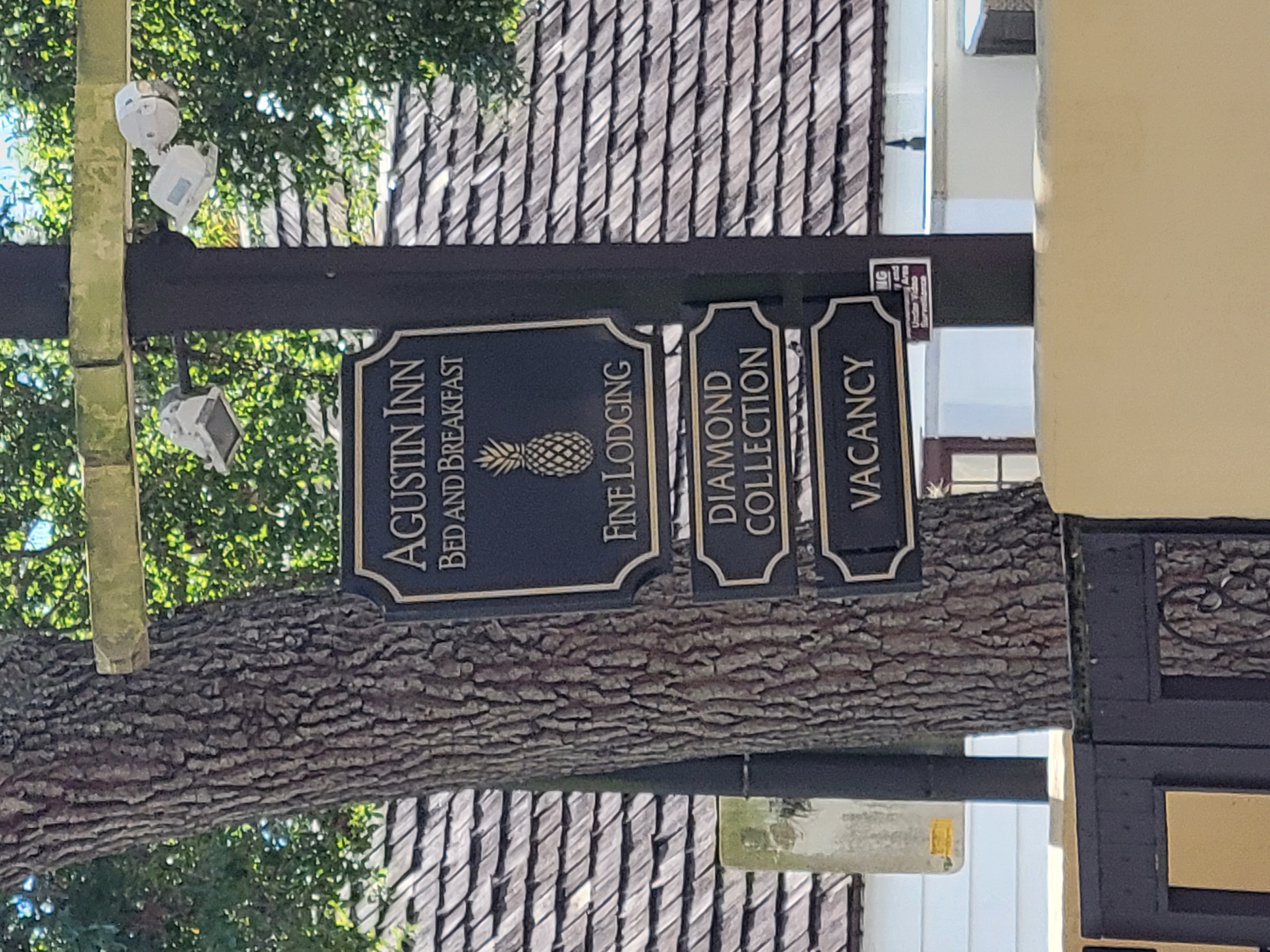 A Bed and Breakfast Diamond Collection property
Checking in and absorbing the history, I ascended carpeted stairs, my hand brushing the polished wooden railing. Climbing to the third floor, I turned my antique brass key and entered my room. A queen-sized brass bed greeted me, draped with cozy linens and mounded with fluffy pillows.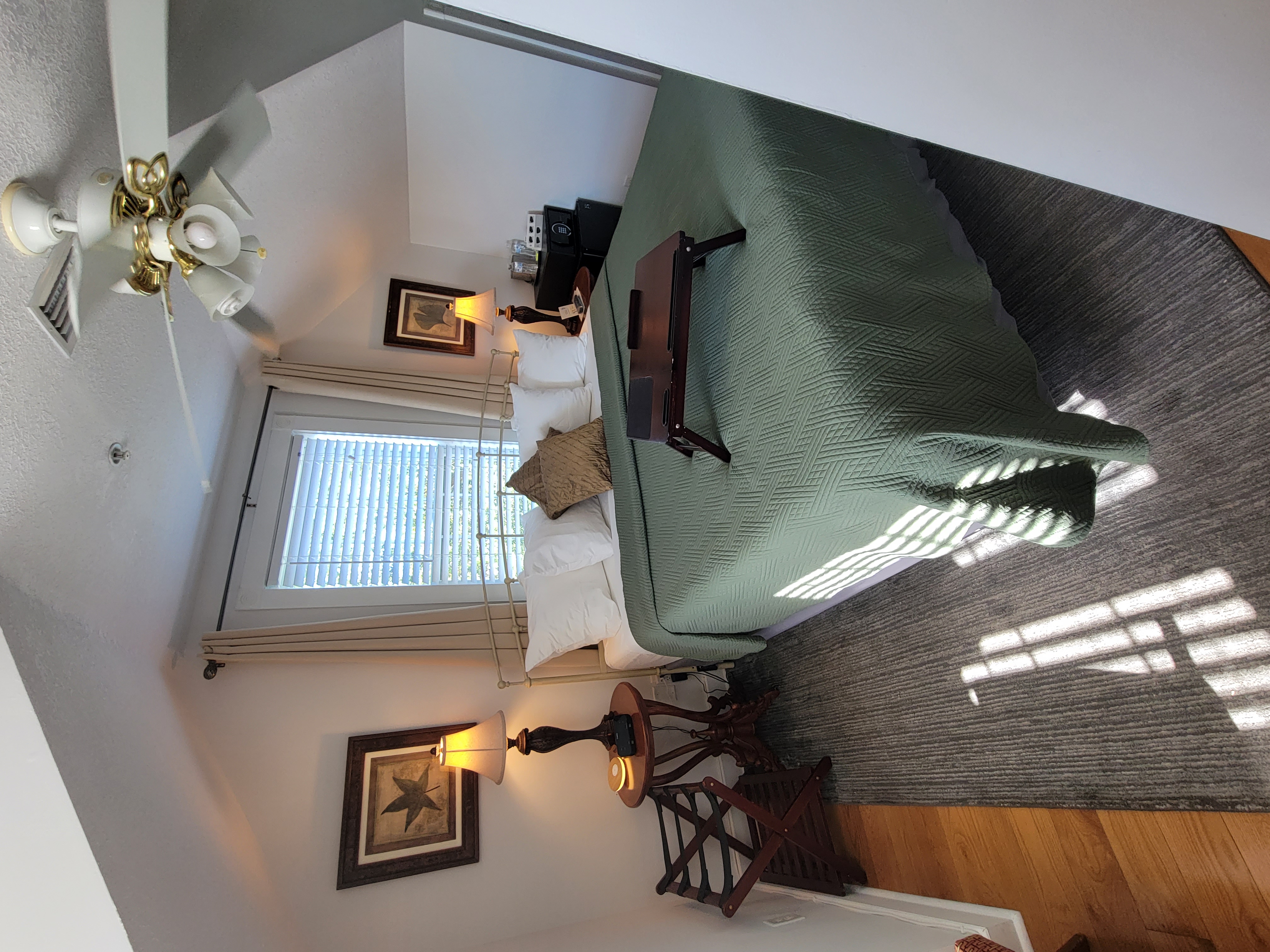 The cozy bedroom!
A wide, romantic bathroom opened past the bed, with a large jacuzzi tub and sumptuous robes hanging nearby.
Romantic bathroom with a jacuzzi tub
Rich, ornate brown end tables topped with marble graced each side of the bed, while an overstuffed chintz chair nestled in the corner of the room. With a sigh, I sank into the chair and enjoyed the peace. Muffled sounds drifted through the window as I gazed out at the trees. Shortly, as a huge fan of Happy Hour, I flew down the steps to enjoy complimentary sangria, wine and snacks, and a chance to visit with the manager, Jessica Bickle, and chat about the warm ambiance of the Inn.
Happy Hour at the Inn
Began in 1899 and finished in 1904, the Agustin Inn was built over 5 years. Originally owned by Bernard Masters, a local cattleman and businessman, the Inn has experienced multiple transformations over the years. Today it stands as a testament of the original Spanish and Colonial architecture.
The Inn provides romance second to none. Guests can enjoy rose petals on their beds, horse and buggy rides, an evening at the theater and pampering to the extreme. Constantly seeking new ways to enhance guest experiences whether amenities, food, comfortable rooms or service, no detail is too small for this professional team, an experience I came to expect from this warm, caring staff.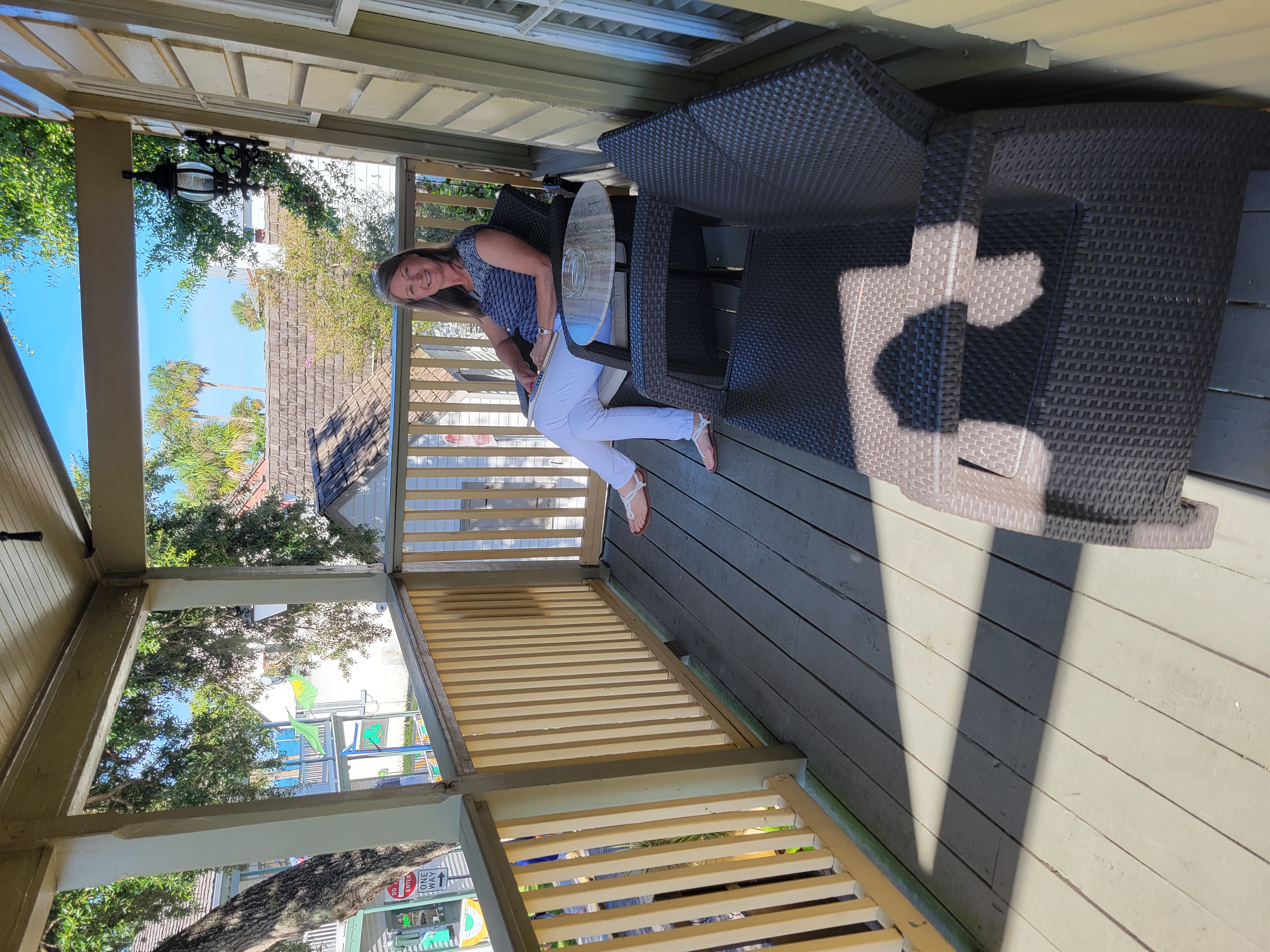 Time to relax on the balcony
Just steps to famous St. George Street in old town St. Augustine, narrow brick streets beckoned as I wandered out of the inn and into town. Doorways opened onto the narrow lane, inviting me to browse. I breathed in floral scents of locally produced soaps and candles, and further down the lane the sharp smell of leather grabbed my nose as it wafted from a leather shop.
Wandering through the streets of St. Augustine old town
Shops abounded throughout the town enticing me to enjoy local merchandise; it was easy to get lost as history collided with the modern world. Ducking into a narrow ally, trees and flowers invited me to enjoy a convenient wrought iron bench and take a break.

After enjoying dinner at a nearby café, the allure of the jacuzzi called to me. Returning to my room, swirling warm water and fragrant bath salts provided by the inn embraced me. Snuggling into soft linens, my eyes grew heavy as I waited for a visit from the resident, friendly ghost. The inn turns many unbelievers into believers as unexplained, friendly phenomena occur from time to time!
My eyes fluttered open after an amazing nights' sleep. Breakfast at the Agustin Inn is an event not to be missed. Settling at a patio table, I was offered a fruit smoothie, with coffee, tea or juice. The hospitable server then brought the main course of eggs, bacon and strawberry French toast. Using local ingredients, breakfast was fresh and delicious.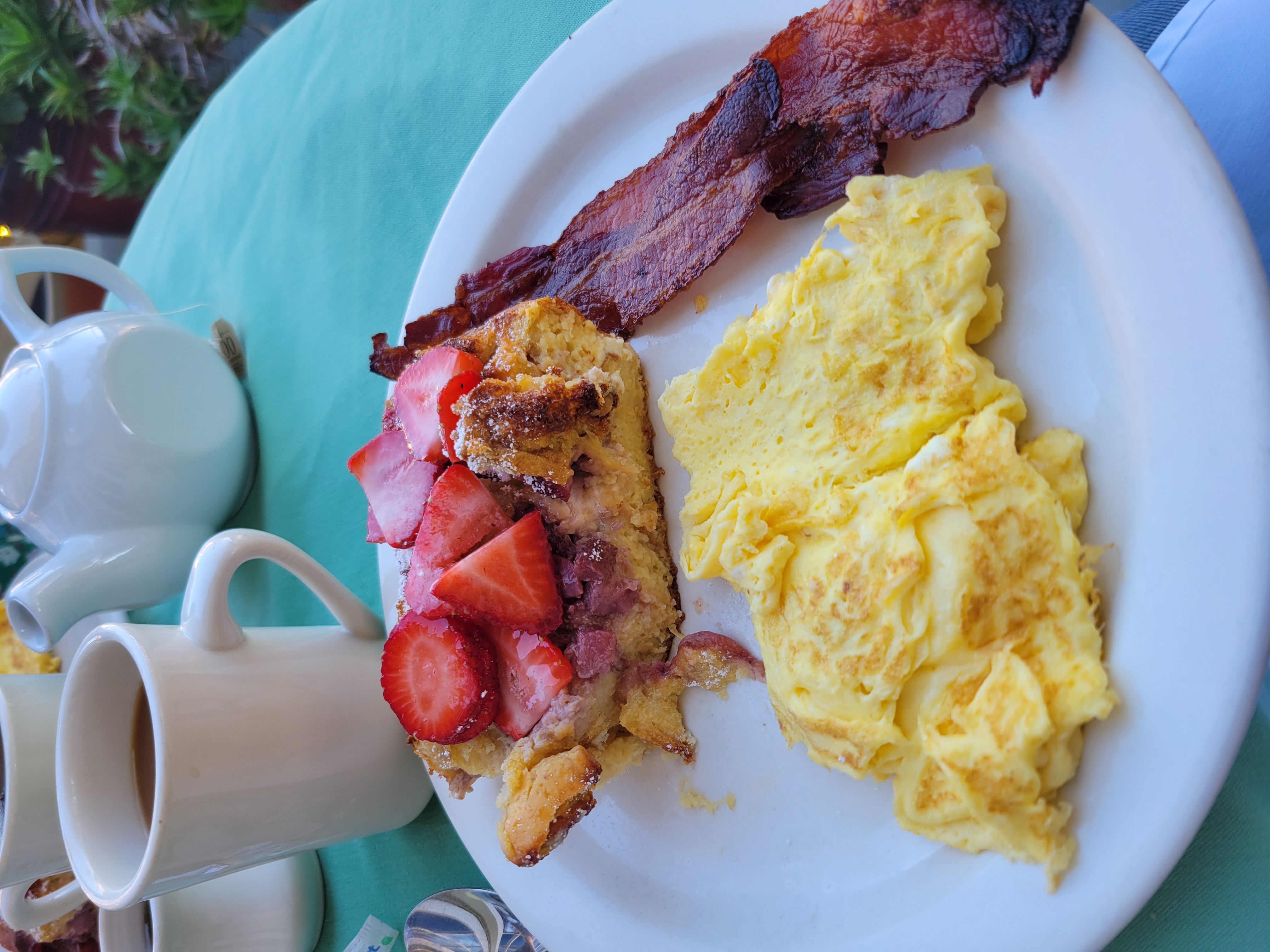 Delicious Breakfast!
Patting my full stomach, I excused myself to return to my room and pack up. The Agustin Inn was a peaceful respite from a hectic life. The lovely staff bid me farewell, and I reluctantly crossed back over the brick patio for a hike to my car; plans to return echoing in my mind.
Settled in 1565 by Spanish admiral Pedro Menéndez de Avilés, who named the settlement San Agustin, St. Augustine is the oldest continuously occupied city in the United States. Filled with history, St. Augustine is a traveler's paradise.
Within walking distance of Agustin Inn, visitors can take in The Castillo de San Marcos, the Pirate Museum, as well as historic buildings such as the oldest schoolhouse. For those who enjoy a variety of whiskeys and spirits, City Gate Spirits is in the heart of downtown, near the original "city gate" of St. Augustine.
Opportunities abound to experience the city, many of which are within walking distance of the Agustin Inn.  To book a room, go to  The Agustin Inn | Bed and Breakfast in Historic St. Augustine, or call (800) 248-7846.
Story and Photos by Cheryl Trenary
If you enjoyed this story, click on the links below to read more fascinating articles from Cheryl:
Cheryl experiences Can Bas Winery, a family-owned jewel outside of Barcelona
Cheryl takes a whimsical look at Parc Güell, Barcelona, Spain
You can also check out Cheryl's blog Trenary's Travels HERE
---