Alida
Suriname's Miss Alida Pageant

Before a slave woman from an eighteenth-century Suriname sugar plantation escaped into the jungle, she wove rice into her hair so she'd have something to plant.
Under her breasts and her skirts she hid a piece of cloth, a kitchen knife, some thread or a spoon--anything of practical use that she could secretly carry away into an unknown new life fraught with uncertainty and danger.
This was a time referred to by historians as "the golden age of Suriname." Wealth consisted of sugar, coffee, cotton, tobacco and timber exports.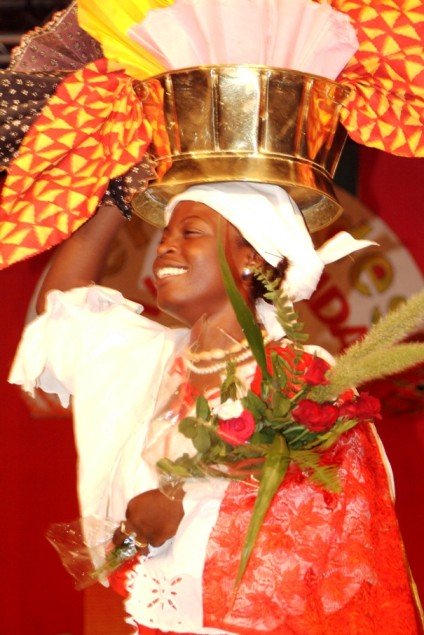 Plantation life under Dutch Colonial rule was hideous for black men, women and children. The Dutch were such cruel slave masters that, to keep their own slaves inline, American planters threatened them with sale to a Dutchman.
Slaves who fled into the jungle were known as Maroons, from the French word marronage, or runaway.
Alida

Slavery was abolished in Suriname in 1863. Today, on July 1, the descendants of these Maroons celebrate their independence. This day of dancing, eating, parading and dressing in the traditional koto, is called Keti Koti, from the Sranan Tongo words for "cut the chains."
An important part of today's Keti Koti celebration is the annual Miss Alida contest, held at the Anthony Neste Stadium in Suriname's capital, Paramaribo, on the evening of June 30.
Though Suriname has been free from Dutch rule since 1975, a separate Miss Alida pageant is also held each year in Holland, where many former Surinamers have chosen to make their home.
The Neste stadium is traditionally sold out, so Suriname's pageant is simultaneously televised. 2008 marked the eighteenth anniversary of the Miss Alida contest, an opportunity for ten young Creole women to celebrate their heritage by competing for the title.
A major sponsor is the Suriname soft drink company Fernandes, which is also the official importer of Coca-Cola.
The ceremonies begin with a cultural dance presentation to warm up the audience. Music provided by a live orchestra features native drums and flutes. The judges are seated at a long table just below the front of the stage, with placards to raise after each contestant's presentation to indicate their score.
Just like Hollywood's Academy Awards, the Miss Alida Pageant usually runs long, from 8 in the evening until after 2 in the morning, causing Surinamers to complain every year about its length. Yet no one wants to give up any portion of the festivities.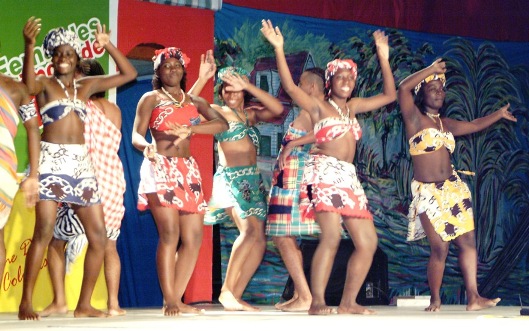 Suriname, Miss Alida, black history, slave history
Mrs. Margo S. Burgos-Kramp is the official advisor to the young ladies, coaching them in telling a story to do with black women in Suriname history, performing a song or dance, designing a koto misi dress, and writing an odo, or personal creed.
Examples of such proverbs are, "An old woman's soup tastes better than a young woman's breast", "Patience is a bitter tree, but the fruit is sweet"' and "Not everyone who talks can call himself a cook."
Kramp's broad smile indicates her pride in her Suriname heritage. "My mother has over 80 koto dresses, some of them a hundred years old," she says. "I've been involved with Miss Alida since the beginning.
Today school girls call me to tell me about their high scores, hoping someday to win the program in their district so they can compete in the Miss Alida Pageant."
Who was Alida?
Everyone agrees she was a beautiful slave girl who caught the eye of her owner, much to the consternation of the mistress of the plantation. In a jealous rage, the mistress cut off one of Alida's breasts and served it to her husband at dinner in a silver chafing dish.
Kramp describes the slave girl as "23 or 25, with the ability to write and sing." She says Alida had a place in the household and was very aware of her beauty.
"This story is all over the Caribbean," says Kramp. "In Suriname we believe Alida was in the household of Suzanne duPlessis, who definitely thought there was something going on between her husband and the girl."
DuPlessis, whose historic Paramaribo house near the Governor's mansion has recently been renovated to its original Dutch colonial splendor, is reputed to have been the most vicious of all of Suriname's Dutch planters.
It's not clear what happened to Alida after her mutilation. Some say she bled to death.
"My great-great grandmother said Alida was healed with medicinal plants," says Kramp. "She lived on to bear two children."
According to Kramp, duPlessis' husband gave Alida a special three-legged chair inlaid in precious metal, and she stayed on in the house accepted as a misi, or "house wife"-- mistress--to the husband. This position was not unusual in the typical Dutch colonial plantation household.
In any case, Alida's story is celebrated by today's young Suriname Creole women.
The koto is a voluminous form of dress designed by slave women to hide their figures from the attention of lustful white planters.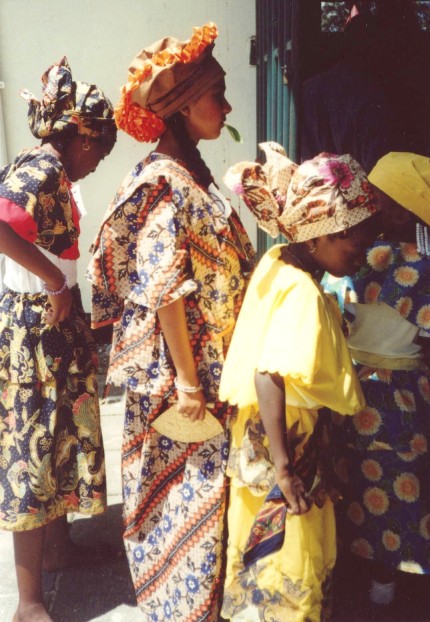 Suriname, Miss Alida, black history, slave history
A wide tube of cotton fabric is hardened with starch made from the casaba root. It's lowered over the head and gathered under the breasts, where it's tied. The portion of fabric above the tie is rolled down towards the waist. Sometimes additional gathered cloth is worn under the back of the skirt.
Over the shoulders is worn a short cape, tied in front. Matching fabric—the anisa—is tied around the head in various styles, sometimes signifying a message or personal statement. A woman wearing such a koto dress is referred to as a "koto misi."
Originally, besides her koto dress, Alida was portrayed as smoking a pipe, something a well-positioned misi was allowed to do.
More recently, Alida is portrayed with a sprig of orange tree in her mouth, which was chewed in order to give a lady sweet breath. It was not unknown for a misi to even have slaves of her own.
Though Suriname today consists of five cultures - the largest being Hindustani  - Keti Koti is the biggest celebration of the year after New Year's.
Asked what being Miss Alida meant to her, one former winner says, "I feel much more comfortable with my culture, and with being a black Suriname woman."
--Carolyn V. Hamilton
Photography by Carolyn V. Hamilton and Hedwig de la Fuente – PLU, official Miss Alida photographer
---
---