Bagpipes and Beans in Scotland
A visit to Edinburgh inspires the travel story Bagpipes Beans Scotland!

Having just returned from Edinburgh, Scotland, I reflected on the ruling Queen's palace, the favored music of the bagpipe and the reigning side dish - baked beans.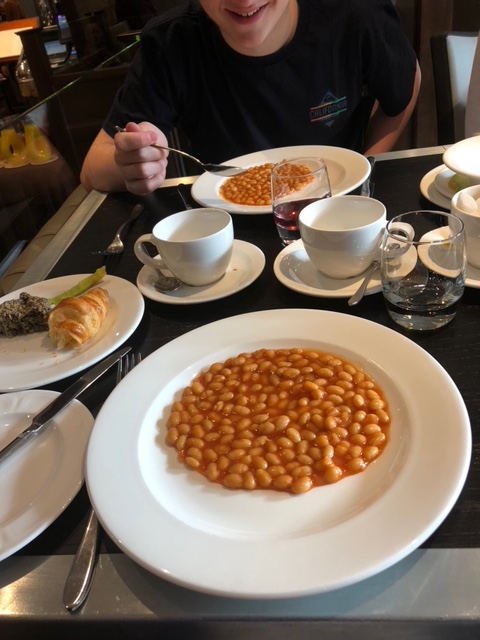 Yep, baked beans, the canned variety.
The historic heart of Edinburgh has a street known as the Royal Mile because it connects two royal residences, the Castle and The Palace of Holyrood House. The Royal Mile is longer than an English mile, measuring 1.81 km, it is a "Scots Mile" which hasn't been used as a measurement since the 1700's.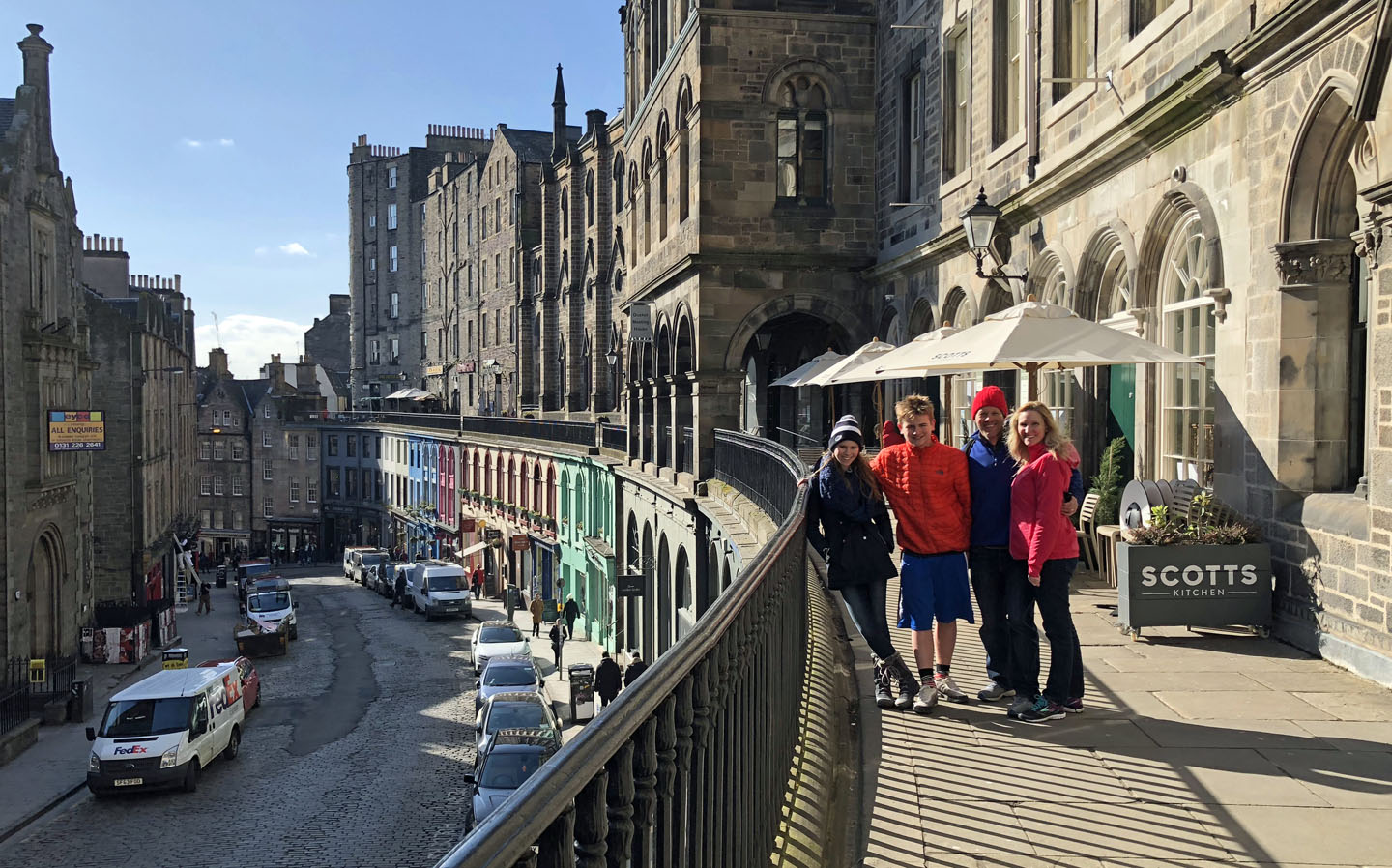 Victoria Street
Victoria Street, A.K.A. 'Daigon Alley' for Harry Potter fans, showcases Edinburgh's double landscape perfectly. Above and below street level, the architecture is ornate and Gothic.
Strolling the mile on a snowy night we heard plenty of kilt-wearing pipers - the term preferred by the musicians - playing bagpipes. My daughter found the fashion amusing and alluring at the same time and purchased herself a traditional red kilt.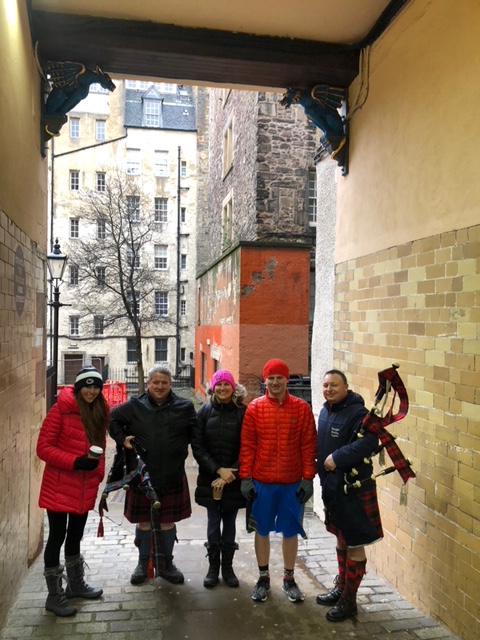 Kilts are made in a pattern called tartan consisting of crisscrossed bands of colors, the most common combination being red and black.
A truth to the rumor about Scottish men wearing their birthday suits under their kilts in battle is a mystery and as much a part of the culture as the Loch Ness Monster.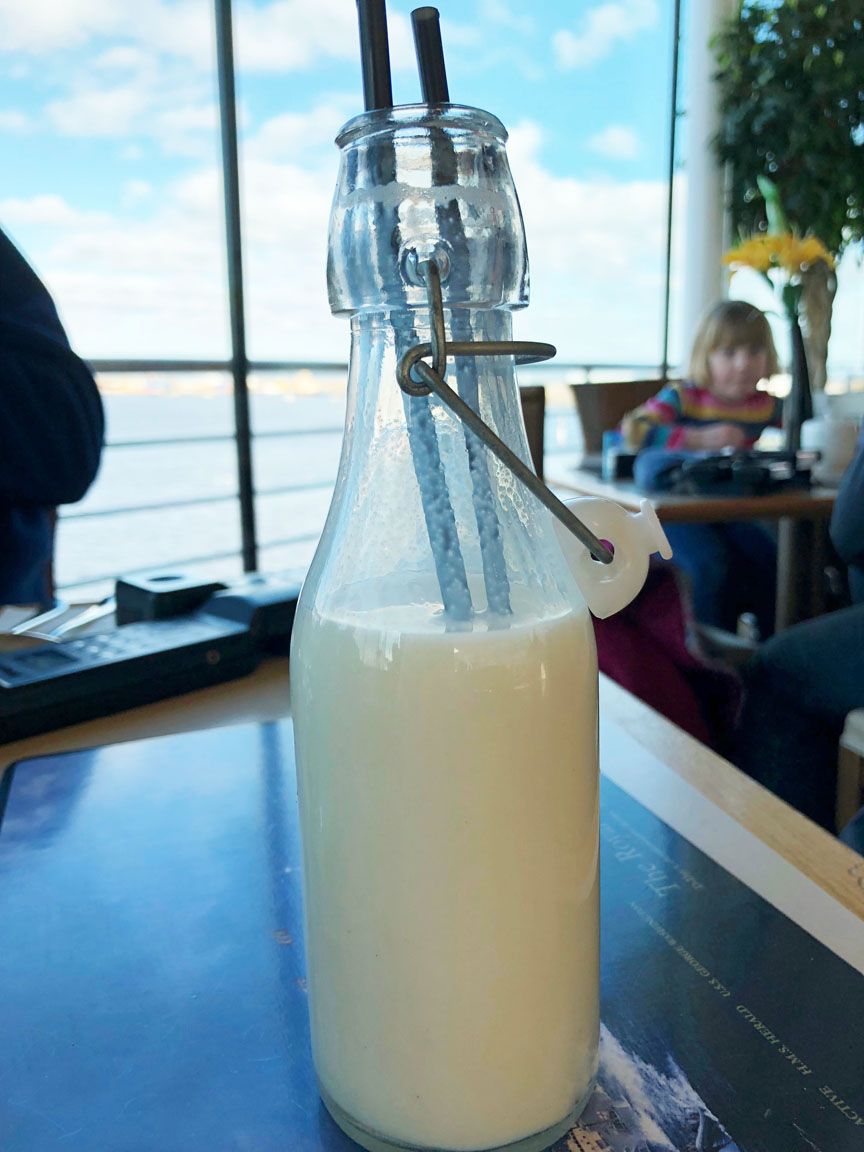 A Scottish "vanilla milkshake"
Eating in Scotland is for the most part, navigable. Minor misconceptions add a bit of fun to the dining journey, for example even with temperatures in the thirties my son ordered a vanilla milkshake and instead of a thick, ice-cream filled concoction, he received a glass bottle of vanilla flavored milk.
Porridge is a smoother variation of oatmeal and my favorite, soldiers, are small pieces of toast cut in rectangles and served dry.
Scots are famous for their 'Tablet', their version of a fudge-like candy that's ultra-sugary with a granular texture and flavored with vanilla or cocoa. Sold by the pound in stick shapes and packaged in decorative boxes, reminding my family of the fudge sold on the New Jersey boardwalks.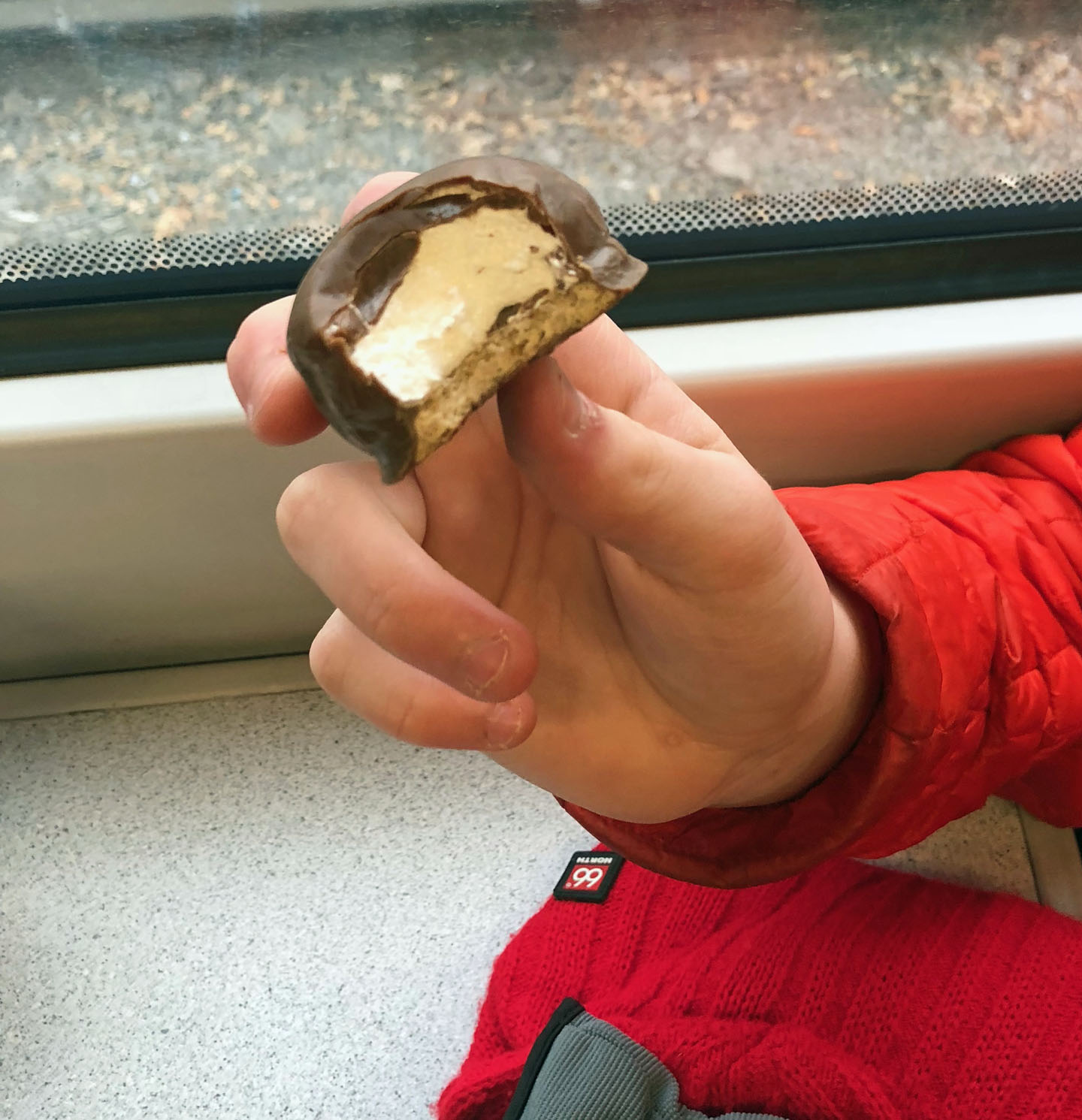 Tunnock's Teacakes are an unfamiliar treat worth mentioning.
A small round cookie-like biscuit covered with a generous dome of meringue, a whipped egg concoction that is like marshmallow, covered with either milk or dark chocolate.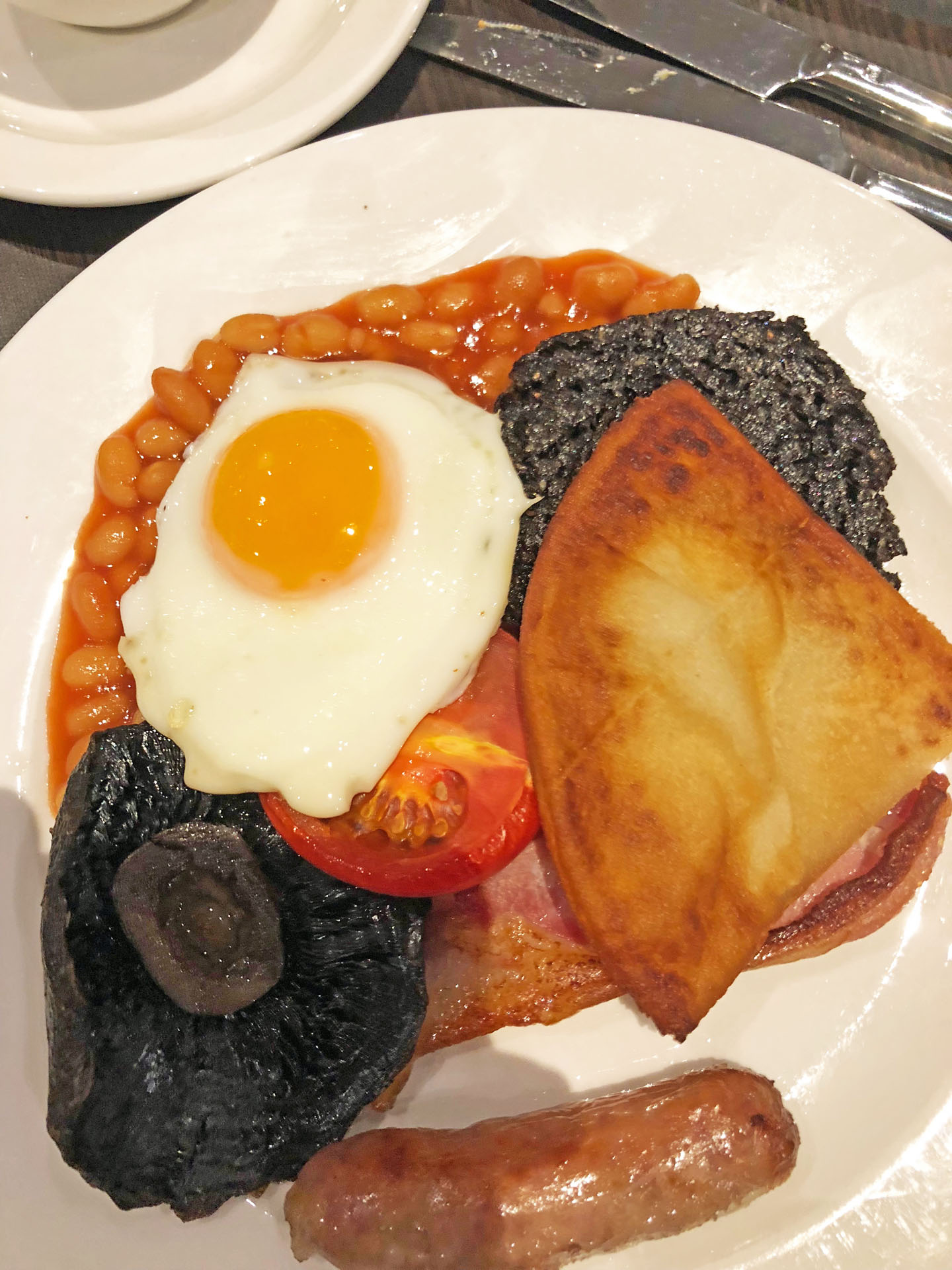 The "Full Breakfast"
"Full Breakfast" is a term you will see on most menus and consists of one egg, sautéed mushrooms, banger (sausage), tatties (potatoes), half a tomato, and black pudding, which is NOT a dessert, but rather blood sausage usually made from pig.
As a tourist you're expected to try the haggis, a dish made of a sheep's heart, lungs, and liver which is minced with onions and oatmeal and boiled in a bag, not because it has been banned in the United States since 1971, but because it could be culturally enlightening to try something new.
Typically served with neeps (turnips) and tatties, the mineral rich ingredients are not approved for human consumption by the US Department of Agricultural because of the risk of Scrapie, a disease in sheep. To the Scottish, haggis is the great chief of the puddings.
Haggis is a popular option for lunch or dinner and appeals to the culinary adventurer but is overshadowed by the presence of baked beans. Surprisingly, Heinz baked beans found on your grocery shelf.
My two teenagers got a kick out of the omnipresence of beans. Keep in mind, for them, beans are the magical fruit and the more you eat, well… you know the saying.
After being served beans for breakfast, lunch and dinner, we inquired about the Scots preference for beans and found that the Brits have been bonkers for beans since Mr. Heinz sold his product to London's famous Fortnum and Mason food store in 1886.
In fact, Great Britain is the biggest bean-eating nation in the world.
In 1944, after being bombed at least twice, production trudged on in the Harlesden, England factory contributing to the wartime food supply. Brits chanted beans for victory!
In 1951 and again in 1954 the Royal Warrant was granted as Purveyors of Heinz products to HM Queen Elizabeth II. The demand for more beans led Heinz to open another factory in Wigan, England in 1959, using one thousand tons of dry beans a week.
In May of 2009 Her Majesty the Queen visited the Heinz factory near Wigan to mark the 50th Anniversary of its opening.
Beans are recognized as one of the United Kingdom's most loved foods and more than 1.5 million cans of Heinz Beanz are sold every day. 
This is a lot of beans. 
Story & Photos by Dennise Heckman

Dennise Heckman is a travel writer and marketing content writer specializing in all things related to thought-provoking travel. She is the owner of the reliable Le Petite Canine dog-sitting service in Sinking Spring, PA. You can find her daily researching and writing feverishly, and walking dogs…but not all at once. 
She writes about curious trends, fresh hot spots, novel hotels and remarkable destinations that she has visited. Dennise holds a masters degree in art and has written several fiction children's books and is currently working on a middle grade novel about a tween-age dog sitter.

---
---