Exploring Bangkok
with No Agenda

My trip to Bangkok without a plan - Bangkok With No Agenda!
Story & photos by Maria C. Heberling
My perspective and memories of Bangkok, like the famous Indian fable The Blind Man and the Elephant, were based on a previous exploration.
This visit, I decided to explore whatever caught my fancy, made me wonder, to look at nature and observe small details of the culture, customs, land and people. Bangkok - with no agenda!

An early retirement sent me immediately on a three-week solo travel adventure to Thailand, a country I visited twice before under different circumstances.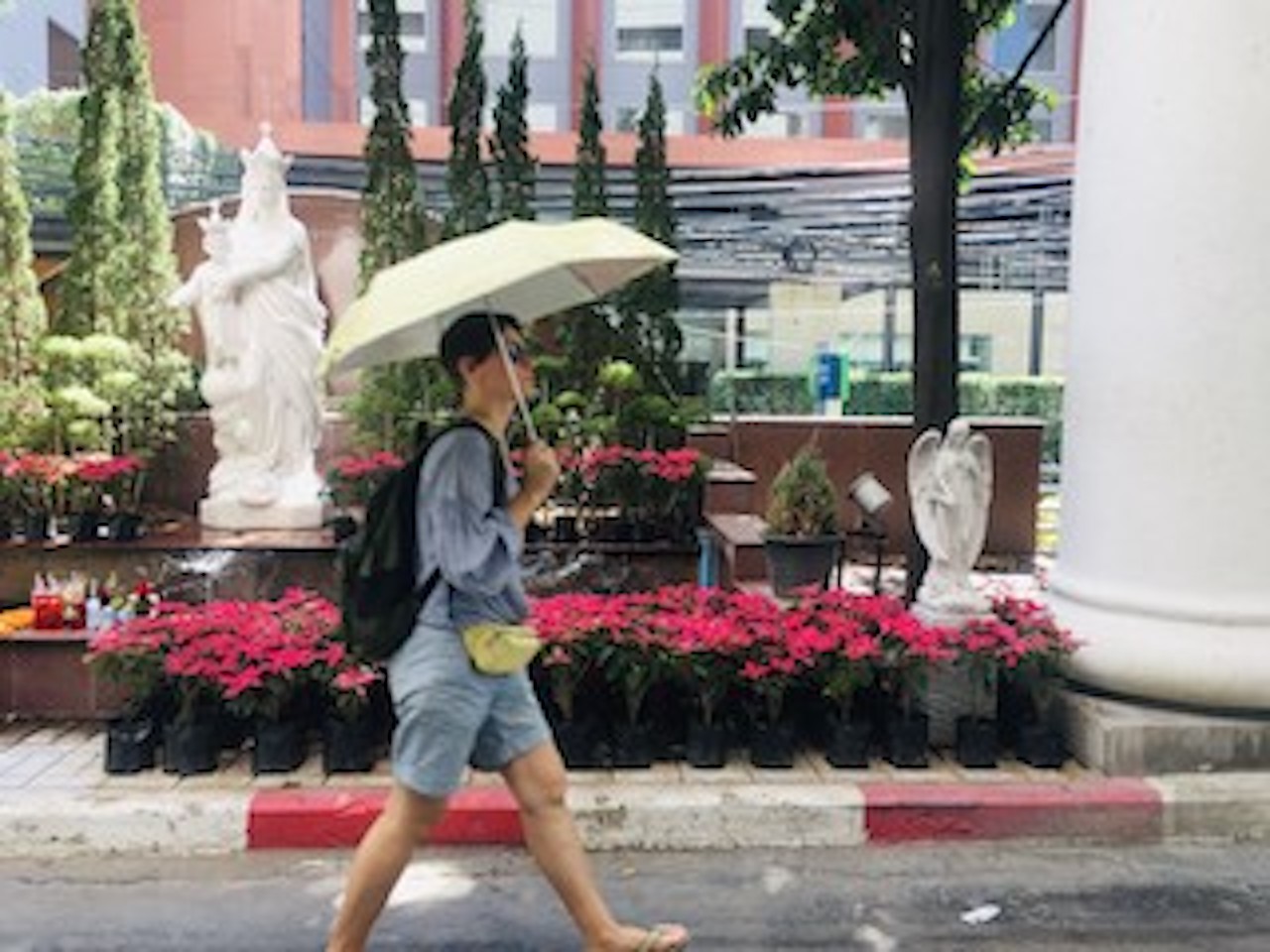 My weeks were divided into different areas of the country, starting in Bangkok.
Bangkok With No Agenda

Upon my late-night arrival at BKK via Japan Airlines, (Kudos to inflight meals with a variety of side dishes and desserts), my tasks included:

Get through customs and get that stamp!
Find an ATM for baht since I changed purses at the last minute and left my bank-exchanged baht at home.
Find a kiosk that sells SIM cards for the county. I'd never done this before but when calculating international access through my carrier vs. $15, I decided to try something new.
Head toward an exit and look for a pre-arranged driver holding a sign with my name on it. It was a bit of a thrill to see this in real life and not just the movies. Thank you to my travel savvy friend who arranged this!
My driver took a photo of me for unknown purposes. Later I was assured this was a common practice. Once in the parking garage, I was surprised to see the driver push a van out of the way so he could pull out.
Apparently, no one is supposed to set their parking brake so that cars can be positioned into parking spaces and double parked in a mysterious manner.
Around midnight, my driver had to stop because a truck had parked in the middle of both lanes. The back doors popped open and a dozen men dressed in construction gear hopped out in rapid succession, each carrying a ladder.
One by one they emerged from a vehicle that looked too small to hold that many occupants and ladders! It reminded me of the circus act where the clowns just keep stepping out of a taxi.
Bangkok With No Agenda
With a low budget in mind, I stayed at the Trinity Silom Hotel in the heart of the city
My online room booking was 60% below the hotel website price and that was at a holiday time!  
The Trinity Silom Hotel is part of the Trinity Silom Complex, a vibrant area with boutiques, stores and services within an easy 4-block walk.

I found easy access to hair salons, massages, hotels, nail salons, a farmer's market, low cost cafeteria-style, Thai food, luxury goods stores, drug stores, coffee cafes, a grocery store, multiple ATM machines and American, Thai, Korean, French and Italian restaurants.
A nearby Seven/Eleven carried every possible item a tourist or local could use or need.
Trinity Silom Hotel pool
Beautiful gardens and a rooftop Olympic-sized swimming pool were also available to me as a guest at the hotel. 
I tried several of the food places, but The CHU Chocolate Bar and European Cafe attached to the hotel was my favorite spot to eat, especially when I'd been out and about that day.
The Manager and host, Bahn, was warm, friendly and most gracious. The food was always a 10+ on my savory scale!

Unfortunately, at the New Year, the building owner did not renew their lease and now only one Chu's remains downtown. It is worth seeking out, however.
My first day was spent checking out my surroundings and trying to get my debit card to work. I hoped to observe the area without judgment, and to notice the daily rhythm of the Complex.
The everyday activities of the people working extremely hard to provide basic services and tourists' needs and fancies gave me a sense of global connection.
Bangkok With No Agenda
I noted the same industriousness in other countries I've visited, such as:
Shopkeepers attempting to communicate with tourists, pulling out the Google Translate app to figure out what I said, or running to a neighbor to see if he or she can help.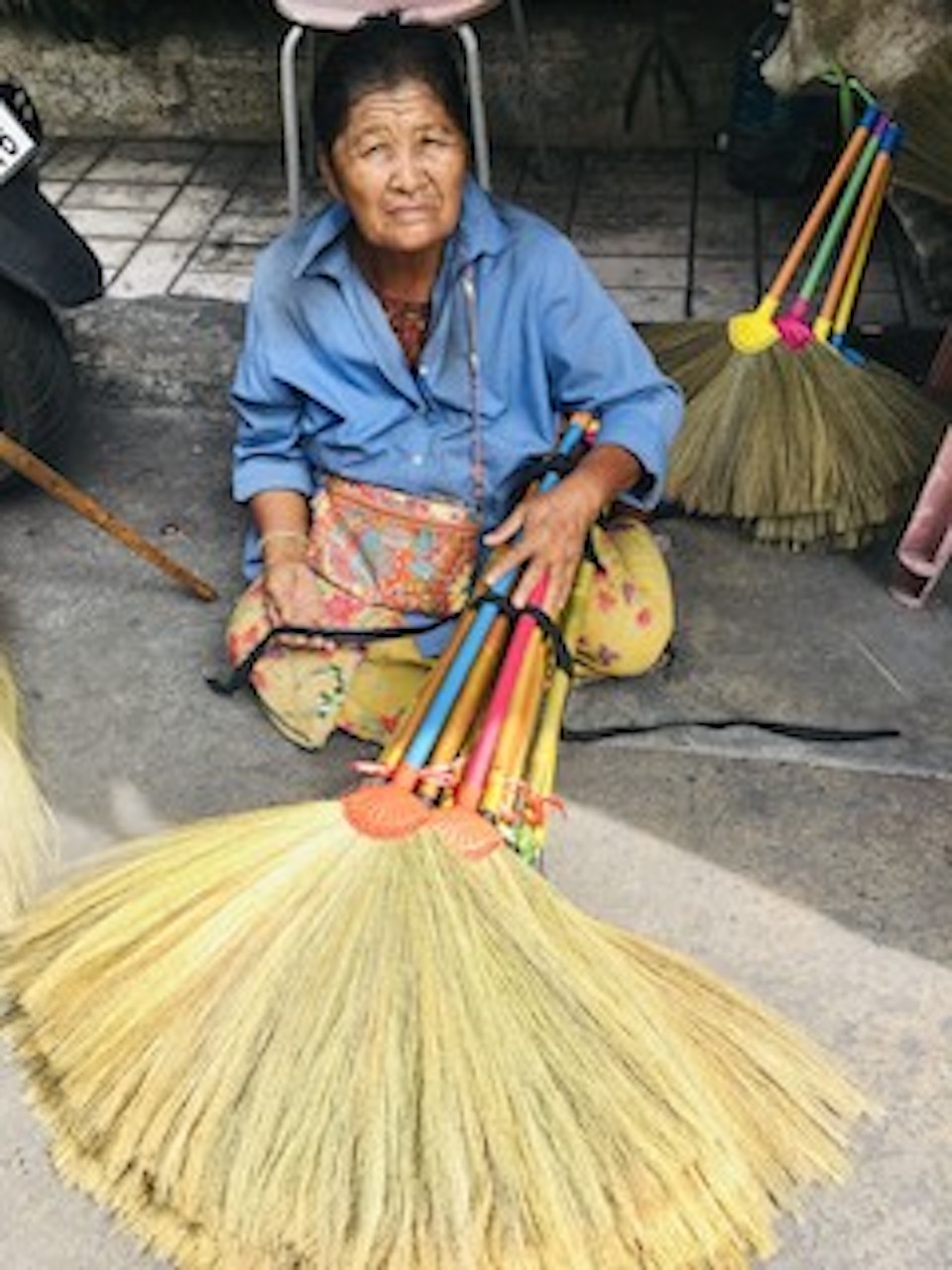 A beautiful elderly Thai woman sitting near her motorbike making brooms with wide colorful handles and straw bristles.
A kneeling young woman chopping a large green papaya with a machete. The pieces were fine and about the same size for salad.
Fatigued, perspiring men and women tearing down a Farmer's Market at the end of the day as they packed awnings, merchandise and produce into big plastic bins. The whole process would reverse as tomorrow's dawn approached.
All types of drug store products to whiten skin and umbrellas to keep the sun off the skin.
Street food and fruit stands on sidewalks. Propane grills cooked familiar and unfamiliar edibles along with skewered, barbecued whole brown eggs and delicious looking corn-on-the cob.
Images of the King and sometimes the Queen, regally adorned, hanging everywhere in this area and throughout Thailand. The people revere the king in this Constitutional Monarchy.
A hidden grocery store where locals shop. Up some steps, through the short alley on the left and then to the right a large supermarket appeared with Thai products and American food items.
The narrow streets contained a multitude of motorbikes and delivery trucks. I learned to press against whatever wall, bush or curb was available, let them pass and continue on my way until the next tight fit.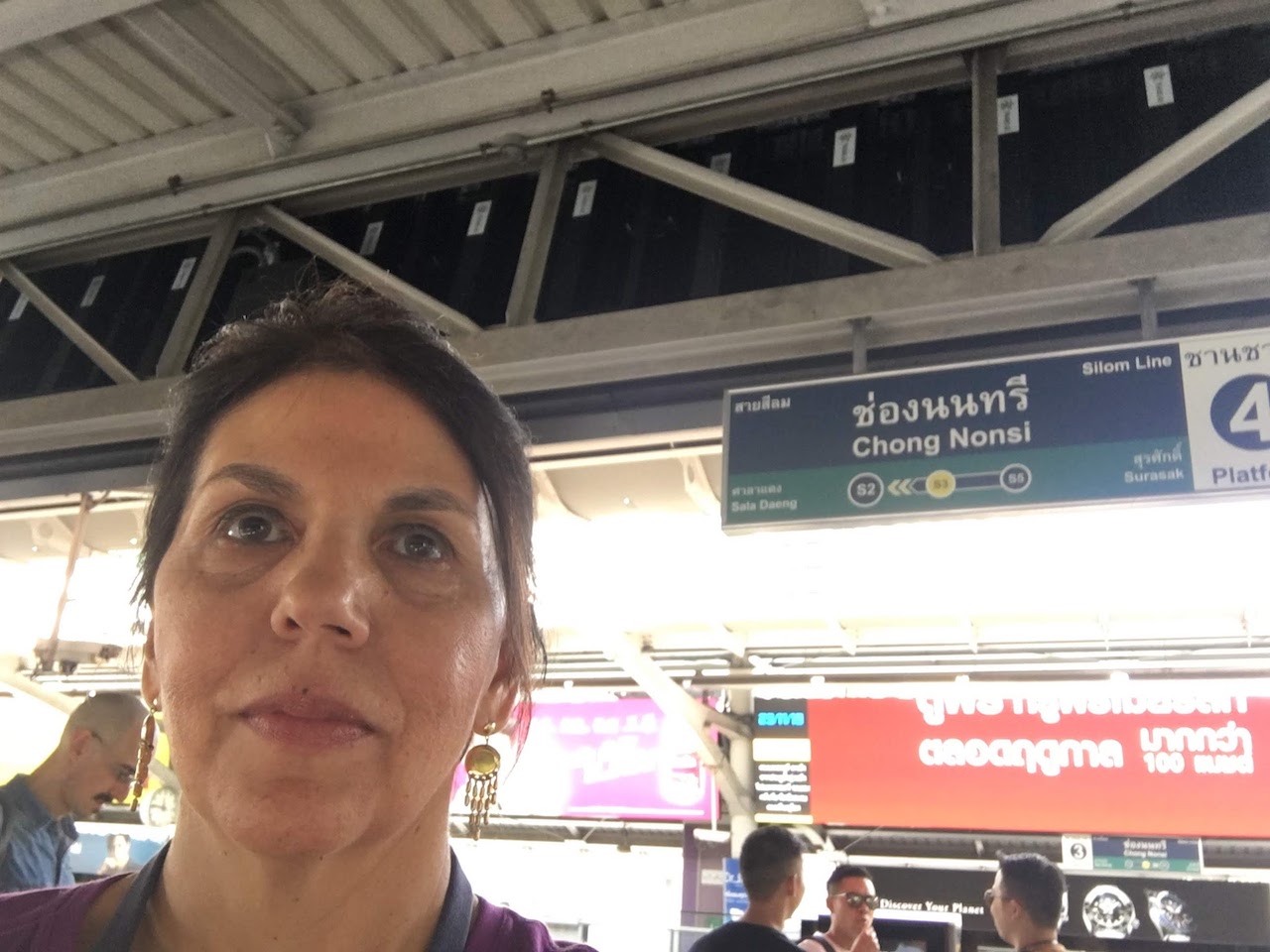 Cash Flow Problems and Skytrains in Bangkok
Although relaxing, laying by the pool and reading books was part of my decompression plan, I first had to take care of some money matters.
Unfortunately, my debit card had been blocked by my home bank, even though I had told them I was traveling.
I was stuck with little local currency and no way to pay for an outing until I could conquer the four-story Bangkok BTS Skytrain which could transport me to a financial institution that would help me.
Using universal gestures and knowing the name of my station enabled me to buy the right ticket and find the right platform.
We zipped off to a mall that had a bank that would allow me to get cash from my credit card. Except, I needed my passport! I only carried a copy and kept mine in the safe in the room.
So, I turned around and reversed the process and then reversed it again to find success and peace of mind four train rides later.
Playing Tourist in Bangkok:
The Beautiful

With Baht in hand, I found two Bangkok visitor destinations that interested me. I had seen the major ones before, such as the Grand Palace, Chatuchak Market, a Bangkok River Cruise and various wats and temples.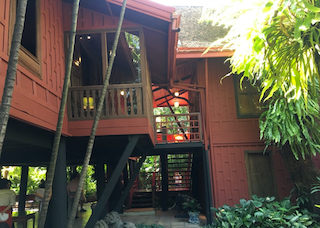 Bangkok's Jim Thompson House Museum
Via GRAB (an Asian uber) I headed to the Jim Thompson House Museum in Central Bangkok. Tucked away down a long city alley, backing up to a canal is this complex of Thai-style buildings. They are arranged as a home and a display museum for one of the first large collections of exquisite Southeast Asian art.
Jim Thompson, an American architect and businessman, had built the current museum as his home by appropriating old teak wood Thai structures from all regions of Thailand.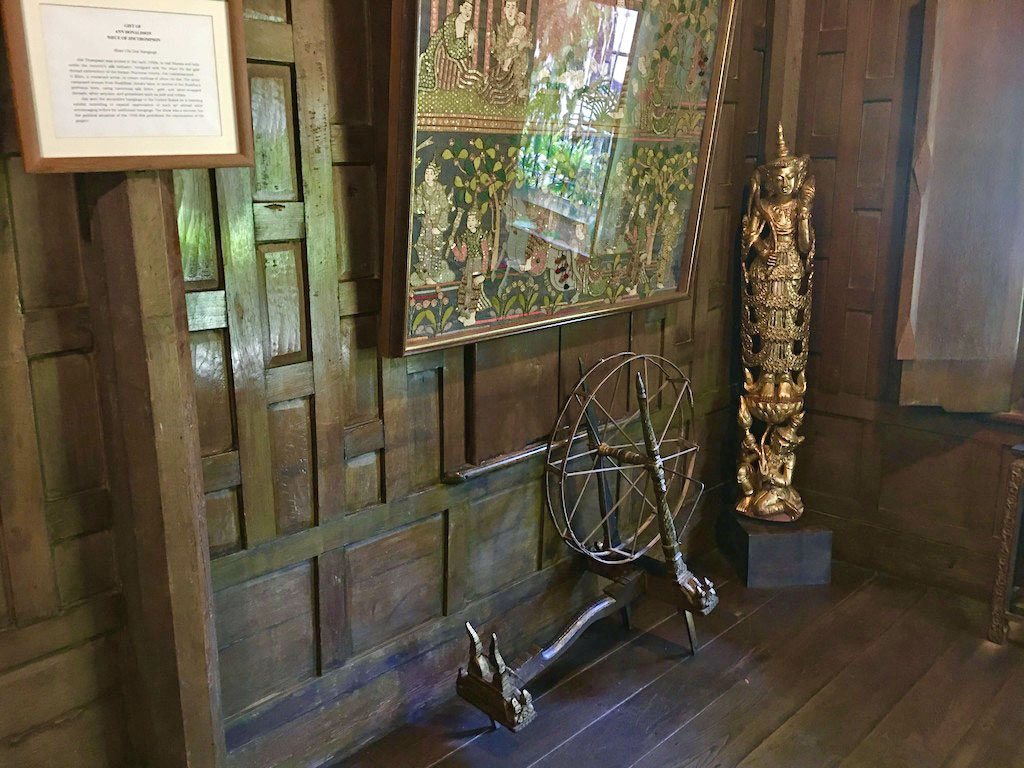 His story and disappearance left me with admiration, mistrust, and mystery. I felt a presence of colonization around me, yet parts of his story seem truly altruistic.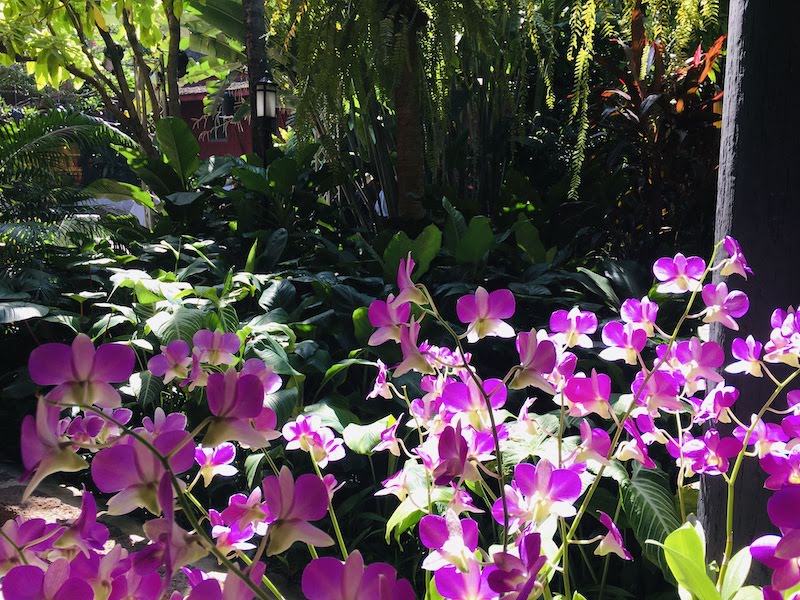 Visitors are free to walk around the tropical, peaceful gardens and streams, and dine at a Thai restaurant before or after the tour.
A few structures in the gardens displayed precious art, statues, tapestries and Buddhas. The tour itself is led by traditionally-dressed Thai guides who are available in the guest's home language. 
Besides collecting art, Thompson founded The Thai Silk Company in an effort to revive the fledgling industry. He gained the moniker of "The Silk King" as his businesses expanded.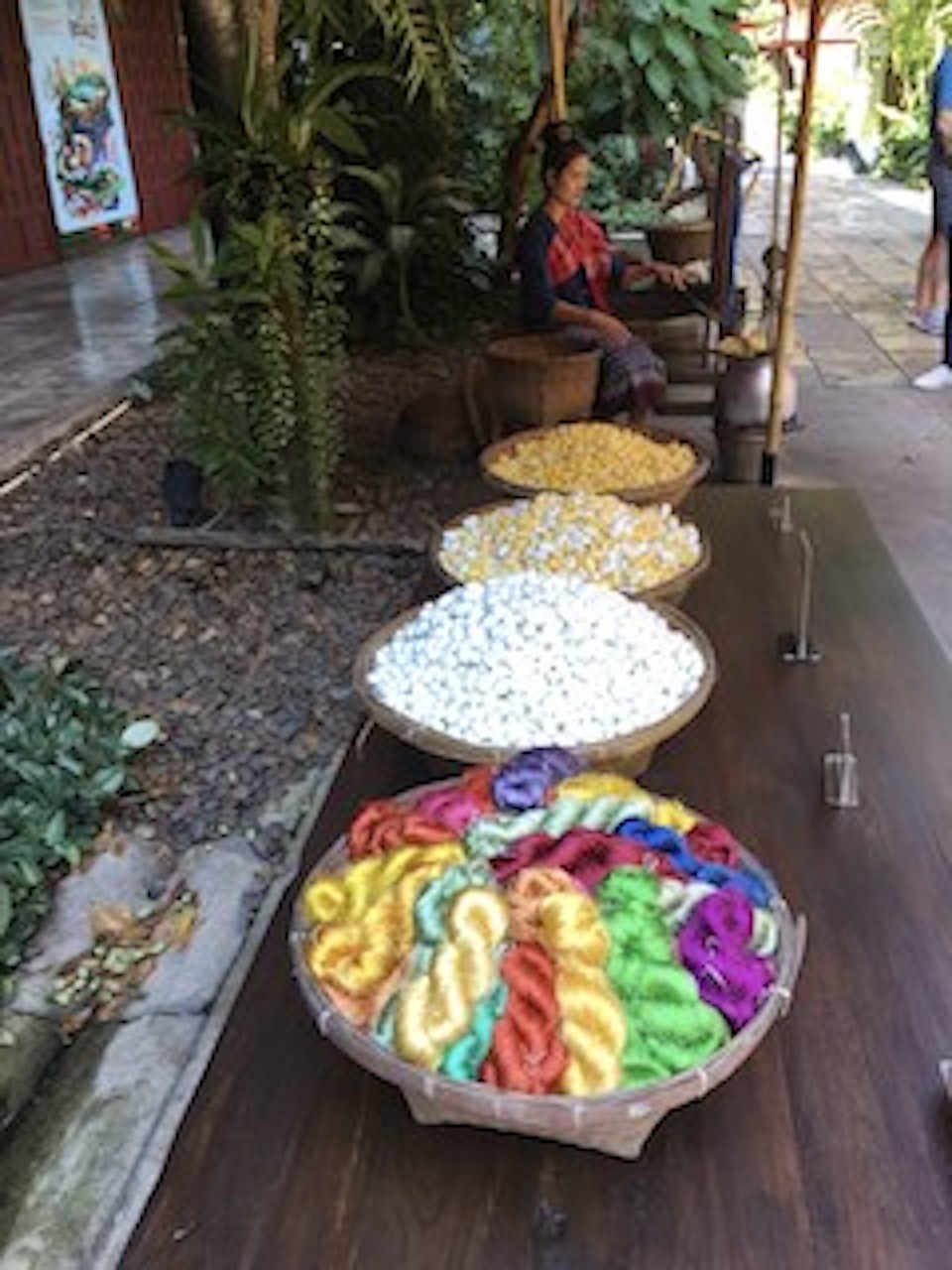 As you enter, skeins of Thai silk dyed in rich, jewel-toned colors are on display.
Various stages of the moth created silk cocoons were also exhibited.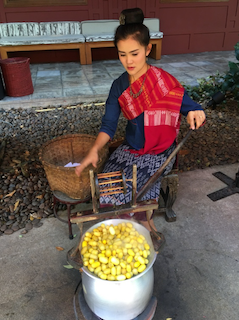 Live action demonstrations by traditionally-dressed employees showed how the fine threads of silk are pulled from the cocoons with a simple spindle-like device and then woven together on a simple wooden loom.
It was easy to stand there and watch, mesmerized by the repetition and beauty of the process.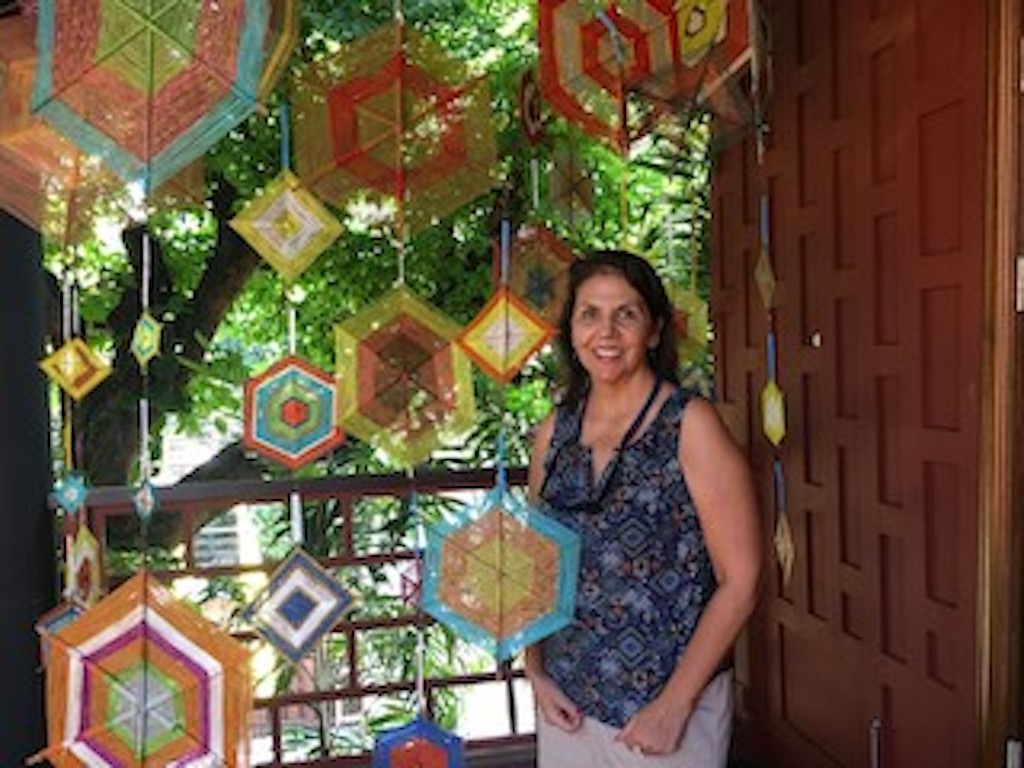 Before leaving, I had a cappuccino upstairs at the JT Café, decorated by staff with colorful local artisan mobiles and designs.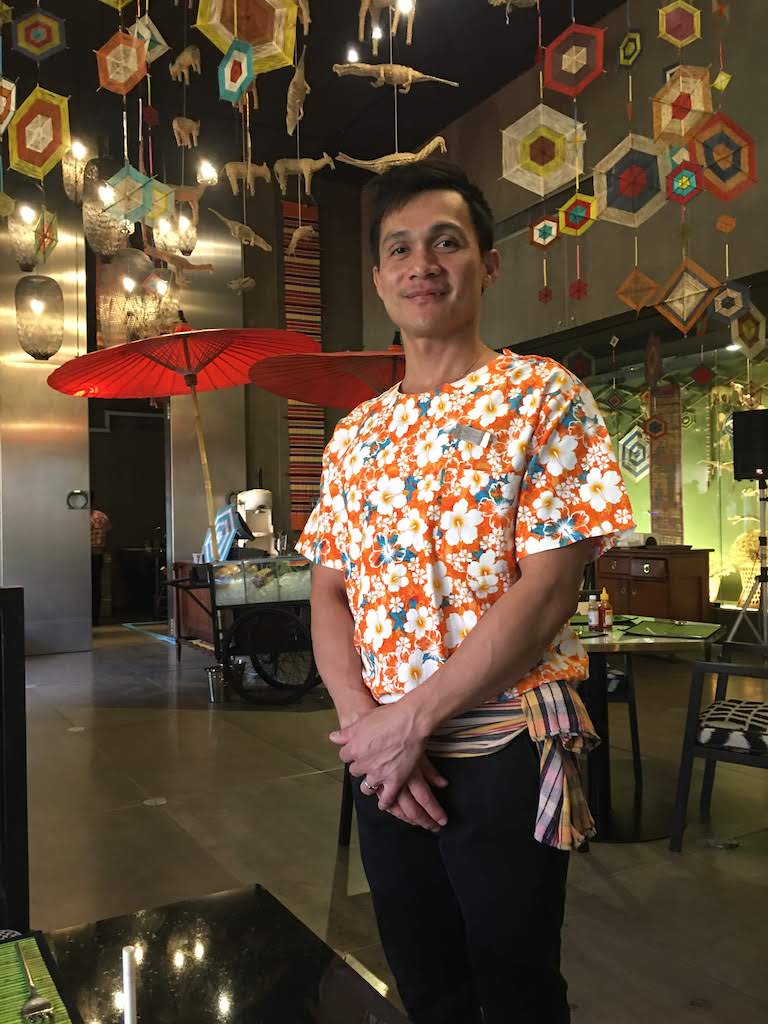 The service was impeccable and Eddie, my server was delightful as he practiced his English with me and answered my curious questions.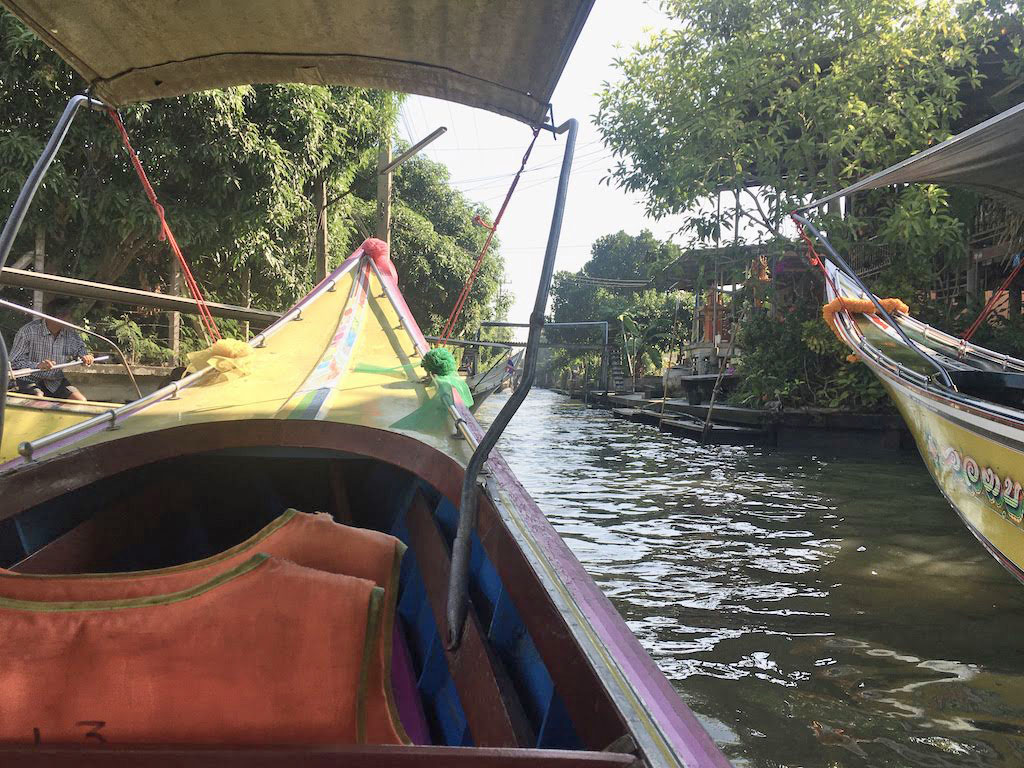 The next day, my Bangkok tourist outing was to Damnoen Saduak Floating Market.
I booked this tour from my hotel and was picked up by a van full of visitors from all over the world. Half the fun was talking with them and hearing their travel stories!
The van took us an hour outside Bangkok to a loading dock where we were to board a long boat. Here was the last chance to use the facilities for five Baht!
Long, colorful boats with wooden slats and powerful engines zoomed us through tropical canals aligned with Thai homes, temples and small businesses. I was lucky to get the very front slat, so I had a prime view of the scenery and the best photo op.
A wooden platform with vendors and abundant merchandise was our end point. We were encouraged to use our bargaining skills here and to have fun.
From here tourists could rent a smaller boat to ride up and down along the canals for half an hour so they could interact with the locals riding in boats selling fruits, vegetables, flowers, and food cooked on burners aboard their watercraft.
I chose to stay on the platform and shop! I did love to bargain! Every stall or booth had young Thais calling out prices and holding up items.
I was encouraged to try on anything of interest and it was hard to say no. I ended up with a shirt (free size) and a long sleeveless dress in my favorite jewel tone colors.
Delighted with my success, I ate real (not flavored vanilla) coconut ice cream from a coconut, got a refreshing beverage and wandered around the open-air eateries watching people and the canal vessels. So far, a great day!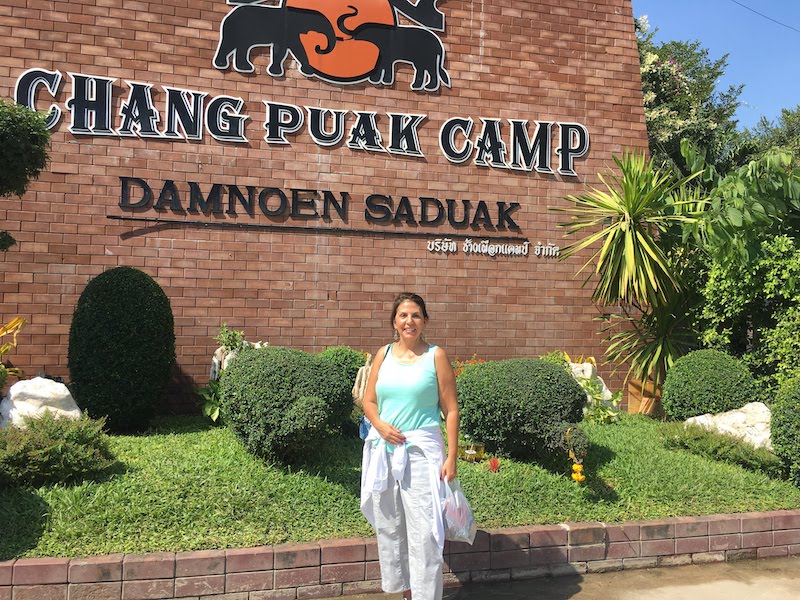 Bangkok with no Agenda
The Ugly

From there our group was loaded into the van as we headed to Damnoen Saduak Elephant Village. I didn't remember this part of the tour package and was appalled and heartsick when I saw the animal abuse at the Village.
The elephants were cruelly chained and poked and jabbed so tourists could get a photo. The big cats were on a short chain and lay on a concrete slab for display.
An adult and a baby elephant were also on short chains (in two different pens) on the concrete for view and paid photo purposes.
No personal photos were allowed in this area. 
The park featured continuous elephant rides (no rest for elephants), crocodile, monkey, bird, tiger and lion shows and offered rifle shooting and ATV riding.
The worst part was the unethical exploitation of indigenous people. Photos of visitors with mountain tribal women could be arranged for a price. Tribal tourism, the exploitation of indigenous people for profit, was clearly a practice at this Elephant Village.
I had to go out to the van to calm my indignation. Later I looked up reviews for the place and found that most comments affirmed my disgust.
Bangkok with no Agenda -
Last few days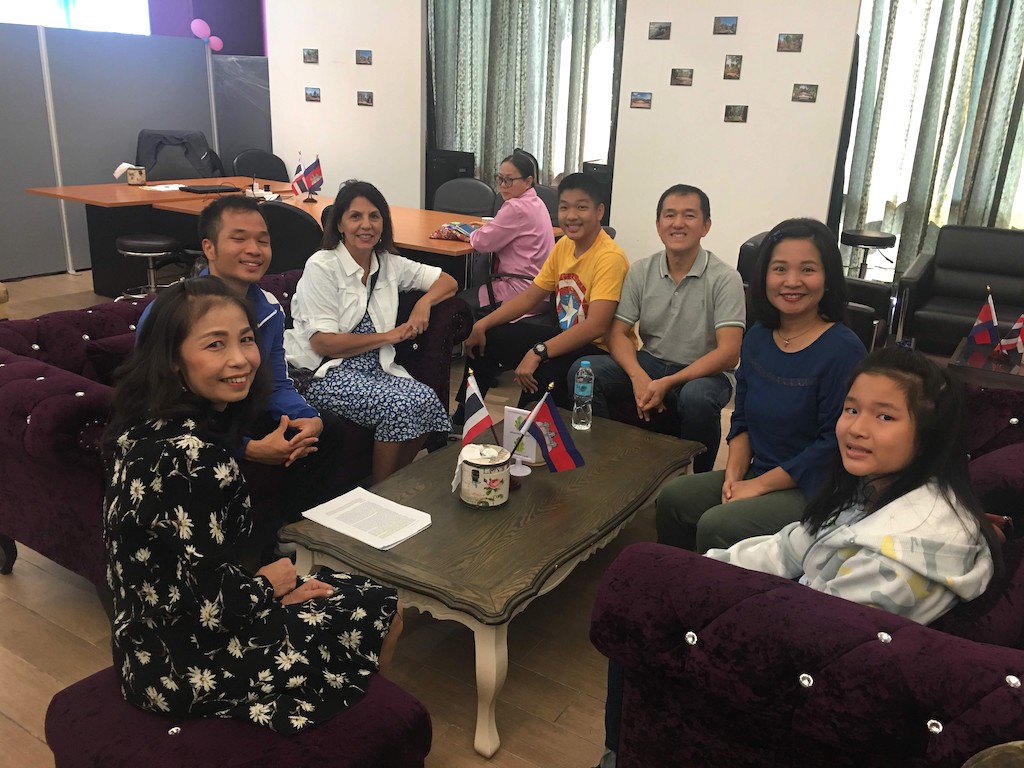 Local Friends in Bangkok
On my last Sunday in Bangkok with no Agenda, it was a treat to reconnect with and hang out with a local Thai family whom I had met before. I loved talking with their bilingual teenagers, similar in age to the students I had been teaching.
After attending a Christian church service, we went to Central Plaza Pinklao and ate lunch at the Thai Terrace restaurant.
My hosts ordered Tom Yum Kung, Pad Thai, Tom Kha Kai, Kaeng Som, Green Papaya Salad, Chicken Green curry, Coconut ice cream, and Warm coconut milk with Boba for dessert.
The family was generous enough to share bites of what they ordered so my culinary acquaintance expanded beyond my comfort zone of Pad Thai and mild curry.
As I write, I'm still unpacking, figuratively, my week in Bangkok with no Agenda. Knowing that Thailand's irregular borders look like an elephant's head, and that elephants are a national symbol of the country, I understand many more facets of this pachyderm metaphor.
Like the elephant, I saw intelligent, strong, yet gentle people. Exploring Bangkok with no agenda, I saw an intelligent, strong and gentle me.
— Story & photos by Maria C. Heberling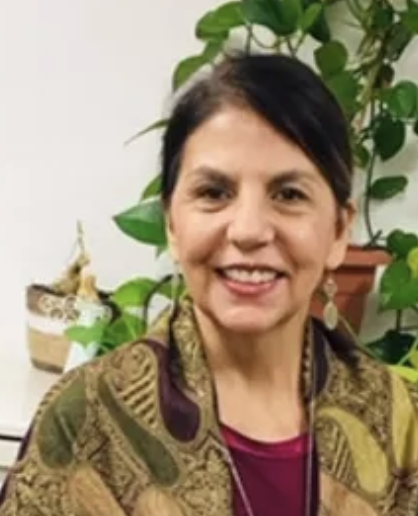 Maria C. Heberling travels and writes and takes photos surrounded by her citizenship (group of supportive people.) She says she was fortunate to grow up in a family that traveled frequently. Added to her career as a teacher and school librarian, her travel writing journey began in 2018.
After connecting to Great Escape Publishing and working on their Travel Writers Program, she attended The Ultimate Travel Writer's Workshop in Little Rock, AK in 2019. Maria's TRAVELOPOLIST handle, title, and social media name, are a combination of many aspects of her life.

---
---