Best Maui
Segway Tours

The Best Maui Segway Tours You Shouldn't Miss!

From sunshine to lush rainforests, and from volcanoes to pristine beaches, Maui is a spectacular place. The beautiful waterfalls and the windswept plains make this Hawaiian island an attraction not to miss.
It has something to please almost every visitor,  including honeymoon couples, families, middle-aged men and women, the budget conscious, the big spenders, and everything in between. You can either stretch out on warm golden sands, or hit the oceans and beaches for unforgettable snorkeling or windsurfing experiences.
BUT the best Segway tours,  riding through the scenic road to Hana along the island's north eastern shore, will be among the most mesmerizing journeys of your life.
---
Write for us!
If you have an interesting travel tale, please tell us about it. We'd love to hear about your travels and experiences. Please send your story (or simply an enquiry) to us at our contact page. Thank you!
---
On a Segway tour!
Best Maui Segway Tours
Experience the most amazing  views of Maui by Segway. Definitely a fun day trip  or a traditional sightseeing adventure. Don't worry if you are new to Segway rides; - some of them are guided, and each tour includes training before the journey begins.
No matter your age or gender, Segways are very simple to master, and for tourist travel it is faster than walking and more personalized than a bus tour. You need to be over 18 years of age, and have a license to ride a Segway PT. The best Segway PT tours will give you truly stellar and stand-out experiences right here on the island.

Here are some of the best Maui Segway Tours that you can experience on your visit to the Island:

1. Segway PT Guided Tours in Maui, Hawaii from Lahaina.
A visit to a plethora of interesting and famous sites in Lahaina town. Cruise past the beautiful beachfront, and take in the rainbow of colors that characterize the legendary Hawaiian sunset. This 2-hour Lahaina Segway tour with an expert local guide is fun and much easier than a walking tour.
Worried about getting tired? Segways are two-wheeled hands-free transporters that are very easy to ride. You can also stop for photos in front of the Banyan tree and other eye-catching spots. Segway PT tours are done in small groups to ensure personalized attention to everyone in the group.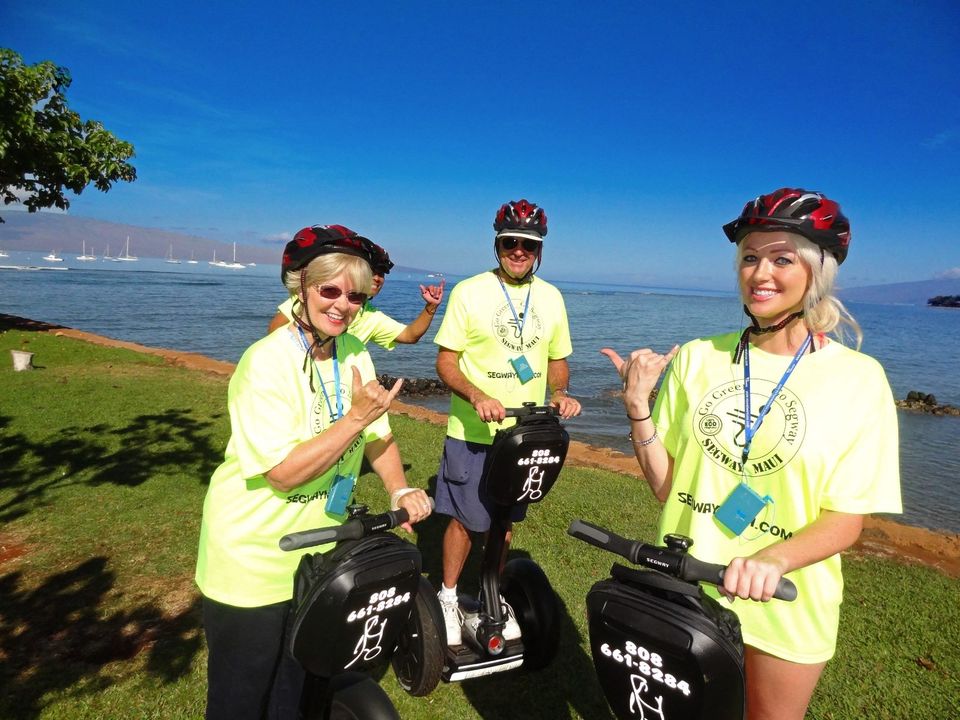 Adventuresses on a Segway tour
Best Maui Segway Tours
2. Segway PT Guided Tour on Maui Ocean Shore.
Imagine feeling the gentle sea breeze and hearing the rhythm of the waves crashing into the shore along with the beautiful ocean for your eyes to feast upon. Yes! The Segway Personal Transporter tour through the ocean shores of Kaanapali in Lahaina is one of the most scenic ocean shore tours on Maui.
This ocean shore tour has a lot to offer you, with sights including Hanakaoo Beach Park and Wahikuli State Park, grassy picnic areas and shady Ki awe and palm tree groves, Lahaina's Baby Beach, and the Segway Maui store; there are plenty of photo opportunities. Even better, the guide will point out all the important spots along the ride.
Best Maui Segway Tours
3. Segway PT Sunset Tour from Lahaina.
When on Maui, don't miss the opportunity to visualize the golden hour at the Hawaiian oceanfront while you glide along the boardwalk. The Segway PT Sunset Tours from Lahaina are  a 'must',  to be included on your list.
With a Sunset Segway PT tour, you will have the chance to end your day in paradise on a mesmerizing note while watching the sunset. The intoxicating scenery offers tranquility and relaxation, rejuvenating in the lap of the nature.
4. Maui Segway PT Guided Tours in Lahaina.
Live every moment on the streets of the town when you cruise the historic streets of Lahaina; An effortless and educational Segway tour. The best Segway tour to get acquainted with the town is something exciting for tourists without tiring themselves on a walking tour. As you glide past landmarks, your guide will share all the details about the town's history and culture.
First time riders get complete training, plus the standard reflective safety vests and helmets from the company. Your guide will provide entertaining and informative commentary, and your headset  will let you to hear the guide clearly throughout the tour.
Best Maui Segway Tours
5. Segway PT Tours in Maui, Hawaii - Glide in Paradise.
Glide on a Segway PT and explore old Lahaina whaling town, history and culture with mesmerizing ocean breezes. The Segway tours are the best for elders or mid-aged to discover the spectacular scenic-beauty without getting tired from walking. From the most popular historical sites and attractions to the sights in famous social hot spots in Lahaina, Maui, choose which places are the best fit for you.
Also, don't miss  visiting dozens of art galleries and a plethora of unique shops and restaurant experiences. The live guide will keep you informed about the vast heritage of the old whaling town with the commentary of each key landmark you stop at.
An exciting cruise on Maui
Without a shadow of a doubt, the island is amazing and definitely worth a visit. With a seemingly overwhelming number of spectacular sights, beautiful waterfalls, hiking trails, water sports, flora and fauna, it's difficult to cover everything at once. Plan your trip to Maui with family or friends and experience the best Segway tours on the planet.


---
---