Biblical sites of Jordan
from a Photographer's Eye

A photographic expedition to the Biblical sites of Jordan.

Great Escape Publishing announced a photography expedition to photograph the Biblical sites of Jordan In the fall of 2019. It was not just a trip but a photography expedition, with a group of dedicated photographers led and mentored by award-winning freelance documentary filmmaker, Joe Sindorf.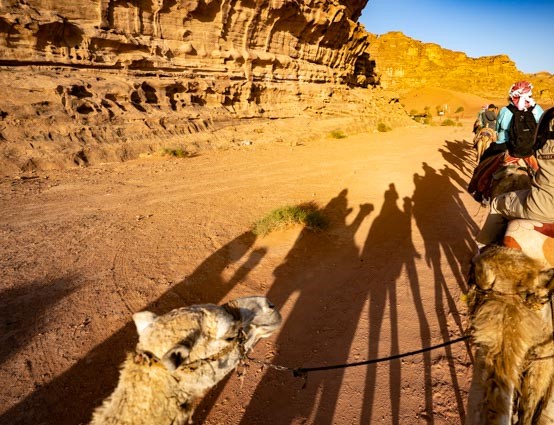 Camel shadows in Jordan's Wadi Rum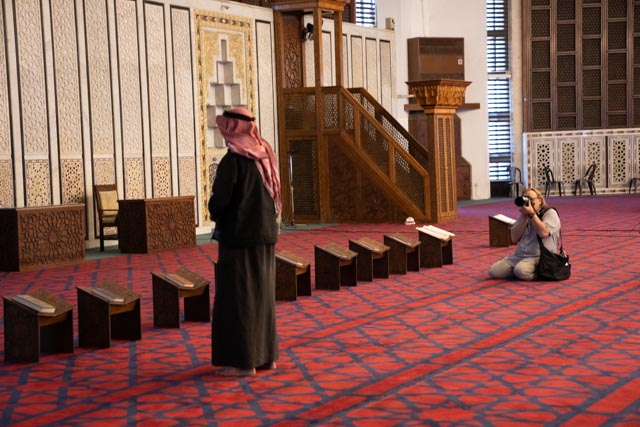 Award-winning freelance documentary filmmaker, Joe Sindorf photographing Biblical sites.
With little photography experience, I didn't give much thought to participating...at first. But my mind kept begging the question, "What better way to learn photography?"
It was also difficult to overlook the fascinating location. Consider Jordan, second only to Israel for its number of Biblical sites! We would traverse the geographical area of Jordan to photograph several Biblical sites.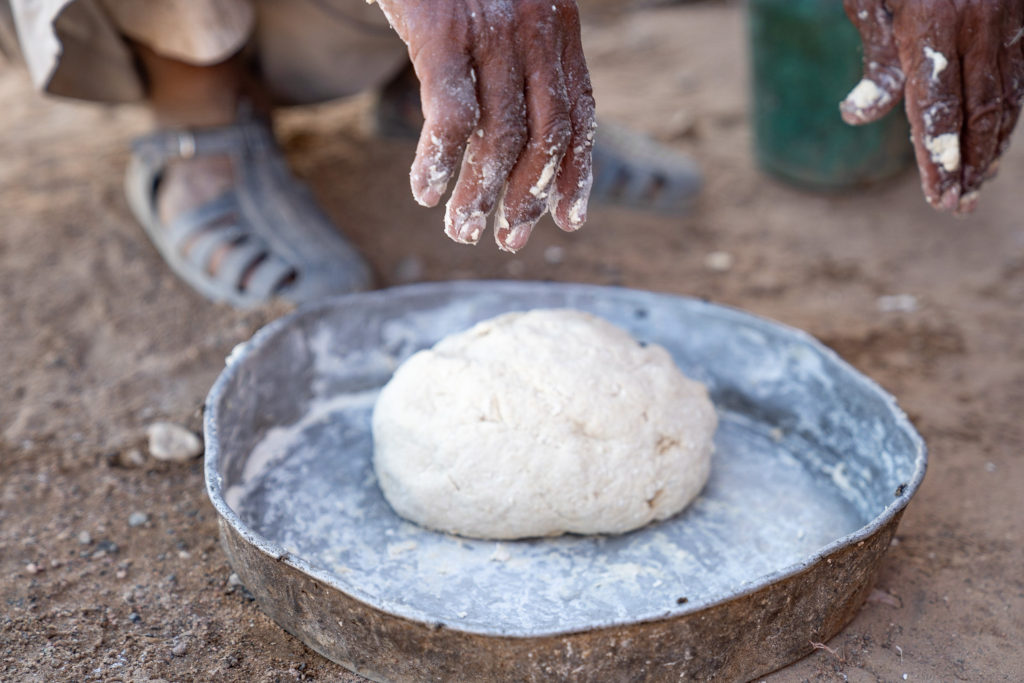 A Bedouin makes his own bread.
Biblical Sites of Jordan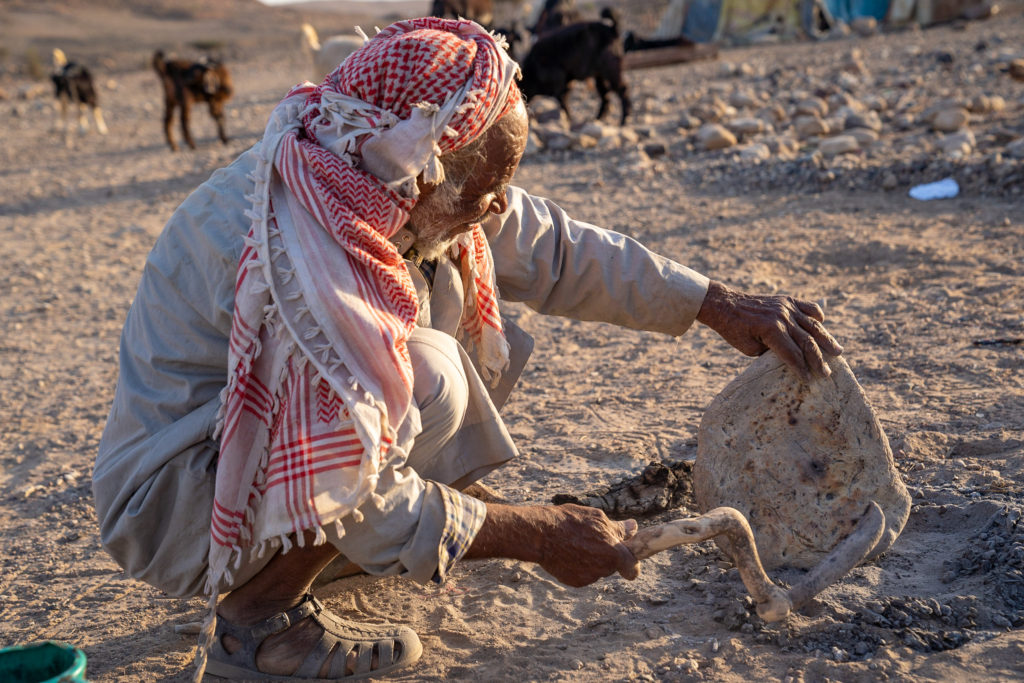 The Bedouin bread is ready to eat.
In order to photograph the Biblical sites of Jordan, we would take camel and jeep excursions from our lodging at the Rahayeb Desert Camp, near our base at Feynan Ecolodge both, in the Wadi.
Shepherds rest at Wadi Rum in Jordan.
We would lodge at the luxurious Crowne Plaza Jordan - Dead Sea Resort & Spa, and float in the Dead Sea, the lowest point on earth!
We would also visit ancient cities such as Petra, Jerash, and Umm Qais.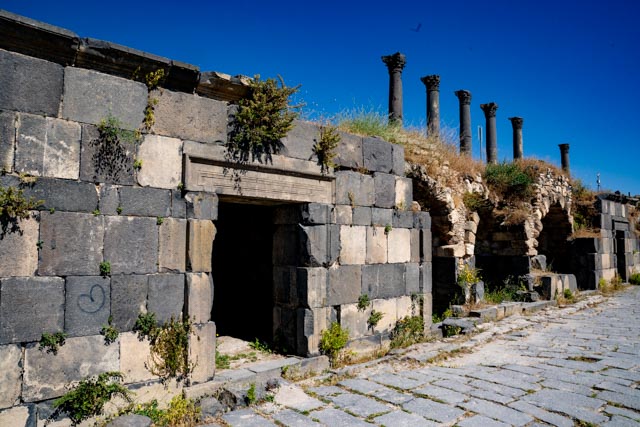 Ruins of ancient Gadara near Umm Qais, one of the Biblical sites of Jordan.
As bookends to all of this, we would shop in the souks and visit Mosques and ancient sites near the vibrant capital city of Amman, referred to as Philadelphia by the Romans, and originally the capital of the ancient Ammonites. Amman is considered one of the important Biblical sites of Jordan.
Petra is a UNESCO World Heritage Site and one of the New Seven Wonders of the World.
Petra was once a vital and thriving crossroads and caravan center between Arabia, Egypt, and Syria-Phoenicia, part of the area that later became known as the Silk Roads.

My mind conjured images of camel caravans casting long shadows on the desert sand at sunset as they carried incense from Arabia, silks from China, and spices from India.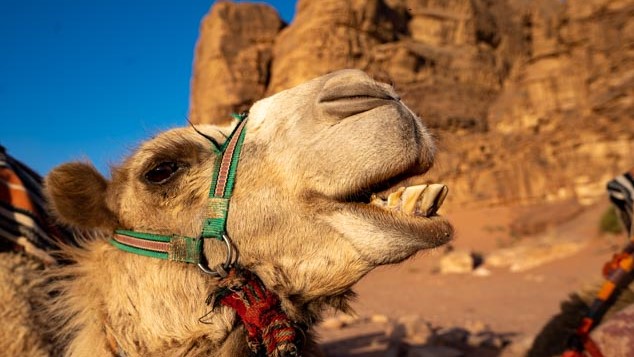 A camel showing off
I had never used a digital single lens reflex (DSLR) or the increasingly popular mirrorless cameras. My trusty iPhone X and my nice little Canon point and shoot offer amazingly good photos, have more than a little complexity, and serve me well enough...or, so I thought.

I had nagging doubts about learning more. I pondered whether it would be worth the investment of time and money and whether I even had time to learn enough before the expedition.
In the end, I couldn't miss the opportunity to learn with the professionals on a trip to the Biblical sites of  Jordan -  a magical land full of archeological sites and endless photographic opportunities. Ancient ruins across Jordan are still being excavated and studied by scholars today.
The history of the area includes places built upon each other since the Bronze and Iron Ages and continue through the Roman, Byzantine and Umayyad periods. The deep grooves of chariot wheels are still visible in the magnificent stone roads laid by the Romans. I had to take this trip!
There is a vast number of choices available with Digital Single Lens Reflex (DSLR) and mirrorless cameras. The mastery of them is a lifelong endeavor. I had an almost overwhelming number of decisions to make and a steep learning curve ahead.
I soon learned that in the photography world, one question always leads to many, many more. I started with these questions:

Online courses, tutorials, and/or YouTube videos?
DSLR or mirrorless camera?
Lens(es)?
Travel tripod?
Purchase or rent equipment?
Where to get help?
Answers to initial questions led to more questions!
Brand and model of camera?
Equipment carrier?
Post-production software and how to use it?
Special cleaning material?
Batteries and battery chargers and how many?
Remote shutter release or use the timer on the camera?
Memory cards? Memory card holders?
Rent or buy and where?
I heard over and over that the type of camera and lens(es) you need depend on what kind of pictures you want to take and where you're going to take them.
My equipment selections for photographing the Biblical sites of Jordan:

Sony a7III Mirrorless Camera.

Sony FE 24-70mm f2.8 GM Lens
Sony FE 16-35mm f2.8 GM Lens
MeFOTO GlobeTrotter Carbon Fiber Travel Tripod Kit (later I learned that there are smaller and lighter weight tripods that would have worked.)
Remote Shutter Release and cable Three Sony NP-FZ100 Batteries and two battery chargers with cables    Tiffen
82mm Variable ND Filter
The Sony a7III Mirrorless is lighter in weight than traditional DSLR cameras. Although Sony took the lead in developing mirrorless cameras, other brands are catching up and some are said to be just a good.
Seasoned photographers are beginning to add a mirrorless camera to their collection, especially as their favorite brands catch up in mirrorless technology.
After spending countless hours studying Tutorials, YouTube videos, talking to professionals, and handling mirrorless cameras in the store, the Sony a7III mirrorless camera stayed at the top of my list.
It is highly regarded by professionals and has a sturdy feel, similar to military equipment.  Most complaints about the Sony have to do with the complicated internal menu. I decided to give it a try anyway.
It was a big leap to bypass beginner Sony models go directly to the full-frame image sensor. The Sony a7III's 5-Axis In-Body Image Stabilization (IBS) influenced my decision. Also the hand grip on the Sony a7 models fit my hand much better than the earlier models.
The next question was whether to get the Sony a7III with 24.2 MP (megapixels) or Sony a7RIII with 42.4MP.
For now, my choice is with the Sony a7III. Convinced that it has everything I need, I opted for faster speed in continuous shooting mode over greater resolution in still pictures.
Whew, the buyer's dilemma!
There were many choices and trade-offs in camera lenses. Quality of the glass, weight, image stabilization, and versatility are factors to consider.
Based on conversations with experienced photographers, including the instructor, and listening to countless YouTube videos, I decided on two lenses. The Sony FE 24-70mm f2.8 GM Lens (instructor's favorite) is versatile, produces sharp photos and I would be using it 85% of the time.
The Sony FE 16-35mm f2.8 GM Lens allows for special wide angle shots and nighttime photography.
Lori Allen, then director of Great Escape Publishing cautioned against making expensive purchases for this trip because cameras are advancing rapidly and older models produce excellent quality.
With this advice in mind, renting was the way to go. Renting provides an opportunity to get to know the camera before investing a large amount of money, especially important for beginners.
The staff at Great Escape Publishing recommended Lensrentals.
I rented a camera, two lenses, and a tripod two weeks before the trip to become familiar with the equipment. That was smart advice. I ended up changing to different lenses for the expedition.
The service I received at Lensrentals is incredible. On the second rental, just a few days before my departure, the equipment arrived and the remote shutter release wouldn't work.
The Lensrentals service representative led me through several tests over the phone before deciding to send a new remote shutter release.
The next day, a new shutter release and camera arrived at my door. Lensrentals sent the second camera in case the problem was in the remote shutter port. Excellent customer service!
Many Sony reviewers are optimistic that Sony will provide a more user- friendly internal menu in future models.
Biblical Sites of Jordan
Here are the 10 lessons I learned:

1. Take the journey! The photography expedition to Jordan was worth every penny, even for a beginner. It was chock full of great photography, incredible sights, awesome experiences, endearing people, and delicious food.

2. Start learning by taking a basic course in digital photography. Community colleges provide great online resources.
3. There's an inexhaustible amount of YouTube videos about DSLR and mirrorless cameras and lenses. They guide you in determining your equipment needs for all kinds of photography—portrait, landscape, astrophotography, etc.
4. Handle the equipment in the store. These days, there are very few dedicated camera stores but you'll find a variety of equipment and levels of experience in the camera section of most major department store chains such as Best Buy.
5. Talk to friends who use professional equipment, for hobby or business. My friends answered questions and even loaned me their equipment to test.
6. Test the equipment before your adventure. At the recommendation of the staff at Great Escape Publishing, I rented the camera equipment for a week prior to learn the its basic features.
7. Print the manual and use it to become familiar with the camera. Sony also has an online handbook and I referred to it often. Many times, I Googled questions and found the answer even quicker.
8. Rent instead of buy, especially beginners. Learn before you leap. These days' cameras are improving rapidly. Renting will give you time to watch the market to see if there is a newer model on the horizon or find earlier models on sale. Lensrental occasionally sells used cameras and camera equipment at discounted rates.
9. Buy a carrier on wheels for your equipment! Right away I realized that my equipment backpack was too heavy to lug through airports and throughout the trip. I bought a luggage cart at the airport and it was a back saver but also a nuisance to use. Next time I'll have a backpack with wheels!
10. Get the current Adobe software for managing and editing your pictures. Based on the recommendation of the instructor, I purchased Adobe Photoshop Lightroom Classic for a little less than $10.00 per month. Editing in Lightroom is yet another learning curve but incredible once you start getting results.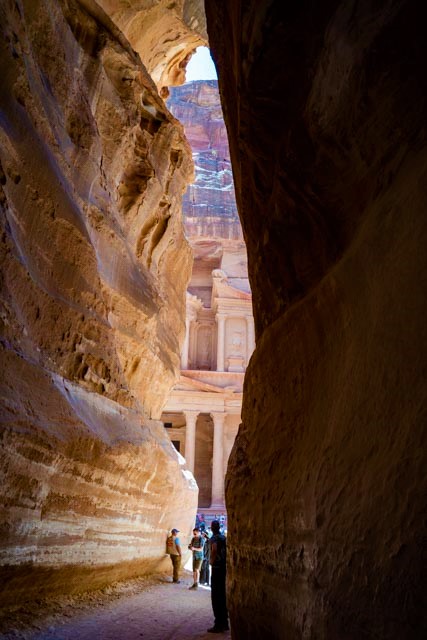 The Treasury at Petra from the Siq
My heartbeat quickened and I held my breath as we reached the last turn before our first glimpse of The Treasury. And then…there it was, just a sliver of it, in between the towering limestone cliffs of the Siq.
I was at the ancient city of Petra, on an epic photography expedition to the Kingdom of Jordan, photographing the Biblical sites of Jordan!
Special Thanks
Joe and Kathy Sindorf, professional photographers and humanitarian filmmakers provided the "secret sauce" to creating incredible photos. It was a pleasure and an honor to work with them. I was amazed by how much I learned in a short period of time. 
In addition to Joe and Kathy, my fellow expedition travelers inspired me with their awesome photography skills and stamina. They were patient mentors and helped me become a better photographer and traveler with photography equipment. True professionals!
I'm especially grateful to Mary Madden who kept me on track with the itinerary and Audra Brianne who continues to mentor me with photography and Adobe Photoshop Lightroom.
The professional staff at Great Escape Publishing are genuinely interested in helping people. I'm especially thankful for Karin Kirkland. She responded promptly to my inquiries and provided the initial information that helped me quickly narrow my search for a camera.
Our travel guide Mohammad brought the history of Jordan to life with his superb storytelling skills. He inspired a storehouse of future stories. 
Salam enhanced the Jordan experience with his endearing personality and incredible story. His gracious family prepared a delicious lunch on our last day and it was a pleasure to meet his wife, two little children and extended family members.
Sales representatives in the photography department at Best Buy have a wealth of knowledge and experience. Some took the time to show examples of their own images and explain the photography equipment they used to get amazing results.
Pat DeMars, of Pat DeMars Photography, professional photographer and dear friend provided invaluable information on the selection of lenses. His detailed guidance resulted in the best selections.
My sweet and patient husband Eddie Goff reviewed countless YouTube videos on the subject of cameras and lenses and accompanied me to stores to discuss camera equipment.
It enhances my travel experience to learn about the travel destination in advance, get an historical perspective and current situation. I read these books to prepare for a visit to Jordan;
The Silk Roads; A New History of the World, by Peter Frankopan, Apple Books.

Lawrence of Arabia, by Scott Anderson, Apple Books

 - photos and story by Marie Goff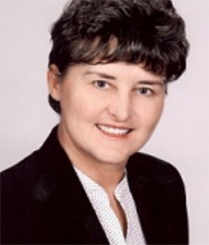 Marie Goff, Brigadier General, U.S. Army (Ret)
Brigadier General Marie Goff completed over 37 years of military service in the United States Army and the South Carolina National Guard. Commissioned as a 2nd Lieutenant at the Palmetto Military Academy in 1981, she held various positions in the areas of logistics and human resources, which included a tour at National Guard Bureau.
In 2010 she was selected as the Assistant Adjutant General of the South Carolina National Guard and later as the Director of Joint Staff, where she served until her retirement in 2015.

---
---