Bussing Andes
On a bus through the Andes - Bussing Andes

I found this historic South American travel legend of bussing through the Andes to be far removed from my 10-hour bus ride from Cuenca to Quito, Ecuador.
The ride was not, however, without its moments.
At 7:00 a.m. lively activity sparks the Terminal Terrestre bus station in Cuenca. Even though I have a reserved seat—second row, window—I've arrived an hour early so I have time to be sure I'm in the right place and pay my ten cents to visit the bathroom one last time.
I'm the first person to board the bus and settle in my comfortable, high-backed upholstered seat.
Bussing Andes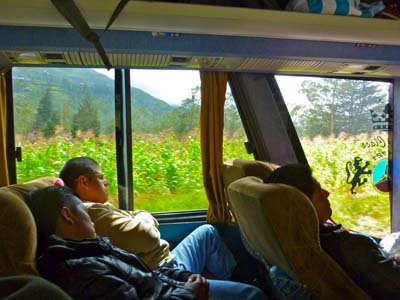 At 7 a.m., after boarding, passengers go right to sleep!
Just as I begin to think the seat next to me may remain vacant, a tiny Quichua woman with an even tinier Quichua baby eyes the seat.
The baby cries as she unwraps it from her back so she can sit down—oh boy—this will be a long day. But then she puts her baby to her breast and everyone is happy.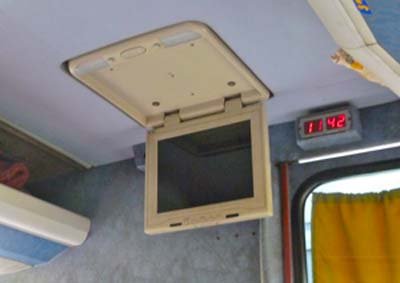 Is that a chicken I hear squawking? No, it's the TV screen swinging from the ceiling. Where's that WD40 when you need it?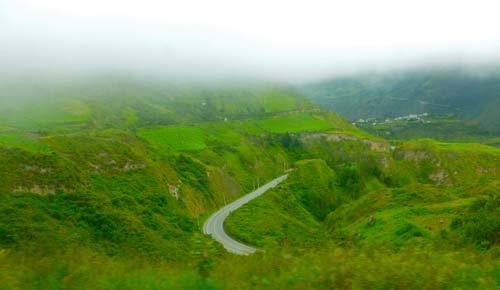 The morning is overcast, and the farms, corn fields, and rolling green hills spotted with pampas grass are softened in fog.
My view through the window is also blurred by the spot of head-grease on the glass.
Around 8:00 a.m. we make our first stop at Tomebamba. Some people get off. Quichua mom moves to the back of the bus. More people board. Three minutes later we're back on the road.
My new seatmate is a well-groomed young man in jeans, a pin-stripe shirt, and charcoal wool jacket. He's carrying a square black leather case like the kind lawyers carry files in. His smile reveals fat, healthy teeth and he smells nice.
"Are you a mother?" he asks. (It's Mother's Day Sunday.) Then he asks if he can borrow my newspaper.
8:20 a.m. The driver's assistant opens the curtained glass door that separates the "cab" of the bus from the passengers, turns on the music and comes down the aisle to collect money for tickets. In spite of the sounds from the scratchy speakers, I doze since I've been up since 4 a.m.
Bussing Andes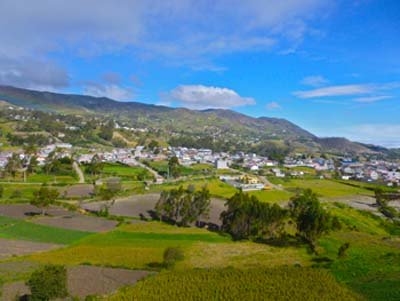 When I wake the sun is out and puffy white clouds fill an azure sky.
8:50 p.m. At the town of Cañar, the young man returns my newspaper, shakes my hand, and displays those incredible teeth again in his mucho gusto smile.
Cañar is a ten-minute stop. Three vendors board to sell papitas, chips and hot baked potatos which fill the bus with a nice, homey kitchen smell. The vendors are vociferous and quick; they have just minutes to make their sales.
Farm animals dot the landscape.
The bus passes up and down hills, through a verdant landscape of velvety grasses dotted with sheep, black and white "Garrison Keillor" cows, and pine trees.
Pigs and chickens root and scratch by the side of the road. I see the occasional burro wearing a traditional Ecuadorean saddle, a leather seat between two wooden cross-like supports.
We pass through a cloud, into bright sunlight, and on into another cloud so heavy I can't see 20 feet beyond the road.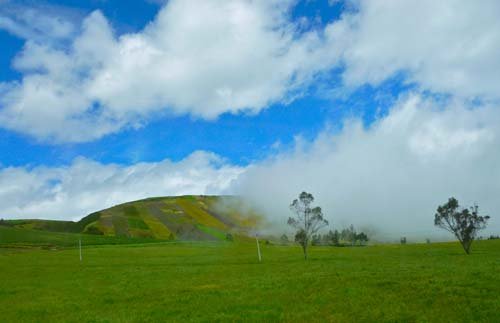 Passing from blue skies into a cloud.
Bussing Andes
The little town of Tambo has a sign that says, "historic district" but we pass through it so quickly I can't tell where it is. I have no seatmate now, so I stretch out my legs.
I'm staring at a sticker on the wall behind the driver's cabin that says, "Virgen de el Cisne guia nuestra camino." Virgin of the Swan guides our way. Otherwise no icons of Jesus or Mary hang from the driver's head—a good sign.
10 a.m. Another vender boards. It sounds like she's calling "chocolat" but maybe it's "chocos" because it turns out to be roasted white corn. I get a new seatmate, another Quichua mother, this one with a quiet two-year-old girl.
10:17 a.m. At a town called Chunchi Quichua mama gets off and another boards and takes her seat, this one with no nina. Seated, her head barely clears my shoulder. She smiles at me and babbles something I don't understand. I'm told many of the indigenous people speak Quichua and never learn Spanish.
The bus departs, heading uphill, and picks up speed. The Quichua lady crosses herself—twice.
In slanting meadows of yellow wild flowers I see my first llama.
The guy in the seat in front of me opens the window to throw out a corn cob, but his aim is off and it now rests between the window frame and the curtain.
11:37 a.m. The town of Palmira has a sign that says, "En canto, Tradicion y cultura. Bienvenidos." It begins to rain.
Bussing Andes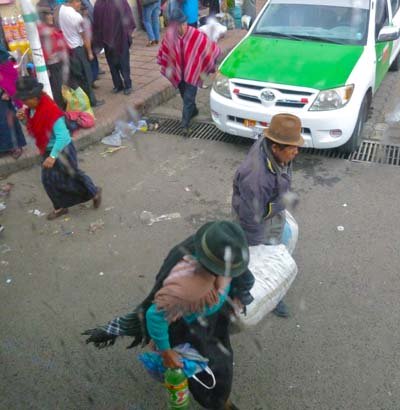 12:22 p.m. In the town of Chimborazo the bus waits while Quichua people load big sacks into the bus's storage compartment.
More people board, and when we leave the aisles are crowded with people standing. I know I'm in a clean country when I ride a packed bus and don't get one whiff of b.o. or perfume.
12:35 p.m. at Riobamba we stop for a half hour break in front of a tiny cafe that's open to the street. The driver and his assistant sit down to a hot lunch.
I spend most of the time standing in line for the bathroom. I know there's one on the bus, but the idea doesn't appeal to me.
I don't eat, because now it's time to reboard. I decided this is a good day to fast, and wonder how many pounds less I will weigh by the time I get to Quito.
These towns are little clusters of buildings in various states of perpetual construction, making me think of Ecuador as an "unfinished" country.
I settle into my window seat and as we depart I realize there's now an entire family—five adults plus three kids—in the four front seats, complete with yappy puppy.

1:56 p.m. At the next village quickstop—so quick I miss the name of the town—the family departs. Vendors board to hustle water and soft drinks.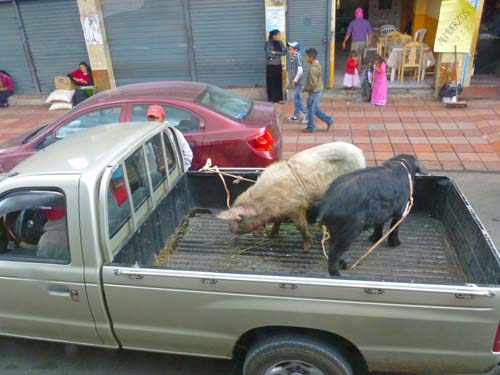 A truck transports a pig and a goat.
Our stops in these little towns are so brief that they are all beginning to look the same to me. The streets are clean, there's no grafitti like in Quito and Cuenca.
Half the people I see are Quichua, little men in ponchos, little women in colorful full skirts and shawls, all wearing bowler hats or fedoras. This is a country of little people and the bus seats reflect that.
I was okay till the man in the seat in front of me reclined his seatback; I felt like I was on an airplane again, my knees wedged into the seat in front of me.
I no longer pay attention to the vendors who board the bus, but one young man, maybe in his thirties, catches my attention.
He carries candy in a cardboard box with a handle fashioned of multiple strips of packing tape. He stands at the front of the bus doing his sales pitch in rapid Spanish. He lifts his shirt to reveal a thick, ten-inch verticle scar on his flat belly and what looks like a colostomy bag, half full of a dark liquid.
He continues his patter while he fingers the bag, so that it makes little flapping noises. He walks down the aisle, shirt stuffed into his armpits, candy box in one hand, flipping his bag with the other.
I find this so unbelievable that I'd like to take a picture of Colostomy Man, but I'm the only tall gringa on the bus, and fear the act would broadcast me to the rest of the Ecuador as Insensitive American.
2:26 p.m. While the streets of towns like San Miguel de Salcedo are a mix of cobblestones, pavement and hard-packed earth, the highway has been smooth and well-paved. We've passed through several 8-lane toll stations, which I assume account for that. This is, after all, the Pan-American Highway.
Bussing Andes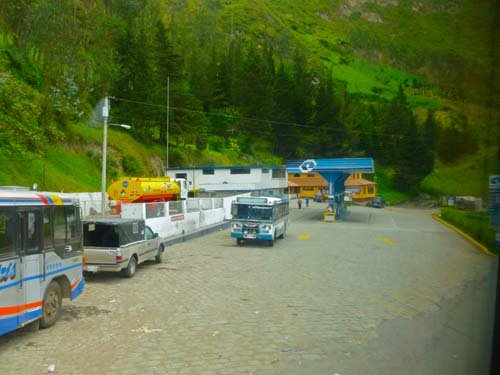 A truck stop on the Pan-American highway while bussing through the Andes
3:26 p.m. Coming into Cotopaxi, we suddenly slow considerably. "Via en construcione." The road is under construction. Countryside charm is morphing into urban sprawl.
5:00 p.m. We arrive in Quito, not at Quito's Terminal Terrestre, but in the center of town at a small garage owned by the bus company.
It's been a looooooong day. Get me a taxi and take me to a hot shower.
--Carolyn V. Hamilton
---
---