City of Phoenix
Desert Daydreams

A visit to the City of Phoenix in Arizona

My Desert Daydreams in Phoenix include impressions of wide boulevards, the Desert Botanical Garden, and the Calle 16 Mural Project, all showing different sides of the distinct identity of the City of Phoenix, Arizona.

On a February day, I drive through surrounding dry brown hills of tourist-laden heights down into this desert city. 

On the radio, hip-hop rhythms calm me as I navigate unfamiliar freeways on my own without the benefit of GPS or travel partner.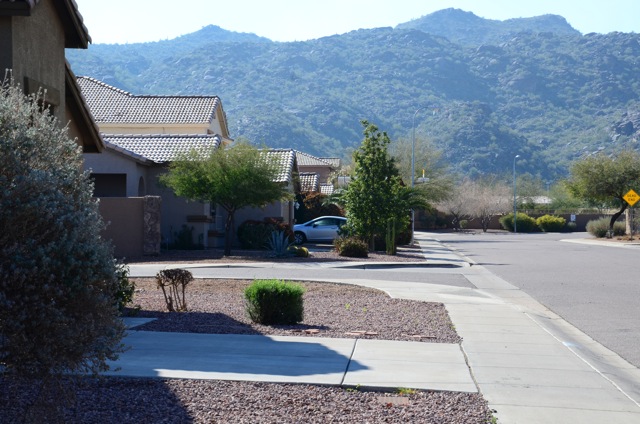 My Airbnb accommodation in Phoenix, Arizona
Airbnb in the City of Phoenix

Through Airbnb, I've booked a room in a private home near South Mountain Park. Will it be as nice as the pictures on the website? The house-sharing organization has generated its share of controversies, from hosts facing massive destruction to zoning disputes with municipalities. I worry about what I'll find. Or not. 

It turns out the real question becomes, "Will I find it?"  

The house is on South 27th Way. In this part of Phoenix there are two different South 27th Ways, along with a South 27th Place and a South 27th Street.  

Confused, I drive around in circles for thirty minutes, then head to Gallagher's, a pub I saw while driving in the wrong direction. A very helpful customer whips out his iPhone, explaining he knows the neighborhood and understands my dilemma. 
Deserted Mayan boulevards
To my Toronto-habituated eye, the most striking feature of the area is the sprawl of houses and land. Nothing lies within walking distance. 

Neighborhood blocks are Brobdingnagian, vast as desert plantations. Saguaros and smaller cacti dominate the landscape along with tiles, concrete and sand. There are gates, though I note they are mostly open.  

In this part of town the streets are wide and massive, leaving the impression of deserted Mayan boulevards lined with uniformly sand colored intact architectural treasures. 

Just past 8 p.m., I arrive at my destination. There are no lawns anywhere, only sand and colored gravel as a nod to ecological impossibilities.  

No one is home. 
However, I've paid the room in advance and obtained the door code. My hosts Alana and Richard have even provided a door lock and key for my room after my request for more privacy. I enter cautiously. It's my first experience with absent hosts.
The house is an oasis steeped in Southwestern style, daubed in salmon colored adobe with red clay roof tiles like its every counterpart on the street. Every room is spotless. Navajo blankets adorn the sofas. On living room coffee tables, books describe the ghost towns and highways of the Southwest.

I go up the stairs to my simply-furnished but elegant and comfortable room and set down my bags.

Next to my room, facing the carpeted stairs, an alcove holds two guitars and a sofa. One of these instruments is a Takamine classical. For the first time in many years, I begin to play.
My first day in Phoenix
The next morning, I head downstairs in hopes of greeting my hosts. I meet Alana. We chat about the house, Phoenix and music. She uses music in therapy and doesn't mind guests playing the Takamine.
Inside my accommodation
The couple is young, friendly and easy-going. In the kitchen, guests have access to several food options. South Mountain Park, with its many hiking trails, is less than half a mile away.

Perfect.
City of Phoenix
In the morning, startling blue skies delineate every pinkish beige house on the street. The sun drenches them in a radical light. As the mercury rises over seventy degrees, I finally experience warm weather.
My first day in Phoenix is with clients who have become friends. They're Canadian snowbirds in nearby Mesa and they offer me an automotive tour of downtown Phoenix and historic Scottsdale. They reminisce about the time they wore Toronto Raptors jerseys on a light rail transit car to a Suns basketball game.
I mention the sign I saw in a Flagstaff family restaurant prohibiting firearms. They say the Mesa public library also has signs telling people not to bring in their guns. Since I don't share their bravado, I make a mental note not to wear foreign jerseys on public transit.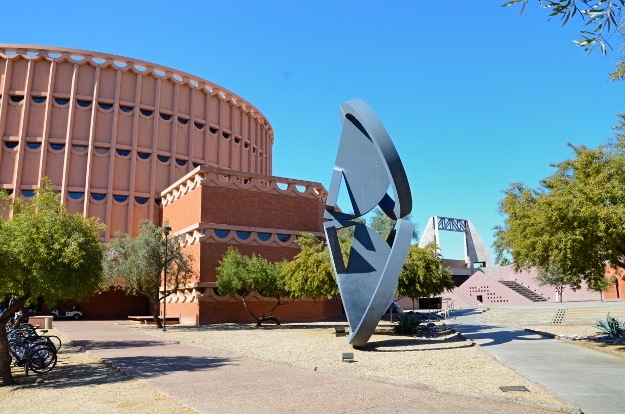 Grady Gammage Building and music auditorium at ASU
We drive to Arizona State University to park and walk around the Grady Gammage Memorial Auditorium. This is the last public building designed by iconic local resident Frank Lloyd Wright.
With its art deco touches and elegant arches, it looks like an orange-pink concrete birthday cake. The music auditorium across the square offers a Pueblo-style contrast in assorted colors.
My friends take me out to lunch at the Tempe Gordon Biersch, with its memorable fries and views of orderly, light-filled streets. Everywhere striking blue skies flood the senses.
At the end of the day, I head to Keegan's on East Ray Road to meet some members of an international club that has several branches across Canada and the U.S.

Mixed Impressions -
City of Phoenix

The South part of the city gives me mixed impressions. Though some of the area is apparently associated with gang activity, you'd never know it from the developments like the one where I'm staying.
A local police map lists it as a low-crime part of the city. As I drive, the only sounds I hear are occasional cars and crickets.

I want to explore this desert that stretches in every direction. Up South Mountain Park, I reach 1,100 feet before turning back.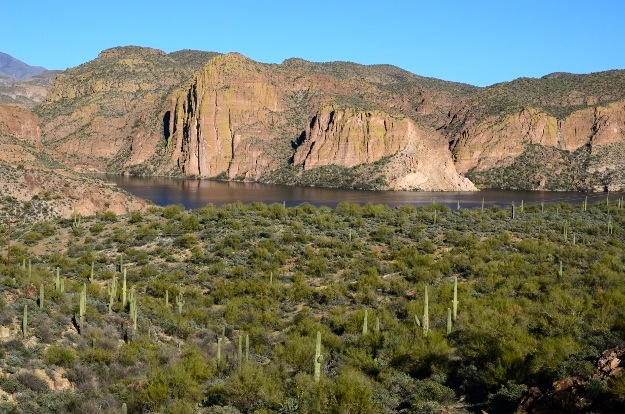 Lost Dutchman State Park
East of the city, Lost Dutchman State Park has, along with short and easy trails, a good rough trail called the Siphon Draw. The park is named after a local legendary mine: German prospector Jacob Walz died with rich gold ore hidden under his bed. Its source, the mine, has never been found.
Desert Daydreams in Phoenix

The Apache Trail
Highway 88 leading to the Apache Trail is a spectacular drive with lakes, canyons and hairpin turns all the way to Hoover Dam on the Arizona/Nevada border.
I make it to Tortilla Flat—population: six residents, 10,000 tourists—before I have to turn back because the road is washed out. Since desert sand doesn't soak up water well, flash floods are omnipresent threats. Apparently, more people drown in deserts than die of thirst.
As I drive back to Phoenix, I catch the sun setting on Apache Junction.

I won't leave the city without a trip to the Desert Botanical Garden. Cacti are now the newest objects of my fascination.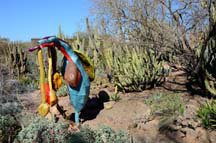 Phoenix's colorful Desert Botanical Garden.
The Garden fulfills its promise, listing every cactus imaginable from here to the depths of Mexico: totem poles, bunny ear and black spine prickly pears, octopus cacti, ocotillo, candelilla, fish hook barrel cacti, and the massive cardon, each more colourful than the one before. An emerald hummingbird hovers near the garden path long enough to pose.
Pork tacos at Gertrude's, the botanical garden's elegant and delightful restaurant, cap the morning perfectly.
Later in the day, new friends from the local chapter of my global group greet me at Ruby Tuesdays in Tempe.
In the kitchen at Alana and Richard's house, I meet Sam, a recently-retired widower from Minnesota. He joins me for karaoke at Gallagher's, the bar where I found my way. I sing "Positively Fourth Street" and "Me and Bobby McGee." Sam buys me a drink and sits on the sidelines.
Though there are many museums, restaurants, and entertainment venues of note in Phoenix, I'm in the mood to follow my nose.
City of Phoenix
The next day, I drive north, meandering up Central Avenue past St. Francis Xavier Church and on to Park Central Mall. The first shopping centre built in Phoenix, back in the 1950s when the city was much smaller, is now quiet as a catacomb. I could see it as the epicentre of a zombie film.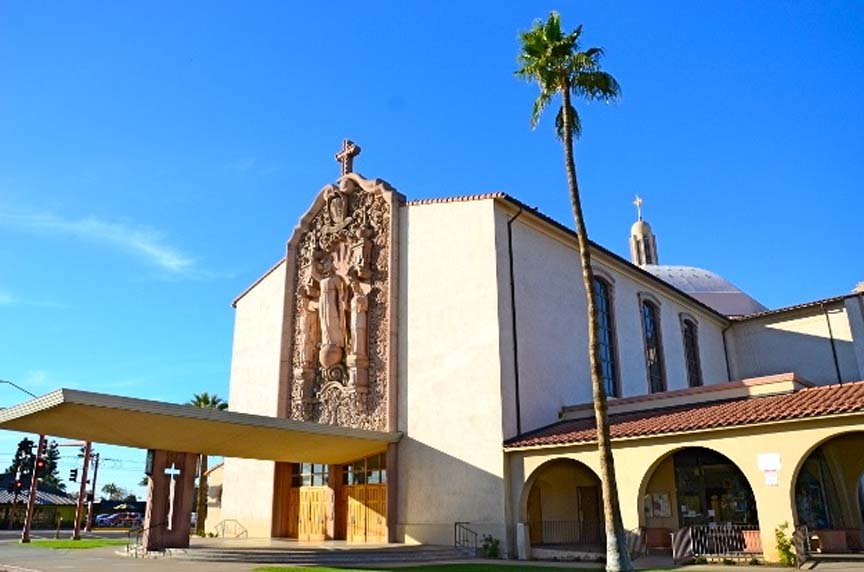 St. Francis Xavier Church
My discovery of the day is on my way back south, an urban art enclave I spy at the corner of 16th Avenue and Windsor. The murals pulsate with vibrant colors and Mesoamerican style, depicting everything from Dia de los Muertos iconography to wrestling tomatoes and mariachis wearing shades. I've stumbled onto the Calle 16 Mural Project.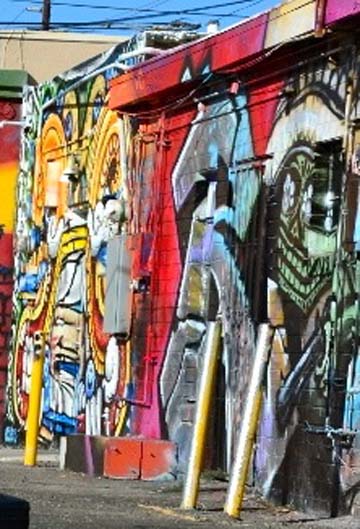 Calle 16 Mural Project
Local café owner Silvana Salcido Esparza started the grassroots effort after a controversial 2010 immigration law, SB 1070, required residents to produce documentation on request. Since then, artists have poured in to contribute.
This neighborhood art jewel is a fitting cap to my stay in Arizona. I head back to the house, English signs giving way to signs in Spanish advertising beauty parlors, auto repair shops, and other small businesses.


"The world's least sustainable city"
Like its mythological namesake, Phoenix will have to rise from the flames of climate change: water management is a major concern. In a book summarizing his two-year study of the region, NYU professor Andrew Ross dubbed it "the world's least sustainable city" because of its dependence on faraway water supplies from the ever-shrinking Colorado River.
In the space of a century, its increased use of fossil fuels has catapulted it from respiratory haven to brown-cloud purgatory. Thankfully, in the winter air no pollution has emerged. The lights of Phoenix wink without concern.

Tomorrow, I fly away from this desert full of many lives, but I won't leave it completely behind. I daydream of my return.

Dominique Millette
Dominique Millette is a Toronto-based bilingual author and translator, as well as a freelance writer. She has worked in several weekly newspapers and written and published a novel in French (La Delphinée), one theatrical monologue and several short stories. One of these, "Oomblaug Day", was published in Parsec magazine. Another, "Better than Elvis", was published in Maisonneuve magazine. She has also studied with Joan Barfoot at the Humber School of Creative Writing.
---
---