Copan Ruinas Town

Copan Ruinas Town is a typical Central American settlement.

In the hills of western Honduras about ten miles from the border with Guatemala lies Copan Ruinas town. Its core is the central square, bordered by the church, the local government offices, the banks, and the leading hotels. There are also two museums.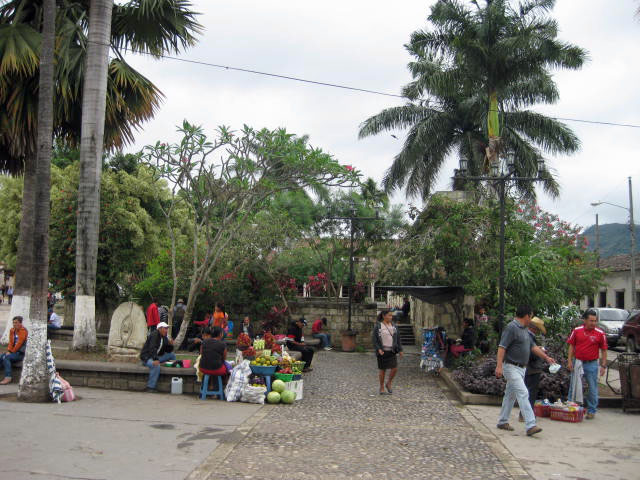 The square is where everyone gathers.
Kids play there when they are not in school.  Old men sit and discuss events. People sell farm produce, ice cream bars - most welcome on a hot day - DVDs, batteries, and miscellaneous items. 
Along one side street mamasitas cook chorizos and roast corn on charcoal braziers. Ssometimes I visit them for supper or a snack. Down another side street are a string of souvenir shops, street vendors, and tourist restaurants.

On the corner is the Yax Kuk Mo souvenir shop–the largest and best stocked in town. I met Sonja Esmeralda many years ago when she was managing Maya Connection, an internet café.
(Most of the internet cafes in town are now closed because wi-fi is everywhere and people have cell phones. I had trouble finding one and it only had one computer that worked.)
Copan Ruinas Town

Sonja eventually moved up to run the Yax Kuk Mo store. She used to sell my books in the store but it is just too expensive to ship books to Honduras.
Even though it had been six years since I was last here, as soon as I walked into the store, she recognized me.  She even brought in her daughter, Natalie, to meet me. She and her husband have opened a restaurant - with good food - next door.
The development of Copan Ruinas town
In the square is a monument to the archeologists who have developed the ruins of Copan. It is largely through their work that this town has any future - or any past. 

Early archeologists like Morley and Spinden arrived here in the early 1900's when Copan Ruinas town was just a few farm houses. They saw the pyramids, courtyards, stelae, and altars still in place where the town sits today. They witnessed the destruction of these monuments for building stone or road gravel.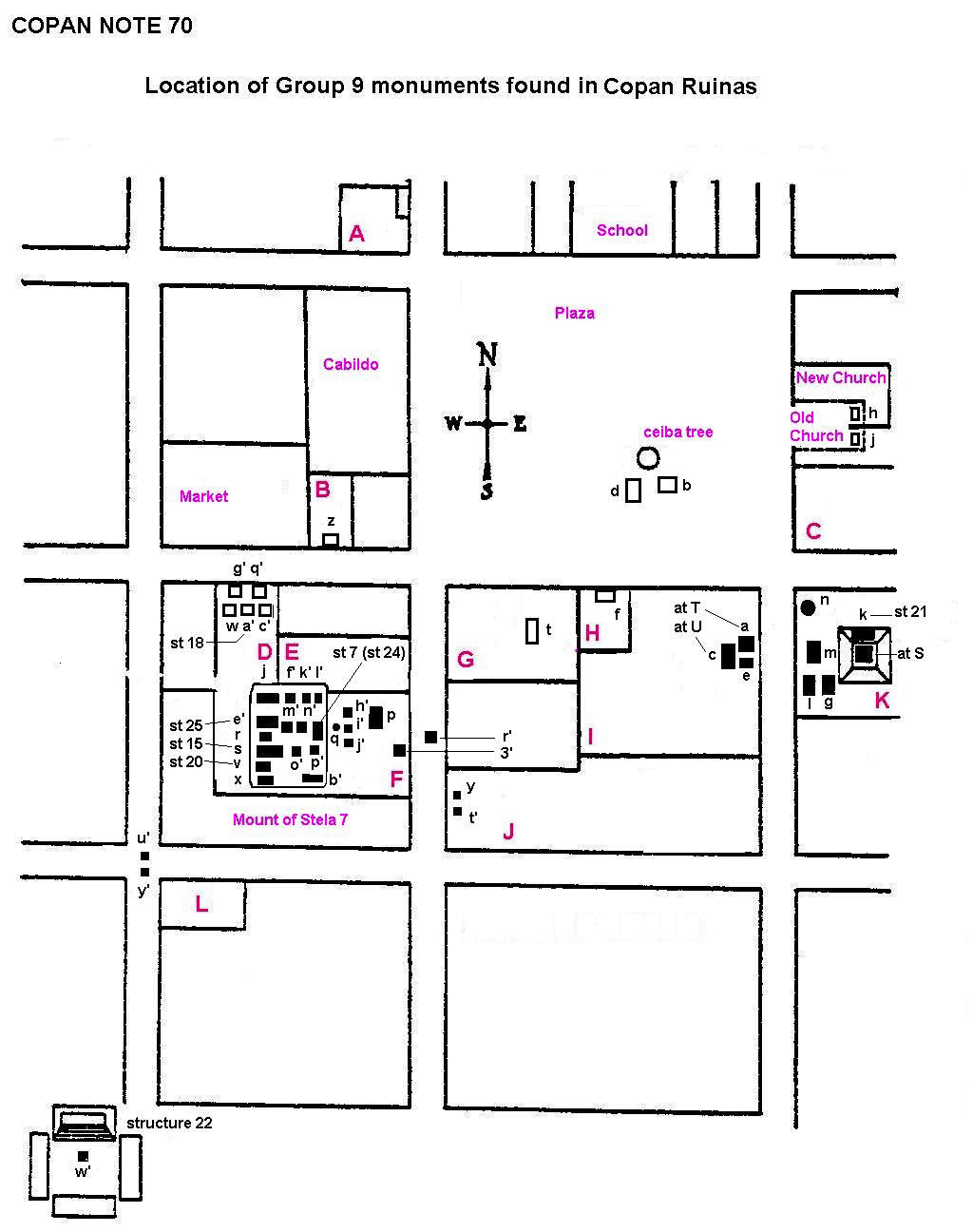 This map shows where Morley found the monuments on his first visit to Copan Ruinas.
The letters and numbers are those assigned by the archeologists. (I wrote about ancient Copan Ruinas in Maya Investigations Vol. 1.)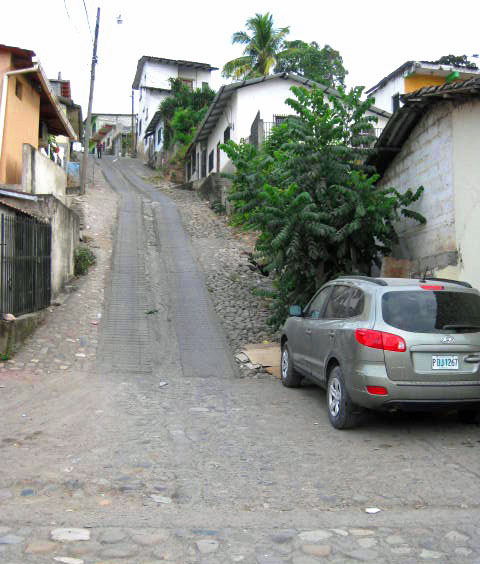 Streets and sidewalks in Copan Ruinas.
The builders of this town bravely tried to impose a grid pattern of streets on a very hilly surface. The center of town is practically the only place that is flat. The streets here climb and plunge, which is bad enough but they are all cobblestones and lots of those are missing.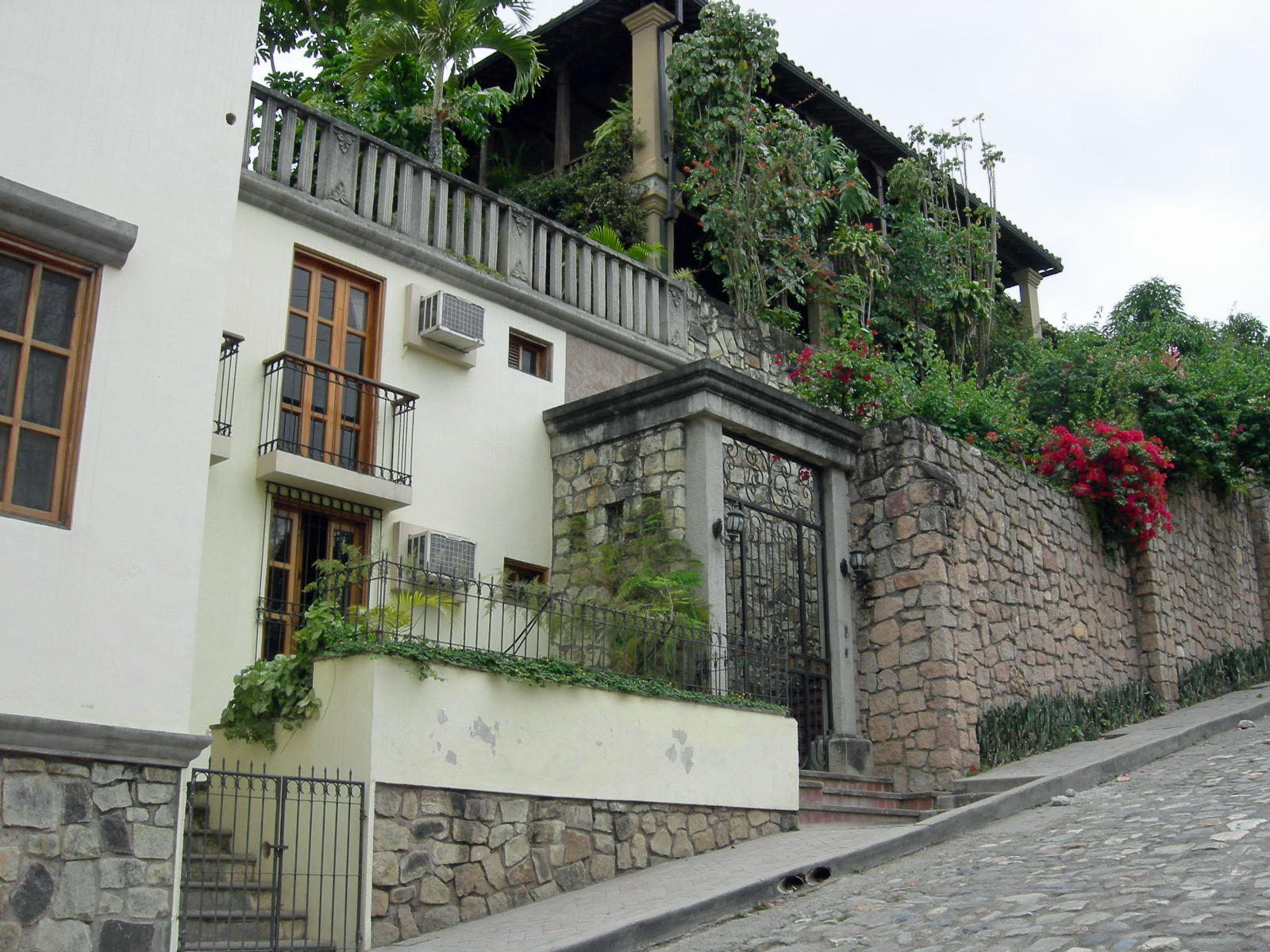 The sidewalks are no better. Skinny, wide, steep, irregular steps, uneven, full of holes, sloping oddly or just dropping off altogether. Sidewalks apparently are whatever the adjoining property owner wanted.

The safest bet for a pedestrian is to risk walking along the curb, if there is one. I missed a step one night and reaffirmed the Law of Gravity. My left arm is still wrapped in an Ace bandage.
At the top of one of the hills is the old Spanish fort. The foundation, Asociacion Copan built an interactive children's cultural and historical learning center inside and the town library used to be located there. The open space inside the fort is used for concerts.
Eating in Copan Ruinas Town
- a feast of choices. 
Carnita Nolas is a kitschy, touristy sort of restaurant with good food and dynamite Tequila Sunrises. I met a small group of bikers there from South Dakota.  They were thrilled to see a poster for Sturgis on the wall. Carnita Nolas is that kind of kitschy.
On the way back to the hotel, I spotted a cheese and wine store. Inside they had some really good European wines and a wide selection of homemade cheeses. We're talking Danish Blue, Provolone, Camembert, etc.
They even have their own cows. This is an operation from udder to plate. They have an espresso machine, and the sound of that steam rushing out of the spigot reminded me of Seattle.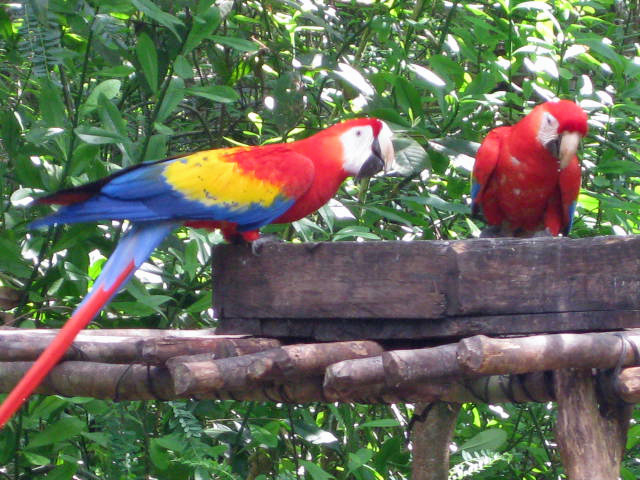 The Macaw Mountain Bird Sanctuary
While I was examining the wine rack, an archeologist friend hailed me over to the bar. There he was talking with an engineer who helps out at the Macaw Mountain bird sanctuary.
Macaw Mountain, located a mile outside of Copan Ruinas, is one of the most exciting projects in the area.

The Scarlet Macaw is the national bird of Honduras, but many of them have been poached for food, sport, or pet stores in the USA.
Lloyd Davidson, a Tennessee boy and entrepreneur, built this bird sanctuary from scratch. His ultimate aim is to rescue, rehabilitate, and release back into the wild these magnificent birds.
Asociacion Copan supports education and archeology in the Copan region, and is conducting outreach to schools about valuing the birds as a connection to the country's ancient Maya heritage. 
The next day, the engineer I had met was driving up the street and stopped to talk. "I'm on my way to feed the macaws at the ruins," he said.
I blondely - yes, blonde can even be an adverb -  invited myself along. We picked up the fruit bits and chow at Macaw Mountain, drove some scary roads back through a part of town I'd never seen before and out to the ruins.
I followed him into the park with a bowl full of bird food. They let me in without question. We filled the special elevated containers, including one on a pulley up in a tree. 

The macaws did not wait for me to leave. They flapped around my head and practically ate right out of my bowl. The green parrot behind my head tried to eat my barrette!

— Janice Van Cleve
Janice Van Cleve is an archeologist, and guest lecturer on tours who has published several books on the Maya.

To read more about Copan Ruinas check out Janice Van Cleve's story, Honduras, the Lure of Copan Ruinas.
---
---