Delos Island
Day Trip

A Delos island day trip from Mykonos, in Greece

My favorite Aegean spot is micro-chip sized Delos - "light" - at the heart of the Cycladic Group, the circular archipelago southeast of Athens, Greece. Because of the island's fortuitous mid-point position, the  omniscient Oracle at Delphi designated Delos as the center of the ancient Hellenic world, and the sacred home of the consecrated sanctuary of Apollo, handsome son of Zeus and god of healing and music.
In the late afternoon our cruise ship docked at chic and trendy Mykonos where my husband and I anticipated an evening of tavernas, boutiques, ouzo over-indulgence and bacchanalian pursuits.
But the  local archaeological office sanctioned an after-hours tour to Delos, so we opted to visit one of the best historical sites in Greece.

Uninhabited for centuries, Delos is an outdoor museum of well-preserved ruins. Financed by France, excavations began in 1872 and continue to this day. Less than one quarter of the island's treasures have been uncovered
On this cool and breezy April Monday with Poseidon to guide us, a quick and bumpy 30-minute boat ride ferried us to the 1 ½ square mile rocky island, a viridescent chartreuse shimmer as we headed west into the sun.
Delos island Day Trip
The harbor is small and shallow, sheltered on three sides by nearby islands making it a safe anchorage for ships sailing to Asia Minor from the Greek and Roman empires. Pirates also discovered the benefits of this protected port.
As our launch glided into the quay, it was compelling to see so many columns, pedestals, walls and statues spread across the terrain.  Three archaic temples dedicated to Apollo are positioned close to the buildings' colonnades, porticos, floors, and altars survive.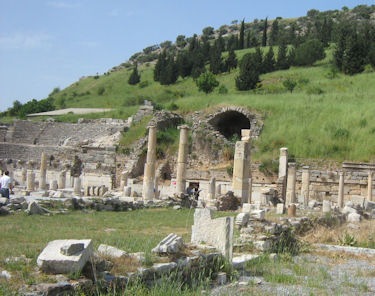 Heavy stone tablets inscribed with Greek letters were scattered along the pathways. Directional signs? Board games for pedestrians? Political ads? It was all Greek to me and I again wished I'd pursued Hellenistic studies instead of Latin in school.
Initially the island hosted pilgrimages to the Apollian holy sites. During the 5th century BC, Delos became a free port, emerging as the commercial, financial and spiritual hub of the Eastern Mediterranean and home to 20,000 people. It also gained notoriety as a slave market selling hundreds of slaves daily.
When the powerful Athenian senate later decreed that no deaths or births could occur on the sacred island and all graves were to be removed, an exodus ensued over the next centuries.
As marauders continued to assault the islet, it was abandoned by 60 BC. Excavations reveal two-level homes, shops, shrines, temples, cisterns, a forum, a gymnasium, a stadium, and an amphitheater seating 5,500.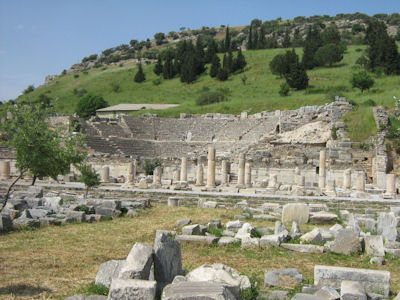 Amphitheater
Often seen in travel brochures is the iconic Avenue of the Lions where the remaining five sentry lions, replicas of the original nine, sit resplendent along a narrow hillside overlooking the parched Sacred Lake.
A rainy spring provided an extravagance of red poppies and purple and yellow wildflowers with a wealth of greenery, adding a colorful backdrop to gray/beige ruins.
Also in the theater district is the House of Dolphins' floor with two dolphins surrounded by an intricate Greek key design and border of ocean waves. The Trident House contains a lovely representation of olive branches circling an elaborate amphora.
Delos Island Day Trip
Delos was the place of significant annual religious and athletic festivals with featured choral competitions. The choirs which won dedicated phallic monuments to Apollo, acknowledging the debauchery and wanton revelry rampant during the celebrations.
Don't miss the remains of these statuesque tributes outside the sanctuary of Dionysus between the stadium and the temples.
Raiders were a constant threat to this under-fortified commercial nucleus so the streets in the residential quarter were narrow and twisting. Many ten-foot-high walls still stand, so you can feel the clustered shops and homes huddled together for protection.
Inside are remains of stone benches and tables, jars, bowls, basins, and amphoras for storage of liquids. Stone mortars identify a bakery, and a slanted table with drains for carving meat and boning fish delineates a butcher shop.
An Elysium for photographers, few areas on Delos are restricted, promoting unlimited opportunities to walk into ancient buildings, to touch statues, sit on marble benches and appreciate the existence of this densely populated city of long ago.
Delos Island Day Trip

On display in the small museum are statues, pottery and artifacts including the original lions hewn from creamy Naxion marble. A mild hike to the Temple of Isis, midway up 370 ft.
Mount Kynthos the island's highest point ("Mound" Kynthos is more accurate) affords a spectacular view of Homer's wine dark sea and eight neighboring islands: Naxos, Paros, Soros, Tinos, Ekati, Rhenea, Ikaria, and Mykonos.
Gazing down from the top of Mount Kynthos, it's easy to visualize sailing ships laden with food and consumer goods waiting to dock, generations of shoppers in the thriving agora, and processions of Greeks bearing gifts to the Apollian temples.
In another millennium Delos flourished but was susceptible to and ruined by the political and religious influences of more powerful neighbors.
A quiet Delos island day trip  is mythic and mystical, a haunting place emitting an aura of timelessness. Deserted except for sea birds, sparse vegetation, an occasional archaeologist, and the remnants of a sophisticated civilization, the wind blows across the hillsides and through this once wealthy but now empty utopia.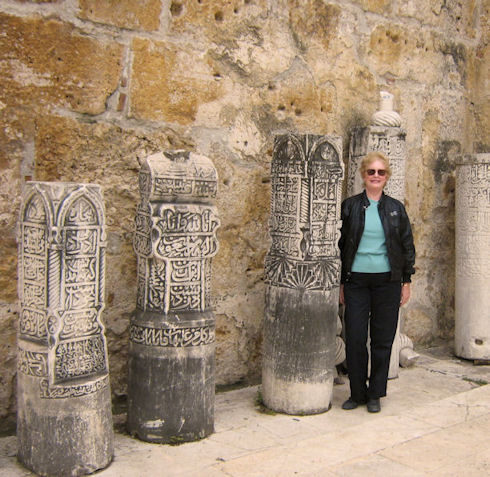 Author, Cam Usher
Story and photos by Cam Usher.
---
---