Falconry Broadmoor

A Royal sport for all ages - Falconry Broadmoor

It was the first day of spring and new beginnings. The Falconry workshop at the Broadmoor Hotel, Colorado Springs, CO was something never before experienced by us. Anticipation hung heavy in the air. If you would like an original or unusual experience for a friend or family member, this is it.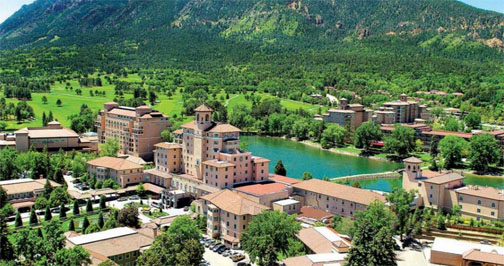 On a sunshine-filled day in March, a gentle wind still holding the winter chill greeted us as we drove up the circular drive to The Broadmoor. Traditional spring tulips, daffodils and grasses lay under scattered snow piles stubbornly hanging onto winter, and drew the eye as we parked under the front portico for valet service. 
We exchanged our vehicle for a paper ticket, and approached the front doors. The customary greeting is both doors opening together and bell people welcoming you to The Broadmoor. The feeling was being welcomed as 'expected guests'. If it was supposed to make us feel special – it worked! 
The parquet flooring, the brilliantly-lit chandeliers, the livery of the bellmen and women and the dark richness of the wood accents from the doors to the moldings, invites you to recognize the splendor of the surroundings.
Falconry Broadmoor
The Wilderness Adventure Shop
Check-in was easy as we had pre-filled out paperwork, completed waivers and identified special needs online before coming—highly recommend to do this. 
A passenger vehicle provided transport to the Falconry area. There were 16 people in our group. Two white vans carried us two miles away to a more remote, empty parking area. But waiting for us was something I had not seen up close and personal before – Delilah, a Eurasian Eagle Owl.
She was magnificent! Her handler and Falconer, Dan led us into the bird housing area as he told us about her.
"Delilah is a beauty and one of the largest species of owl," Dan said. She could grow to 30 inches - she's pretty close already, with a wingspan of 6' 2". The photo above captures her wingspan and size. The tufts on her ears brought thoughts of an aged, eccentric uncle. She could be mistaken for a horned owl until you notice her eyes - they are orange!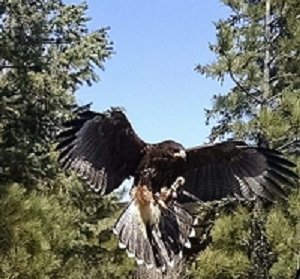 Falconry Broadmoor
a royal sport
Next up we saw Dosi, a Saker Falcon. The first thing you notice is her size. She seemed huge. Second thought; how are we going to hold her on the hand? 
The next thing you notice, besides her beautiful coloring, is her intense gaze. It seemed as if she could see inside of you. Dan said he was acclimating her to socialize better with people. His instruction: "Stay in front of her and move slowly." As beautiful as she is, she is a raptor and will keep you in sight the entire time. 
Dan explained how royalty had and still have falcons for sport. He painted a vivid picture of a wild, prehistoric man realizing these birds caught food that could be eaten by man. Might that have been where falconry had its early beginnings? Interesting speculation.
When asked how they hunt and if they get to keep their kill, Dan explained falcons have to eat some of their meal or they will not continue to hunt for you. 

Once you put the handler glove on your arm, the Falconer assists the falcon to step on your glove. You grasp her claw (foot) with your thumb to secure her to your arm. It lets the falcon know she is supposed to sit there. 
Everyone gets a chance to 'be the handler.' You have never felt such power as you will when you hold a falcon. When she looks you in the eyes this closely, it's a little daunting.
My impressions: she was light as a feather - couldn't resist - even though she looked heavy. You could hold her easily for quite a long time, so people of all ages can do this. 
Our diverse group had men and women, senior citizens, and children. Everyone had one thing in common: the adventurous spirit that led them to this moment. There was excitement and a little nervousness while waiting to experience the thrill of holding this magnificent bird. 
For a few magical moments, you can feel like royalty and have a raptor sit on your arm, prepared to hunt for you.
"Popcorn", a Harris Hawk
Next was the hawk demonstration. Our group returned to the parking lot as some folks couldn't travel to the field easily with the weather conditions. I liked that Dan asked if it was an issue for anyone and had an alternative area.

This demonstration included the hawk's flight, the whistle and the return to the glove. We met "Popcorn" who is a Harris Hawk.
It was thrilling being so close to this bird of prey as it flew into a distant tree and stared back at the group. The handler held a piece of food. They use baby chicks, culled at birth, up in his gloved hand and blew the whistle. The whistle is the signal to return. The hawk then flew to the glove and ate his reward.
Little did we know the demonstration would take a turn. The group was instructed to form parallel lines about 5 feet across from each other. The next thing you heard was the whistle and the wind rushing through the wings of the hawk as it flew through the human corridor to the handler's glove.
Most of these birds don't like the cold weather and usually molt during the winter.  Spring, summer and fall are the best times to give yourself or someone you love the ultimate gift – the adventure of a royal sport. Although, The Broadmoor is open year round and has several different packages and experiences to choose from when you stay there.
"The new Raptor building has a scheduled opening in June, 2016," Dan added before we departed.
Returning from the falconry experience we decided to stop by the bar for a snack.  I gazed at the calm lake, the sun sparkling on the water through the floor to ceiling windows. Fortified by a snack tray of cheese, fruit and crackers, we sipTped chardonnay and toasted our royal falconry experience. 
Text and images by Nasiri Suzan
Nasiri Suzan (Siri) at Above and Beyond Travel Writer lets you know about the people, places and organizations that go 'Above and Beyond' to provide the best possible experience when you travel or explore your own backyard. Siri is a travel writer and web copyrighter. 
In past lives, she was a driving force for an international conference center, a property manager and a commercial real estate coordinator for a large Children's hospital in Colorado. Siri currently leads personal vision quest journeys to sacred sites and travels to teach sound healing and soul searching.
---
---