Farm Fest Grasslands
Saskatchewan
Farm Fest and Grasslands in Saskatchewan -
Farm Fest Grasslands Saskatchewan

Most road trip travelers pass quickly through Saskatchewan, a place where most people live in the middle of nowhere, where nothing seems to change, not even the time zone.
However, my home province of Saskatchewan, in the midst of a heat wave, was the location of choice for our road adventure.
Imagine an intimate setting on a remote farm among friends, family and acquaintances, listening to quality artists ply their trade with passion, all of it with that folk fest feel. What's not to like about that, especially for folkies like my spouse, Nelle and I?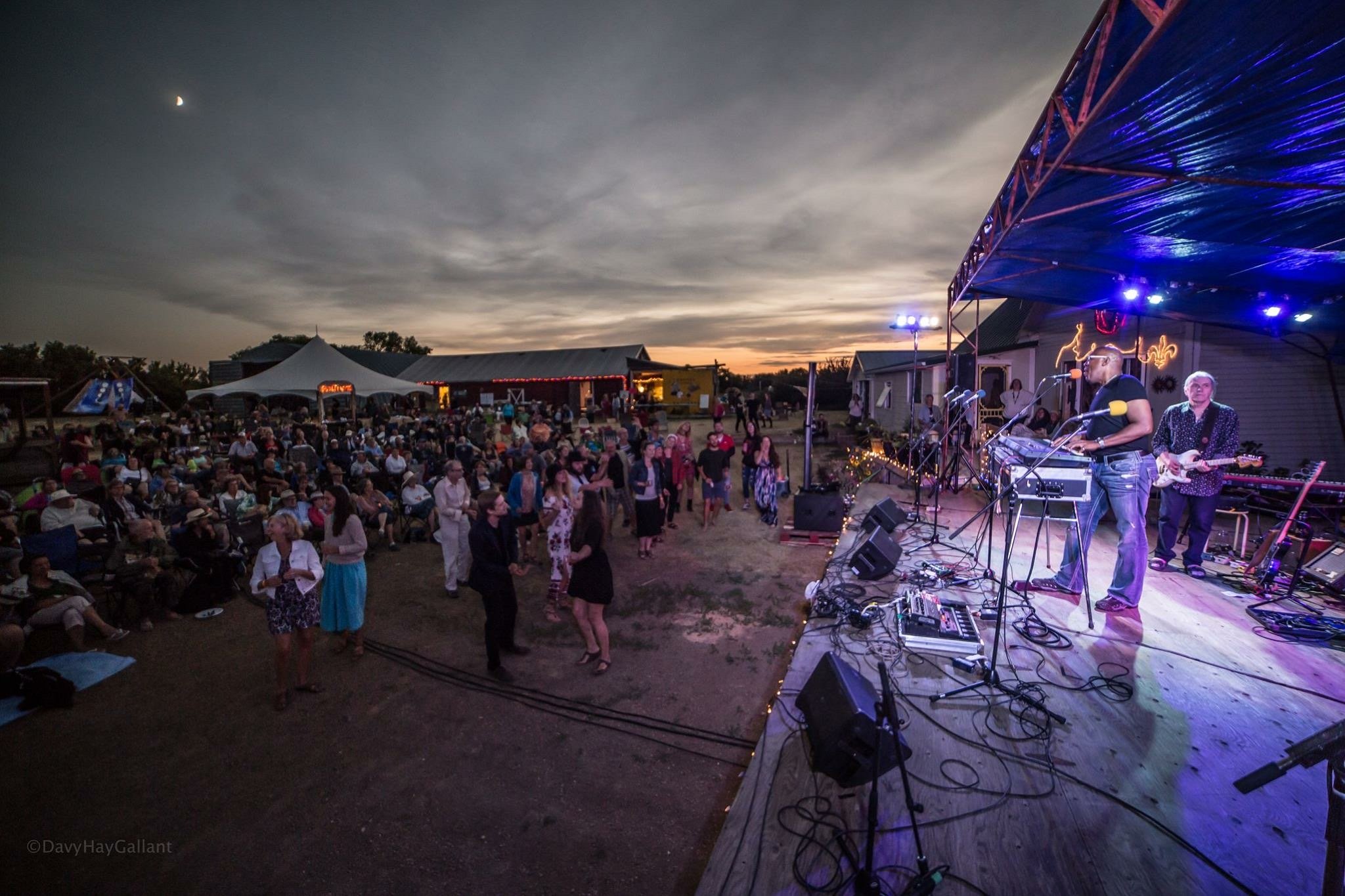 Farm Fest Saskatchewan
The first of two stops on our journey was attendance at a local musical event, occurring in the middle of, well, nowhere. Located in Willow Bunch, a francophone town in south central Saskatchewan, the aptly named Farm Fest, in its tenth edition, has evolved into a premier festival.
The Campagne family: Paul, Solange, Michelle, Carmen, Annette, Suzanne & Aline
Every fransaskois worth their weight in tourtière and maple syrup has heard of the musical famille Campagne (formerly Folle Avoine and Hart Rouge), whom I met during my teens while still living in the wheat province. 
This top notch jamboree all started ten years ago when the fransaskois family and their friends decided to build a deck at the Willow Bunch farmhouse. It was such a great time jamming that the decision was made to organize a similar get together the following year.

A good idea became, over the years, nothing less than a pilgrimage for many. Word spread and spilled out to other parts of the country and every year's attendance has increased from the previous.   
On a very hot day we traveled down what seemed like an endless dusty road leading to the homestead, arriving at our destination with a feeling of anticipation.
The intense climate in the air was not only due to the heat, but a feeling that something special was going to occur over the course of the next couple of days.
Farm Fest Grasslands Saskatchewan
Special it was – this rural based folk fest converged several aspects of my life. The fact that I'm a francophone raised on a Saskatchewan farm who likes folk music, meetups with folk from my hometown as well as the connections with people from Winnipeg where we currently live, all contribute to that 'fully in my element' feeling.
Farm Fest's list of performers kept us riveted to our folk fest chairs for five straight hours. Other than the times we got up to sway and gyrate to the music, of course.
Included in the lineup this year were Winnipeg band favorites: Red Moon Road, the Arrogant Worms (what a hoot!), Annette Campagne (who won a 2016 Western Canadian Music award), as well as returning loyal family friend, Heather Bishop.
Heather Bishop (photo courtesy of Farm Fest 2017)
A special treat were the next generation of Campagnes taking the stage, continuing with the tradition of performing quality music.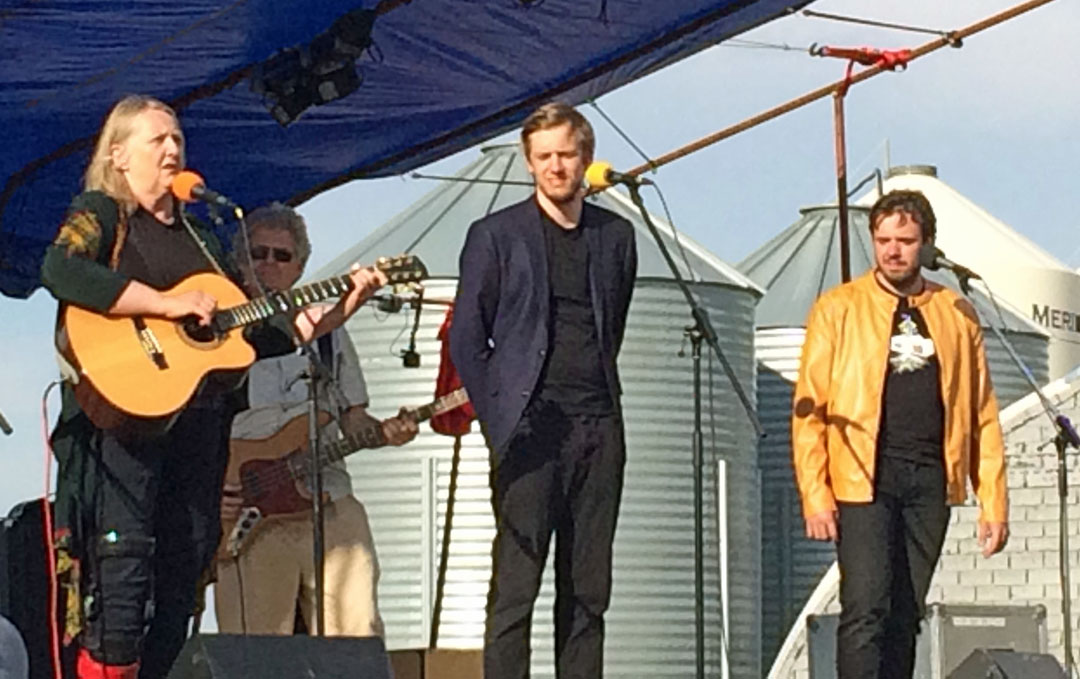 Connie Kaldor with sons, Aleksi and Gabriel Campagne
Folk fest fave Connie Kaldor and her hubby as well as Paul Campagne's multi-talented sons, Aleksi and Gabriel, are increasingly standing out at the annual Farm Fest. These two bros perform independently as well as together in a band called Les Barricades. 
Aleksi Campagne's ability to make both his violin and voice sing coupled with touching song lyrics make him an upcoming family star.
Nelle and I plan to attend upcoming Farm Fests with friends and family in tow. Hope to see you at next year's 11th edition!
Farm Fest Grasslands Saskatchewan
Grasslands National Park – Living sky country

The second and final part of our road trip was a visit to the arid, desert-like area which consists of potential rattlesnake encounters, a fact Nelle forgot to mention to me.
Uh huh. If that isn't the type of thing that deters you, then you may well enjoy the spot where my spouse and I spent a few days during the ongoing heat wave the wheat province was experiencing.
Photo by: Lilypon
With the temperature gauge registering 38 C (100.4 F), we spent the majority of the first day within the confines of an air-conditioned vehicle heading to our B & B.
Our B & B of choice was The Crossing at Grasslands located at the edge of Grasslands National Park, close to the US border.
The surrounding quiet, peaceful scenery and the many sweetly singing birds outside our bedroom window quickly had us forget any discomfort from the extreme heat.
My birdwatching spouse cringed whenever I drove down the long driveway to and from our B & B as fledgling birds, hidden in the tall grass alongside the road, flew in front of the car at the last moment.

The many barn swallows flitting about the The Crossing at Grasslands reminded me of my childhood in the southeast corner of Saskatchewan, originally named Kisiskatchewani Sipi meaning "the swiftly flowing river" (referring to the Saskatchewan River) by the indigenous Cree people.

Sunrise from our balcony at The Crossing
As a native Saskatchewanian, I feel compelled to dispel some of the myths about my home province. It is not flat as a pancake, at least not entirely. The Grasslands area is made up solely of buttes (French for hill – remember, I'm a fransaskois).  

If you are so inclined, a hike to the highest point is one activity I suggest. This particular hiking trail, called the 70-Mile Butte, is atop the highest butte and therefore will take you to the highest point. Don't let the name dissuade you, it's actually a very doable 4.1 km loop.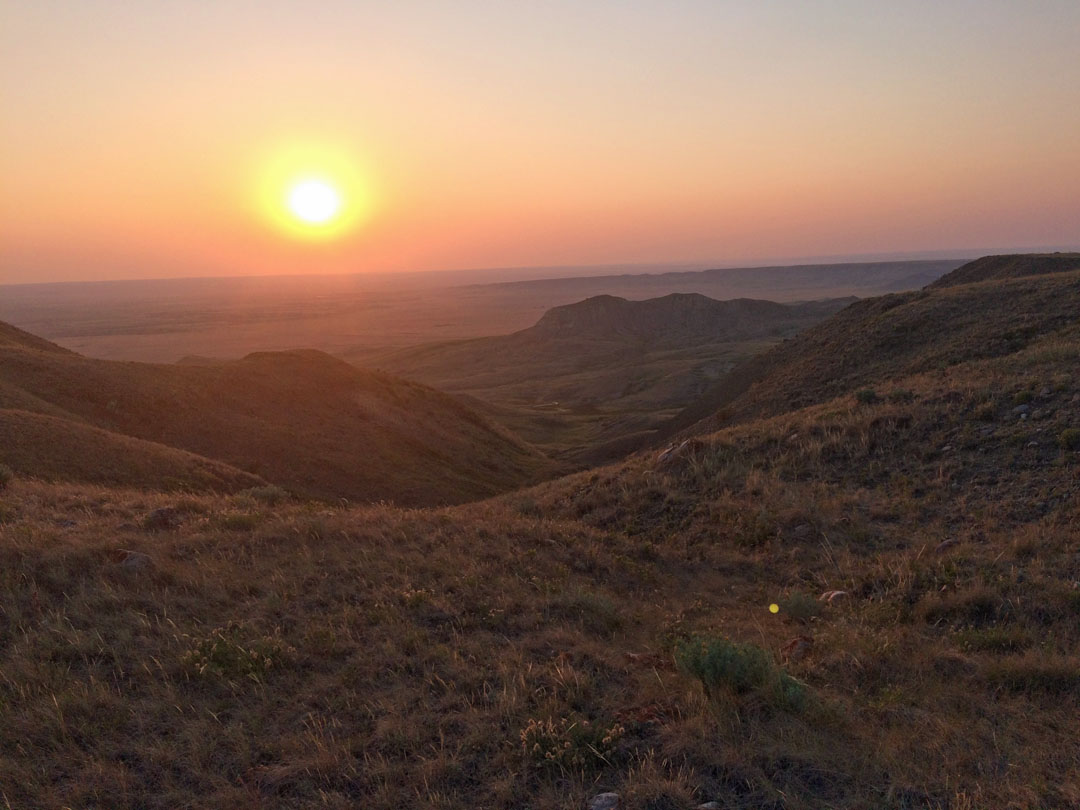 We embarked on our trekking adventure in the evening after the heat of the day had subsided. Lucky for us, this was perfect timing since we reached the summit just as the sun was slowly setting behind the hills. "What a view!"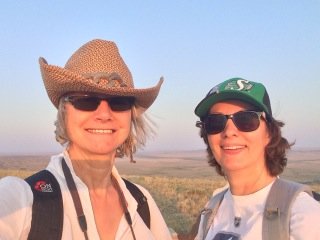 Hiking Grassland Saskatchewan Butte
On this trip, I finally understood why Saskatchewan license plates boast, "Land of the living skies." During the summertime, sunsets and sunrises often turn the sun a bright red or orange. For a more scientific explanation, go to Land of the Living Skies.
Sunset in south central Saskatchewan
As for those rattlers, known to "slither" in the barren, dry park, they didn't materialize on this particular trip. With every subsequent hike, my confidence grew, especially after our B & B owner informed us the prairie rattlesnake population decreased significantly following the destruction of a large snake den during the 2011 flood.

This information, though true, was probably meant to reassure and not scare us away from any potential recurring visit to the park. Nevertheless, I was grateful to set foot again on the rattlesnake free prairie province of Manitoba where we currently live.
A return visit to the national park may, in fact, be part of future plans due to its proximity to our precious discovery - Farm Fest.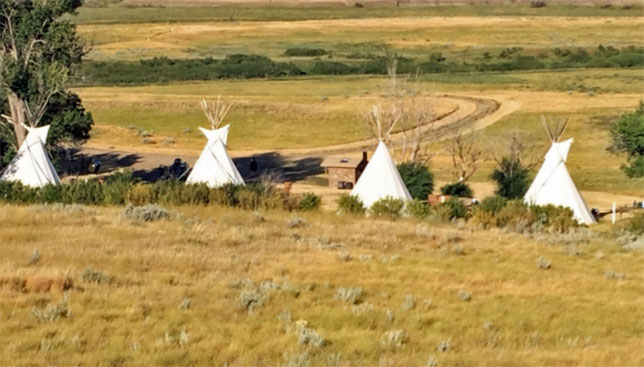 Tipi accommodations in Grasslands National Park
If I can muster enough courage, and if there are any adventuresses wanting a different kind of accommodation, I want to try the tipis in Grasslands National Park.
—Story & photos (unless otherwise noted) by Armande Martine
Armande Martine is a bilingual Manitoba civil servant who is an occasional freelance writer. She has been published locally in Winnipeg since 2014. Married to Nelle Oosterom, she has 3 adult children and plans to write about future travel excursions, especially as she nears the golden years.
---
---