Galapagos hike
Experience Loretta's Galapagos Hike

Our 2-hour flight to the Galapagos Islands departed from the west coast of Ecuador at 6 a.m. At Baltra airport we were met by Pala, a sweet East Indian girl who works for the hotel Red Mangrove.
Our bags were then lugged onto a ferryboat which took us to the island of Santa Cruz. I was here because my friend Jean had invited me to tag along with her and her family on their trip to the Galapagos Islands.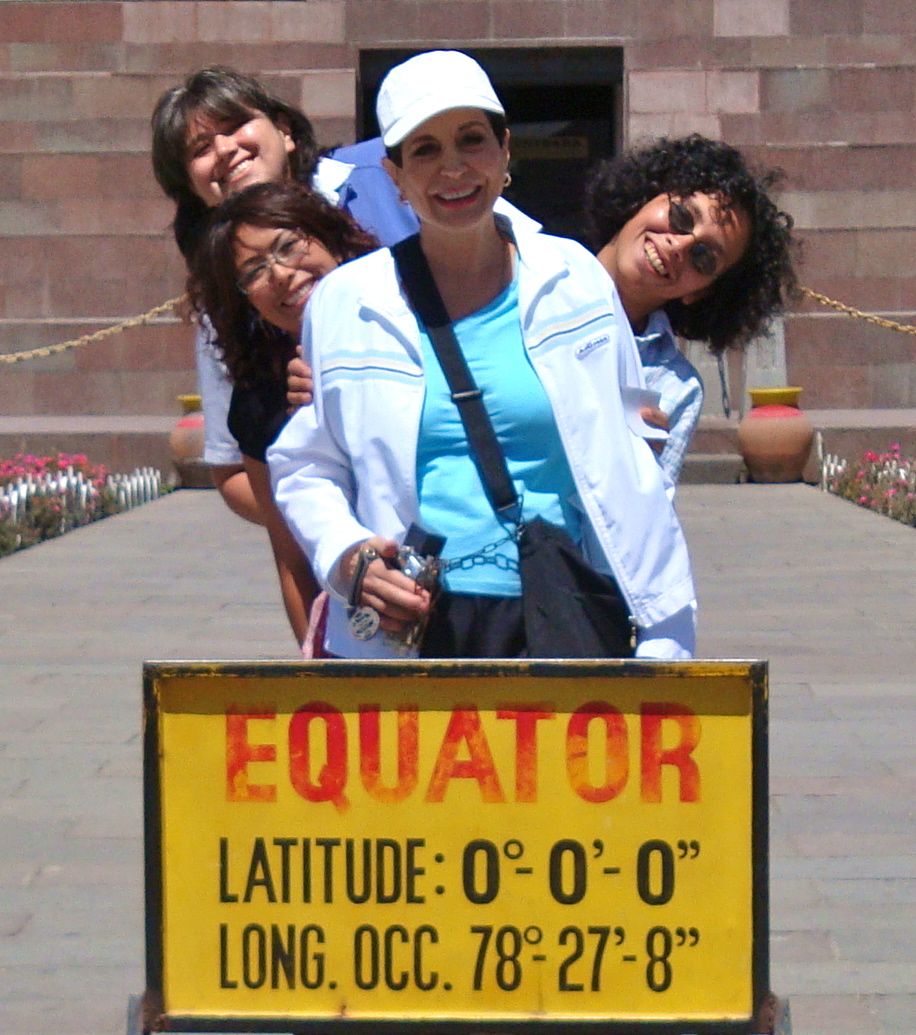 Loretta & friends at the equator in Quito, Ecuador.
At the Red Mangrove Hotel the staff offered us a welcome drink. My room was scrumptious, with a queen bed and a double bed it could sleep 4 people. Lovely white, crisp bed linens with a pretty quilt embroidered in white on white. This room also had a balcony and a large, tiled bathroom and big shower.    
I was immediately issued snorkeling gear: flippers, mask, snorkel and wet-suit. The latter should have been a red flag, but I was too tired and excited to pick up on it.   
We took a boat ride to where we were supposed to snorkel with penguins, but the water was too rough, so we had to pass it up and go elsewhere. I was really disappointed because that was one of the main reasons for my trip. When I finally got into the water I almost had a cardiac arrest.

I immediately understood why they gave me a wet-suit. The water was about 65 degrees. I'm thinking "We're on the Equator for Christs' sake!"  If I were a guy, within ten seconds of hitting the water my "package" would look like a sweet gherkin and two Greek olives.
Galapagos Hike
What the brochure said
The Galapagos travel brochure promise of "swimming with penguins, sea lions, stingrays, hammerhead sharks and sea turtles in crystal-clear waters" never materialized. 
The water was always rough, churning up plankton and sand and creating limited visibility for snorkeling. The sky was overcast with ominous grey clouds almost every day.  

I did see a sea lion up close; he was sleeping on the deck outside the hotel's dining room, along with quite a few marine iguanas. The dark grey iguanas were hard to see on the weathered wood deck.
The frigate birds, which are awesome when they puff out their chests to show a huge red "pillow" under their necks, deprived us of this show because they only do it when they're horny and trying to impress a female. Our timing was off and we missed their mating season.
The next day another rough, cold, two-hour boat ride took us to Floreana Island, where we had really cute cabins right on the beach with bunk beds and a tiny little bathroom. We had planned to snorkel on a beach there but, you guessed it, too rough, too cloudy, too cold.

Here I am (on the left) with my friend Carmen and a giant Galapagos tortoise.
Later that day in the highlands I saw 100-year-old land tortoises. I got great video, and  didn't even slip and fall in the mud and turtle poop.   
Galapagos Hike
Next day, sail to island of Isabella. 
Here's what the Galapagos travel brochure said: "Depart for Sierra Negra at 8:00 AM. 4x4 vehicles will drive us up through the transitional zone and into the humid highlands that are the slopes of Volcan Sierra Negra to the point of where vehicles can go no further. After a gorgeous hike, we arrive to the caldera of Sierra Negra, the second largest in the world at 4 miles across.

The views are breathtaking! We will relax a bit and have a snack on the edge of the caldera. For the more hardy of the group, the option exists to walk an especially difficult hour further to Volcan Chico, where fumerole activity is abundant and again, the views are spectacular. This is not an easy hike, however, as it is mostly across lava fields on slopes."
At the beginning of the hike, I'm smiling....before I knew what I was getting into.
Our "gorgeous hike" to the first crater, Sierra Negra, took two and a half hours, uphill. As we approached the top, our guide Fernanda says, "Unfortunately, due to bad weather and the cloud cover, we might not be able to see into the volcano when we get there."
When we got to the edge, which was completely hidden by clouds and mist, the crater suddenly appeared. Clouds and mist rolled back. We could see the whole thing, 4 miles across.
Fernanda now informed us that we must walk two more hours around the edge of the crater (she pronounced it "krah-ter") to get to the "rest stop."
When we got there, she announced that from there it was another two hours 'round trip to the second crater, Volcan Chico. She said that if I didn't think I could make it the rest of the way, I could wait for them there.
The prospect of sitting there for another two hours, under a bush in the Equatorial sun, alone, in the middle of NOWHERE, running out of water and food and (pardon my indelicacy for mentioning this) toilet paper, did not send shivers of joy up my spine. 

As we approached the rest stop, I heard the pounding of hooves―18 Germans mounted on horses galloping past us, kicking up huge clouds of dust.
So we had to walk while these Germans got to ride! Fernanda babbled some excuse about it being "too dangerous because part of the way was muddy and slippery and it was for our own protection that they decided not to use horses for us".

Galapagos Hike

Now I have a torn Meniscus in my left knee, compounded by Bursitis in my left hip. I wear a brace, which helps, but does not completely relieve the pain I feel when walking up and downhill. By this time the pain was white-hot and throbbing to the beat of my overtaxed heart.
I was too scared to wait alone by the side of the road in the wilderness for them to come back for me. Suppose they fell into the "Krah-ter" and never came back?

I opted to tough it out and go the rest of the distance on this Galapagos hike.
The other four people in our group were in their 20's, and tall. I had to pump 3 strides with my short legs to match one of theirs. I was holding up the rear, so they left me in their dust (literally).
The sand in my contact lenses was grinding my eyeballs to mush). I told Fernanda that I couldn't walk that fast. She said, "Oh, you'll catch up to us eventually".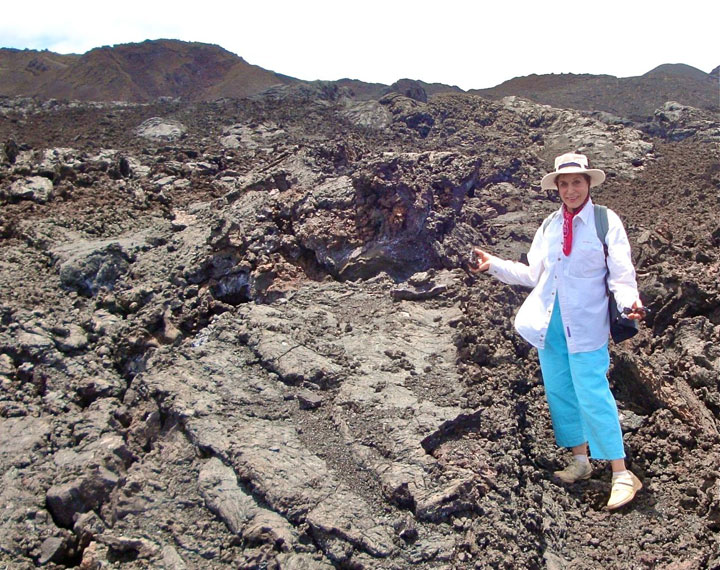 Am I on a moonscape or what?
The scanty trail led up and down over hills of slippery volcanic rock and gravel. The group quickly went out of sight and there I was, on a Galapagos moonscape, in the boiling Equatorial sun. Alone.  

When I quickened my pace to try to catch up with the group my feet slipped out from under me. BANG.  I fell on my arse. I instinctively put my right hand out to break my fall and punctured my palm on the sharp volcanic rock.
Someone heard me scream. One of the group ran back to help me. She traded backpacks with me because hers was lighter and, bless her little Austrian heart, she stayed with me the rest of the way up to the crater.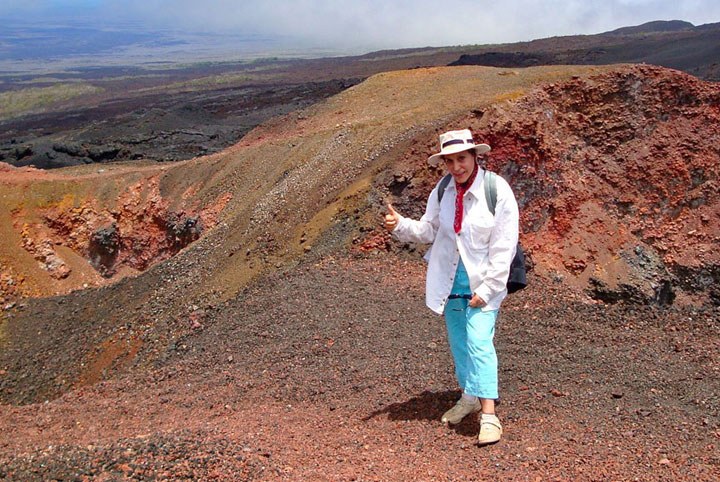 I made it!
When we got to the top of Volcan Chico, there were the Germans, sitting and eating their lunch. Though I was feeling cranky, they were very friendly. I spoke some German slang to them and they got a big kick out of it.

Galapagos Hike
Exhausted and thirsty, I was also scared out of my wits wondering if I would die out there. I summoned the energy to push the Record button on my video camera to tape the surroundings so I could at least "see" the Volcan Chico when I got home. 
My legs felt like overcooked linguine. I knew I would never make it back without help. So I asked our driver, Vicente, to hold on to me. Thank God he had come with us on the hike.
Going back down the mountain was quicker. It started to drizzle, which cooled me down and brought back some of my energy. I had a death-grip on Vicente the whole time as we made our way back out of the volcanic gravel.
Vicente held on to me with one hand, and talked on his cell phone with the other. Comforting to know he could get cell phone coverage out in the middle of nowhere.
The group was out of sight most of the time. When we finally caught up with Fernanda she informed us that she knew a short-cut. We couldn't have taken this SHORT-CUT on the way up? 
When we finally returned to the truck, I hobbled over to it, dragging my bad leg. I laid the top half of my body, arms outstretched, on the hood of the truck. I kissed it repeatedly until someone, laughing, dragged me off.
We drove down the mountain and stopped for a great meal at a camping place called Campo Duro. A gorgeous, green oasis/ranch/farm with huge expanses of grassy lawn where people could pitch tents.
They grow all their food there, organically. Lots of huge banana trees, mango trees, pineapple plants. There was a gigantic open palapa with an outdoor barbecue built into a big circular bar in the center. We ate barbecued chicken, potatoes and veggies.  
Back at the Red Mangrove hotel, my friend Jean was back from from scuba diving and waiting for me in the dining room with a very stiff rum and coke. Someone must have told her I needed medicinal alcohol. 
―Story & photos by Loretta St. John
Loretta St. John is a long-time Las Vegas hotel performer who plays keyboards and sings jazz standard, show tunes, country, classic rock, and ethnic songs in 27 different languages. She has opened for stars such as Jack Jones, Della Reese, Bobby Vinton, Frankie Avalon, Bobby Rydell, Myron Cohen, Willie Nelson, and Jackie Gayle.
As a vocalist on the World Tour of the revival of the Glenn Miller Orchestra she traveled the US, Europe, Great Britain and Scandinavia. She has performed at the London Palladium, Royal Festival Hall in London, and Concert Kabal in Amsterdam.
She also has sung backup for Bobby Darin and Wayne Newton, and headlined in the Playboy Clubs Jazz Showrooms.
Loretta
---
---